As someone who loves crunchy foods, I can't get enough of this crunchy crock-pot chex mix.
In particular chex mix is wonderful when it's been simmering in the crock-pot with a seasoned Worcestershire mixture. The flavors and textures in this snack give it the reputation as one of the ultimate snack foods.
And know what else I like about this snack? The prep time time. Or should I say lack of prep time! Because this chex mix is ready for the crock-pot in under 10 minutes.
And generally speaking crock-pot recipes are my jam.
Honestly, there is such a feeling of accomplishment when the crock-pot is simmering and full while I'm folding laundry or out running errands.
Yes... I admit I'm a compulsive multi-tasker. So it's not surprising I enjoy knowing the crock-pot is making me the best chex mix recipe while I'm off chauffeuring the kids to their sports practices.
I remember my mom making this mix when I was little.
She would mix everything in the largest metal bowl I'd ever seen. Unfortunately she didn't make it often, despite my love for it.
I'm guessing it had something to do with the fact her recipe wasn't crock-pot friendly. And from my young child perspective it seemed like a big ordeal to make. The horror, y'all. So sit back, give yourself a pedi, and let the crock-pot do all your work for this ultimate crunchy snack.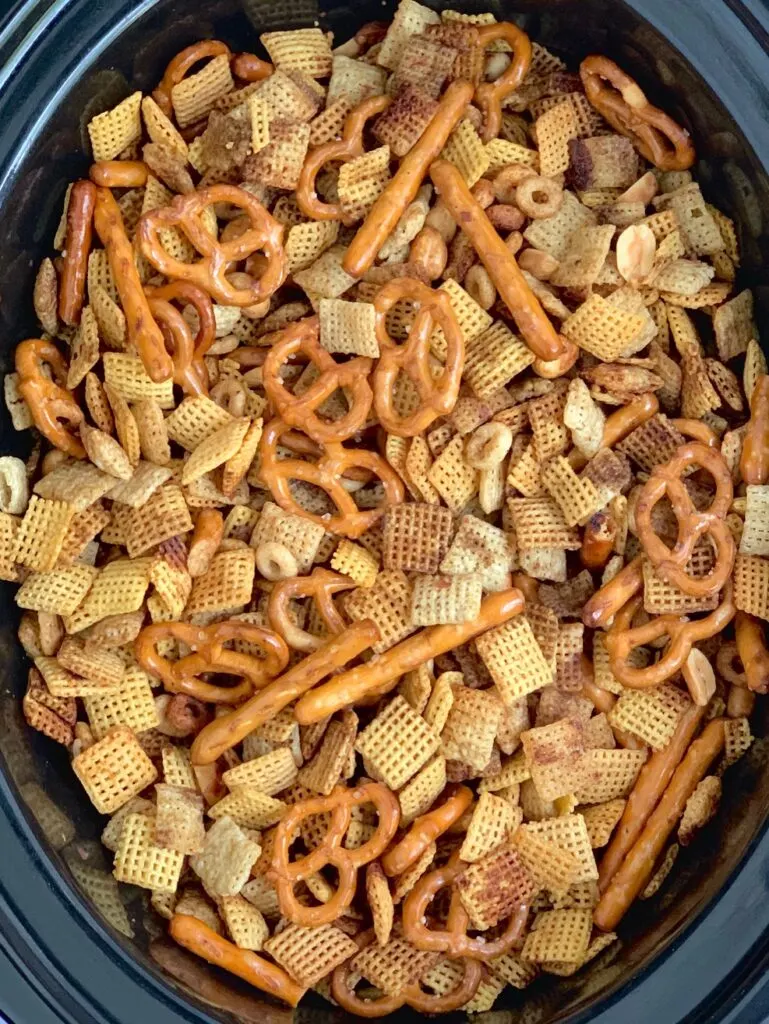 crunchy crock-pot chex mix ingredients:
more delicious snack food ideas:
ultimate peanut butter brownies are ah-mazing! The peanut butter swirl tastes so delicious with these chocolaty brownies. Every bite is mouthwatering.
macaroon brownie bars are similar to a 7 layer bar, but with half the work. There is no skimping on taste though! Yum, y'all.
the moistest double chocolate muffins that can be called breakfast, dessert, or even snack! These are over-the-top-marvelous.
It's important to realize there are countless reasons to enjoy this gluten and dairy free snack.
Besides the addictive taste, this crunchy crock-pot chex mix can be made ahead of time, travels well, and makes great gifts for others.
Make it annually as a holiday tradition or special birthday treat. The reasons why you should make this are countless.
For this crunchy crock-pot chex mix, I modified a recipe I came across by Gimme Some Oven.
To make this allergen safe and taste the best, I modified the recipe and used gluten and dairy free ingredients.
Lastly, it's my hope you'll find this mix as tasty and addictive as my family does. Pin this recipe now and check out other delicious gluten and dairy free recipes on my website, just for you.
Eat well and feel well,
Jill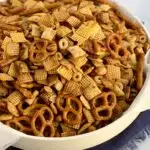 Print Recipe
Crunchy Crock-Pot Chex Mix
Ingredients
5

cups

Corn Chex cereal

4

cups

Rice Chex cereal

1

cup

pretzel rods

1

cup

pretzel twists

1

cup

Whole O's cereal

1

cup

salted and roasted peanuts

7

tablespoon

melted dairy free butter

1

tablespoon

seasoned salt such as Lawry's

¼

c

gluten free Worcestershire sauce

1

teaspoon

garlic powder
Instructions
In the crock-pot add cereals, pretzels, Whole O's,and peanuts.

In a small bowl combine melted butter, seasoned salt, Worcestershire sauce, and garlic powder.

Add the buttery mixture to the crock-pot and gently mix to combine all.

Cook in the crock-pot on low about 3 hours. Stir mixture every 45 minutes or so to prevent the bottom from burning.

After 3 hours in the crock-pot spread mixture on a baking sheet and allow to cool. Mixture will initially be moist, however as it cools it will become crunchy.
Notes
I find it best a timer is set to stir the mixture every 45 minutes.