Who's ready to indulge in the most delicious tarts on the Thanksgiving dessert table? Historically speaking these are a famous Canadian Thanksgiving tradition. But Canadian or not once you've tasted a rich butter tart there's no going back. You will insist these be on your holiday dessert table every.year.
Unfortunately, I spent too many years not knowing these decadent butter tarts even existed. Luckily 11 years ago that changed as I was looking forward to enjoying my first Thanksgiving married to my Canadian husband, or as you know him... "the hubs." In the days leading up to Thanksgiving I overheard his family favorably chattering about my mother-in-law's butter tarts. They could hardly wait to indulge.
And then before I knew it, my first Thanksgiving with these on the dessert table came and went. Soon years went by and so did the Thanksgiving celebrations. Straightaway I'm going to confess I drooled every year over my mother-in-law's famous butter tarts.
That was until I perfected a gluten and dairy free butter tart that is rich and decadent to share with you.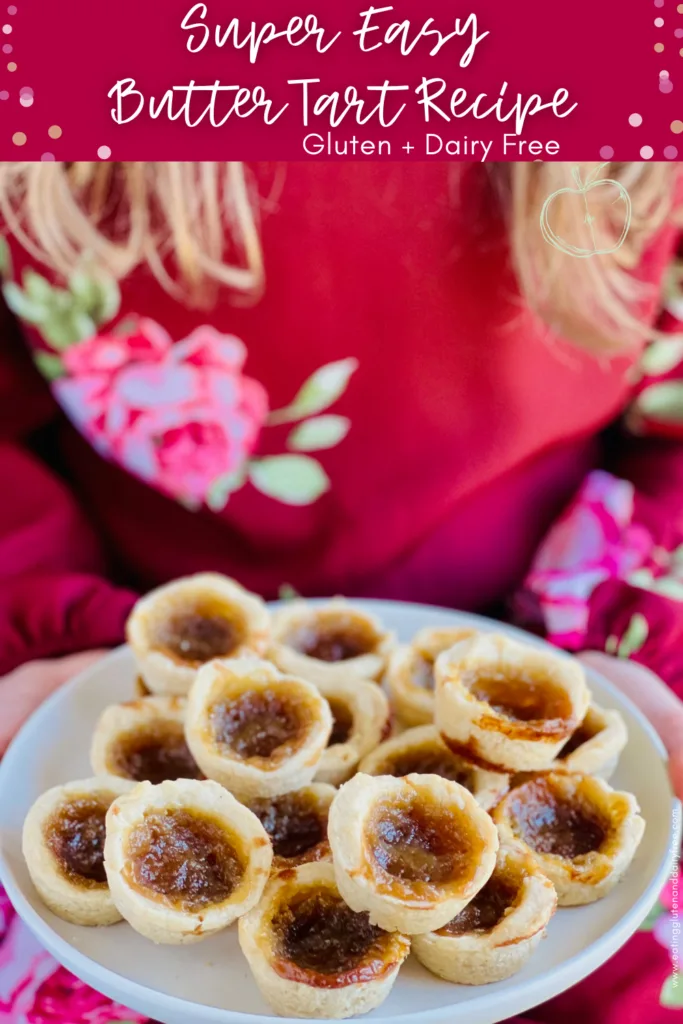 Above all these need to be on your dessert table too. You won't believe how something gluten and dairy free can safely taste so luscious and rich.
Make no mistake about it -- butter tarts are a dream Thanksgiving dessert. Not only do they taste rich with an outside buttery and flaky crust, but also consider the sweet gooey inside that oozes out with each bite. These melt.in.your.mouth. The Canadians definitely got this dessert right!
Also consider how simple this classic butter tart recipe is. Keep in mind these are a more rustic dessert. What that really means is enjoy your free time because you won't be in the kitchen for hours trying to roll out the perfect crust or even spend endless time crimping tart edges. These butter tarts are meant to look imperfect and yet taste perfect while taking very little time in the kitchen.
2 more reasons to enjoy these tarts
first, the individual tarts are ideal to serve your family or a large crowd. They are a casual grab and go dessert item that unfortunately goes too fast. Bake an extra batch.
second these can be baked a few days in advance of the big holiday and stored in an airtight container. Make ahead desserts are always a win-win for me.
butter tart recipe ingredients
gluten free all-purpose flour-- our go-to is Bob's Red Mill Gluten Free 1 to 1 Baking Mix. We buy it in bulk here. And this blend does contain xanthan gum. Almond flour works as well. Use the spoon and level method.
xanthan gum-- omit if your all-purpose flour contains this or guar gum
brown sugar-- packed
salt
shortening
dairy free butter-- we use Earth Balance Buttery Sticks
ice water
corn syrup
egg
vanilla extract
butter tart recipe tips
first measure the palm shortening and place it in the refrigerator to chill along with ½ cup of water while you gather your ingredients. The key to a delicious flaky crust is cold ingredients.
place the tart dough in a 24 mini muffin pan like this one here.
these tarts can be made up to 5 days in advance when stored in an airtight container and refrigerated to maintain freshness. However, these are best when served within a day to two.
serve your butter tarts at room temperature.
butter tarts also travel well. If you're traveling for the Thanksgiving holiday these will be your go-to dessert. Place them in an airtight container until you reach your destination.
optional: some Canadians prefer their butter tarts with raisins or chopped walnuts in the filling. Either can be easily added to this filling recipe. If using raisins soak ½ cup in boiling water until full and plump. Add them to the tart crust before you add the filling. If choosing walnuts, add to the tart crust prior to adding the fillings as well.
more gluten + dairy free holiday recipes
Crock-pot stuffing--perfect for your Thanksgiving table. Not only is this an easy Crock-pot recipe, it can also be prepped ahead of time.
sweet potato bake--a delicious Thanksgiving side dish you don't want to do without. Imagine melted marshmallows, softened sweet potatoes mixed with oats and brown sugar. It smells and tastes absolutely wonderful.
Crock-pot chex mix-- is the perfect game night snack food during the holidays. Everyone will want a handful... or two while playing their favorite family games or watching them on the big screen.
lastly
As you can see gluten and dairy free butter tarts are a "must have" on your Thanksgiving dessert table. In a world of so many food "can'ts" let's celebrate a can. Let these decadent butter tarts be a part of your holiday celebration. You will look forward to these every year.
Lastly, after you've baked these tarts, leave me a 5 star review.
Then let's connect on Facebook, Pinterest, and Instagram. Like and comment often so our posts keep showing up in your feed.
We don't want you to miss the very best of gluten and dairy free.
Eat well and feel well this Thanksgiving,
Jill
Print Recipe
Butter Tarts
Ingredients
Pastry Ingredients
2¼

c

all purpose gluten free flour

suggestions in post

1

teaspoon

xanthan gum, omit if your all purpose flour mix has this in it

1

tablespoon

brown sugar

½

teaspoon

salt

½

c

shortening, cold

10

tablespoon

dairy free butter, cold and cut into cubes

6

tablespoon

ice water
Filling Ingredients
½

c

packed brown sugar

½

c

corn syrup

¼

c

dairy free butter, melted

1

egg

1

teaspoon

vanilla extract

¼

teaspoon

salt

optional: ½ c raisins, chopped pecans or walnuts
Instructions
Pastry Instructions
First place the shortening and water in the refrigerator to chill while you gather your ingredients.

In a large bowl combine all pastry ingredients except ice water with a pastry blender or food processor until reduced to pea sized pieces.

Next add water in by the tablespoons and toss with a fork until evenly incorporated throughout the dough. Be careful not to overwork the dough.

Then form the pastry dough into 2 balls.

Place each ball on a piece of saran wrap and form into a round disc. Wrap the plastic around it and place in the refrigerator for half an hour.

Remove dough from the refrigerator and place on a lightly floured surface. Flatten to ⅛th inch thickness.

Using a 2 inch round cookie cutter or the top of a glass cut out circle dough crusts.

Fit each pastry crust into a mini muffin pan cup.

Then place muffin pan in the refrigerator to chill while you prepare the filling.
Preparing the Filling
In a large bowl combine all the filling ingredients and mix well.

Fill each muffin cup ¾ full of the syrup mixture.

Then place on the bottom shelf of the oven for 12-14 minutes

Lastly, cool completely on wire rack; then remove tarts from pan.

Store refrigerated in an airtight container up to 5 days. Serve at room temperature.
Notes
Optional raisins or walnut add in- some prefer these in their butter tarts. If using raisins soak ½ cup in boiling water until full and plump. Sprinkle them in the bottom of the tart before adding the filling. Otherwise add chopped walnuts directly to the bottom of each pastry tart prior to adding filling.