This post may contain affiliate links. Read the full disclosure here
Thanksgiving can be a drag to celebrate if you aren't surrounded by the classic gluten and dairy free comfort dishes. Nobody wants to sit around Thanksgiving day watching everyone else eat the good stuff while they discouragingly nibble on veggie sticks! Yes, I've heard your Thanksgiving day horror stories and listened to the dread that can come during the holidays.
But this year it's all going to be different. I've got the best tastin' Thanksgiving recipes ready for you. It doesn't matter if you're preparing the food this Thanksgiving or going to visit family. You can celebrate, be thankful, and enjoy your best Thanksgiving food yet! For instance check out this easy Thanksgiving crock-pot stuffing.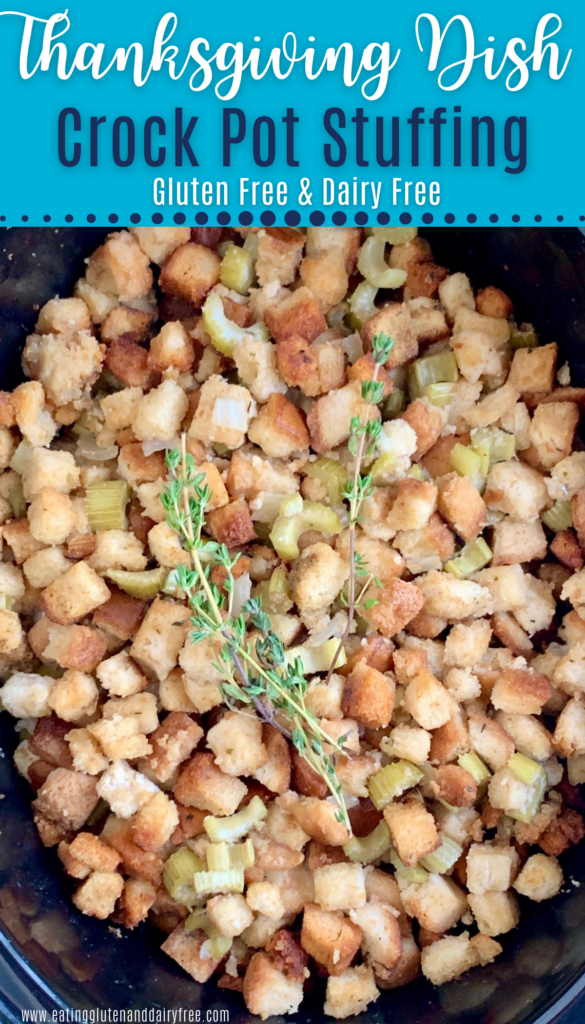 Not surprising you might think it's just easier to skip the stuffing this year. However try this recipe just once and you'll never think that again. This stuffing recipe will become your new Thanksgiving tradition.
Because this classic recipe tastes buttery and is full flavored herbs such as garlic, sage, parsley and more. And don't forget the savory celery and onion flavors in this stuffing. For these reasons you'll enjoy bite after bite.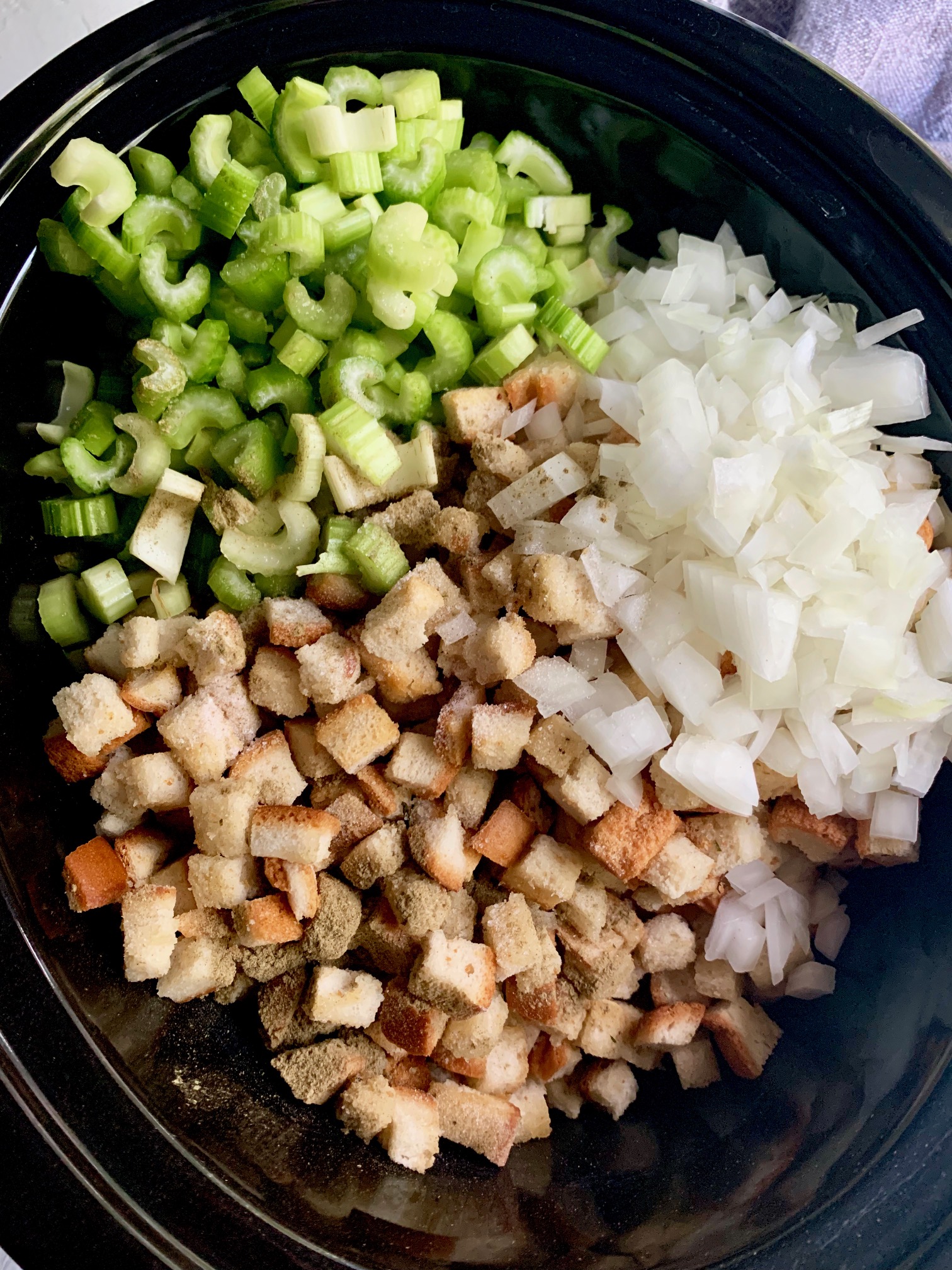 Plan on serving this stuffing dish to everyone… to those who are "free from" and those who aren't. Many think it even tastes better than the regular gluten and dairy stuffing recipes. Pin this recipe now so it's on your Thanksgiving meal list.
THE SECRET STEP
This recipe has an extra step most stuffing recipes don't. Surprisingly, my secret step is what sets this recipe apart from others.
The secret step to serving the best crock-pot stuffing is: baking the bread cubes brushed with butter, garlic, and other savory herbs prior to placing them in the crock pot. Generally speaking it's easiest to prepare the baked bread cubes up to a week before Thanksgiving. After all there's already so much to do on Thanksgiving day. And on the other hand, your future self will thank you for having the bread cubes baked and ready for the crock pot Thanksgiving morning.
START WITH THE BEST BREAD CUBES:
First the key to this recipe is the butter and spice infused bread cubes. And these aren't like any other dried bread crumbs you've tasted in stuffing before.
Next coat both sides of each gluten and dairy free bread slice with melted dairy free butter and spices. The goal isn't to drown the bread in the butter and spices, instead just apply a quick brushing on each side. Personally, I prefer to use Udi's 24 oz Bread for this recipe. Use what you like best.
After you've brushed both sides, slice your bread into small cubes. Place on 2 mat lines jelly roll pans and bake for 25 minutes.
Then remove the baked bread cubes and cool.
If these won't be immediately used place them in an air tight container for up to a week.
Side note these are perfect on salads or as a snack on the go. They taste delicious on their own.
PREPARING THE STUFFING FOR THE CROCK POT:
After your homemade bread cubes have cooled place them in the crock pot.
Next chop celery and dice onion.
Then combine all bread cubes, celery, onion, safe, salt, and broth in a crock pot. Mix well.
Lastly, pour melted butter over stuffing mixture. Then mix and cook on low for 4 hours.
MORE THANKSGIVING RECIPES:
Smoked Thanksgiving turkey is easy peasy and mouthwatering. And the best part it doesn't take up any oven space. Pin it now.
This Sweet Potato Bake is unlike any other sweet potato dish. I call this Thanksgiving side half vegetable, half dessert. This is another dish that feeds a crowd and no one will ask if it's gluten or dairy free.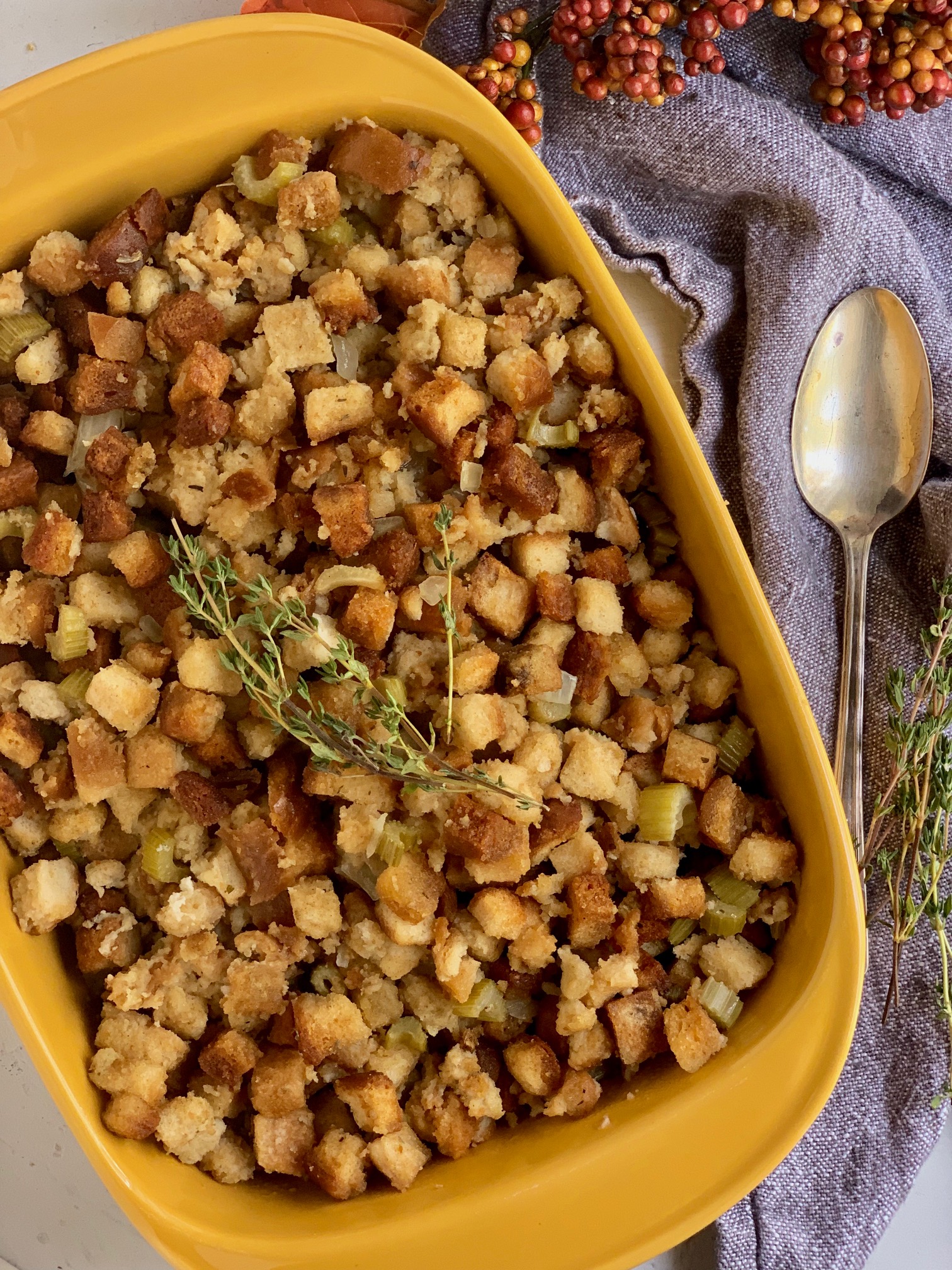 LASTLY
Remember your Thanksgiving doesn't have to be a bust. I've got the easiest and best tasting Thanksgiving dishes for you. And even better they don't taste any different from other gluten and dairy dishes. Make this Thanksgiving crock pot stuffing mix for you or a crowd.
So Pin all of these now and you'll be set for the big day. Be sure to follow me on Pinterest and Instagram. I don't want you to miss one new recipe!
Eat well and feel well,
Jill
Print Recipe
Thanksgiving Crock-Pot Stuffing
Ingredients
Bread Cube Recipe
2 – 24 oz

loaves

gluten and dairy free bread (Udi's Soft White Sandwich Bread)

2

c

dairy free butter melted (Earth Balance works great)

2

tsp

dried thyme

1 1/2

tsp

dried sage

1 1/2

tsp

dried parsley

1 1/2

tsp

powdered garlic

1/2

tsp

salt

1/2

tsp

pepper
Stuffing Recipe for Crock Pot
16

c

gluten free cubed bread (2 loaves)

3

c

chopped celery

1½

c

diced onion

1½

tsp

dried sage

1

tsp

salt

2

c

chicken stock/broth

1½

c

dairy free butter, melted
Instructions
Bread Cube Directions
Prepare 2 large jelly roll pans with nonstick mat or parchment paper.

Place sliced bread on large cutting board.

Add all spices and melted butter to bowl and stir. Using a pastry brush, brush both sides of bread with butter spice mix. Brush a light dusting on each slice. It's ok if you run out of the butter spices before you've brushed each slice. Continue on with recipe. Place bread on cutting board.

Cut bread into small cubes and place onto 2 large jelly roll pans.

Heat cubed bread in the oven for 25 minutes. Allow to completely cool before continuing the recipe. These can be used as is for salad croutons. For the Thanksgiving stuffing recipe, place in a sealed container in a dry place for up to 1 week.
Crock-Pot Stuffing Directions
Combine bread cubes and all other ingredients except the butter in a large Crock-Pot. Mix well.

Pour melted butter over stuffing mixture and mix.

Cook on low 4 hours and serve.