Just because you eat gluten and dairy free doesn't mean you have to kiss Halloween candy goodbye!
Honestly there's never been a better time to indulge in the best allergen friendly treats.
In this post I showcase some of the best gluten and dairy free Halloween candy!
First who else noticed the exciting explosion of allergen friendly candy available in the past two years?
Finally there are countless options of good quality chocolates and other sweets for you and me.
Can I get an Amen?!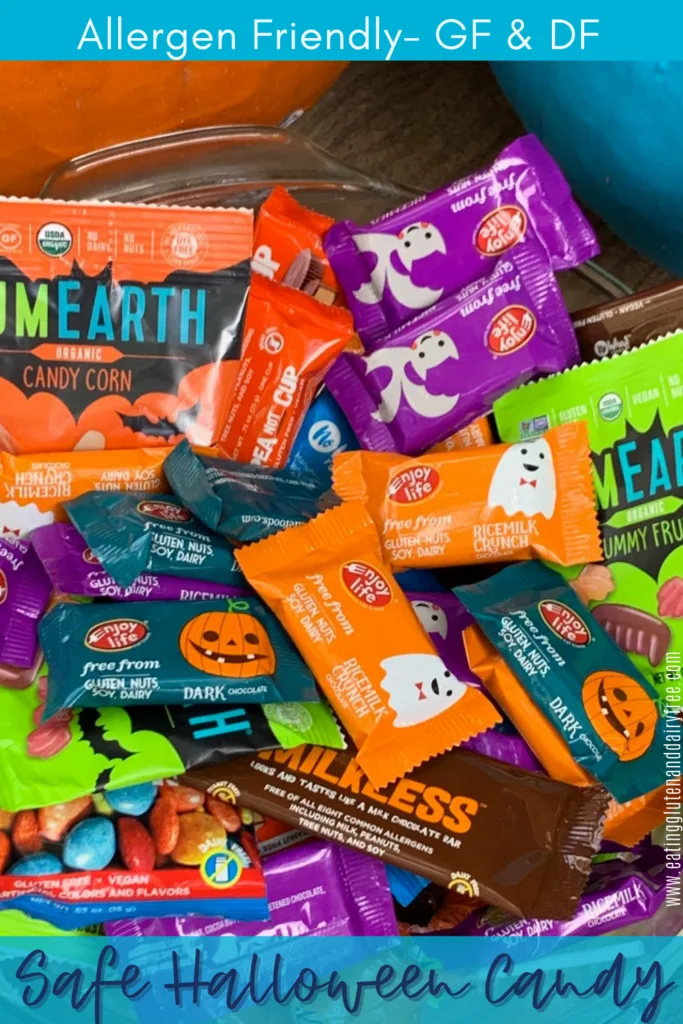 Now you can enjoy these mouthwatering candies at home, school or work. Specifically children can safely take these to school and share during Halloween parties or pass out during trick or treating.
Surprisingly most of the candies are peanut free too so they're ideal for the classroom where many are peanut free zones now... everyone can safely enjoy these treats.
In this post I specifically highlight new candy that's recently hit the store aisles and Amazon.
Personally, I haven't found most of this Halloween candy locally.
Instead I've been purchasing our favorite brands off of Amazon. Check out our purchases as you scroll.
Most importantly the candy listed below is not only gluten and dairy free, but also most of it is "free from" other ingredients as well.
In fact I've listed many of the "free from's" for you. However always do your own research with the provided suggestions.
It's important to note manufacturers have been known to change their ingredients overnight.
And unfortunately at times what appears to be safe candy isn't or was processed on the same manufacturing line as another product with wheat or peanuts and so forth.
With all that in mind... let's dig into all of the best Halloween candy.
the best Halloween candy:
other candy ideas:
Super Hero Boogers Candy
Glee Mini Gum Packs
Surf Sweet gummy worms
Ring Pops
Laffy Taffy
Starburst
Fruit Snacks
Smarties (US brand)
Swedish Fish
Sour Patch Kids
Sweet Tarts
Nestle Wonka Nerds, Gummies, and Spree
Pez Candy
Gummy Bears and Worms
Mike and Ike
Brach's Candy Corn
Jolly Rancher Hard Candy
Jelly Belly Jelly Beans
Hot Tamales
and many more
As can be seen we have countless candy options this year. There is a flavor and price point for everyone's needs.
I'll say it again -- there has never been a better time to indulge in the best Halloween candy.
also perfect for this fall:
lastly:
Enjoy your best Halloween yet! Nows the time to take advantage of these festive and delicious candies.
These ideas are perfect for trick or treating, school classroom parties, preschool shenanigans, and treats to spoil those you love.
And a point often overlooked... buy extra of the mini sizes. I'm stashing a few of these Halloween mini packs back for the next time we travel.
My kids will love snacking on them while flying! Not only will they be so easy to fly with they don't contain any nuts. #momwin
Give me a shout-out in the comments telling me what you ordered or bought locally for Halloween this year.
And feel free to comment on any gluten and dairy free Halloween ideas I've missed.
Eat well and feel well,
Jill