Wow, you won't believe all the flavor combinations in this delicious and crunchy Halloween Trail Mix. As a matter of fact what's not to like about it? Keep reading to see all of our favorite gluten and dairy free snacks in one bowl. There's everything but the kitchen sink!
Prepare for every handful of this mix to be amazing. It's no surprise when you consider the mix has all of our favorites… chocolate vanilla creme cookies, puppy chow, pretzels, candy pumpkins, and candy corn. You might call this a "party in a bowl." All these flavors complement each other well. And there is a bit of everything to make your taste buds enthralled. No doubt you'll look forward to enjoying this snack every fall.
Halloween Trail Mix Recipe Notes:
pretzel sticks and twists— Snyder's of Hanover sell delicious sticks and twists. You can purchase them on their website or Amazon.
homemade Puppy Chow— click here for an easy recipe. You'll find it's worth the extra time to add this to the mix. Honestly it's a star ingredient. You'll have a little puppy chow leftover from this recipe…in our home this doesn't last long.
candy corn— and don't forget about Brach's Autumn Mix with pumpkins, harvest corn, and classic candy corn. While this mix has gluten and dairy free ingredients, it's manufactured in a facility with milk, see their manufacturing statement here. If you're looking for something safer, consider the candy corns from YumEarth. Check out their FAQs page by clicking here.
chocolate vanilla creme dream cookie— produced by Glutino or Kinnikinnick. It's no surprise how fabulous these taste in this mix.
optional add-ins— mini marshmallows, popcorn, salted nuts, plain Chex Mix cereal, and even chocolate chips.
More fall recipes you love:
Pumpkin Cookies with Cream Cheese Frosting— these cookies are so soft and they melt-in-your-mouth. You can't beat how good these are with or without the cream cheese frosting– all gluten and dairy free.
Candy Corn Brownies— are so easy to bake. And crowds go crazy over the candy corns… you can't go wrong with them.
A Smoking Hot Thanksgiving Turkey–we all know how valuable the oven is on Thanksgiving day. Once you try smoking the turkey you won't go back to using the oven. This recipe will walk you step by step through the smoking process.
Thanksgiving Sweet Potato Bake— is half veggie, half dessert. This will become your new Thanksgiving tradition.
In Conclusion:
Not only will this Halloween Trail Mix curb your sweet tooth, but it will also be the perfect fall snack to share. And can I get a "woot woot" that this recipe comes together in minutes?!
Be sure to follow me on Pinterest. I'm frequently adding new recipe ideas I love. And I've been adding so many new recipes to my "Best of Fall Food + Drinks" board. Follow it today so you don't miss out on one recipe.
Please let me know your favorite part of this Halloween Trail Mix. Was it the puppy chow? Or maybe the autumn mix of pumpkins and candy corns?Let me know below.
Eat well and feel well,
Jill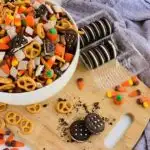 Print Recipe
Halloween Trail Mix
Ingredients
2

c

puppy chow (see homemade recipe link in post)

2

c

gluten free pretzel sticks

2

c

gluten free pretzel twists

1

20 oz bag

Brach's Autumn Mix

more suggestions in the post

7

cookies

gluten and dairy free chocolate vanilla creme cookies (Oreo-like), chopped in half

brand suggestions in the post
Instructions
Mix all together in a large bowl and serve. Store in an airtight container for 1-2 days. Best if eaten same day as mixed.