This gluten and dairy free Sweet Potato Bake puts the "A" in amazingly delicious! As the hubs says, it's half side, half dessert. The recipe calls for a delicious sweet potato filling, crisp middle layer, and a fluffy marshmallow topping. It's one big gooey, sweet side dish your Thanksgiving table needs! The texture, flavor, and smell of this baked dish will have guests asking for more.
Did you know there is post after post on Pinterest listing health benefits of sweet potatoes?!! Help your guests feel less guilty about eating this delicious bake by sharing some sweet potato health facts! Sweet potatoes:
are anti-inflammatory
boosts immunity
regulate blood sugar levels
detoxify heavy metals
ward off cancer
help you maintain a youthful glow (sign me up!)
and prevent heart attacks
Sweet potatoes do amazing work in your body so eat up with no guilt!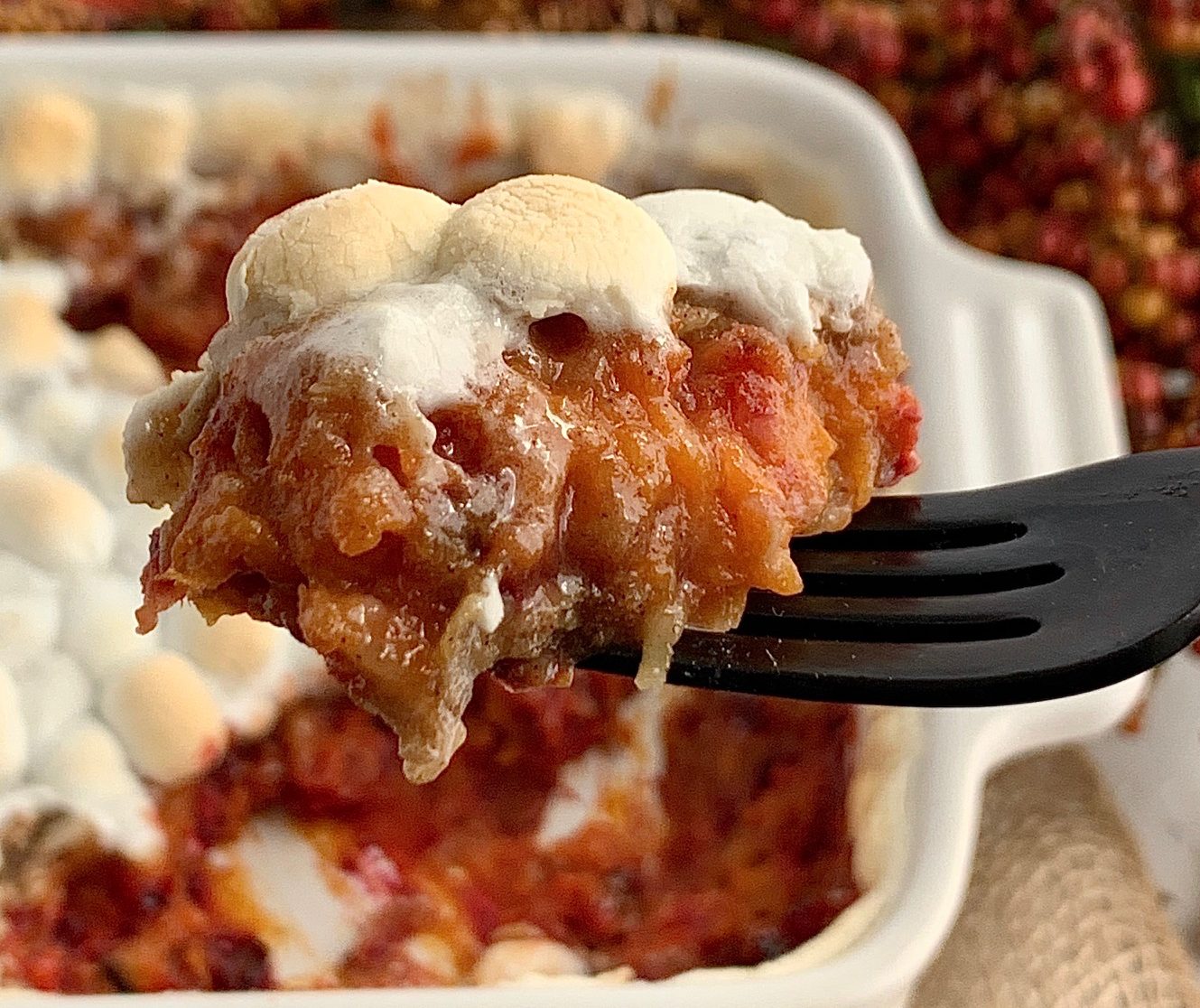 This dish is crazy easy to make and on Thanksgiving day, we need easy!
Most importantly I'm thankful my mother in law shared the recipe with me years ago. It became an instant Thanksgiving hit for our family.
recipe steps
while the potatoes are boiling, prepare the crumble mixture. Use

gluten free rolled oats

for this recipe. Place the oats, all purpose gluten free flour, brown sugar, and cinnamon in a bowl. Cut in the butter with a pastry blender. After your crumble is well mixed, separate out 1 cup and set aside.

next chop the cranberries; I find it fastest to use my pampered chef food chopper. This is my kids' favorite kitchen gadget. They beg to use it and with a fun recipe like this sweet potato bake, they can. I use my food chopper on a weekly basis for recipe projects. It's one of my favorite kitchen gadgets and time savers!

when the sweet potatoes are tender, drain the water. Add the chopped cranberries and crumble mixture to the sweet potatoes. Once the mixture is well combined place it into an ungreased 1.5 quart casserole dish. Sprinkle the top of the casserole with the remaining 1 cup crumble mixture.

then bake uncovered at 350 F for 30 minutes. Be prepared… your house is about to smell like the most amazing Bath & Body fall candle. The smell alone will put you in a food coma.

Your Thanksgiving guests all will be asking what is that amazing smell?!

after 30 minutes remove the dish from the oven and cover with a single layer of marshmallows. Return to the oven for 10-12 minutes. I beg you to set a timer.

I have seen someone get distracted with other Thanksgiving dishes and forget the sweet potato bake in the oven. When they did open the oven door, the marshmallows were

on fire,

y'all. We had a great laugh, scraped off the burned marshmallows, and put on fresh ones.

Just set a timer.
mini marshmallows–for a "free from" brand check out Dandies
lastly your sweet potato bake is ready to eat when it leaves the oven.
more Thanksgiving recipes
Enjoy eating this amazing gluten and dairy free side dish on Thanksgiving or anytime of the year! You really can't go wrong with it.
Lastly let's connect on social media and Pinterest. Tag me in your posts when using any of my recipes.
Eat well, feel well and bake well!
Jill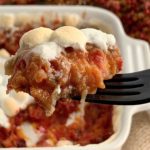 Print Recipe
Sweet Potato Bake
Ingredients
1/2

cup

gluten free rolled oats

1/2

cup

gluten free all purpose flour

1/2

cup

packed brown sugar

1

tsp

cinnamon

7

tblsp

dairy-free butter

2

19 oz

sweet potatoes

2

cups

cranberries

coarsely chopped

2

cups

mini marshmallows
Instructions
Preheat oven to 350F. Boil 2 large sweet potatoes until tender.


Place rolled oats, almond flour, brown sugar, cinnamon, and butter in a bowl. Mix well. Measure out 1 cup and put aside.

In a large bowl, combine the sweet potato, chopped cranberries, and crumble mixture. Toss well. Turn into an ungreased 1.5 quart casserole dish.


Sprinkle with reserved crumble mixture.


Bake uncovered for 30 minutes.


Then cover with a single layer of marshmallows. Bake another 10-12 minutes.