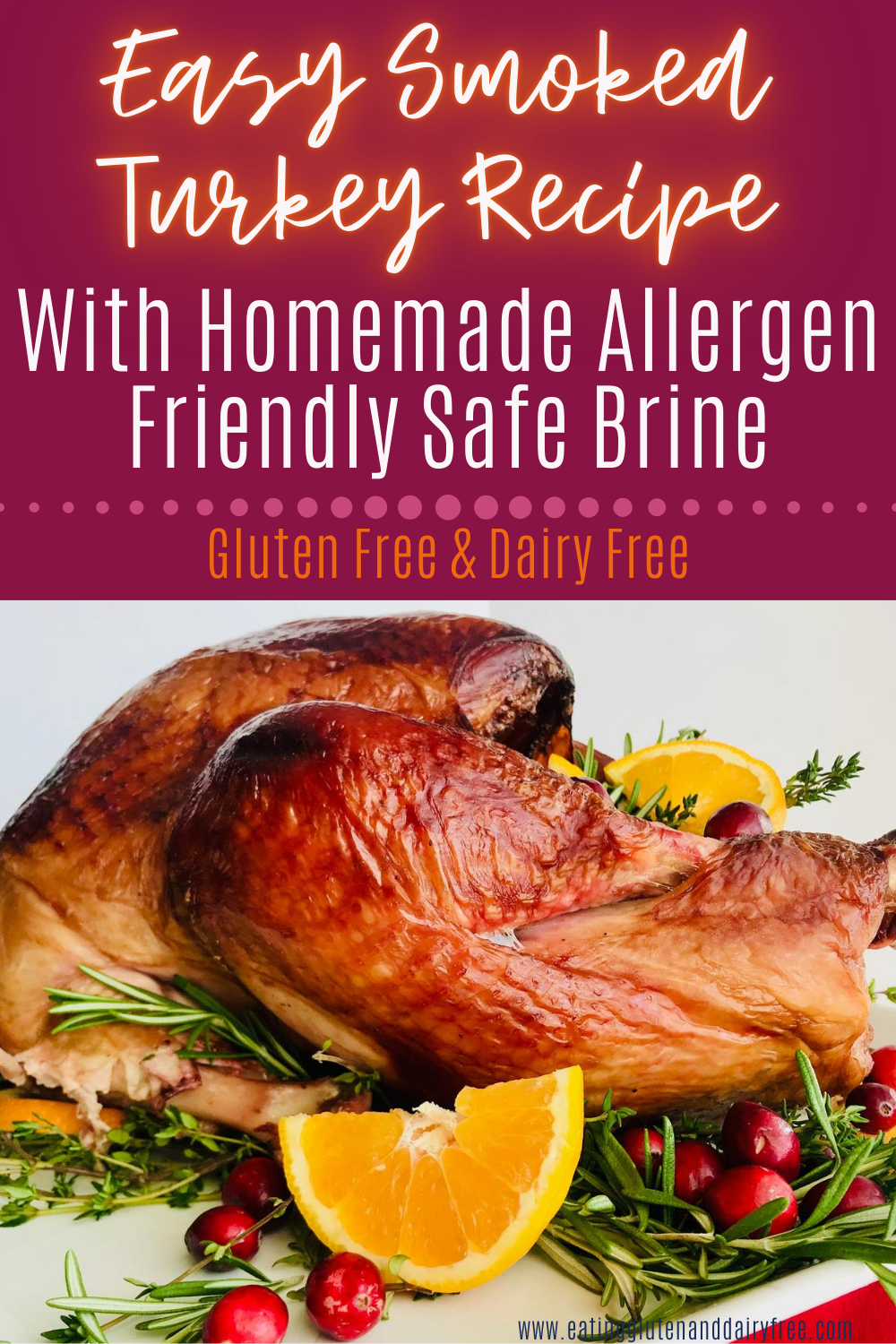 I've heard too many friends and family say they run out of oven room on Thanksgiving day. It's an easy problem to have.
It's a holiday built around…food…and lots of it!
What is served on your Thanksgiving day table? Sometimes a turkey AND a ham. Probably a couple different potato dishes, other vegetable sides or casseroles. Cranberry sauce and stuffing anyone? And don't forget the warm rolls! That's a simple Thanksgiving day menu. And most of those items require…the oven.
Can you think of a more coveted kitchen item on Thanksgiving day?
Well, the hubs and I decided to put our Traeger Grill to the test. We already knew the grill would save us valuable oven time. We wondered if a smoked turkey would taste as wonderful as we'd heard.
We prepared the brine and the turkey the night before. Let's be honest…after making two pies that day and grocery shopping, it was the last thing I wanted to do. Bed was calling my name! In the end I was determined to give this turkey smoking thing my all to see if it was so grand, so amazing, and so legit.
So to brine it was.
Keep in mind a brine is a solution of water, salt, and other seasonings to keep the turkey extra moist and flavorful. We had our turkey in brine overnight, but many choose to brine for 24 hours.
After smoking our turkey it looked like this. Isn't it beautiful?!! It was so easy, y'all. Our turkey smoked for close to 2 hours. Then we put the turkey in a large pan to catch the drippings. The hubs turned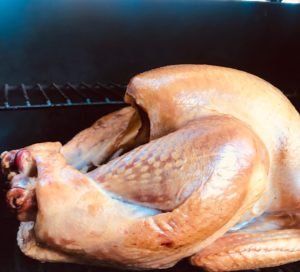 the grill to high. He checked the grill after 2 hours and the internal temperature was already at 165F. Whew! Thankfully he happened to check it earlier than we thought we should. We're guessing it's because the outside weather that day was so mild. Keep the outdoor temperature in mind the day you smoke.
As the turkey continued on the grill, I said my many blessings for double ovens. I was thankful to have plenty of room in the ovens for homemade rolls and a favorite sweet potato casserole (check out that recipe here). Having the turkey on the grill helped me be way more chill and less stressed about food timing.
There was no rush or stress here!
After another 2 hours our gorgeous smoked turkey was showing an internal temperature of 165F. We'd reach the dream temperature for it to be moist and tender.
The turkey needed to be wiped down with a towel to get the smoke soot off it. Then this bird glowed!!
I plated the turkey, added garnishes as it rested and other dishes finished baking.
I have to say this turkey was a Thanksgiving day game changer!
It was all others had told us and more! The smoked taste was wonderful and it was perfect in every way — tender, moist, and so flavorful.
more safe & delicious Thanksgiving recipes

lastly
If you've been thinking about smoking yours — do it! For real. This is legit, y'all! If you've smoked a turkey, please tell me about it in the comments. Did you brine? If so what did you use? How was the flavor? Did this recipe save you from a stressful time in the kitchen?
Be sure to follow along on Facebook, Instagram, and Pinterest. I'm continually posting new recipes, product reviews, and all things gluten and dairy free. Be sure to say, "Hi!" And let me know you're here.
Happy Thanksgiving.
Eat well and feel well,
Jill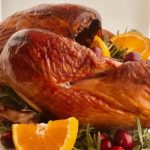 Print Recipe
Traeger Grill Turkey Brine Recipe and Smoker Tips
This is a delicious gluten and dairy free brine recipe and smoker tips to keep your turkey moist, tender, and full of mouthwatering flavor.

Servings:
12
12 lb Turkey
Ingredients
1 - 1 1/2

cups

Salt

1

cup

Sugar

2

tbsp

Black Pepper

1

tsp

Garlic Salt
Instructions
Select a fresh or thawed turkey. If your turkey is frozen it's recommended to allow 24 hours of thawing for every 5lbs of turkey. Experts suggest 1 pound of turkey for each guest.

You can place the turkey in a bag in the refrigerator. Or you can leave the turkey in its bag and place it in a sink with cold water to cover. The water needs to be changed every 60 minutes and the turkey needs 30 minutes for every pound to thaw.

After your turkey is thawed, remove the neck and giblets. Rinse with cold water. Dry off the skin and inside the turkey cavity. If needed cut off the excess skin in front of the turkey breast.

In large bucket or container combine all brine ingredients. Place turkey in brine bucket and fill with water to cover the turkey. Place in the refrigerator overnight or up to 24 hours.
Smoking Instructions
Start with your Traeger Grill lid open and on smoke. It will take about 3-5 minutes for the grill to start smoking. Then, close the lid and turn to high at 450F for 20 minutes. Return the grill back to smoke and place the turkey directly onto the grill breast side up. Smoke for 2 1/2 to 3 hours with the lid closed. You can smoke longer if you'd like more smoke flavor.

When smoking is complete, switch the grill to medium (275-300F) to finish cooking the turkey. You may want to place the turkey in a pan to catch the drippings. This will take 1-3 hours depending on the size of the turkey and the outside temperature.

Always test for doneness with a meat thermometer. Insert the meat thermometer into the thickest part of the thigh alongside the breast. Take your turkey off the grill when the internal temperature is 165F. Take a towel and wipe off the turkey smoke soot.
Notes
Let the turkey rest for another 20-30 minutes. This will help the juices settle and ensure a moist cut of meat. Plate and garnish with herbs like rosemary springs, thyme, or sage. Add in a few apples, pears, or oranges for some color. Enjoy!