Ok I'll be very honest with you...I have been hiding from the idea of making gluten and dairy free pie crusts. There, I said it. My darkest food secret is out.
And you know what...I've been able to get away with it for years!
In the past our local gluten free bakery catered to our family. They made us the most amazing gluten and dairy free pies. They spoiled us for Thanksgiving, for Christmas, AND their pies replaced the cake for some of our birthday parties, too.
They were that good.
But the bakery was recently sold.
Thankfully the new owners are dedicated to maintaining it as a gluten free bakery. And they have some amazing breads and treats. But they won't be continuing the pie party.
So I have been in bit of a pie panic. Where will we find gluten and dairy free pies just as amazing for the holidays?
So I've officially had to woman up, put on my big girl undies and figure this pie party out. Last week I searched gluten and dairy free pie crusts AND fillings like my life depended on it.
You should know I'm kind of a recipe snob. I don't want to go out and buy a ton of new ingredients that I might not ever use again. I also don't want to follow complicated or detailed directions.
You all know the kind of recipes I'm talking about. Who else feels me on this?!
However I found a pie crust and filling I was excited to try. Hallelujah.
I decided to try the crust from What the Fork Food Blog. You can check it out here.
I pressed out enough dough for two 9-inch pie crusts. I followed the directions and let the two dough balls chill. When I took out the first dough ball and put it onto my counter, it was a hot, crumbly mess of pieces.
I must have had it chill for too long also because this crust was not happy with me. It was in too many pieces and it wouldn't stick together. It looked like this >>
I let it sit for about 20 minutes on the counter to warm up. Then I was able to roll it out enough to know I would need the second dough ball too. So I combined both dough balls to form one 9-inch pie plate. I think I will stick with making two crusts for one pie so I have plenty to work with and to make festive cutouts for on top of the pie.
When I placed the crust into the pie plate, this happened. It was a total hot mess trying to get it out of the saran wrap as the recipe called for. I will blame myself and my inexperience for this.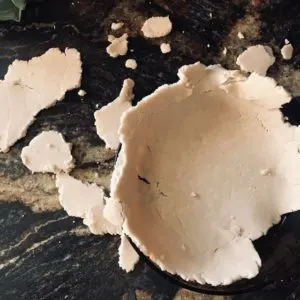 At the same time this is WHY I hid from gluten and dairy free crusts for years. Simply put, they aren't easy for this girl to work with. Not forgiving. Not flexible. I mean, give me a regular gluten crust and watch out...my crusts are wicked creative.
But take away my gluten and dairy, and suddenly I'm just praying I can get it into the pie plate...in less than four pieces.
So I started to baby this crust.
I said nice things to it. I touched it oh so carefully. Piece by piece I methodically put it back together. I felt like a pie surgeon. It all paid off. I was
able to put it back together AND it resembled a pie crust.
Woot woot!
I'll say it wasn't my prettiest pie crust. But a start.
Pie fillings haven't been a problem and I really enjoy trying new recipes. For this pecan filling I used Allergy Free Alaska's gluten free pecan pie recipe. I was curious to try a pecan pie filling that was corn syrup free. #kindahealthy...right?
And after adding the pecan filling and baking, I ended with this beauty. This pie was good! Not quite up there with the bakery pies we were spoiled with, but close. And I think I could get there. With more practice I could actually get festive and creative with crust borders again. I am at least really excited to explore pie recipes again.
So bring on the holidays and our family pie party!
Are you having "pie party" mental blocks in your own culinary experiences? Do you need a pie party kind of experience? Is there a recipe out there you've been hiding from? What is it? Or is there a recipe you've recently conquered?! Please share it in the comments!
Eat well, feel well, and party well!
Jill