These Chewy Chocolate Chip Cookies are everything they should be. They taste perfectly buttery, chewy, doughy, and are loaded with melty semisweet chocolate chips. Enjoy these with a warm glass of dairy free milk for all the cozy good feels, and all your cookie cravings will be satisfied.
And seriously though-- this recipe uses LOTS of chocolate chips plus you can taste the vanilla and butter. They are just so mouthwatering and you won't believe they are gluten and dairy free for a second.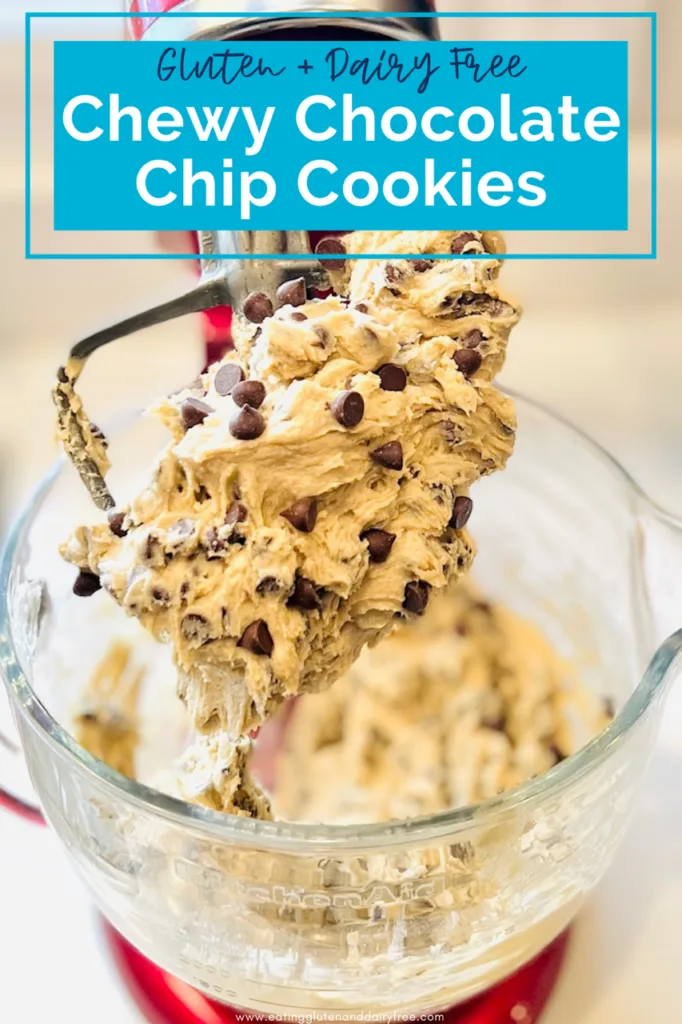 One of my favorite things about this cookie recipe is there are no weird ingredients you won't be able to find. And we've provided links to buy the gluten free all-purpose flour in bulk and save some money.
And what is not to love about having all the ingredients on hand? We are thrilled when our kids ask to bake these cookies, and we can say yes without an unplanned trip to the grocery store.
chewy chocolate chip cookie ingredients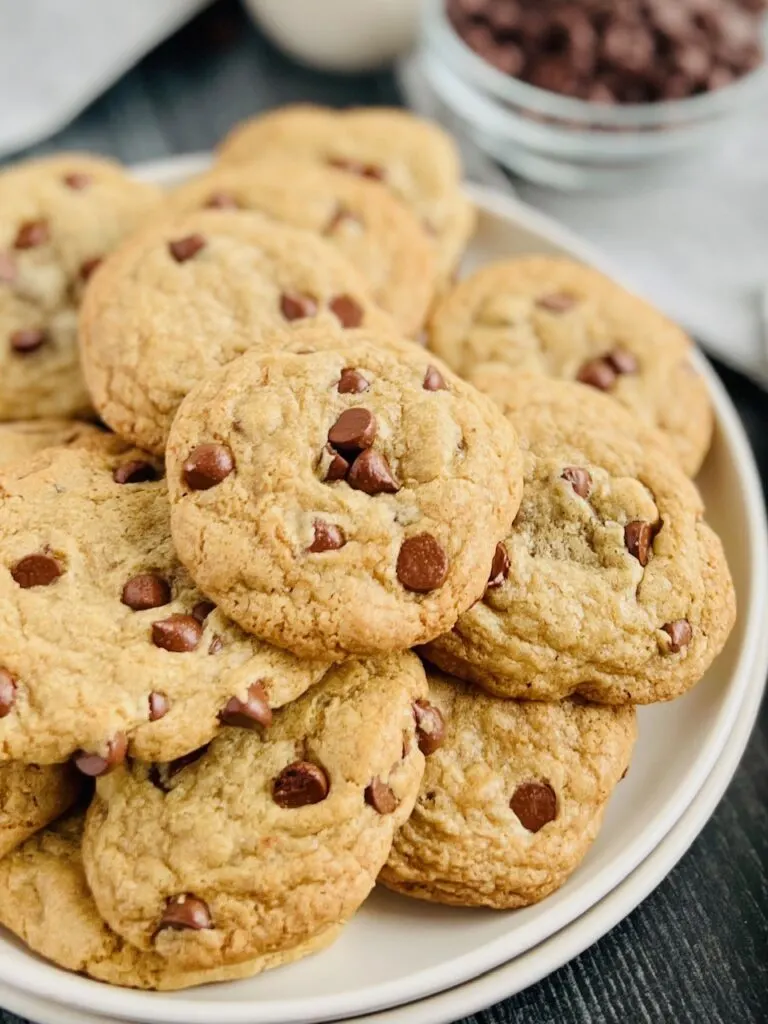 kitchen gadgets and baking essentials
small saucepan
hand mixer or electric stand mixer with the paddle attachment
large cookie baking sheets-- here is the baking pan we've enjoyed baking on for years. We have a few of them.
measuring cups
small cookie scoop-- we use this for so many recipes and absolutely love it. It not only helps all your cookies to be the same size, but you will also find using a cookie scoop helps get these on the cookie sheet faster.
frequently asked questions
why does this recipe melt the butter and cool it
Adding melted butter instead of the traditional softened butter will result in a chewier cookie. This is one of the main differences between our super soft chocolate chip cookie recipe and this chewy chocolate chip cookie.
what is the spoon and level method
This is so important to follow when using flour in any recipe.
Flour must be accurately measured for recipes to turn out. However many have been measuring flour inaccurately (including us for a time!)
For instance, if a recipe calls for one cup of flour, and you scoop the flour out of the bag with the measuring cup, you could end up with 1.25 times as much flour instead!
By scooping the flour directly out of the bag, one is essentially packing extra flour into the measuring cup.
This can make a huge difference in the taste and appearance of recipes.
Instead "spoon†the flour out with a large spoon and level the top of the measuring cup by scraping a knife across the top.
can these be frozen
Yes. We almost always have a dozen or two of these gluten free and dairy free cookies in the freezer at all times. They thaw so quick for a grab-and-go snack, road trip, or birthday party.
And we found traveling with these frozen and tightly packed is a great travel hack. That way they arrive at your destination unbroken and ready to be enjoyed.
do you prefer your cookies chewy or crunchy
Turns out, America has a definitive answer! According to National Today, 35 percent of you like crunchy cookies, but a whopping 65 percent of you LOVE your cookies chewy!
You will love this chewy chocolate chip cookie recipe.
We adapted this homemade recipe from a similar chocolate chip cookie recipe we found on the Lauren's Latest website. We altered the ingredient amounts and made gluten free, dairy free, and soy free ingredient substitutions so our entire family could enjoy these delicious cookies.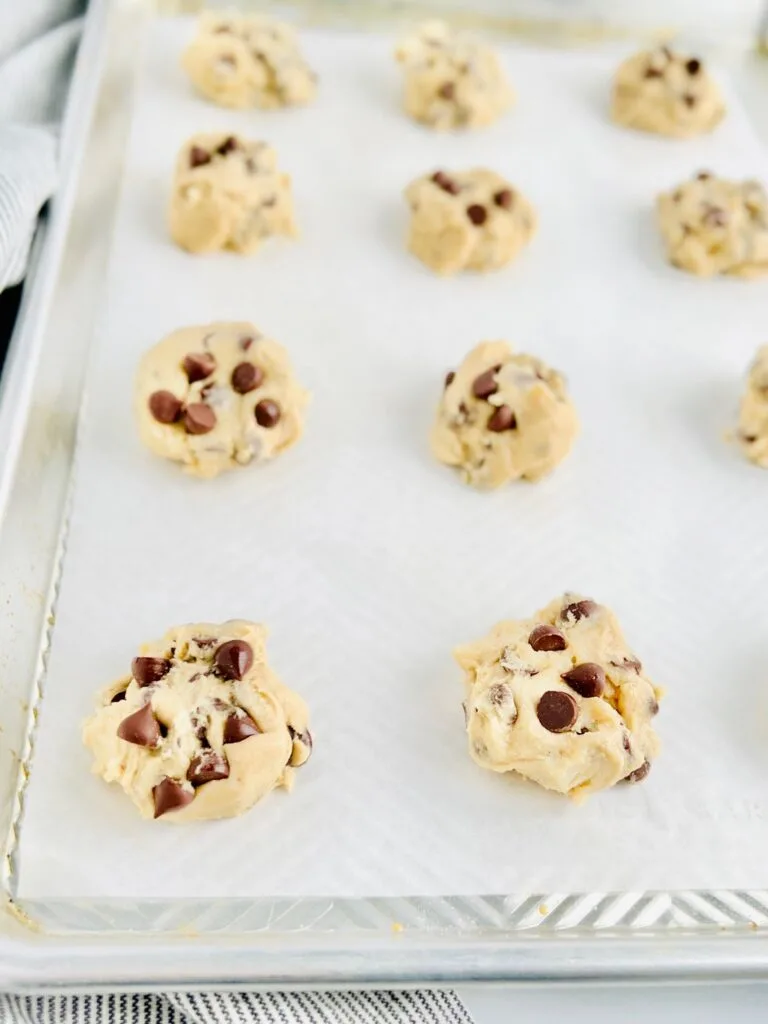 more cookie recipes you will love
no bake cookies-- delicious bits of chocolate peanut butter covered oats formed into round-shaped cookies everyone loves. They taste rich, wonderful, and they melt-in-your-mouth.
oatmeal chocolate chip cookies-- loaded with oats and semi-sweet chocolate chips for absolute perfection. You'll enjoy this soft and chewy classic cookie with crispy edges so much.
caramel apple cookies-- flavored with warm apple pie spice, shredded fresh apple, and sweet apple juice. And they're topped with a thick, brown sugar frosting and roasted pecans for the ultimate sweet indulgence
3 dinner recipes to fall in love with
Our family is excited to see buttery and hearty mini chicken pot pies, cozy spaghetti pie and taco bake on the menu for this upcoming week. If you have not tried these recipes yet, do. You and your loved ones will fall in love with these safe, homecooked meals.
lastly
Do you miss the classic taste of traditional chewy chocolate chip cookies?
Then this is your new favorite recipe. You won't even believe these cookies are gluten free and dairy free!
Plus did you know we have shared so many more recipes with you on our website, Eating Gluten and Dairy Free? There are recipes for every occasion and holiday too.
Follow along on Facebook, Pinterest, and Instagram for the very best of eating gluten and dairy free.
Eat well and feel well,
Jill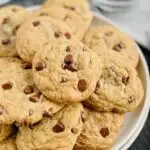 Print Recipe
Chewy Chocolate Chip Cookies
Servings:
4
dozen cookies
Ingredients
1

c

dairy free butter

2 sticks
Dry Ingredients
2½

c

gluten free all-purpose flour

spoon and level method

½

teaspoon

xanthan gum

omit if gf all-purpose blend contains this or guar gum

1

teaspoon

baking soda

1

teaspoon

kosher salt
Wet Ingredients
1

c

brown sugar

packed

½

c

granulated sugar

2

large

eggs

room temperature

2½

teaspoon

vanilla extract

2¼

c

dairy free semisweet chocolate chips
Instructions
Preheat the oven to 350°F. Line 2-3 cookie baking pans with parchment paper and set aside.

In a small saucepan, melt the butter over medium heat. When the butter melts and begins to boil, turn off the heat and allow to cool for 20 minutes.

Then while the dairy free butter is cooling whisk the dry ingredients in a medium- sized bowl.

In a large mixing bowl or in an electric stand mixer with the paddle attachment, combine the sugars, eggs, and vanilla extract until just combined.

Scrape down the sides and bottom of the bowl as needed and add in the butter.

Add the dry ingredients to the wet and combine on slow, again scrapping the sides and bottom of the bowl often. Be careful not to overmix the batter.

Lastly fold in chocolate chips.

Using a small cookie scoop or spoon, drop cookies 2-inches apart on a cookie baking sheet.

Bake for about 9-10 minutes. The cookies will look slightly doughy still in the middle. Remove and they will continue baking on the cookie sheet.

After 10 minutes remove cookies to a cooling rack. Serve and enjoy.

Store leftovers in an airtight container on the countertop up to 5 days.

Cookies maybe cooled and frozen up to 3 months.
Keep scrolling to sign up for our exclusive emails below.