Who else is swooning over these warm handheld dippable pizzas? Can you believe how crispy and thick this homemade calzone dough is? And what if I told you the inside was stuffed with pizza sauce, pepperonis and dairy free cheese-that actually melted and tasted good.
Wouldn't you agree that while everyone loves pizza, calzones tend to be forgotten? But these are so fun to eat and dip into pizza sauce they're a must in my menu planning.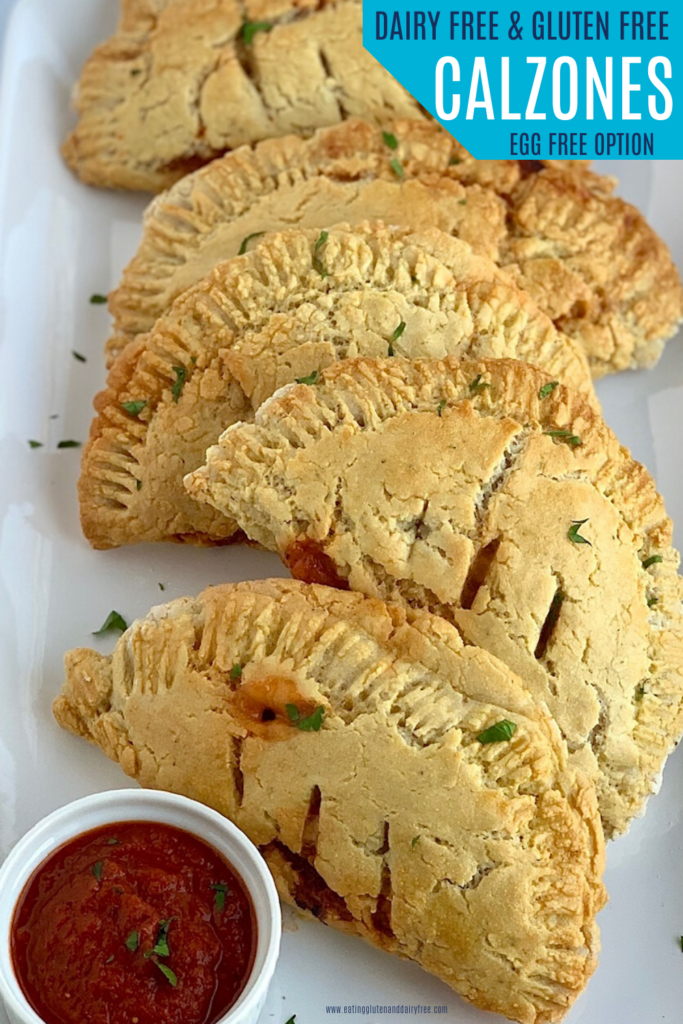 Another great reason to bake these homemade calzones is the filling. You can personalize these just like you would mini pizzas. Pepperoni, sauteed veggies, Hawaiian toppings and don't forget supreme calzones taste good too! And no matter what toppings we choose we always love our own bowl of pizza sauce to dip into.
Speaking of meal ideas
There are countless reasons to bake these mouthwatering calzones. My family goes crazy when they see me put the dough hook on my kitchen mixer. They now calzones are on the way without evening asking. Because they like them so much I started incorporating them more into my menu planning.
first, for stocking your freezer, see my tips for freezing these in the recipe notes.
great travel food, freeze them ahead of time, then place in your travel bag. Reheat them in a hotel or gas station microwave.
third these are a camping must. Again freeze calzones ahead of time and reheat for an easy on-the-go lunch after you've been out exploring.
also for your child's school lunch or snack idea. These calzones are uber filling and with no peanut or tree nut ingredients, other classmates will be safe too; thou I'd recommend checking labels to be sure.
don't forget about college students living on or off campus. These work perfectly for them. Freeze a batch, reheat in the microwave, and eat while headed to class or study group.
and what about your work lunch break? Let's just say your coworkers will be #sojealous of you enjoying a homemade calzone.
So as you can tell these homemade calzones are the perfect meal idea to eat nice and warm right out of the oven. Or freeze and reheat them on the go.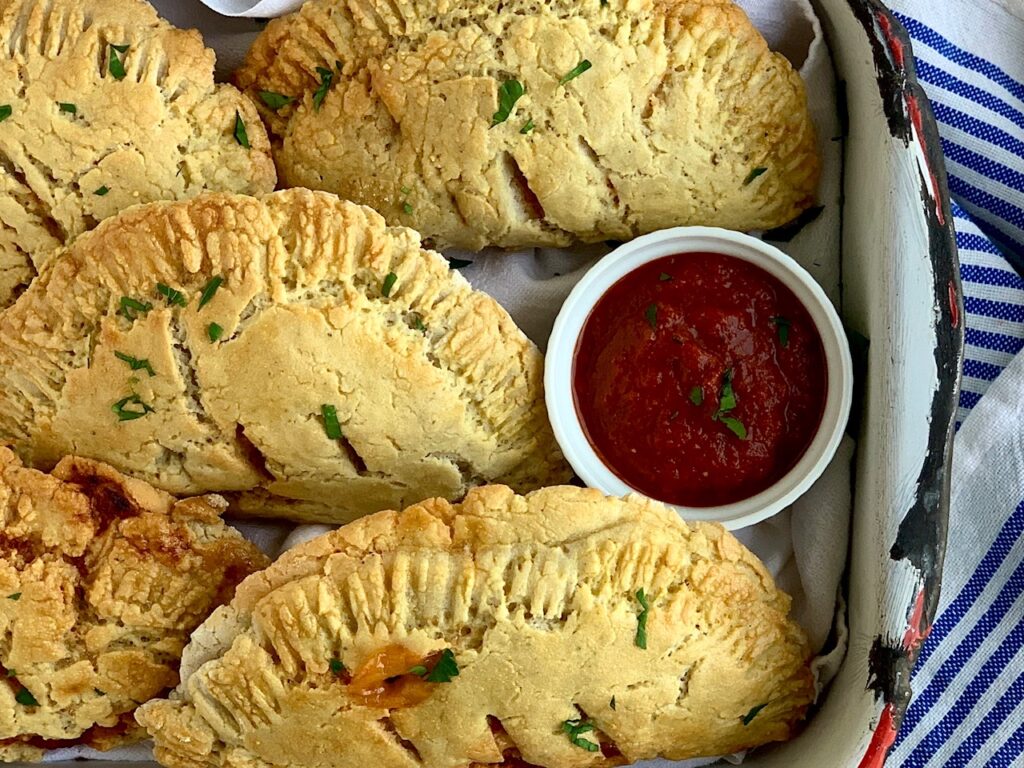 homemade calzone notes + tips
first make sure your active dry yeast is fresh or the yeast won't release the carbon dioxide it needs to for the dough to rise. If the active dry yeast doesn't get bubbly and foamy, the yeast has gone bad and the calzones dough won't turn out.
second for gluten free flour in this recipe I commonly use Bob's Red Mill Gluten Free 1 to 1 Baking Flour. Keep in mind this all purpose flour already contains xanthan gum so you don't need to add that into this recipe. Did you know you can purchase this flour in bulk from Amazon here and save yourself money?
definitely use pizza sauce in these homemade calzones. Marinara and tomato sauce are too runny for this meal idea and you'll end up with soggy calzones.
next dairy free cheese in this recipe is optional. Generally speaking from experience our family is picky when it comes to dairy free cheese. To be honest 98% of the cheese brands available my kids and I won't touch. Thankfully these calzones taste delicious with or without it. However if you've found a safe cheese you love — use it. Recently we tried VioLife mozzarella shreds in this recipe and enjoyed every bite. This cheese is 100% vegan, soy free, gluten free, lactose rise free, nut free, and preservative free. And it even melted in this calzone recipe. Kite Hill Ricotta is a dairy free option too.
if you're using veggies in the filling, saute them first (mushrooms, onions, spinach, garlic, etc.).
importantly this recipe is easily modified to be egg free. Omit the egg wash for an easy and delicious egg free meal.
and as hard as it is — don't over stuff these beauties. It just makes for a soggy mess because the pizza sauce juices will run out. Trust me… been there, done that.
lastly for this recipe a Kitchen Aid mixer and a dough hook is a must. If you're shopping for a mixer this is the model I have. It comes with a 5 quart clear glass bowl that I use all the time. And three blending attachments including the dough hook needed for this recipe. I can't believe how quickly this mixer whips together the calzone dough. Y'all, it's amazing. These always make for wonderful Mother's Day or birthday gifts too.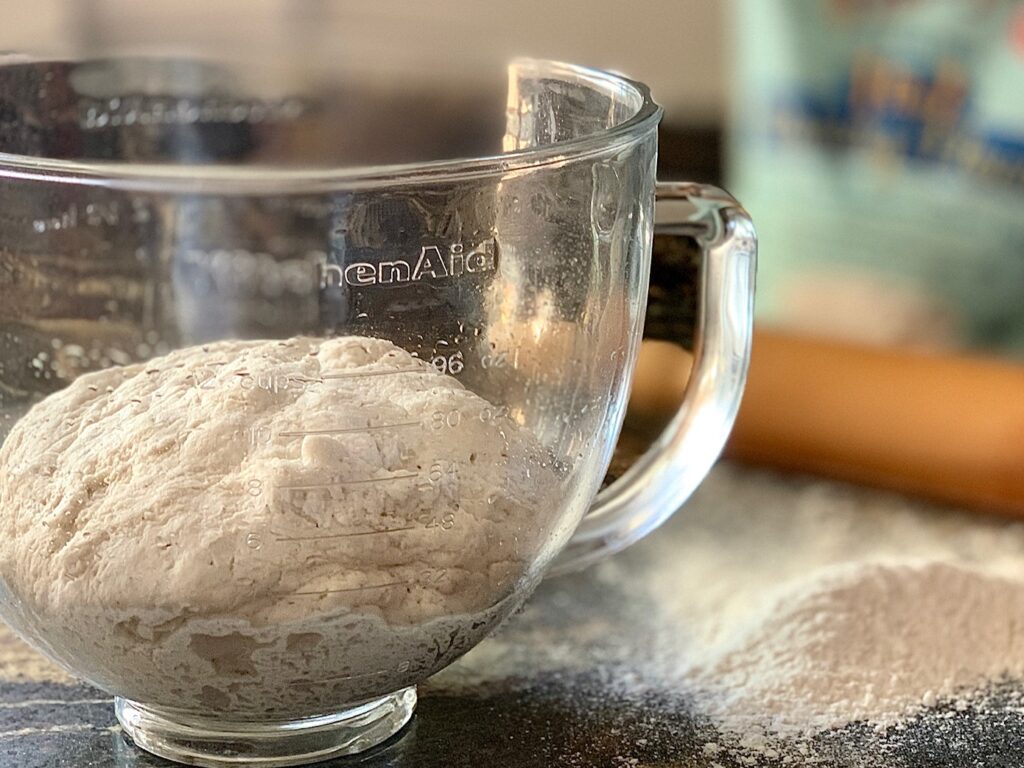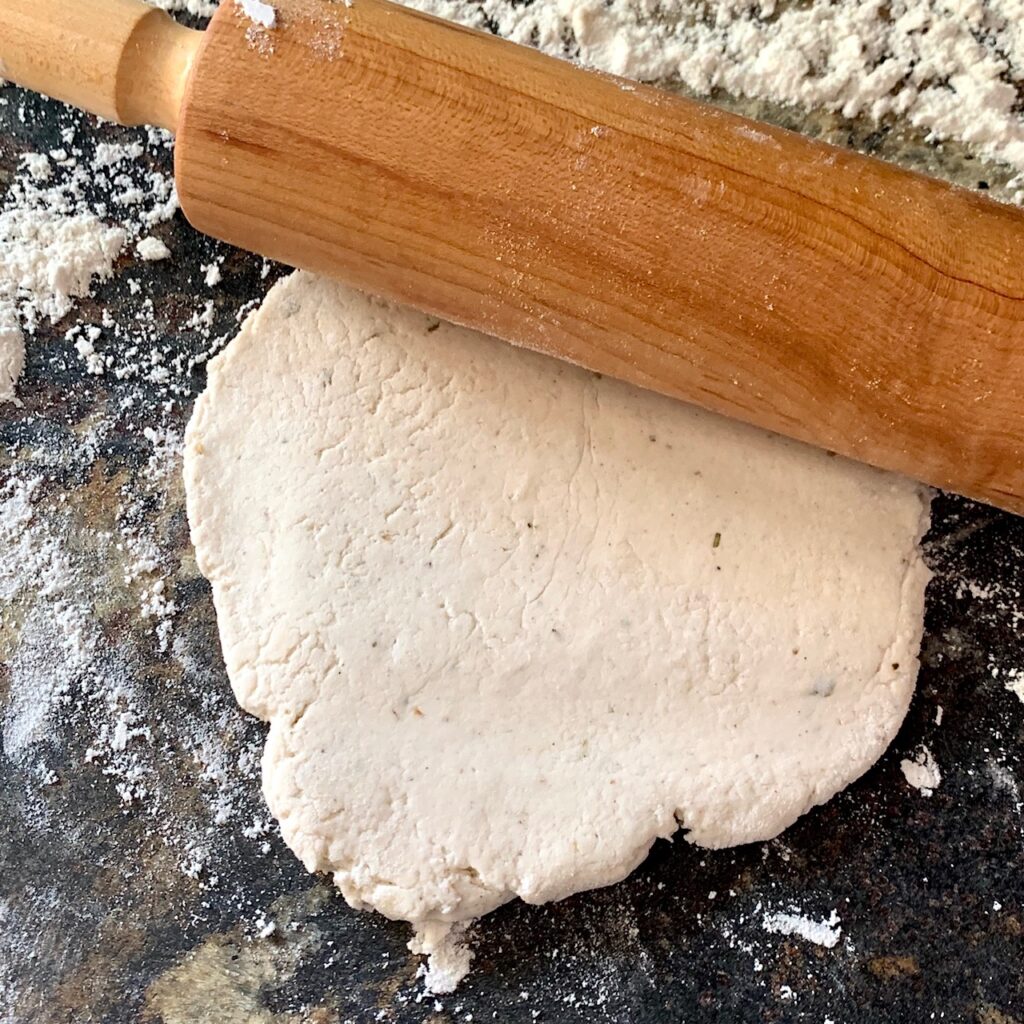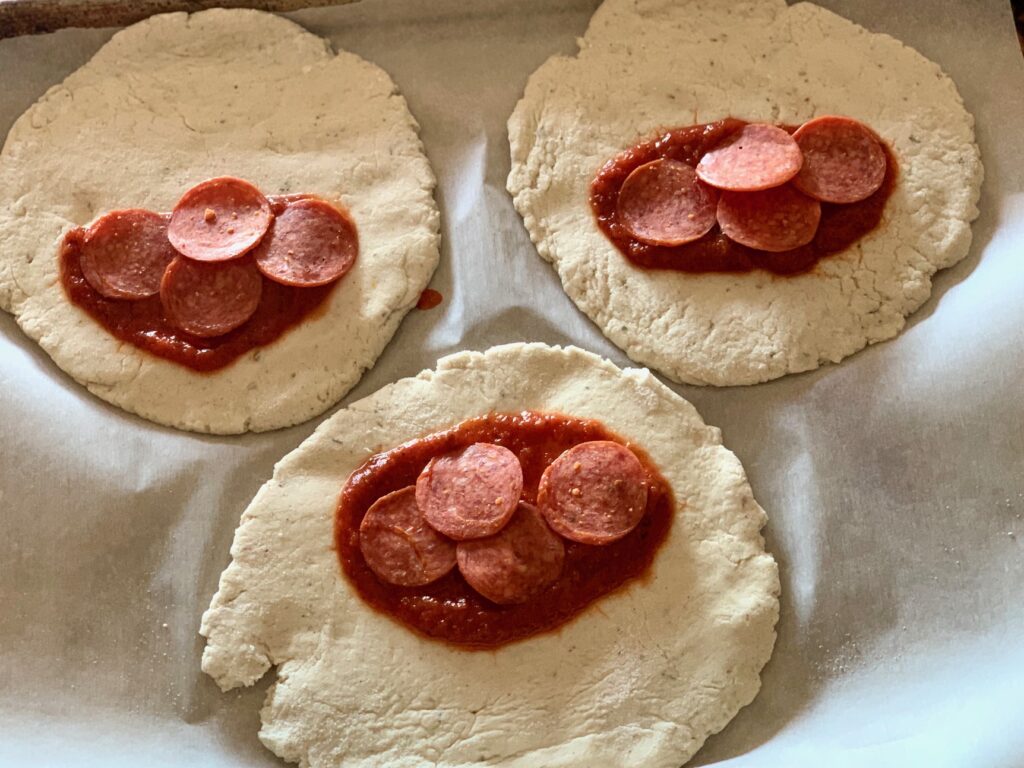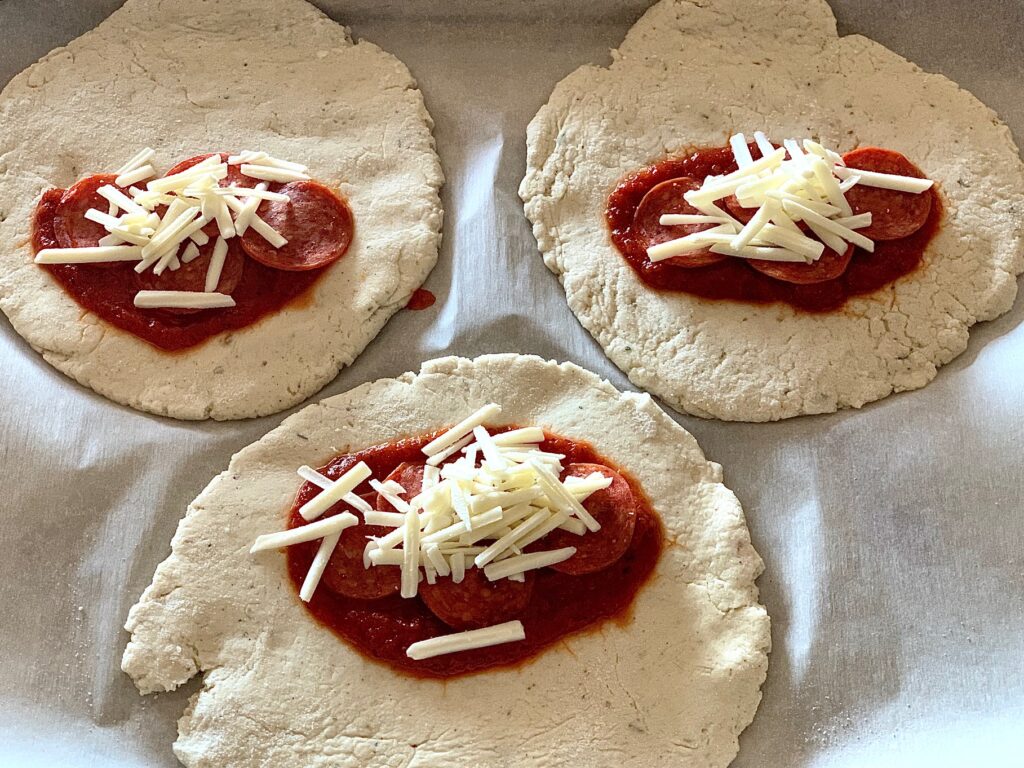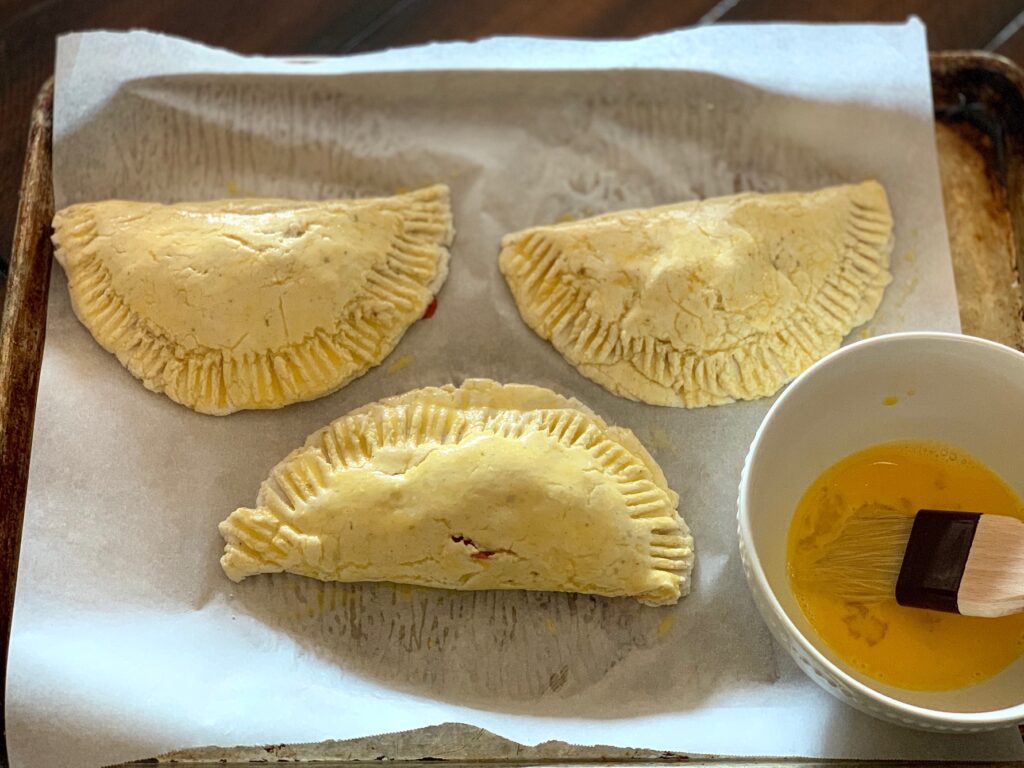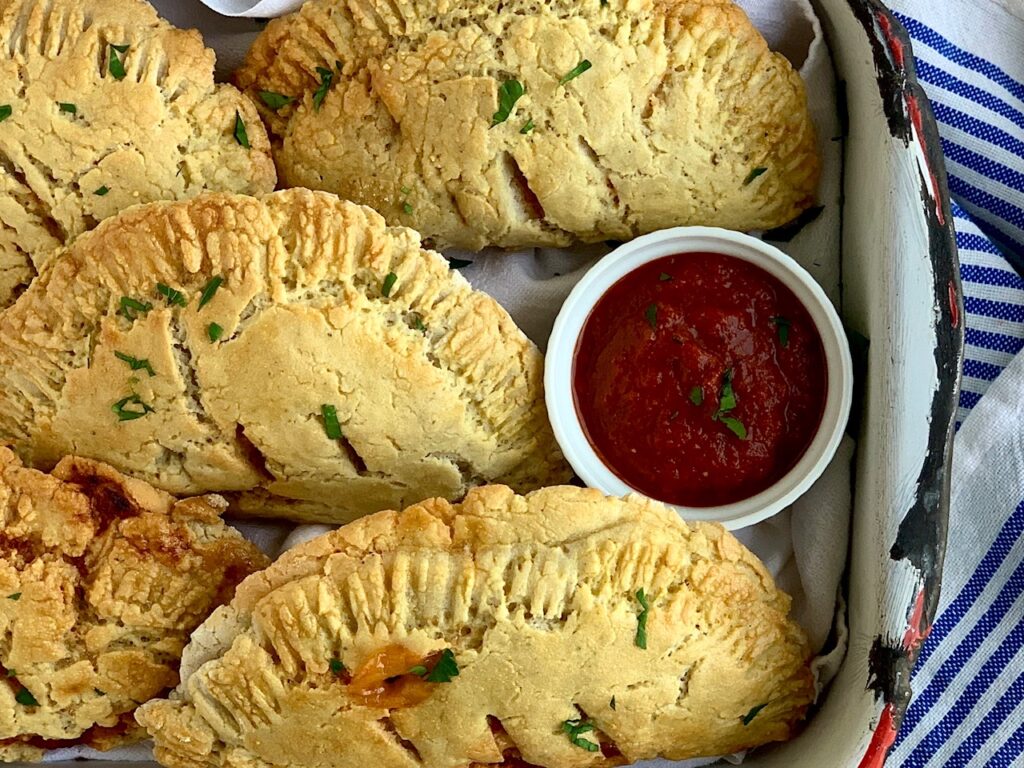 more gluten + dairy free meal ideas
sweet and sour meatballs — these homemade meatballs are delectable, and when combined with diced bell peppers, pineapple chunks, and the best sauce, you'll absolutely fall in love with this meal.
cinnamon swirl waffles — these waffles taste delicious any time of the day. These are complete with a caramelized swirl and gooey topping that's unbelievable.
and lastly have you checked out my homemade sloppy joe recipe? It's such a quick and easy meal that is also filling. I've gotten so many messages from readers saying they love this recipe.
lastly
As if you can't tell, these homemade calzones are a monthly must for my family. Moreover I'm thankful I came across a similar recipe from Kacey at The Cookie Writer found here. Thankfully I was able to make the necessary substitutions and rework the recipe ingredients to make a safe homemade calzone we can all enjoy.
And if you're new to my website, please take a moment now to make your self at home. Explore my website and you'll notice new recipes and tips for daily living are posted often. Also if you haven't already, follow me on Facebook, Instagram, and Pinterest. That way you'll be up on the latest and greatest in the gluten and dairy free world.
Enjoy these warm and filling homemade calzones.
Eat well and feel well,
Jill
Print Recipe
Homemade Calzones
Ingredients
Calzone Dough
2

tsp

Fleischmann's active dry yeast

not quite a full package

1¾

c

warm water

use a thermometer so the water temperature is 110°F

2

tsp

salt

2

tsp

granulated sugar

3

tbsp

oil

plus more for greasing the mixing bowl

1

tsp

Italian seasoning

optional

3½

c

gluten free all purpose flour

plus more for kneading

1

tsp

xanthan gum

omit if your gf all purpose flour has this in it
Pizza Toppings
1 heaping

tbsp

pizza sauce per calzone

have extra for dipping sauce with the meal

20-25

pepperonis

½

c

shredded dairy free mozzarella cheese

VioLife Shreds melts perfectly and tastes good

1

egg, beaten

omit if egg free

optional toppings: Italian sausage, bacon, mushrooms, olives, onions, peppers, garlic, Canadian bacon, pineapple, etc.
Instructions
Preparing Calzone Dough
You will need a warm place for dough to rise. I use the oven. Preheat oven to 200°F. When oven reaches 200°F keep the door closed and turn the oven off. Preheat oven right before yeast, sugar, and hot water sit.

In a large stand mixer place yeast, sugar, and hot water. Stir and allow to sit for 10 minutes. Mixture will become foamy.

Add the salt and olive oil.

Attach the dough hook, add the xanthan gum and flour 1/2 cup at a time, on low setting. Scrape down the side of the bowl 2-3 times. Mix until just combined. You will find the dough is tacky to touch.

Grease the inside of a large oven safe bowl with oil. Place dough in the bowl and cover with plastic wrap. Transfer to the heated oven. Set timer for 60 minutes.

After an hour the dough should have almost doubled in size. Remove from the oven.
Preparing calzone rounds
Place parchment paper on 2 baking sheets and set aside.

Preheat the oven to 425°F.

Generously place gluten free all purpose flour on your countertop.

Separate dough into 6 equal size balls and set aside. Keep in mind this will produce 5 adult size calzones. For smaller calzones separate into more balls.

Knead each ball until the dough is not sticky. Roll each ball individually with a rolling pin into a round circle and gently place on the prepared parchment paper.
Toppings
After all 6 rounds are on parchment paper, place a heaping tablespoon of pizza sauce on each calzone. Position the sauce just in the center of each calzone leaving a one inch space between the edge of the round and the sauce. If pizza sauce is placed too closely to the edge of the round, it will seep out of the calzone during baking, and get messy.

Sprinkle toppings over pizza sauce and gently fold dough over toppings.

With a fork seal round edges. With a knife slice 3 vertical air vents into the top of each calzone.

Brush top of each calzone with egg wash. Egg coating gives the calzone a beautiful shiny and golden color. This is an optional step so omit if this recipe needs to be egg free.

Transfer baking sheet to the oven for 22-25 minutes.

Remove from the oven and allow to cool slightly. Serve with a side of pizza sauce for dipping.

Store leftovers in an airtight container and refrigerate.
Notes
This calzone recipe freezes well too. After removing calzones from the oven allow to completely cool. Then wrap individually in parchment paper and place in a gallon size Ziploc bag or batch freeze on a baking sheet and then place in a Ziploc bag. You don't want the calzones to stick together while freezing. Enjoying eat these from the freezer and reheated on the go or thaw them all for a quick family meal.