What's the number one rule to eating allergen free? Always planning ahead! And with camping season quickly approaching I've prepared this Allergen Friendly Food Camping Guide just for you. I want you to be able to plan your meals ahead of time and not stress at the last minute over what's safe and what's not. In this guide you'll find food tips and suggestions for planning an easy mealtime menu so you can experience your best camping yet.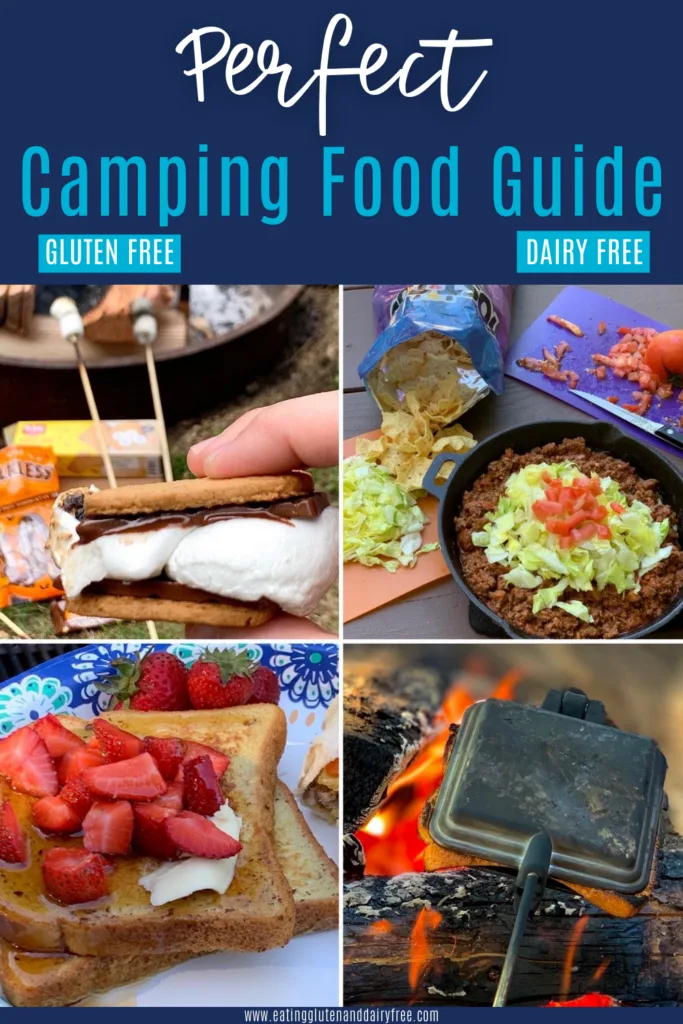 Importantly-- notice all the suggestions are gluten and dairy free. Moreover several of these are also free of the Top 8 allergens.
Keep in mind while reviewing this allergen friendly food camping guide, keep in mind I didn't label everything gluten + dairy free. On a post with this much detail it would be too much for every line suggestion to read gluten and dairy free. Please know everything I've mentioned is available 100% gluten and dairy free. And you'll notice for most suggestions I've provided a recipe link or tagged the company brand for your reference.
I want you to have the best camping experience possible -- if you have any questions regarding the food suggestions in this allergen food guide, please don't hesitate to reach out to me in the comments below.
camping pro tip
Prepare and freeze as many meals ahead of time as possible. For instance when we pack for camping I typically throw in the cooler Ziploc bags of frozen spaghetti meat sauce, taco meat sauce, crock pot taco soup, calzones, and even breakfast burritos. These items not only help keep the cooler cold, but they also provide me with easier camping meals-- which means more time with my family.
Lastly travel with large plastic containers full of pre-washed and cut fresh veggies and fruit. These will provide wonderful and healthy sides or on-the-go snacks.
With these tips you'll have more time to explore, relax, and create memories.
allergen friendly food camping guide breakdown
Here are the topics we'll cover in this guide:
breakfast
lunch, dinner, and side ideas
dessert
snacks
condiments plus including cookware
first breakfast
Honestly hands down breakfast is our favorite camping meal of the day. And it goes without saying the hubs is the master breakfast maker in our home -- and on the road too. Here is a list of safe breakfast ideas to start your day right:
Pancakes -- these can be prepared ahead of time and frozen or fresh on the griddle with this Bisquick brand with dairy free milk
French Toast --topped with fruit, powdered sugar, and syrup. I have great luck with Udi's Delicious Soft White bread
Breakfast Burritos -- the recipe is here for these hearty and flavorful make-ahead and freeze burritos
Muffins -- homemade or Udi's frozen blueberry muffins
Donuts -- you'll find several homemade donut recipes on my website or this Katz brand in the frozen section of many grocery stores
fresh Fruit
Omelets -- great meal idea towards the end of your camping trip if you need to use up leftover veggies and dairy free milk
Eggs
Ham
Breakfast Hash/ Skillet
Potatoes -- over the fire in tin foil packs
Toast -- on some trips we travel with a gluten free toaster
Bagels -- we go crazy over Udi's bagels and flavored Kite Hill cream cheese
Cereal with milk
Yogurt, Fruit, and Granola -- always double check your granola is GF
Bacon
Sausage -- check the label ingredients; some brands have gluten.
Oatmeal with brown sugar or dried fruit -- Bob's Red Mill sells individual cups of gluten free oatmeal like this variety pack. These are delicious anytime, and ideal for early morning breakfasts with minimal clean up.
Hot Chocolate -- who can resist warm hot chocolate on cold camping mornings? The Double Dutch Hot Chocolate Castle Kitchen brand is so, so good. It's vegan too.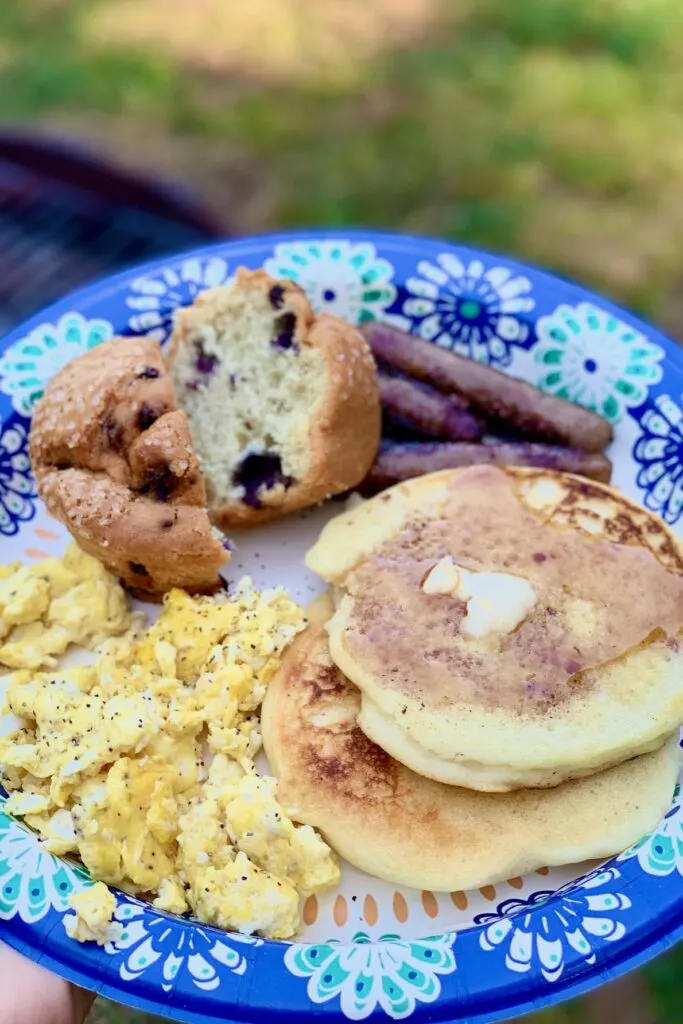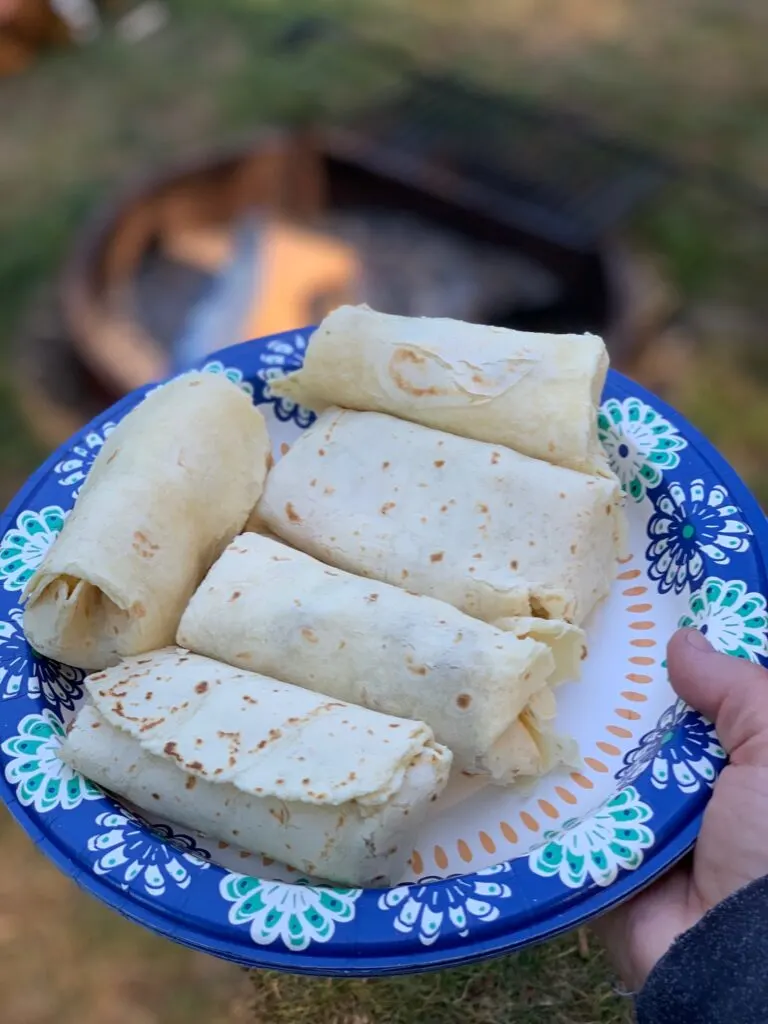 second lunch, dinner, and side ideas
Lunch and dinner ideas usually seem to be trickier. Who else likes to be out and about exploring until dinner time? But then it's a mad rush to get dinner fixed and served -- like yesterday to a starving family. Do you have the same struggle too? Again many of these meal suggestions are for make ahead meals so you just have to reheat. It's worth noting I've included a variety of tin foil suggestions too.
Taco Soup --with tortilla chips - this crock pot make-ahead soup can be travel refrigerated or frozen and thawed. It tastes great after being warmed over the campfire. Here's this recipe.
Homemade Calzones -- bake ahead and freeze then reheat at your campsite for an on-the-go lunch or dinner. Tap here for the delicious recipe.
Hot Dogs, Hamburgers --with Udi buns and all the topping
Easy Taco Skillet -- another easy make-ahead recipe found here
Shish Kabobs -- this is one of our favorite camping meals. The day before traveling prepare the meat and veggies in a gallon size Ziploc bag with this mouthwatering marinade recipe. Let this meal marinate overnight then enjoy on your first night of camping.
Grilled Chicken --with BBQ sauce -- we enjoy Sweet Baby Rays original BBQ sauce found here
Boxed Mac and Cheese -- we use this brand and top with any leftover bacon from breakfast
Skillet Lasagna -- prepare the meat sauce ahead of time, freeze, and thaw on your trip. Tap here for the easy recipe.
Potatoes -- baked or cubed in tin foil packs with all the toppings- including left over bacon crumbles
Roasted chicken and vegetables -- in tin foil packs
Campfire Chili Fries -- use frozen french fries and homemade chili sauce
Tacos in a Bag
Corn on the Cob
Fire Roasted Sweet Potatoes -- substitute this recipe with DF butter
Hobo Hamburgers -- check out this Paula Deen recipe. This recipe does need GF crackers and DF cheese substitutes.
Deli Sandwiches -- use buns and all the sandwich toppings
Campfire Beans and Weenies
Fruit -- with a yogurt dip. We use this yogurt dip.
Veggies --with a bottle of Ranch dressing or hummus (see this post for my dairy free Ranch suggestions here)
Peanut Butter and Jelly Sandwiches
Peanut Butter and Honey Tortilla Roll Ups -- these tortillas work great
Jerky
BBQ Bacon Onion Wrapped Meatball Bombs -- check out this recipe here
Haystack Dinner -- this recipe with easy GF/DF substitutions.
Baked Beans
Steak and Potato Packets -- substitute this recipe with DF butter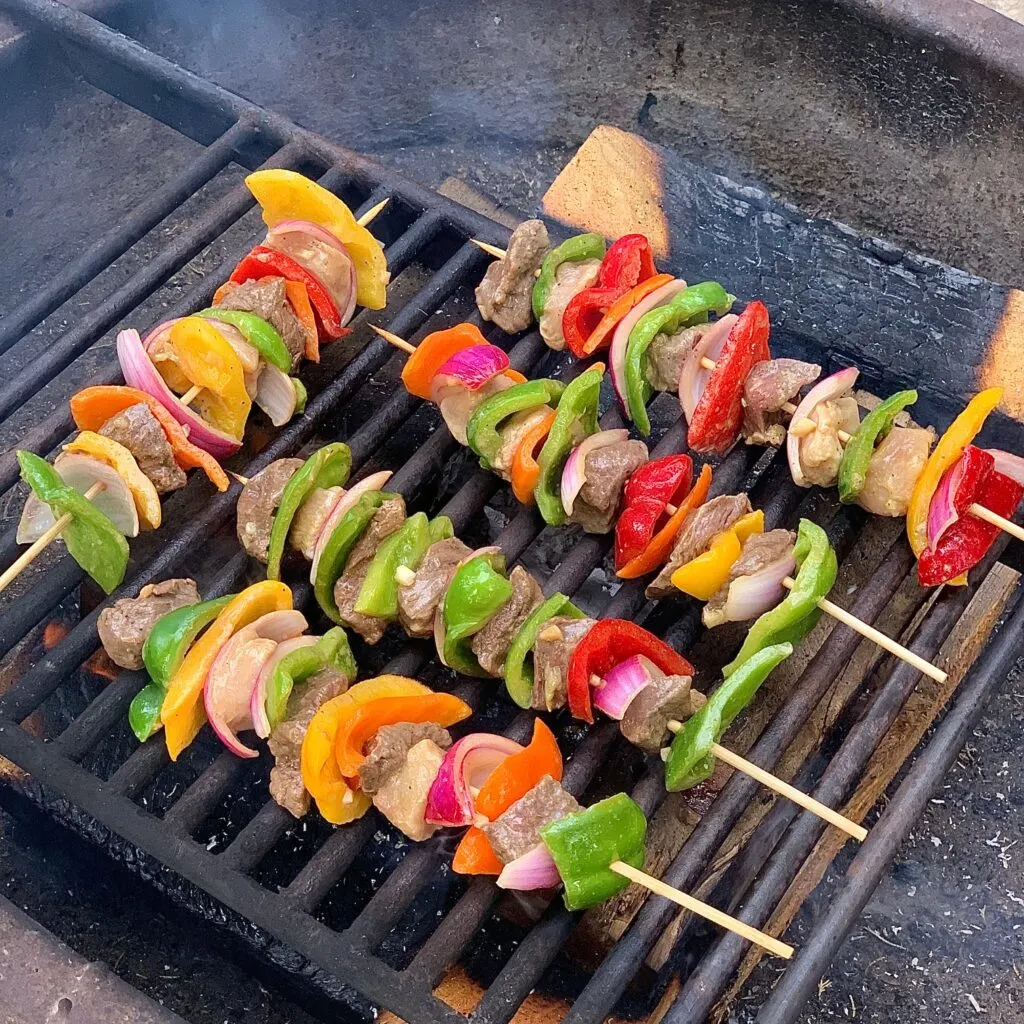 then desserts
I know our #1 camping priority is s'mores. Am I right?? But just in case you're interested in other dessert ideas, check these out.
S'mores -- Shar Gluten Free Honeygram crackers, marshmallows (pack extra for hot chocolate), dairy free chocolate bars (both No Whey and Enjoy Life sell delicious bars for s'mores)
Campfire Mountain Pies (Pudgy Pies) -- check out my recipe here. These only require 3 ingredients and who doesn't love a homemade pie over the campfire?
Fruit Crisp --topped with So Delicious Coco Whip
Taffy --over the campfire is AWESOME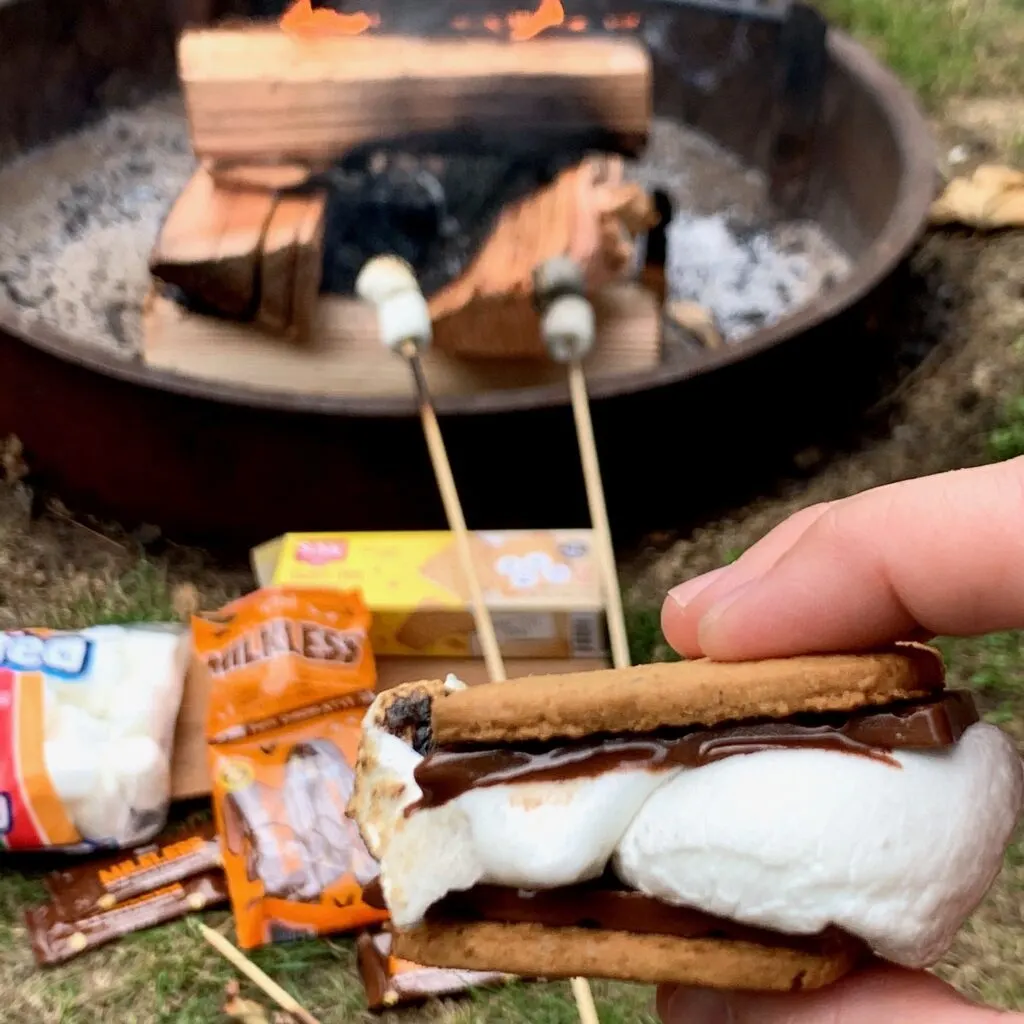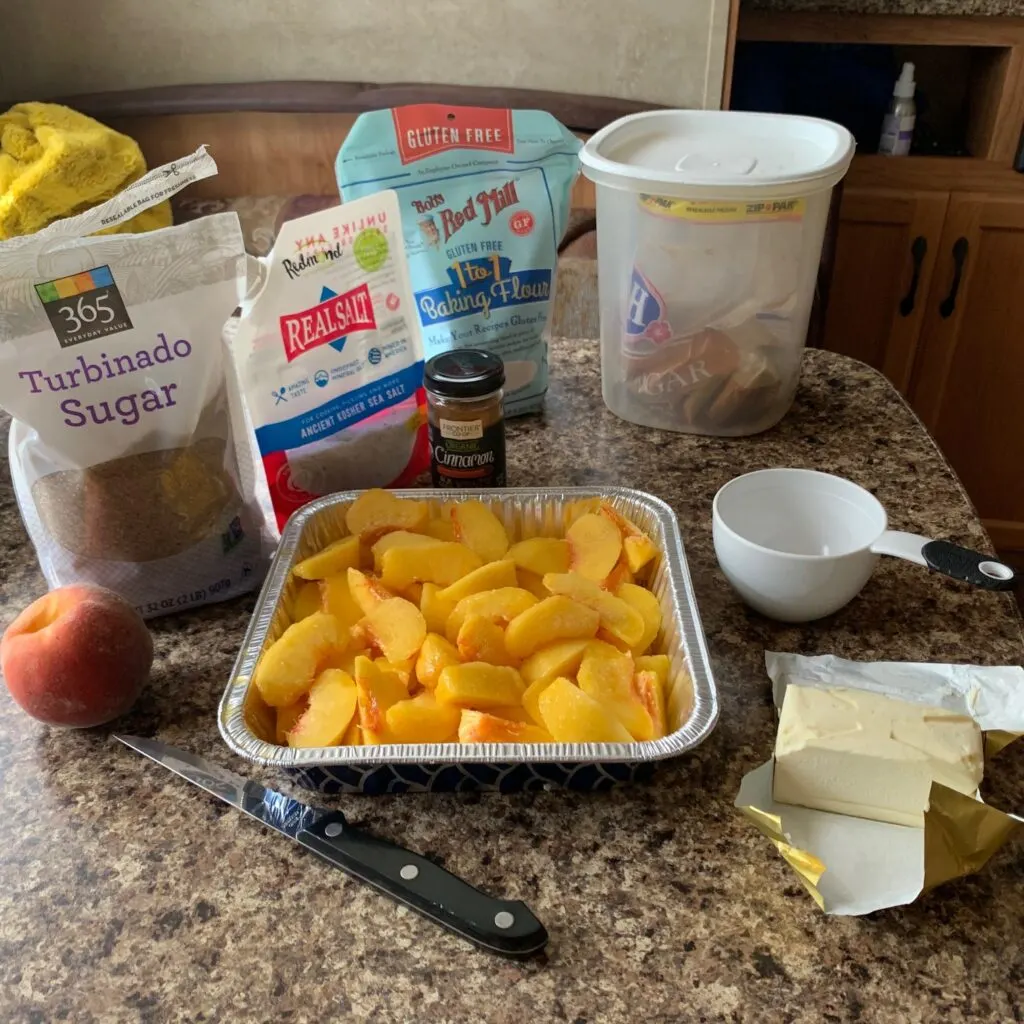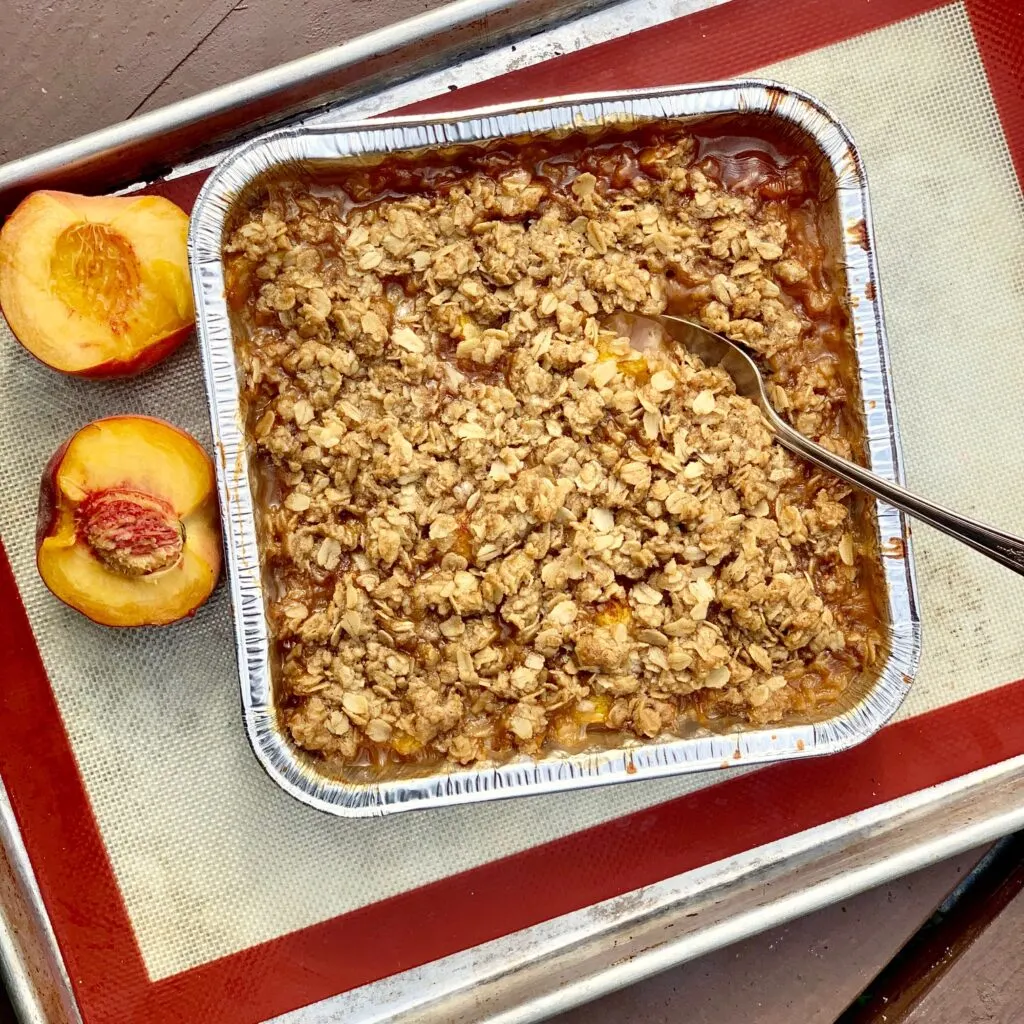 also snacks
This allergen friendly camping guide wouldn't be complete without snack ideas. While these meal ideas are filling, you can't wrong carrying snacks when exploring nearby landmarks or hiking trails.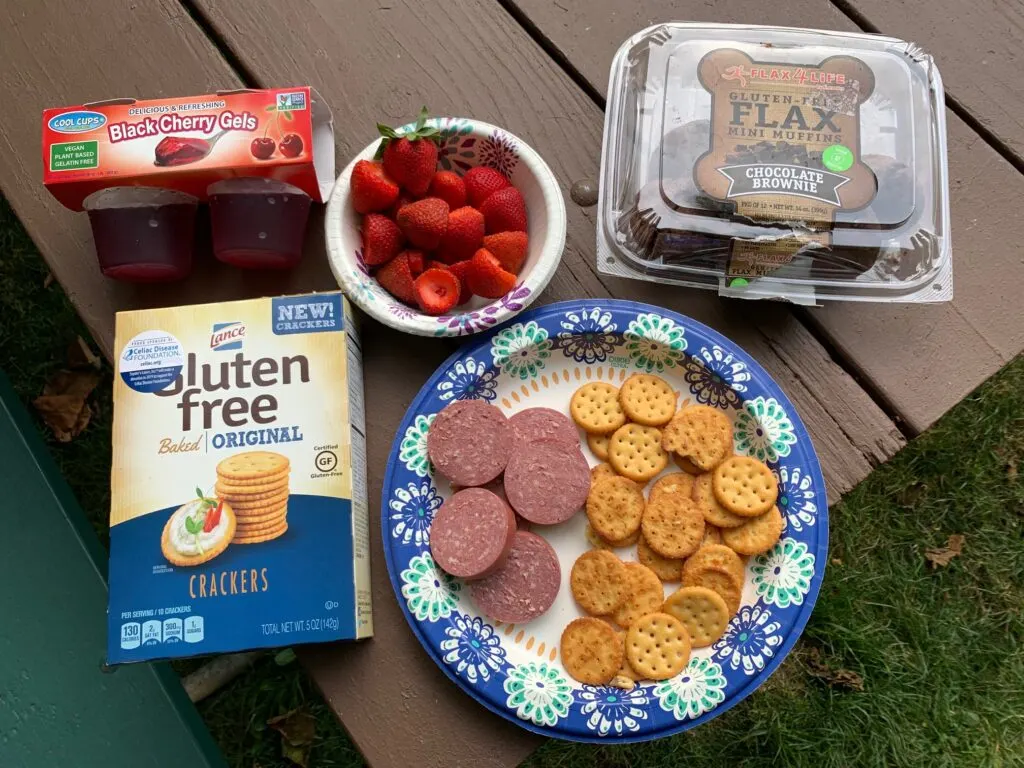 and condiments plus
Who else has accidentally forgotten important condiments at home? There's nothing like forgetting the maple syrup or BBQ sauce. It's a total bust to have a warm plate of pancakes and no syrup, right?! Therefore I thought it was important to list the more widely used condiments here. Some of these can be safely bought at an RV grocer, but others can't. And depending where you're camping you might not have access to any safe condiments.
Now I've found myself remembering to pack from this condiment list first when preparing to leave for a trip. That way in the rush of the trying to get on the road I know these small, but important necessities are safely packed. But even more importantly this is one of the reasons why this allergen friendly food camping guide is so, so valuable.
Maple Syrup
Ketchup
Mustard
Tomato
Onion
Mayonnaise
Lettuce --for burgers
Hummus
Butter -- this brand is soy free too
Favorite Spices including Salt and Pepper
Kite Hill Ricotta
Non Stick Spray
Cinnamon
Sugar
Brown Sugar
Powdered Sugar --for french toast
Vanilla Extract
Dried Fruit
Honey
Jelly
Peanut Butter
Oil
Shish Kabob Sticks/ Skewers
Over the Fire Pie Makers -- for sandwiches or pie
Aluminum Foil
Ziploc Bags
lastly
This allergen camping food guide includes food suggestions for a variety of allergies and intolerance's including egg free, soy free, peanut and tree nut free. Keep in mind every suggestion is gluten and dairy free.
We like camping because is meant to be fun and without restrictions. Having so many delicious and filling meal choices not only takes away some of the packing headache, but also puts the fun back in camping.
And if you'll be flying anytime soon, checkout my Best TSA Approved Airline Snacks post and food travel guides.
Please do me a favor and let's connect on Instagram, Facebook, and Pinterest. That way you'll be up-to-date on the latest and greatest in the gluten and dairy free world.
Happy camping!
Eat well and feel well,
Jill