Ever since Nestle Toll House developed their Simply Delicious brand of white chip morsels I've been dreaming of perfecting my recipe for white chocolate chip cookies.
And I must brag a bit, this recipe is decadent with not only rich white chocolate chips, but also chocolate chips too. Because why not combine the best of both worlds in a single cookie.
You'll find each bite of these cookies is soft, chewy, rich in chocolate, and sweet white chocolate chips.
Prepare yourself-- you won't believe these are gluten and dairy free. The cocoa powder in these cookies adds so much depth to each bite. There's no doubt you enjoy all the flavors and textures in these white chocolate chip cookies.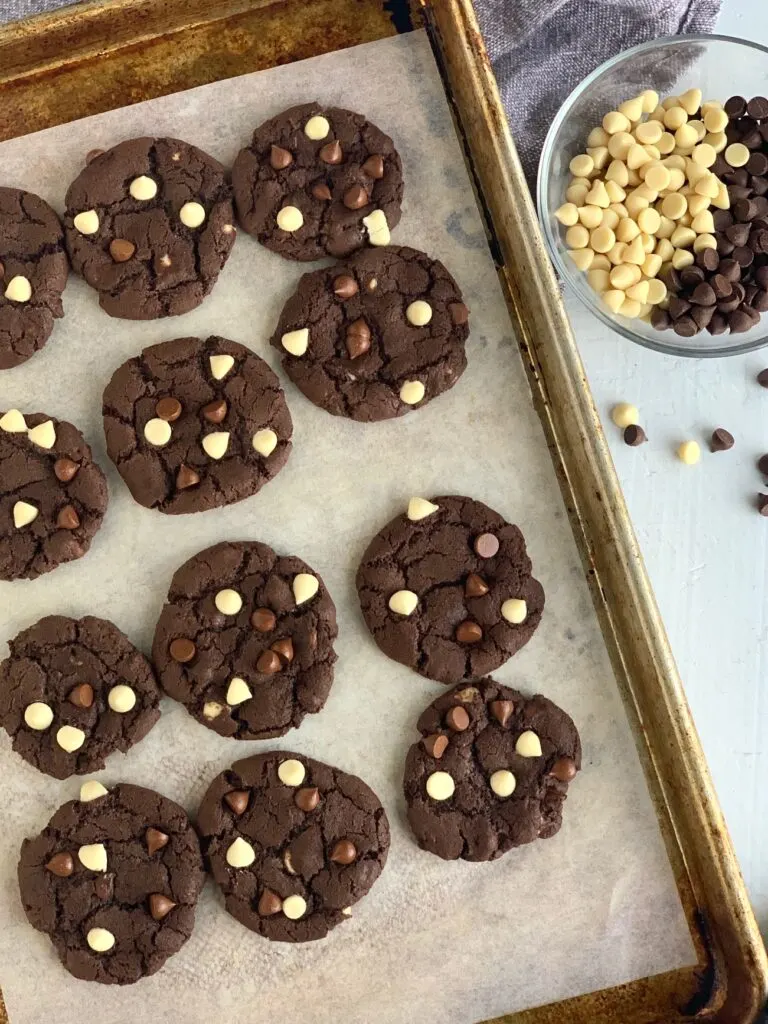 recipe notes + tips
first let's talk gluten free flours-- I've had great success in this recipe baking with several flours including Bob's Red Mill GF 1 to 1 All Purpose Flour and Josie's Best Gluten Free Mixes.
importantly check your gluten free all purpose flour ingredient list. If it contains xanthan gum then omit adding it in this recipe.
next dairy free butter-- I always use Earth Balance Buttery Sticks (soy free too) in my recipes.
and here are my dairy free morsel suggestions-- Simply Delicious from Nestle Toll House is free from 8 of the top allergens including gluten and dairy. They offer white, semi-sweet, and dark chocolate chips. For this recipe I used their white morsels and semi-sweet chocolate chips. You can also consider another allergen friendly brand Enjoy Life and their delicious chocolate mega-chunks.
lastly you'll find I have a very similar chocolate cookie recipe on my website. Click here for my Chocolate Peppermint Cookie recipe that's a huge hit at Christmas time.
the cookie batter will be very sticky in this recipe. You might need to keep you hands wet, or even spray the glass with non-stick pray. But the end results are so worth the sticky dough!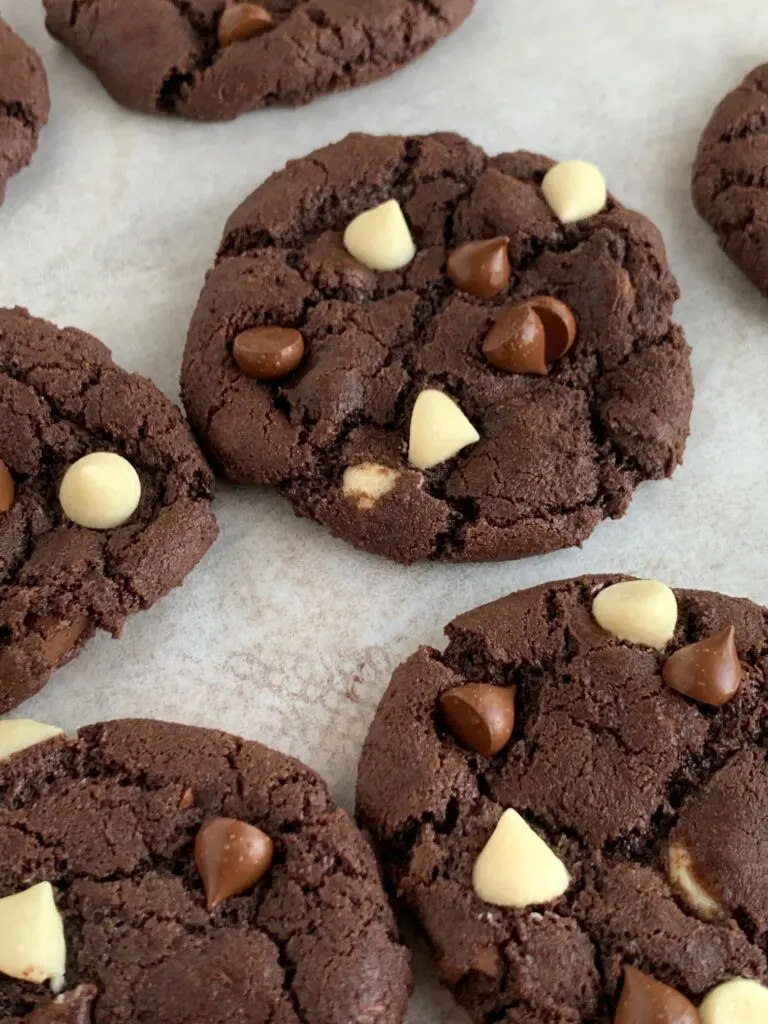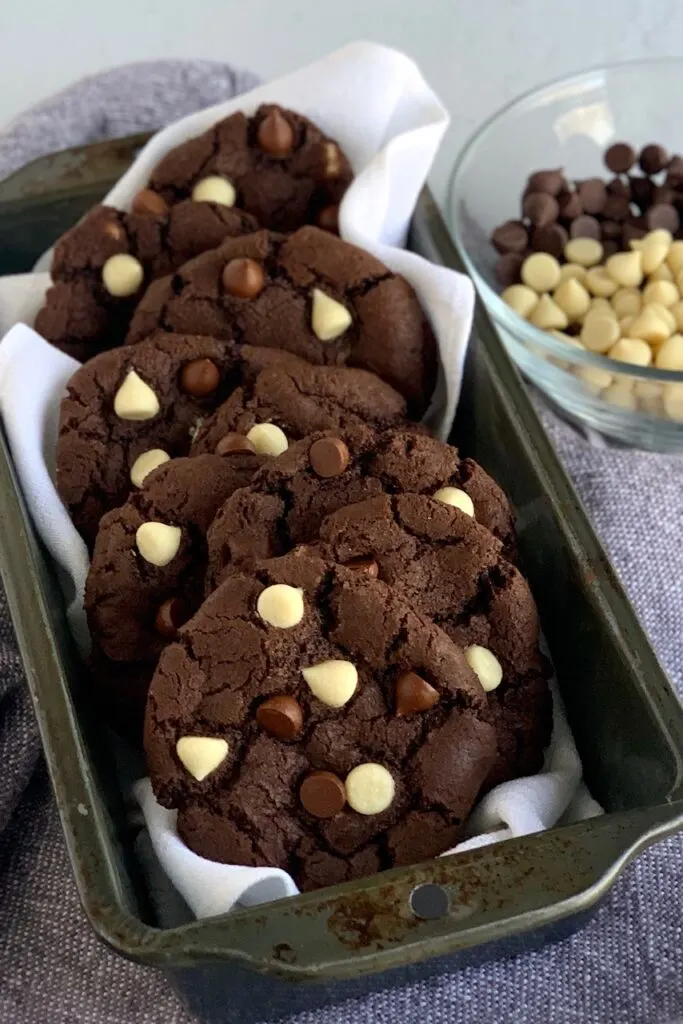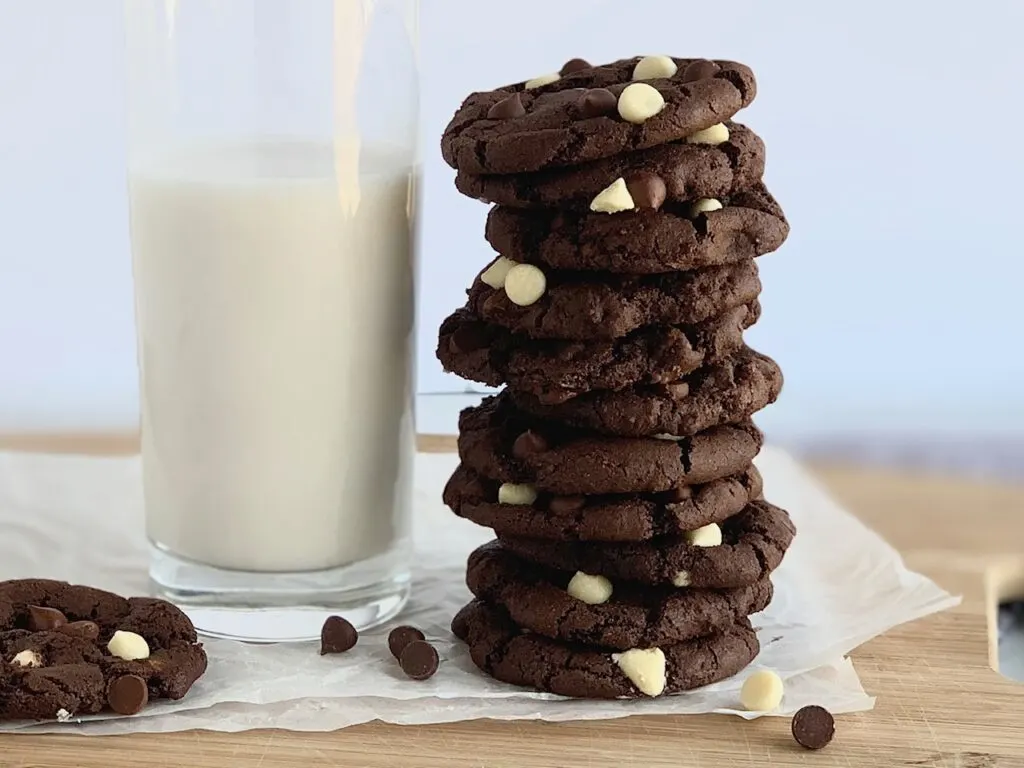 more gluten + dairy free cookie recipes
s'more cookie bars-- these bars taste like a glorified s'more. You'll be able to enjoy your favorite summer time treat year round with these easy s'more cookie bars.
softest chocolate chip cookie-- oh these chocolate chip cookies are so soft and chocolaty. So many readers have been messaging me saying they love this cookie recipe.
chocolate kiss cookies-- yes, make your very own dairy free Hershey chocolate kisses to top on these delicious, classic chocolate kiss cookies.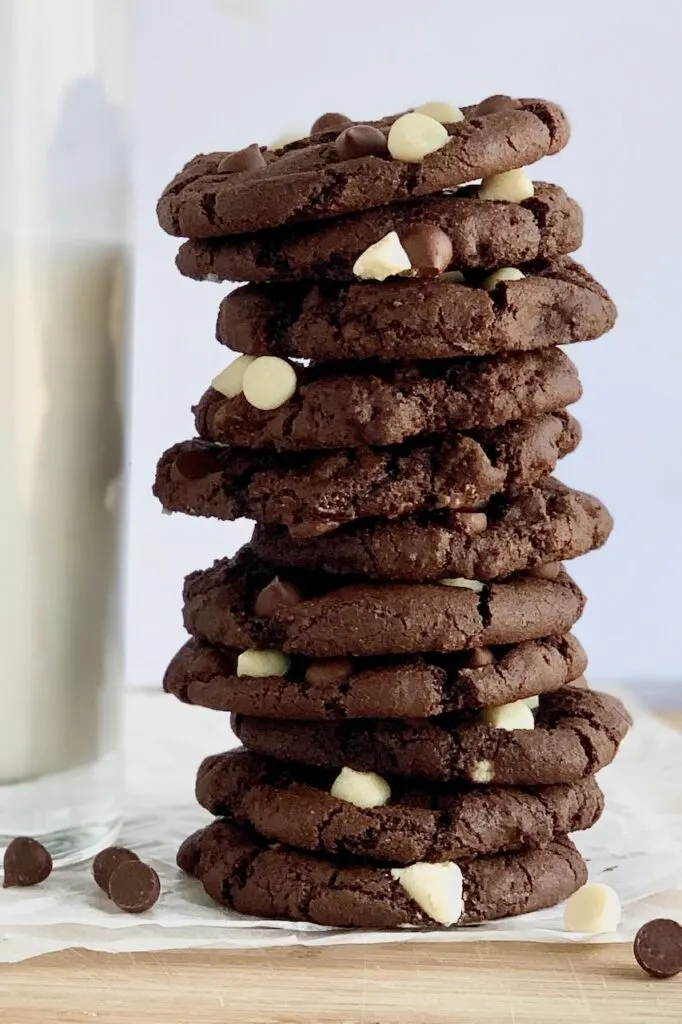 lastly
There's never been a yummier time to enjoy eating gluten and dairy free. And these mouthwatering white chocolate chip cookies are proof. Moreover after every bite you'll question how they can possibly be gluten and dairy free. Honestly they taste so soft, chewy, and decadent with all those morsels and cocoa powder.
And did you know I have a gluten and dairy free cookie board on Pinterest? As a matter of fact you'll find over 35 gluten and dairy free boards on my Pinterest page here-- and I'm adding more boards and pins weekly.
Let me know in the comments if this recipe was helpful. Now go get your baking on.
Eat well and feel well,
Jill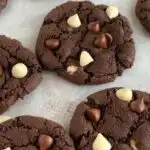 Print Recipe
White Chocolate Chip Cookie
Ingredients
1⅔

c

gluten free all purpose flour

I use Bob's Red Mill GF 1 to 1 All Purpose Mix

1

c

unsweetened cocoa powder

1

teaspoon

xanthan gum

omit if your all purpose flour has this in it

1

teaspoon

baking soda

½

teaspoon

salt

½

c

dairy free butter

room temperature, not melted

1¼

c

granulated sugar

¾

c

brown sugar

2

eggs

room temperature

2

teaspoon

vanilla extract

¾

c

dairy free white morsels, divided

¾

c

dairy free semi-sweet chocolate chips, divided
Instructions
Line 2-3 cookie sheets with parchment paper or silicone mats and set aside.

In a medium bowl, combine flour, cocoa powder, xanthan gum (if needed otherwise omit), baking soda, and salt. Set aside.

In a large bowl with a handheld mixer or electric stand mixing bowl cream butter and both sugars well.

Next mix in eggs one at a time, scraping down sides of the bowl as needed.

Then add in the vanilla extract and slowly add in the flour mixture until just combined. Scrape down sides and bottom of the bowl as needed.

Stir in ½ cup white chocolate chips and ½ cup semi-sweet chocolate chips. The dough will be thick and sticky.

Cover bowl with plastic wrap and allow to sit in the refrigerator for 20-30 minutes. Otherwise dough is too sticky to handle.

Scoop dough by the rounded tablespoon and roll into a ball. Place ball onto covered cookie sheet. Place 12- 15 balls on each cookie sheet.

After the cookie sheet is full, slightly flatten each cookie with the bottom of a glass jar. The dough will be very sticky and you might need to keep your hands wet or use non stick spray on the glass. Gently push remaining white and semi-sweet chocolate chips to tops of cookies.

Bake cookies one sheet at a time for 8 minutes. Set a timer for this recipe. The cookies will look slightly underbaked at 8 minutes, but they will finish baking on the cookie sheet when removed from the oven.

After cookies have cooled for 3-4 minutes, remove cookies to a cooling rack.

Store cookies in an airtight container up to a few days or freeze up to 2 months.