Anytime our children are out of school and home it guarantees we'll be asked 53,958 times what's for snack. Or is that just with my kids? Something tells me this is a more common situation than with just my family. And don't get me wrong -- I love every minute my kids are home. Therefore this valuable post will help you and me provide stress-free, easy kid snack ideas for when kids are home all day -- perfect for both planned and unplanned situations.
So, I've listed over 50 easy kid snack ideas to offer kids while they're home away from spring break, summer vacations, and any other time you're needing a boost of easy gluten and dairy free snack ideas.
best way to offer snacks
I've found offering children a snack plate always gives everyone the best outcome. Surprisingly children make healthier food choices, stay fuller longer, and everyone is less stressed. And when you fill it with a variety of kid-friendly options, it will easily keep their snack needs met.
4 snack plate tips for success
include fresh fruit and vegetables on each plate -- even if your kids don't like them. This is a sure way to increase gradually their like for healthy foods.
always offer a snack high in protein
also consider crunchy and chewy snack options -- many children have sensory processing challenges that result in seeking behaviors. Crunchy and chewy snacks help provide these children with the appropriate oral feedback needed to feel regulated and calm (I have two of these kiddos and I always carry a stash of crunchy and chewy snacks).
importantly provide a small dipping sauce compatible with snack choices
mini animal fork and toothpicks -- are you familiar with these? I wasn't until 4 years ago when my youngest son refused to eat any fruit or veggies. His occupational therapist suggested these fun utensils. Soon my son was eating all sorts of fresh fruits, so I introduced them to my older children. Surprisingly thereafter my kids couldn't get enough fruit and veggies. Ready for better news? I've had the same animal set for almost 4 years! These can be washed and reused over and over. They're great for school kid lunches too unless you want to save them for special snack plates at home like spring break and summer vacation.
reusable silicone baking muffin cups are another fantastic way to dress up kid snack plates. Decorate each snack plate with different colors and shapes to complement your child's snack choices. Again these are a great investment that can be reused for years.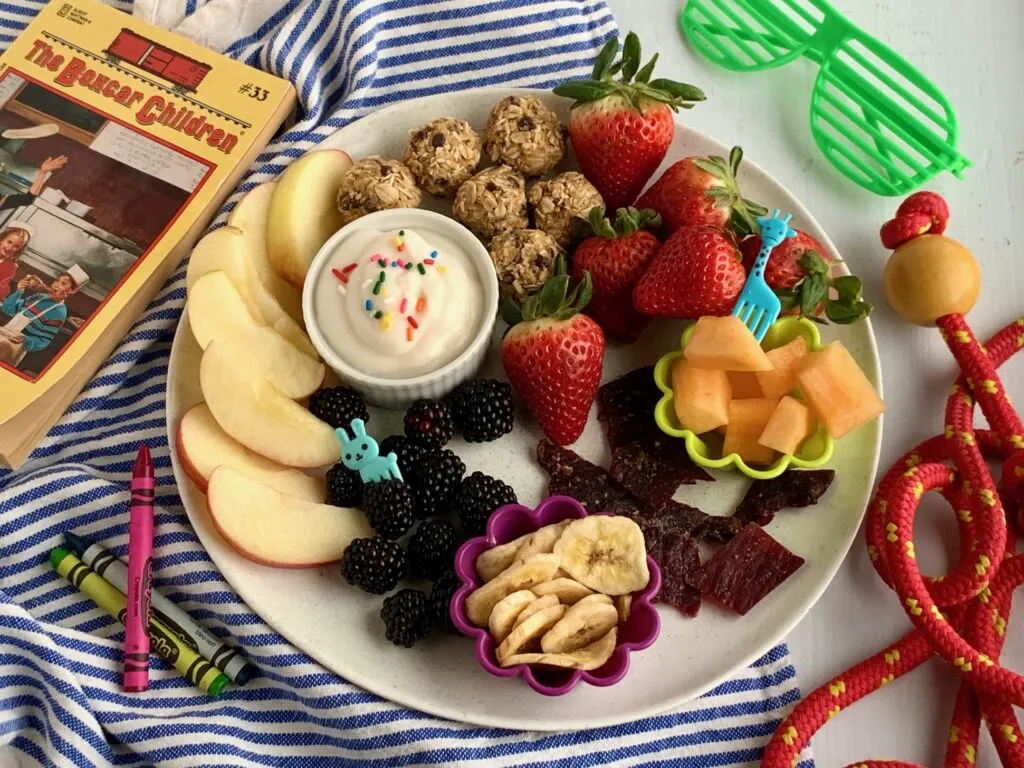 For easy kid snack ideas consider this "heavy on the fruit" plate:
apple slices
strawberries
cantaloupe cubes
blackberries
unsweetened banana chips
beef jerky -- always read jerky labels as many brands will list gluten as an ingredient
energy bites/raw balls -- here is my favorite energy bite recipe
dipping sauce -- So Delicious Vanilla Yogurt with sprinkles. This brand has several flavors of coconut-based yogurt options (strawberry, blueberry, etc.)
This plate of easy kid snack ideas is always a hit because... hello, let's just say peanut butter.
fresh purple grapes
carrot shreds -- side note: I couldn't believe the first time I fed these to my kids. They devoured them and asked for more.
dates
celery slices -- ants on a log wins kids over too
Z Fruit Bars -- they're available in several different flavors
pretzels -- we like this brand best
Enjoy Life Loco Bars -- purchase these in bulk on Amazon and serve with each bar cut into fourths
dipping sauce -- peanut butter, almond butter, sun butter, or cashew butter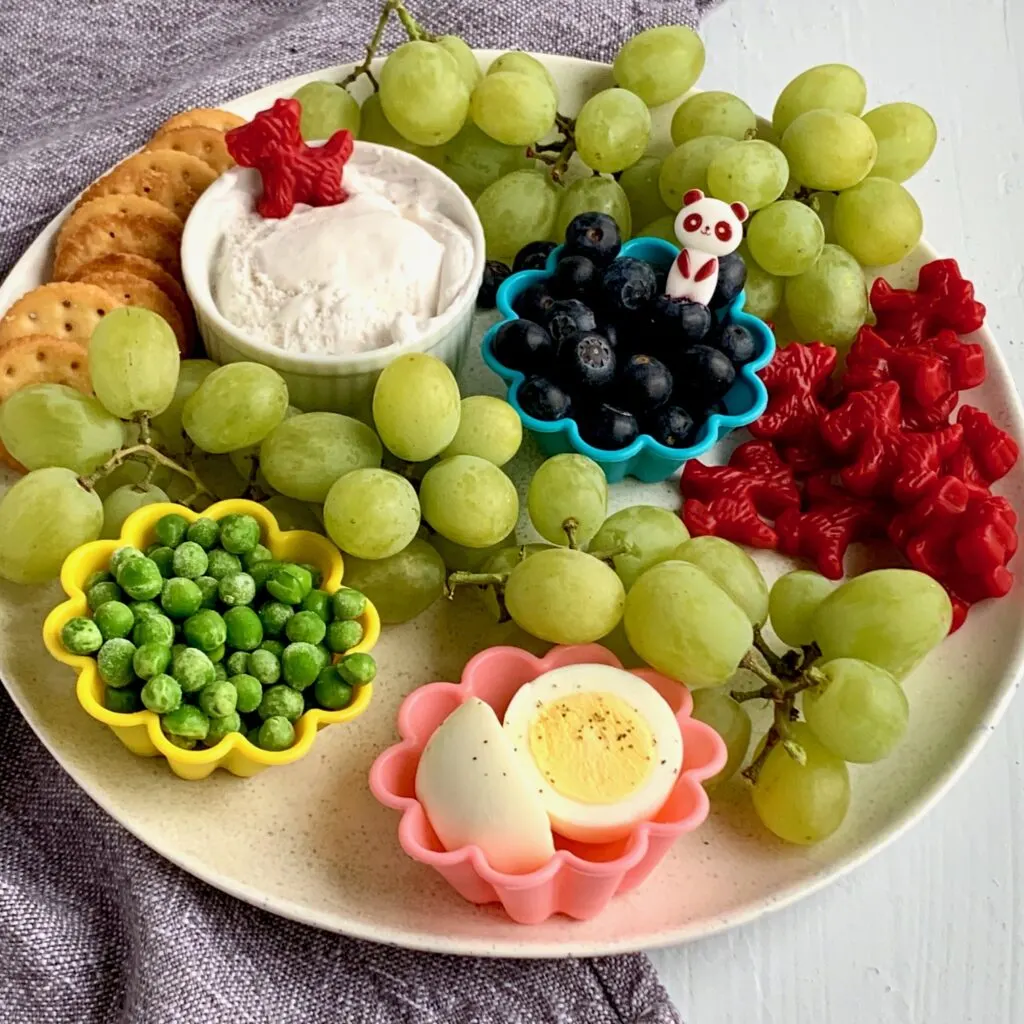 Can you believe all the easy and fun gluten and dairy free kid snack choices on this plate?
grapes -- and lots of them. If your children are young, please cut grapes in half long-ways
blueberries
peas
hard boiled eggs
crackers -- the Lance baked gluten free cracker brand is always a hit.
licorice -- surprisingly most licorice contains gluten. However check out this brand, Mom's Place Gluten Free online. They not only sell these wonderful kid red licorice snacks, but also bread mixes, meal mixes, dessert mixes, and so much more. Keep in mind their business is 100% gluten free; however some products do contain dairy so always check labels. You can purchase these yummy red licorice dogs here (and they're egg, nut, and soy free too).
dipping sauce -- So Delicious Coco Whip
Another plate of easy kid snack ideas includes: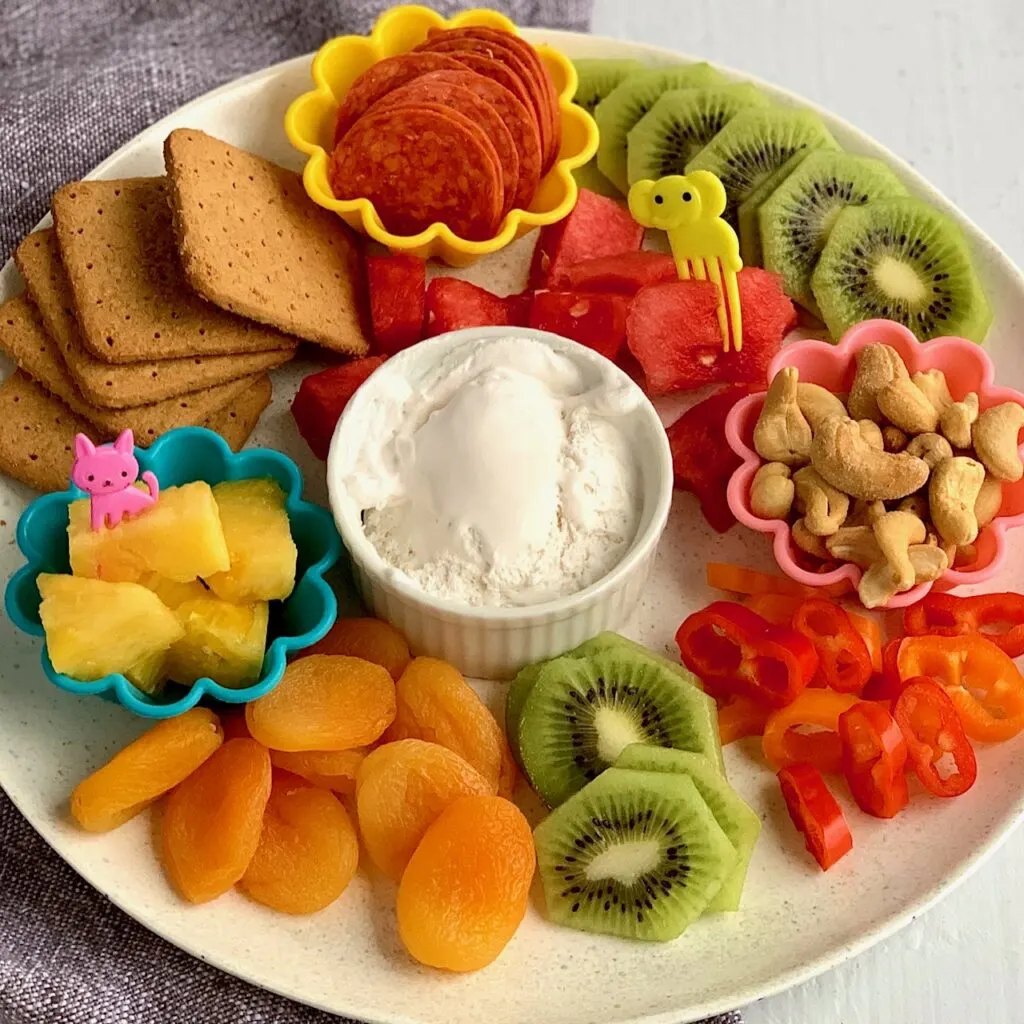 And check out all these ideas too:
fresh kiwi slices
cubed watermelon
refreshing pineapple chunks
cashews or another nut bowl option such as almonds (a huge favorite in our house), peanuts
dried apricots
pepperoni slices -- check for gluten free labeling
graham crackers -- Schar Gluten Free Honeygrams
sliced mini sweet peppers
dipping sauce -- Soy Delicious Coco Whip
bonus snack ideas
bacon slices
fresh cherries
tangerines or orange slices
broccoli
cauliflower
mini peanut butter and jelly sandwiches
Kind Bars -- not all flavors are gluten and dairy free
Rice Chex cereal
sunflower seeds
pumpkin seeds
craisins
you'll find bonus gluten and dairy free prepackaged snack ideas on my post here.
more kid approved meal + snack ideas from my website
lastly
Snack time doesn't have to be dreaded. With planning ahead you can enjoy a stress-free time with the kids home. These easy kid snack ideas really are a win-win for everyone. Grab the snack plate now and start planning.
If you've found another fun and stressless way to offer snacks in your home, please share in the comments.
Do me a favor and let's connect on Facebook, Instagram, and Pinterest. And as always anytime you use one of my recipes, please tag me on Instagram with #eatingglutenanddairyfree. I love seeing your food posts!
Eat well and feel well,
Jill