Growing up my mom worked long hours away from home. Homemade Sloppy Joes was one of her go-to dinner meals. And I couldn't have been any more excited to see it served.
Honestly what's better then perfectly flavored ground hamburger, diced onions, ketchup, mustard, and other seasonings between warm, toasted buttery buns?
And let's not forget this classic meal is ready in minutes, requires minimal ingredients, and is a one-skillet meal. Which is code for you won't be spending hours in the kitchen prepping this meal.
My favorite way to serve this is with a side of baked potato wedges and steamed green beans.
Oh this is a delicious easy, meal that my family always looks forward too.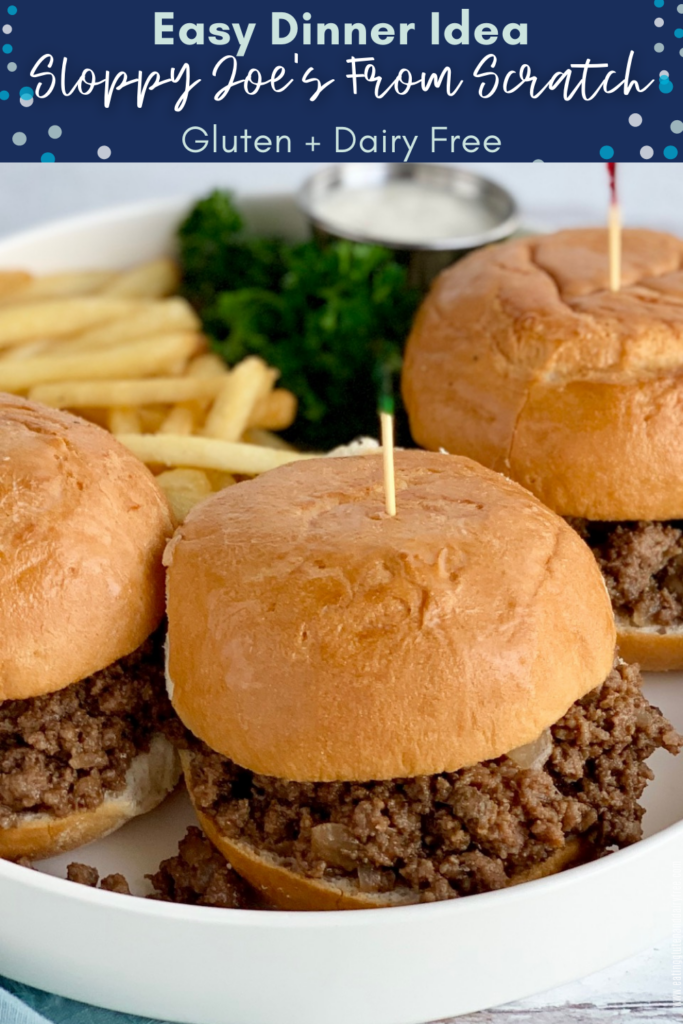 You know what else makes this meal perfect? Not only can it be prepared days ahead of time, it also creates the perfect leftovers.
And with this recipe we always have enough leftovers for a delicious lunch or dinner the next day.
It's also worth noting if you're into freezer meals you'll want to pin this recipe now. Nothing is easier than doubling this recipe and freezing half for an easy freezer meal.
homemade sloppy joe recipe ingredients + notes
oil
onion
ground beef
Worcestershire sauce– we use the Lea & Perrins brand in the US, in Canada check out French's
brown sugar— spooned and packed
ketchup
mustard
hamburger buns— we prefer Udi's buns that are also soy and nut free
hot dog buns— placing this meat mixture in a hot dog buns is the perfect food hack and cuts down on the messiness for littles
gluten free French fried crispy onions— this is a great way to change up this meal. Add French fried crispy onions on top of the sloppy joe mix for extra added flavor and yummy crunch. Purchase gluten free fried onions here.
optional: diced green bell peppers
pro trip: for restaurant style buns toast them in the oven over broil. Only toast for a minute or two at the most and watch closely. The buns will easily burn. Remove from the oven and lightly spread melted dairy free butter over each bun…. y'all this definitely takes your homemade sloppy joe game up a level.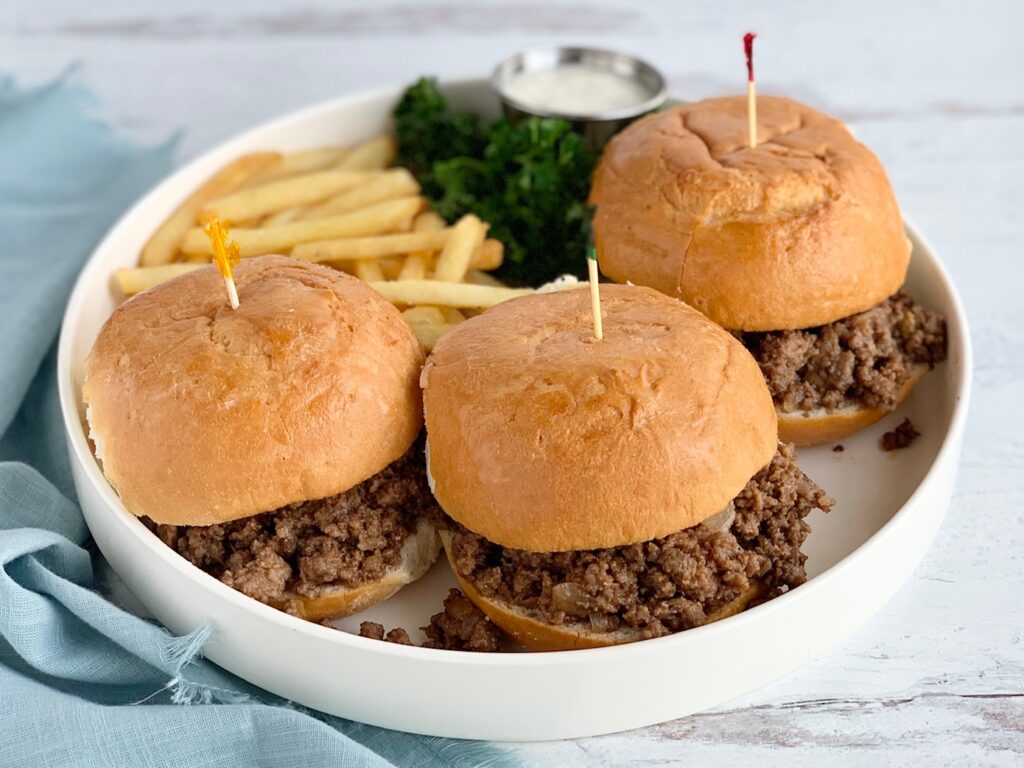 more delicious dinner ideas
can this be made ahead of time
Yes! This Homemade Sloppy Joe recipe can be made days ahead of time then reheated when ready to serve.
And because of this we prepare extras to take with us when we travel. This easily reheats in a hotel or Airbnb microwave.
does this freeze well
This is one of my favorite recipes to freeze. Prepare the sloppy joes according to the recipe card below and allow meat mixture to completely cool. Then place in an air tight container and freeze up to 3 months.
Allow sloppy joes to completely thaw then reheat and serve.
in closing
However you look at it you can't go wrong with this Homemade Sloppy Joe recipe.
There's nothing better then enjoying a filling & easy to fix gluten and dairy free meal. Not to mention this recipes only calls for 6 simple ingredients.
You'll find it's the perfect meal for large family gatherings, holidays, potlucks, busy weeknights, and when traveling.
We know you'll love this classic recipe.
Did you know there are more gluten and dairy free recipes on our website, Eating Gluten and Dairy Free. If you're looking for kid snack ideas click here. And check out our helpful allergen friendly camping guide too.
Go ahead and follow along on Pinterest, Facebook, and Instagram. Be sure to like and comment often on our social media posts so you don't miss the best of eating gluten and dairy free.
Eat well and feel well,
Jill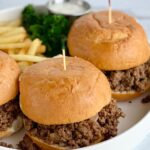 Print Recipe
Homemade Sloppy Joe's
Ingredients
1

tsp

oil

½

onion

diced

2

lbs

ground beef

2½

tbsp

gluten free Worcestershire sauce

⅓

c

brown sugar

½

c

ketchup

1

tbsp

mustard

optional: diced green bell peppers
Instructions
In a large skillet heat oil over medium heat. Add onions.

After onions are translucent, add in ground beef and continue cooking. Add in green bell peppers now if using.

When meat is browned, drain excess grease.

Then add rest of ingredients and mix well. Allow to cook for another 5 minutes.

Optional: toast gluten free buns in the oven over broil. Simply place buns open face on a baking sheet. Watch carefully so they don't burn. Then rub buns lightly with dairy free butter for restaurant-style buns.
Notes
This homemade sloppy joe mix can easily be made 2-3 days ahead of time and reheated. And can be frozen up to 2 months, thaw and reheat when ready.