This post may contain affiliate links. Read the full disclosure here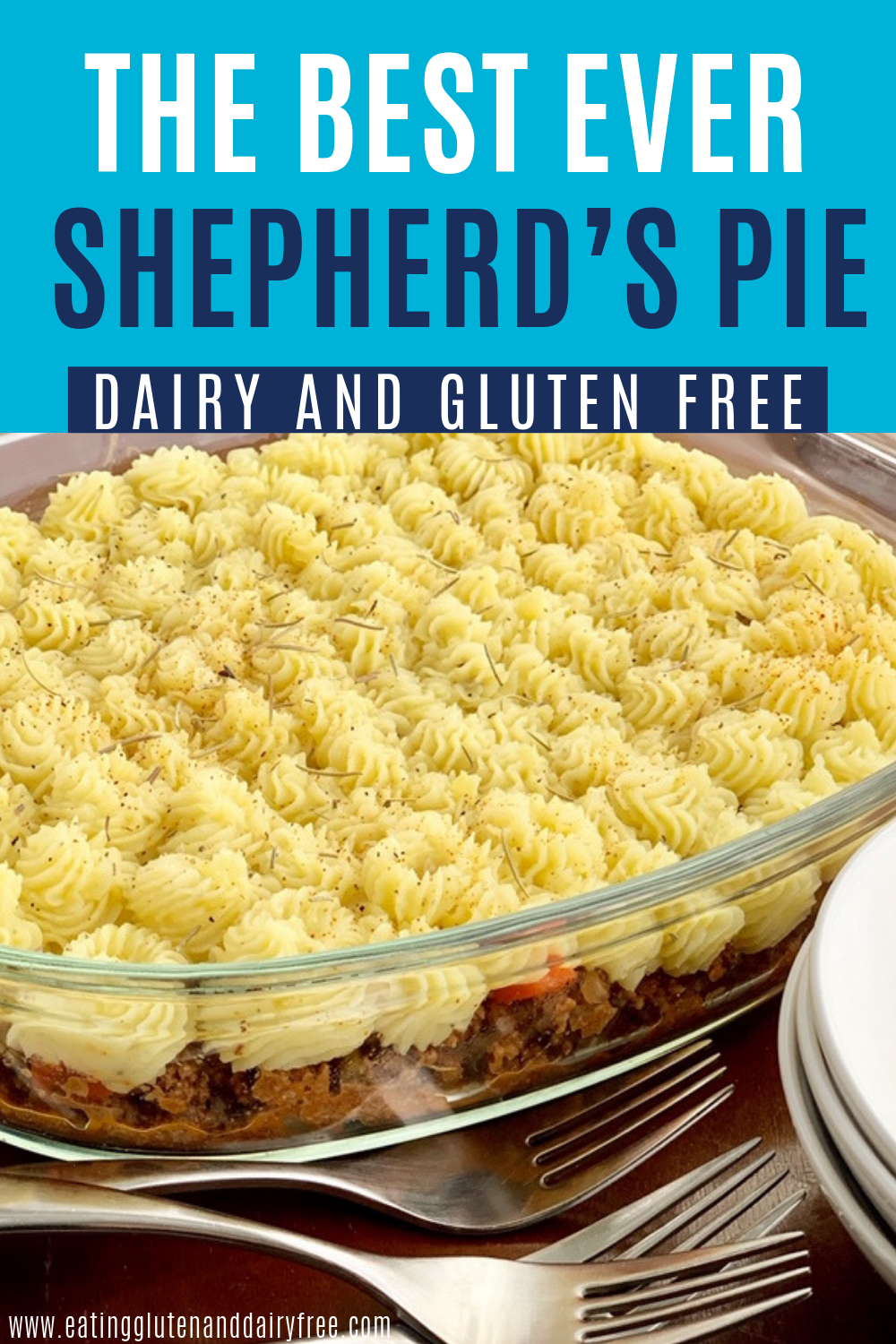 Shepherd's Pie should have entered my life decades ago. How did I not know about this comfort food sensation for so long? It's a beautiful mixture of ground beef mixed with spices, veggies, and tomato. Topped with comforting creamy mashed potatoes.
Heavens. This mealtime dinner is mouthwatering.
Thankfully the gluten and dairy free Shepherd's Pie idea crossed paths with me ten years ago.
However, ten years ago it was a delicious dinner. But it wasn't my dream dinner. Yet.
Fast forward to when we brought our son home from a Filipino orphanage a few years ago. My husband, myself, and our two biological children had been in the Philippines for over two weeks. The kids and I had been scrambling to find healthy and filling gluten and dairy free food options… despite taking an entire suitcase of food with us. But over two weeks is a long time to eat out of a suitcase.
Then, a couple days after we were placed with our son, we all became sleep deprived. He was not only scared out of his mind, but he woke up at least every two hours for a bottle. So all five of us became sleepy and hungry. Let me just say it wasn't a beautiful scenario, y'all.
Our family was tired, run-down, and hungry for homemade gluten and dairy free food. We were emotionally and mentally depleted too. After we'd completed our in-country adoption requirements we had one last family hurdle.
The travel home.
We needed to survive 34 hours from the Manila airport until we'd land in our hometown. Did I mention we'd be traveling with three kids ages five and under? Including one child that was beside himself with fear and anxiety.  Also, did I already say we were sleep deprived and hungry?!
And it was ugly, y'all. The only food we had left were snacks, as in fruit snacks, fruit ropes, and some jerky.
As you'd expect our little man was quite needy on the flights home. He didn't care if there were free movies available flight after flight. Gasp. It was horror right?!
Needless to say there was little sleeping during those 34 hours. Maybe 45 minutes in the Minneapolis airport while we waited for our last flight home.  I'm pretty sure I was slurring my words at that point. And everything and everyone was hilarious. The hubs was laughing at everything, too.
At least we'd become delirious together! ♥
When we arrived home, I might have kissed the floor. I was thankful, tired, and a ball of emotions. Our family was, too.
After we gave our son a tour of his new home, I opened the refrigerator to make a snack for the kids.
I about fell over.
My sister-in-law had prepared a couple meals and placed them in our refrigerator. One of the meals was… you guessed it… gluten and dairy free Shepherd's Pie. It looked beautiful and absolutely delicious placed on the refrigerator shelf. I could hardly wait until the next day to serve it.
Surprisingly, no one slept much that first night. We were all on a different time zone and it was now "daytime". Then, just as we'd start to fall asleep our poor little guy would wake up crying for another bottle or to be comforted. We looked and felt like zombies the next day. All five of us!
Amazingly, friends had organized a lovely meal train for us. Tribe, you have now idea how relieved it was having so many of our meals provided. Our family was a train wreck. Emotions between the kids were really high. Each child just wanted mom and dad to themselves. And it was all very understandable and expected. There was a lot of prayer going on!
Thankfully with our dinners taken care of, we ate the Shepherd's Pie for lunch the next day.  It was delicious and heavenly.

It was our first home-cooked American meal in over 19 days. To say it was heavenly is an understatement. It's what we'd been dreaming about for over 2 weeks! Let's just say we ate it all.
All of it. The whole 9 x 9  dish. I'm not sure who had more helpings.
That comforting meal helped me feel energized. It helped me feel more like myself. It also reminded me life would get easier. We were in a nasty transition. But it was just that… a transition to something more beautiful.
And that is how gluten and dairy free Shepherd's Pie became one of my favorite comfort dinners.  My dream dinner.
Since that time, we eat it much more often! We like to serve it with warm Udi's rolls or bread and Earth Balance dairy free butter. It's the complete winter dinner. And with our long, cold Montana winters, we have it often.
This might become your ultimate winter comfort food recipe, too. I guarantee you'll walk away from the dinner table feeling filled and fulfilled.
I started making it in a 9 x 13 dish a year ago because we wanted leftovers for lunch the next day.  And as our kids get older, they eat more and so it seemed right. So this recipe is for a 9 x 13 dish. If a 9 x 9 works better for you, cut the recipe in half, and it will taste just as delicious.
But I'm going to warn you… you want to make enough for leftovers! It's that amazing. I promise.
The recipe for this mouth-watering gluten and dairy free Shepherd's Pie is easy to follow.
To start with you'll need:
oil
onion
garlic
hamburger
celery
carrots
tomato paste
beef broth
spices (salt, pepper, thyme, rosemary, cayenne)
potatoes (sweet or golden)
unsweetened almond milk or other dairy free alternative
egg
dairy free butter, I use Earth Balance Butter Sticks
This meal comes together faster if the potatoes and meat mixture are prepared at the same time. While the potatoes boil, work on the meat mixture. The real fun begins after the meat is browned, and you'll be adding in more ingredients. We like our meat mixture to have a bit of the tomato taste so I add at least 4 tablespoons… maybe a little more. And I'm generous with the spices. I love the rosemary in this dish. It intensities the flavor. Yaaauuum. Your house will smell amazing at this point, too!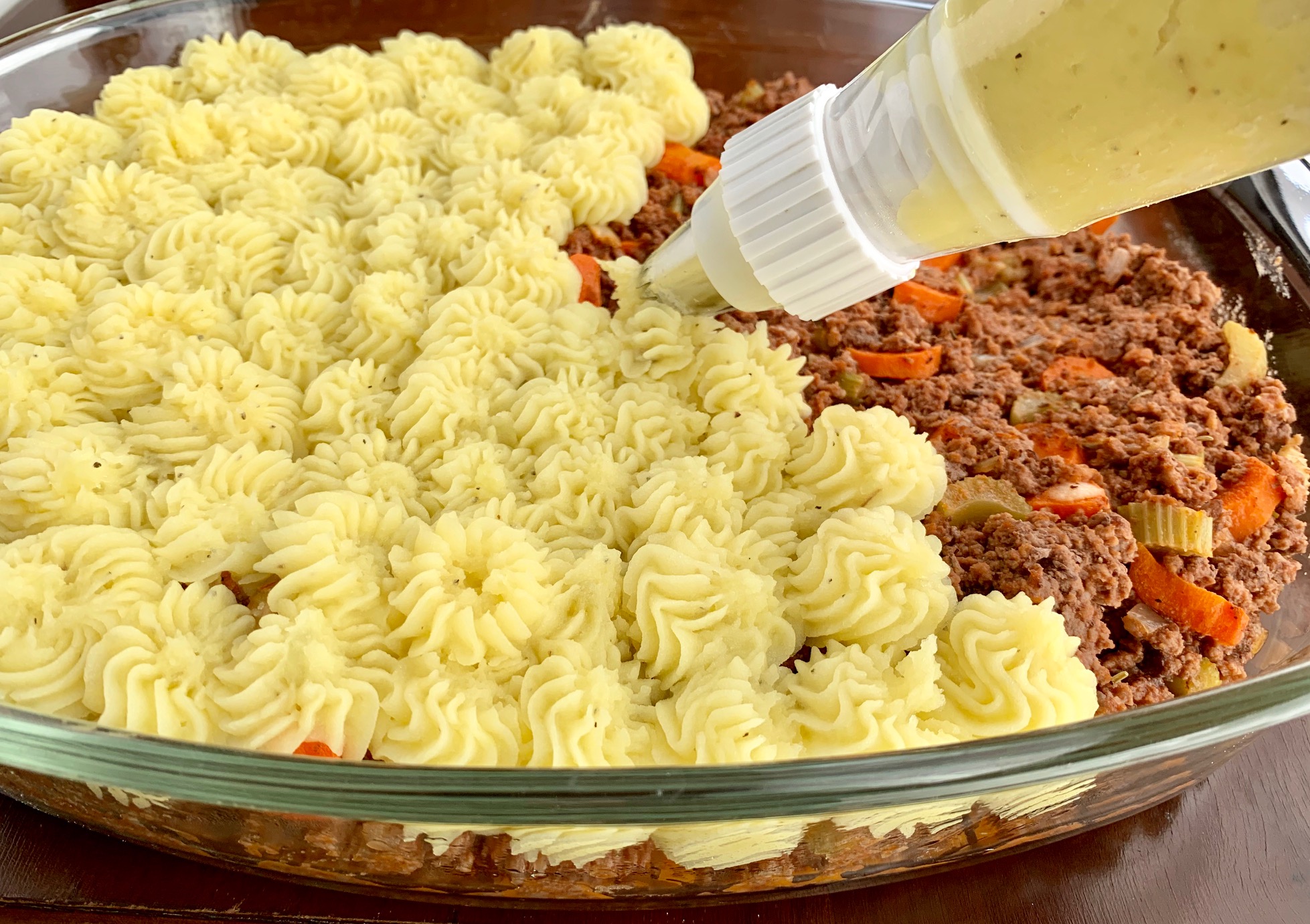 Now let's talk potatoes for a second. I've made this recipe plenty of times using sweet potatoes or Yukon Golden potatoes. We like the taste of them both. You'll get great nutrition from either one so use what you have on hand.
Lastly what do you think of those potato swirls? Aren't they fun?!
They definitely spruce up any dinnertime meal. I use Wilton plastic cake decorating and pastry bags for this recipe. These throw away bags make for the easiest and fastest clean up… for cakes or the potato swirls.  I also used a Wilton 6B open flower cake tip like this. Any large tip will make a beautiful design.
However, swirls aren't necessary. We've eaten this dish plenty of times with the mashed potatoes spread evenly over the meat mixture by a spatula. So if you have the time and supplies, swirl away. They are really easy to create. It's therapeutic if you ask me! But if you don't have time, no one will know the difference. And it will still taste delicious!
Just enjoy this delicious gluten and dairy free Shepherd's Pie. It is the best homemade comfort meal. Your family will have no idea the gluten and dairy are missing!
Remember to pin this recipe and follow me on Pinterest. I'm adding new gluten and dairy free pins every week.
Such as:
And if you'll be flying soon read my "Best TSA Approved Airplane Snacks" and tap to pin my food travel guides here.
Let me know in the comments how your family enjoyed this Shepherd's Pie recipe.
Eat well and feel well,
Jill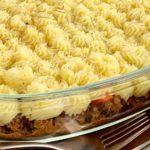 Print Recipe
Gluten & Dairy Free Shepherd's Pie
Ingredients
2

tbsp

oil

2

lbs

ground beef

1/2

onion, diced

2

garlic cloves, minced

5

celery stalks, diced

5

long carrots, diced

4 tbsp

tomato paste

2

cups

beef broth

1

tsp

salt

2

tsp

pepper

1

tsp

rosemary

1

tsp

thyme
Mashed Potato Topping
4

large

sweet potatoes or Yukon gold potates, peeled and cut

1

egg

1/4

cup

unsweetend almond milk or other dairy alternative

1

tsp

rosemary

1/4

tsp

cayenne

1/4

tsp

salt

1/4

tsp

pepper
Instructions
Place potatoes in boiling water. After they are tender, drain.

While potatoes boil, heat oil in the bottom of a large, deep skillet on medium heat. Add in the ground beef and brown.

After the ground beef has browned, drain off extra fat. Add in remaining meat mixture ingredients and stir well. Place a lid on skillet and lower heat. Simmer for 25-30 mins while veggies soften and flavors mix. You'll find the mixture thickens.

After veggies have softened in meat mixture, place in the bottom of a 9 x13 pan.

In a bowl add an egg and the drained potatoes. Mix with a hand mixer. Be careful not to over mix. Add in spices and almond milk. Mix until incorporated. Do not over mix potatoes.

Place mashed potatoes on top of ground beef mixture with a spatula. Spread evenly. Garnish with extra rosemary.

Bake uncovered for 20 minutes until hot and bubbly. Remove from oven and let sit for 5 minutes.

Optional: Place mashed potato mixture in a pastry bag with a large tip. Design potato swirls over meat mixture. Then garnish with extra rosemary and place in the oven.