Here is the ultimate comfort food recipe to feed your family, this gluten and dairy free Shepherd's Pie with seasoned ground beef, tender carrots and celery, and topped with a fluffy layer of creamy mashed potatoes.
Enjoy this delicious recipe on a chilly night or when you need a cozy, comforting meal that somehow makes everything better.
You won't find a more filling and hearty meal that can be served on its own or with a side of steamed green beans and warm gluten free and dairy free rolls.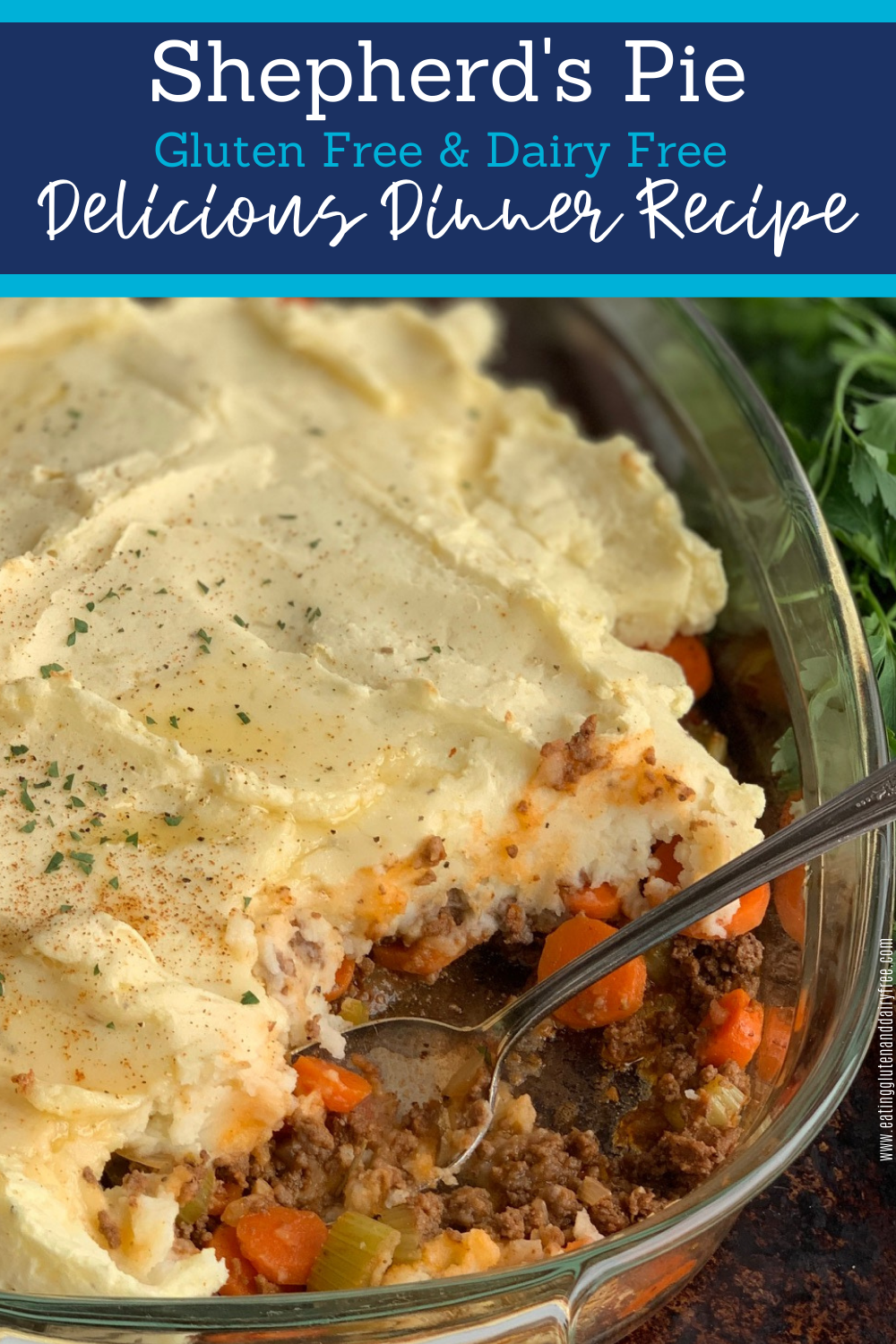 The flavors and textures of this dish are truly fantastic. And those buttery and creamy mashed potatoes on top are absolutely mouthwatering.
You won't believe the secret ingredient mashed potato recipe we use. It's been a family favorite for years. And we serve this rich, mashed potato recipe to everyone– no matter if they're dairy free or not. It's that good!
Plus the meat filling is delectable with the right amount of seasoning, tomato paste, beef broth, and tender cut carrots and celery.
shepherd's pie ingredients
oil– we cook with grapeseed oil
diced onion
fresh minced garlic
ground beef– ground lamb or ground turkey works too
diced celery
diced carrots
tomato paste
spices–salt, pepper, thyme, rosemary, cayenne, Always double check your spices are gluten and dairy free
potatoes- we recommend sweet potatoes or golden Yukon potatoes
dairy free milk— we use this unsweetened almond milk
egg
dairy free butter— Earth Balance Buttery Sticks are our favorite, they are soy free too
garnish— with fresh rosemary cut sprigs or fresh parsley
9×13-inch baking pan— this recipe can also be cut in half and served in an 8×8-inch baking pan
serve with a side of green beans and a basket of warm dinner rolls from Udi's or My Bread Bakery. Both brands have delicious dinner rolls we enjoy often.
optional— some readers like to add in corn, green beans, or peas
baking instructions
Preparing this recipe is not difficult at all. This recipe is best broken down into 4 steps– making the meat mixture, the mashed potatoes, assembling the casserole, and then baking it.
We find this meal comes together more quickly if the potatoes and meat mixture are prepared at the same time. So while the potatoes are boiling, prepare the ground meat mixture.
how do I pipe potato swirls on top
Those potato swirls definitely add an extra layer of amazingness to this dinnertime meal recipe.
We use a Wilton 6B open flower cake tip like this for those swirls. But really– any large tip will make a beautiful design.
We also use the Wilton plastic cake decorating and pastry bags to make it even easier for this recipe. These disposable bags make for the easiest and fastest clean up… for cakes or the potato swirls.
However, the swirls aren't necessary.
We've eaten this dish plenty of times with the mashed potatoes spread evenly over the meat mixture using an angled spatula. This spatula helps evenly spread the potatoes into the corners and sides of the dish.
why is this shepherd's pie recipe made with beef
Traditionally shepherd's pie is made with lamb. However, over the years ground beef has become a frequent meat substitute for lamb in this recipe.
You may find recipes referring to shepherd's pie with beef as Cottage Pie.
And you can substitute ground turkey or the traditional ground lamb in this homemade meal as well.
can this recipe be made ahead of time
Yes. Prepare the recipe as noted in the recipe card. Then once the casserole has been assembled, over the baking pan, and refrigerate up to 3 days.
When you are ready to bake this dish, allow it to sit, uncovered, on the countertop for 15 minutes before transferring it into a preheated oven.
more dinner recipes you'll love
dessert recipes everyone loves
lastly
Just enjoy this delicious savory gluten and dairy free Shepherd's Pie recipe. It is the best homemade comfort meal.
Your family will have no idea this meal is gluten and dairy free!
Have you checked out more recipes on our website? Did you know we have holiday recipe rounds ups too! Such as Christmas Desserts and Cookies, Thanksgiving Day Food, Best Fall Desserts, 4th of July Foods, Valentine's Day Ideas, and even amazing recipes perfect for the your Super Bowl party.
And if you'll be flying soon read my "Best TSA Approved Airplane Snacks" and tap to pin my food travel guides here.
Be sure to follow along on Facebook, Pinterest, and Instagram as we're sharing new recipes, product alerts, brand giveaways, and so much more.
And like and comment often so you keep seeing our post show up in your feed.
Eat well and feel well,
Jill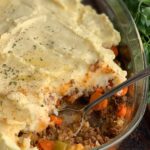 Print Recipe
Gluten & Dairy Free Shepherd's Pie
Ingredients
Ground Beef Mixture
2

tbsp

oil

grapeseed works well

½

onion, diced

2

garlic cloves, minced

2

lbs

ground beef

ground lamb or turkey work too

4

celery stalks, diced

2

carrots, diced

4 tbsp

tomato paste

1½

cups

beef broth

1

tsp

salt

2

tsp

pepper

1

tsp

dried rosemary

1

tsp

dried thyme

optional-- corn, green beans, and peas
Creamy Mashed Potato Topping
4

large

sweet potatoes or Yukon gold potates, peeled and cut

1

egg

¼

cup

dairy free milk

suggestion in the post

2

tbsp

dairy free butter

suggestion in post

1

tsp

rosemary

¼

tsp

cayenne

¼

tsp

salt

¼

tsp

pepper
Instructions
Place potatoes in boiling water. After they are tender, drain.

While potatoes boil, heat oil in the bottom of a large, deep skillet on medium heat. Add in the onion and garlic. Once the onion is translucent add in the ground beef.

After the ground beef has browned, drain off extra fat. Add in remaining meat mixture ingredients and stir well. Place a lid on skillet and medium heat. Simmer for 25-30 mins while veggies soften and flavors mix. You'll find the mixture will thicken.

After veggies have softened transfer the meat mixture to a 9 x13-inch baking pan.

Place the drained potatoes in a large mixing bowl. Add in the egg, dairy free milk and butter, and spices. Using a handheld mixer blend the potatoes until combined. Be careful not to over mix.

Place creamy mashed potatoes on top of ground beef mixture with a spatula. Spread evenly.

Bake uncovered for 20 minutes until hot and bubbly. Remove from oven and let sit for 5 minutes.

Optional: Place mashed potatoes in a pastry bag with a large decorative tip such as a Wilton 6B. Design potato swirls over meat mixture.

Garnish with a rosemary twig or fresh parsley.

Cover and refrigerate leftovers up to 3 days. Leftovers are super delicious too.

For a smaller serving size of this recipe, half the ingredient measurements and prepare in an 8x8-inch baking pan. Adjust baking time as needed.