This post may contain affiliate links. Read the full disclosure here
The Best Chicken Pot Pie-
Congratulations! You just found your new favorite recipe. It's creamy, full of flavorful vegetables, packed with shredded rotisserie chicken, and all nestled in a flaky, buttery crust. And did I mention this chicken pot pie is gluten and dairy free?! Let's establish now this is the best chicken pot pie recipe you'll come across. You want to pin this recipe now.
THE CRUST:
Friends and family can't believe how buttery this crust tastes. Earth Balance buttery sticks knock this recipe out of the park.
And if you're intimidated by gluten and dairy free crusts, know I won't suggest any recipe with a difficult crust. Mama's Almond Blend or Bob's Red Mill GF 1 to 1 All-purpose Baking Flour is my go-to with this chicken pot pie. It provides a rich, nutty flavor that complements the creamy filling ingredients. However, this crust recipe is flexible and will taste great with other gluten free all-purpose flours. If your all purpose flour doesn't contain xanthan gum in the listed flour ingredients, please add it accordingly to the recipe.
2 TIPS FOR THE PERFECT FLAKY CRUST:
First place flour under the crust as you roll it. It is so easy to forget this step. But you don't want the crust to stick to your counter top. If it does stick… place the dough back into a ball and rework with your rolling pin. It's important to frequently lift the dough while rolling and placing flour under it.
And when your crust is about 10 inches wide, roll it onto your rolling pin. Then place the rolling pin on one end of your pie dish and roll it across the plate. Your crust should nicely fall into place in the pie plate. This trick was a game changer for me. Working with gluten and dairy free crusts can be challenging. However, this recipe proves it's possible.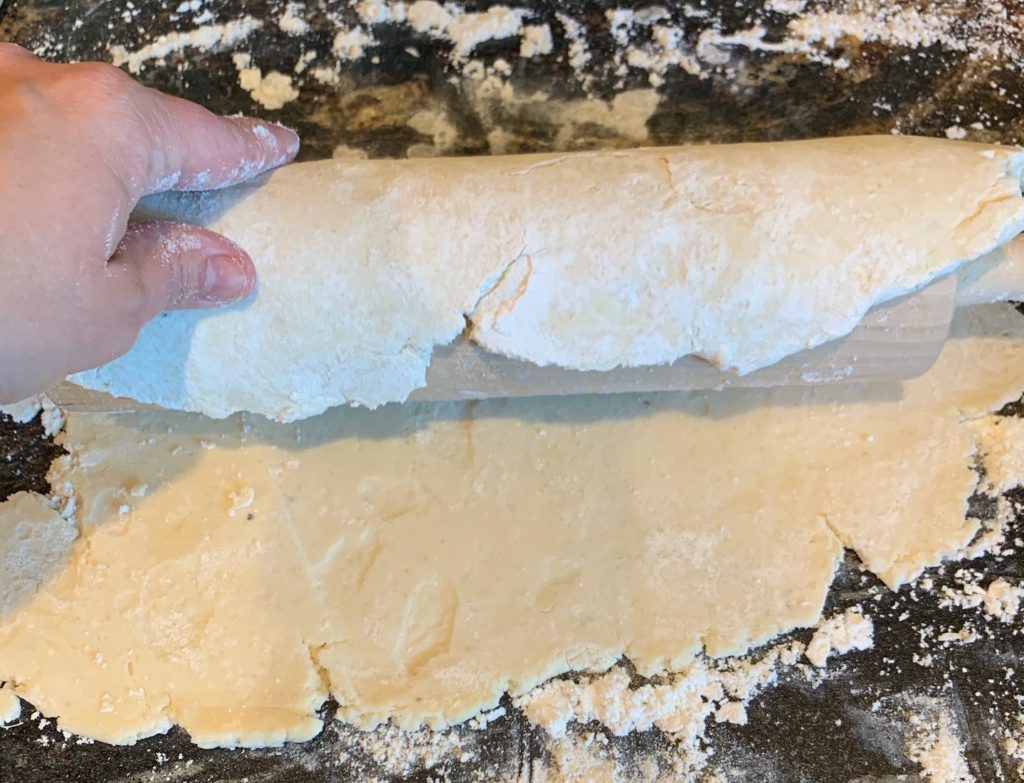 THE FILLING:
Not only is the crust flaky, buttery, and delicious… but wait until you try a bite of the filling. To begin with notice all the vegetables added to the chicken pot pie.
Diced carrots
Green Beans
Peas
Corn
Spices and
Shredded rotisserie chicken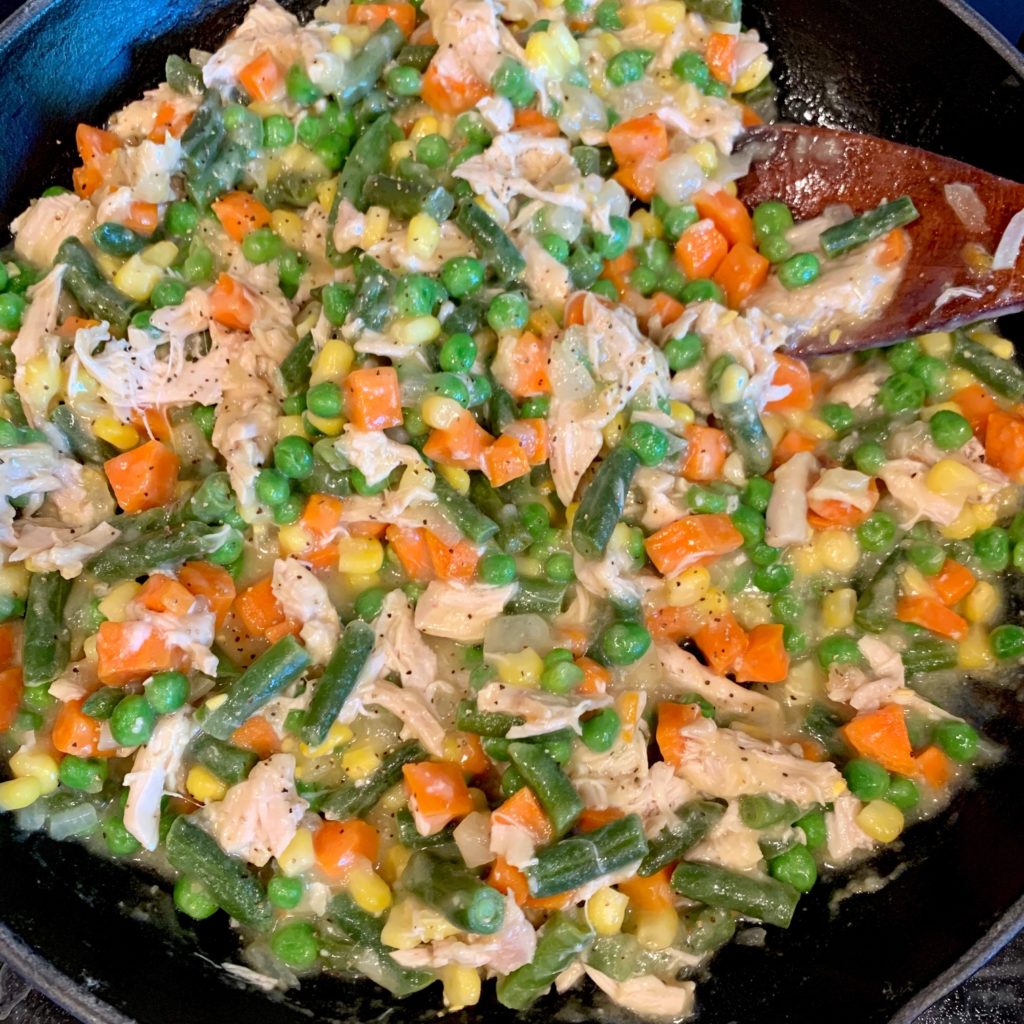 Can you believe how veggie loaded this meal is? Not to mention these veggies bring mouthwatering flavors to this chicken pot pie. And the filling is so creamy, not runny like some recipes.
Furthermore this makes for perfect lunch leftovers. The gluten and dairy free crust tastes like it just came out of the oven even when reheated days later.
FOR MINI CHICKEN POT PIES:
Is it any surprise this recipe works great for mini chicken pot pies too? The crust will prepare 4 mini pot pies. I used reusable these mini pie pans. Then half the filling recipe and bake at 425 F for 23-25 minutes.
IN CONCLUSION:
I hope you like this recipe as much as we do. We always look forward to dinner when it's on the menu.
It's worth mentioning the chicken pot pie recipe from here inspired this dreamy comfort recipe.
Lastly, consider another mouthwatering gluten and dairy free back to school dinner recipe. And it's a one pan meal ready in 30 minutes! Click HERE for your Easy Skillet Lasagna. This recipe even has a dairy free ricotta suggestion.
Eat well and feel well,
Jill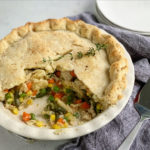 Print Recipe
The Best Chicken Pot Pie
Ingredients
Two 10" Crusts:
3

c

all-purpose gluten free flour

2

tsp

xanthan gum (omit if your flour blend already has this)

1/2

tsp

salt

1

c

cold dairy free butter cut into small cubes (Earth Balance Butter Sticks work well)

8-10

tbsp

cold dairy free milk
Filling:
1

Rotisserie chicken or two baked chicken breasts, meat shredded

2

tbsp

oil

1

c

green beans (frozen or fresh veggies work in this recipe)

1

c

small cubed carrots

1

c

corn

1

c

peas

1/3

c

diced onion

1/3

c

all-purpose gluten free flour

3/4

tsp

salt

1/4

tsp

pepper

1 3/4

c

chicken broth

2/3

c

dairy free milk
Instructions
In a medium sized bowl combine flour, xanthan gum, and salt.

Cut butter cubes into flour with a pastry knife.

When the mixture is the size of small peas, add in milk and combine. You may need to add in additional milk pending the flour used. Keep in mind the dough should be moist.

Divide the dough in half. Flour your countertop and rolling pin well. Place one dough ball on the floured surface and roll into a 10 inch circle. Most importantly you need to frequently lift the crust and add more flour underneath.

Again flour your rolling pin. Roll the dough up onto the rolling pin.

Then place the rolling pin on one side (edge) of your pie pan and roll the dough out over the entire pie plate. Trim edges if needed. Set aside.

Over medium heat in large saucepan preheat oil. Then add in onions and rest of vegetables until tender. Stir in precooked shredded chicken.

Add in flour, salt, pepper, chicken broth, and milk.

Simmer over medium heat until thickened.

Remove from heat and pour into prepared pie plate.

Prepare the top crust as you rolled out the bottom crust. Roll crust onto rolling pin.

Roll top crust off rolling pin across top of pie plate. Seal the edges. Cut a few small slits into the top crust.

Bake for 30 minutes until crust is golden brown.

Remove from the oven and let set 5 minutes.

Refrigerate any leftovers.
Notes
For mini chicken pot pies– This crust recipe will prepare 4 mini pot pies. I use these reusable these mini pie pans. Then half the filling recipe and bake at 425 F for 23-25 minutes.