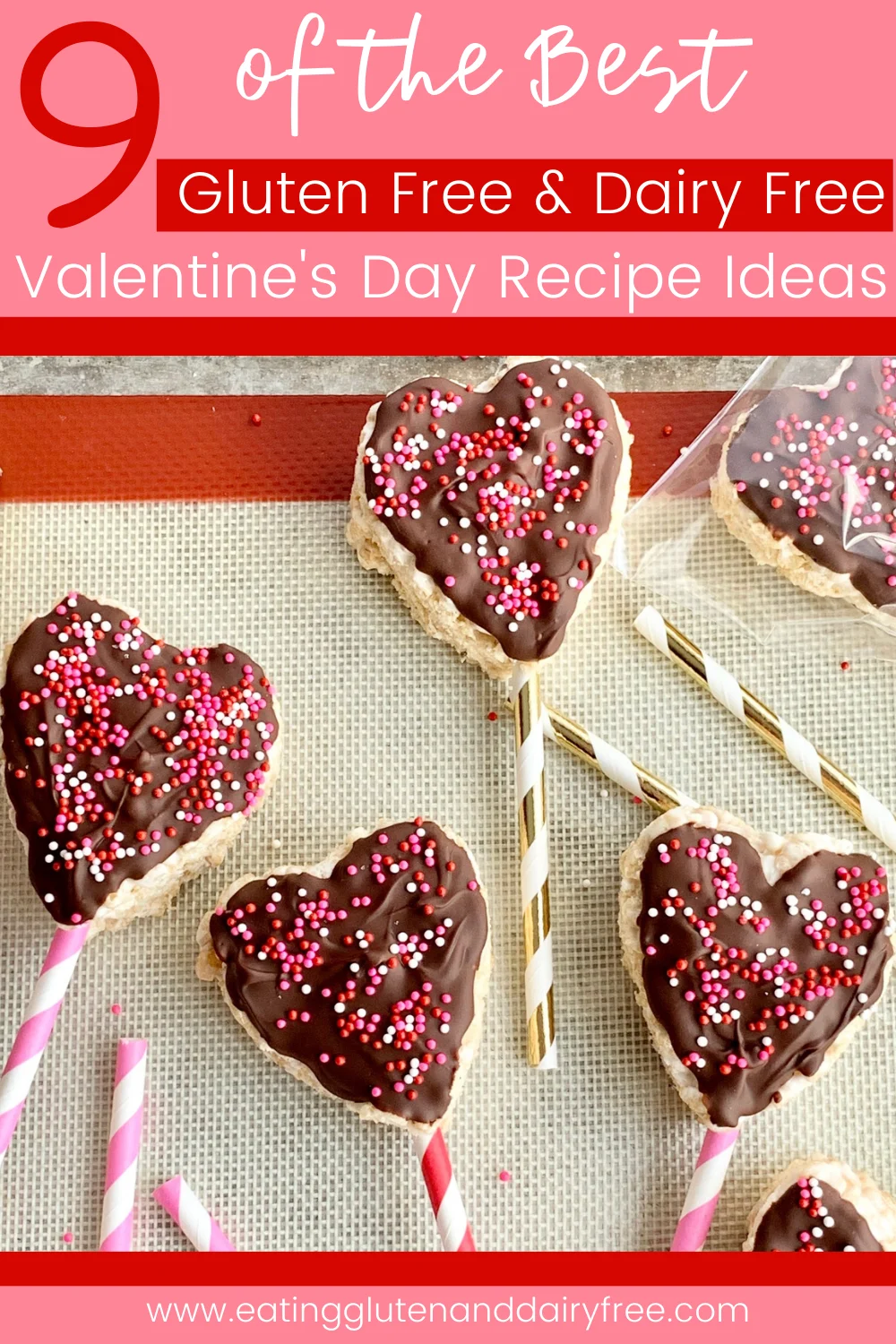 Valentine's Day can be a real struggle for those avoiding gluten and dairy. Let's be honest -- it can be downright frustrating and discouraging. It can be a holiday filled with reminders of what we can't have.
It's impossible to get through the grocery store without seeing countless Valentine's displays. You know what I'm talking about, too -- the Valentine chocolates and fancy desserts.
You can't look at social media without seeing advertisements for Shari's Gourmet Chocolate Covered Strawberries. Food we can't safely eat flashes everywhere before our eyes. However there are food substitutes you can make to the enjoy your best Valentine's Day yet.
Valentine's Day doesn't have to be sad and about what you can't have anymore.
Plan now to splurge this Valentine's Day. There are so many mouth-watering food options.
As with anytime we eat... we have to plan ahead. I guarantee you can have an amazing gluten and dairy free food day like anyone else. But it takes planning ahead. Like right now ♥.
Below is your detailed Valentine's Day food guide. Find something special to start off your Valentine's Day with breakfast. Then select your evening dessert recipe. There are even ideas for school parties or a spouse treat box.
I've complied a food guide of simple gluten and dairy free ideas sure to make this year's Valentine's Day rock. These suggestions can be easily tailored to you, your kids, or spouse.
Make Valentine's Day a special time to celebrate you, your family, and those you love. May you enjoy these delectable treats! To say the least they are mouth-watering. And they taste amazing. All of them!
Everyone wins with this Valentine's Day food guide.
Heart Pancakes

Let's kick off Valentine's Day morning with extra color and loads of fun. These red, heart shaped gluten and dairy free pancakes are sure to put a smile on your kids' faces. They clearly say, "I love you!"
I found the best pancake and waffle mix isn't homemade. It's store-bought. Yes (gasp), I've committed the cardinal food blogger sin, right?!
And that's okay because this box mix is worth it. Even my gluten lovin' husband likes the taste of pancakes from this box mix!
Originally, I found this box mix at our local Walmart. I'd buy 5-6 boxes at a time, y'all! This was something I didn't want to run out of. Recently our Walmart stopped carrying it. So I've been purchasing our gluten free Bisquick from Amazon.
I follow the pancake mix on the gluten free Bisquick box. I substitute almond milk for milk.
The taste of this mix is heavenly. So soft and delectable. For these fun heart pancakes I added red food coloring until I achieved the color I desired. And I found the heart shaped Norpro rings on Amazon to complete the design. These rings are easy to work with. I added a little less pancake mix to the heart ring than I would a regular pancake. When the pancake was ready to flip, I gently pulled the heart ring up and off. With pancake still on the griddle, I flipped it. The heart pancakes maintained their beautiful heart shape when the ring was lifted.
Lastly I enjoy using fun food toothpicks. They add instant charm to any dish. These bamboo red heart shaped food cocktail toothpicks add extra charm to pancakes. They would also work great for fruit kabobs or anything else you can creatively come up with! I find so many cool ways to incorporate these into our meals. My kids enjoy these simple, yet extra ways to show love and well-meaning.
The heart shaped Norpro rings work great with eggs, too! Let your creativity run wild with these.
Yogurt Parfait of Love
If you're searching for a healthier Valentine's Day breakfast idea, this is for you. This is an every day breakfast idea with a Valentine's twist. Spruce up your yogurt with a flare of Valentine's strawberry yogurt. Then top with granola and red fruit.
This gluten and dairy free parfait leaves you feeling energized and light. Gluten free granola is so tasty! Pair the granola with creamy strawberry dairy free yogurt. We enjoy the So Delicious Dairy free yogurt brand. It comes in several flavors and different sizes.
Top with strawberries or raspberries and you're speaking to someone's love language!
These parfaits are super adorable decorated with the red heart cocktail toothpicks, too!
Chocolate Glazed Cheesecake with Strawberry Compote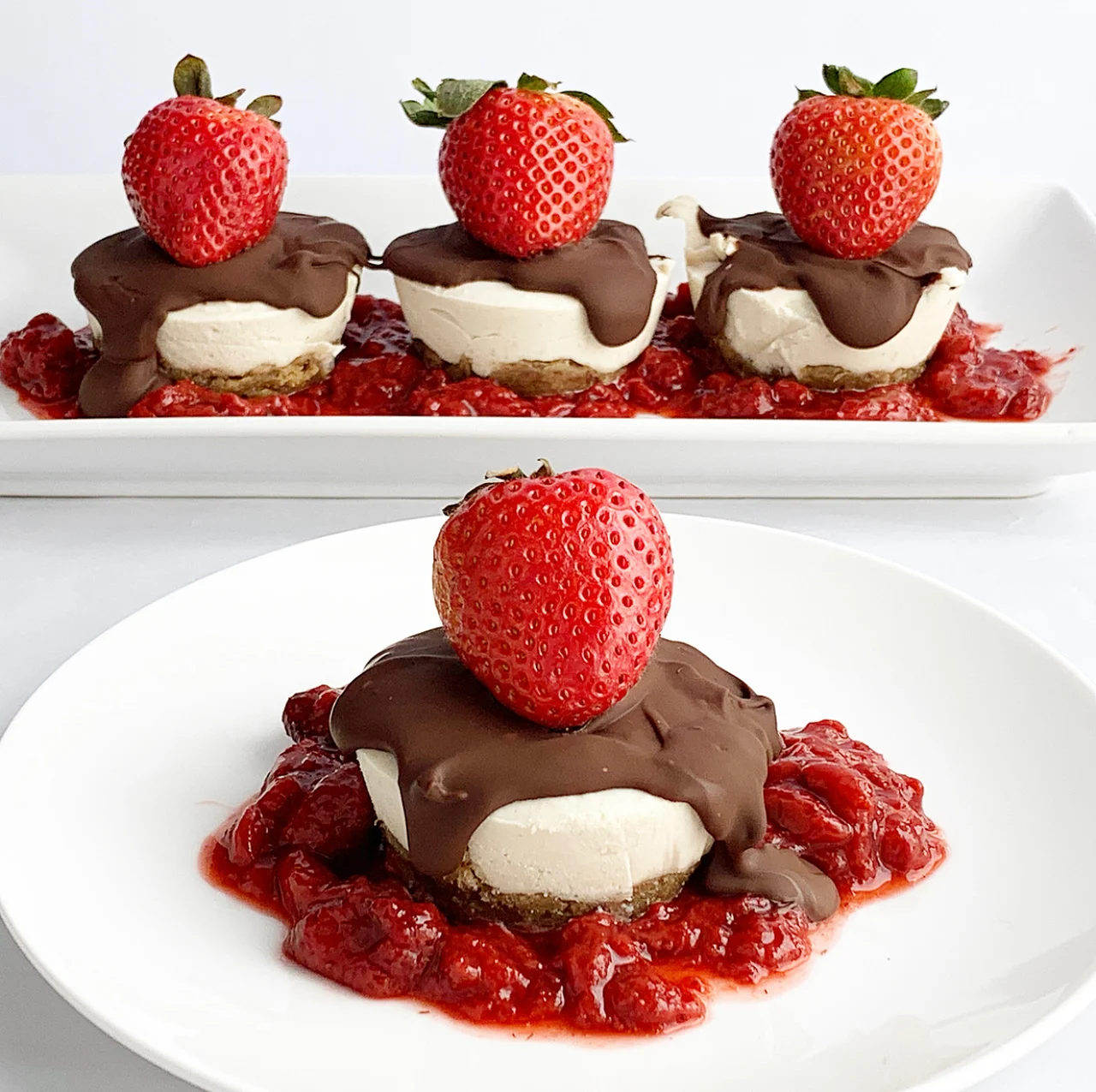 This gluten and dairy free cheesecake is light and creamy tasting. It has a very rich texture and taste. This dessert is a three step process. Stay with me, y'all. That might seem overwhelming. But this recipe moves pretty quick and most of it can be made a few days in advance. That's a Valentine's win!
First, create the cheesecake. I followed the recipe from the Minimalist Baker for the crust and cheesecake filling. After individual cheesecakes are placed in the freezer. Keep the cheesecakes in the freezer until you're ready to plate with compote. These cheesecakes can be stored in the freezer for 1-2 weeks. Now prepare the fresh strawberry compote.
The strawberry compote can be made as thick or thin as you like. I choose to go with a thicker compote so the strawberries were cut in larger slices. If you'd prefer the consistency to be more like strawberry syrup, dice your strawberries smaller.
For this delicious strawberry compote you'll need:
3 cups of strawberries, rinsed and cut
1 cup sugar
2 tablespoon fresh lemon juice
¼ teaspoon vanilla extract
Over medium heat bring strawberries, sugar, and lemon juice to boil in a saucepan. Then, lower the heat until the compote begins to thicken, continuing to stir. This will take 15-20 minutes. Lastly, remove from heat and allow to cool and thicken. Refrigerate after cooled until serving.
Before serving melt 2 cups of Enjoy Life dairy free chocolate chips over the stove top on low. While the chocolate melts, place chilled compote on a serving dish. Place cream cheese dessert on strawberry compote.
After chocolate is melted, place a one to two tablespoons on top of each cheesecake. Lastly, top with a strawberry on each dessert and serve. These may be made and placed in the refrigerator up to a few hours before serving.
You can use strawberry compote for more than this Valentine's dessert. Make a double batch and serve atop pancakes, waffles, or even dairy free ice cream.♥
It stores in the refrigerator for a week.
This romantic dessert will be remembered well after Valentine's Day night.
Fruit Brownie Valentine Trifle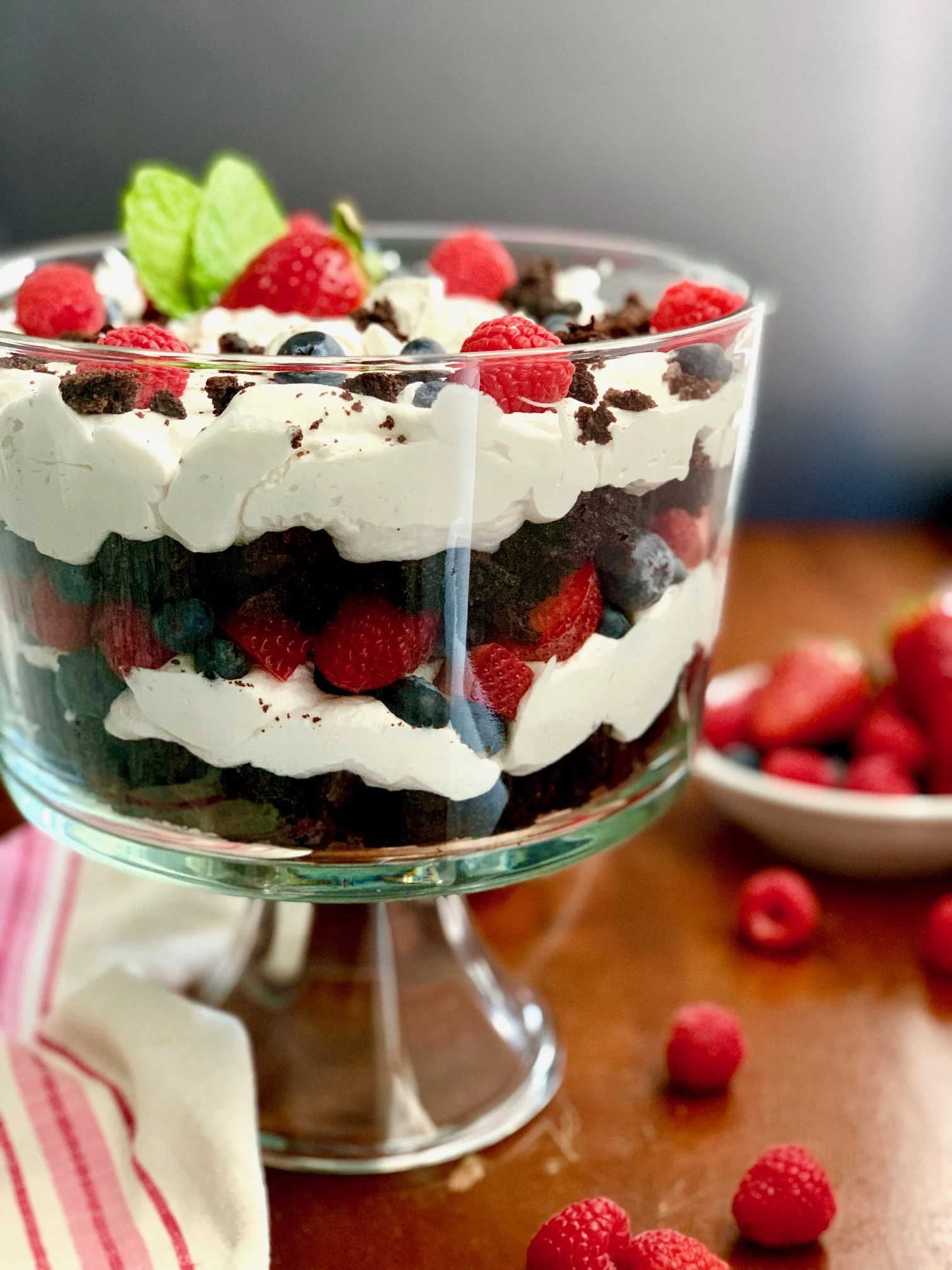 This gluten and dairy free trifle is speaking your love language. You'd be surprised how easy this recipe comes together. The recipe is found on my blog here. I serve them to company often, and you'd never know this dessert is gluten and dairy free.
Next, have 2 So Delicious Cocowhip containers already thawed in the refrigerator. These cool whips are a food staple in my freezer. They're perfect to have on hand for most desserts.
Lastly for the layers I selected a variety of fruits. I'd suggest making this trifle the day of and storing it in the refrigerator until you're ready to serve. You'll find step by step directions for this recipe on my blog post.
A month ago I posted this dessert on Instagram. One follower commented she planned on making this for Valentine's day. If you ask me, it looks festive and romantic.
The combination of all these flavors is mouth-watering. Guests have a hard time eating just one serving.
Chocolate Raspberry Cupcakes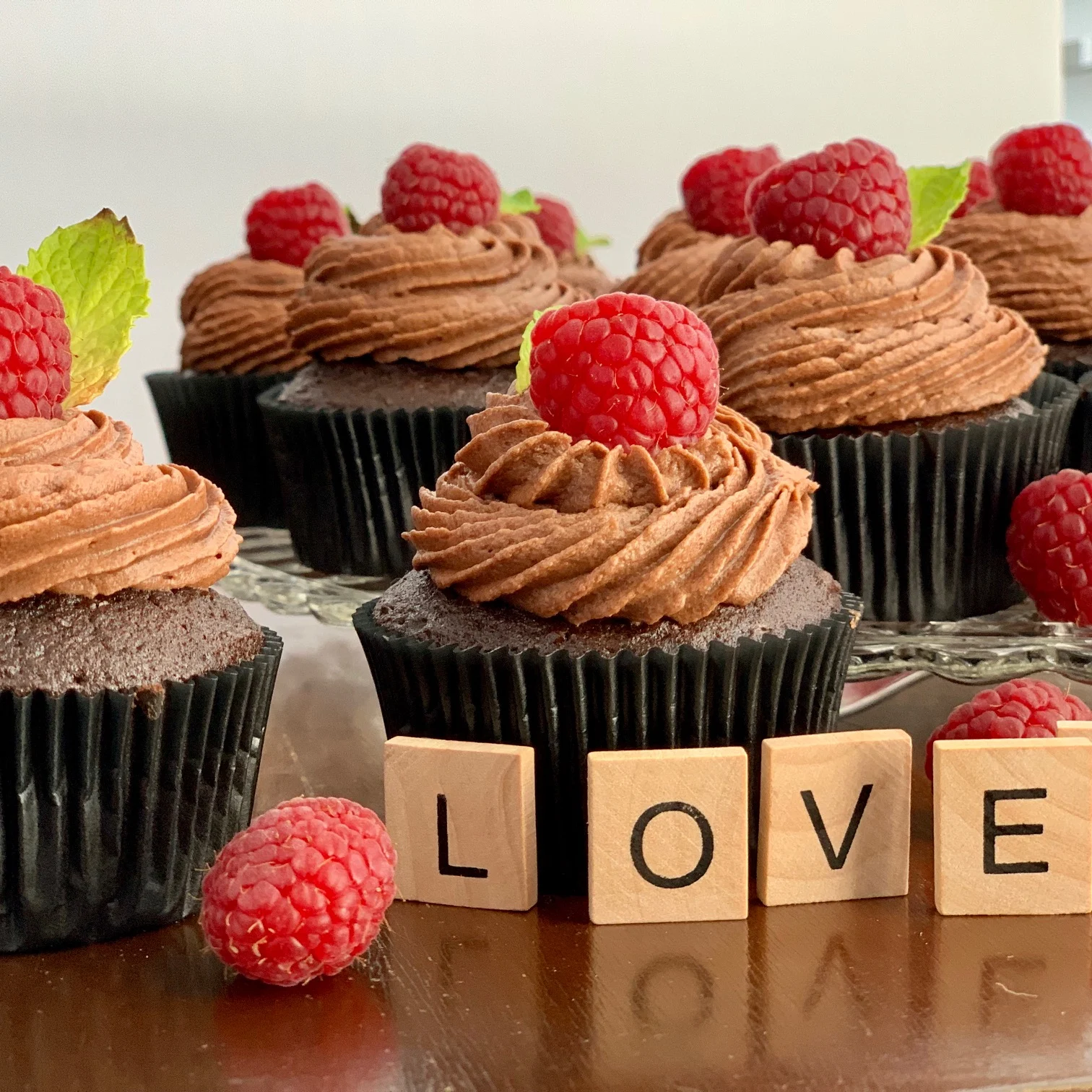 Oh boy, these are tasty, y'all! Try melt.in.your.mouth. kind of good! Each cupcake bite is the perfect balance of chocolate cake, creamy frosting, and fruit. You just have to trust me and try these. Actually I'd suggest taste-testing "a couple of them first." Wink wink.
I've made several homemade chocolate cake mixes that taste wonderful. And when I have "extra" time as a mom to three children I like making my own from scratch. However, when I need something quick my go-to is King Arthur Gluten Free Chocolate Cake Mix. You can't go wrong with it! It's always moist, rich in flavor, and airy. The Valentine's cupcake was frosted with a creamy dairy free frosting. I followed the chocolate frosting recipe from Mom Loves Baking.
I added in extra powdered sugar and raspberry flavoring from Michael's. However, the flavoring isn't needed to pull off an amazing cupcake! But because I make cupcakes often, the flavoring added a little extra uniqueness.
After cupcakes are frosted, they can be served right away with a raspberry and mint leaf. Otherwise they can be stored for a few days and garnished before serving.
These look and taste heavenly! But don't take my word for it... as I suggested above... try a couple before serving.
Chocolate Covered Strawberries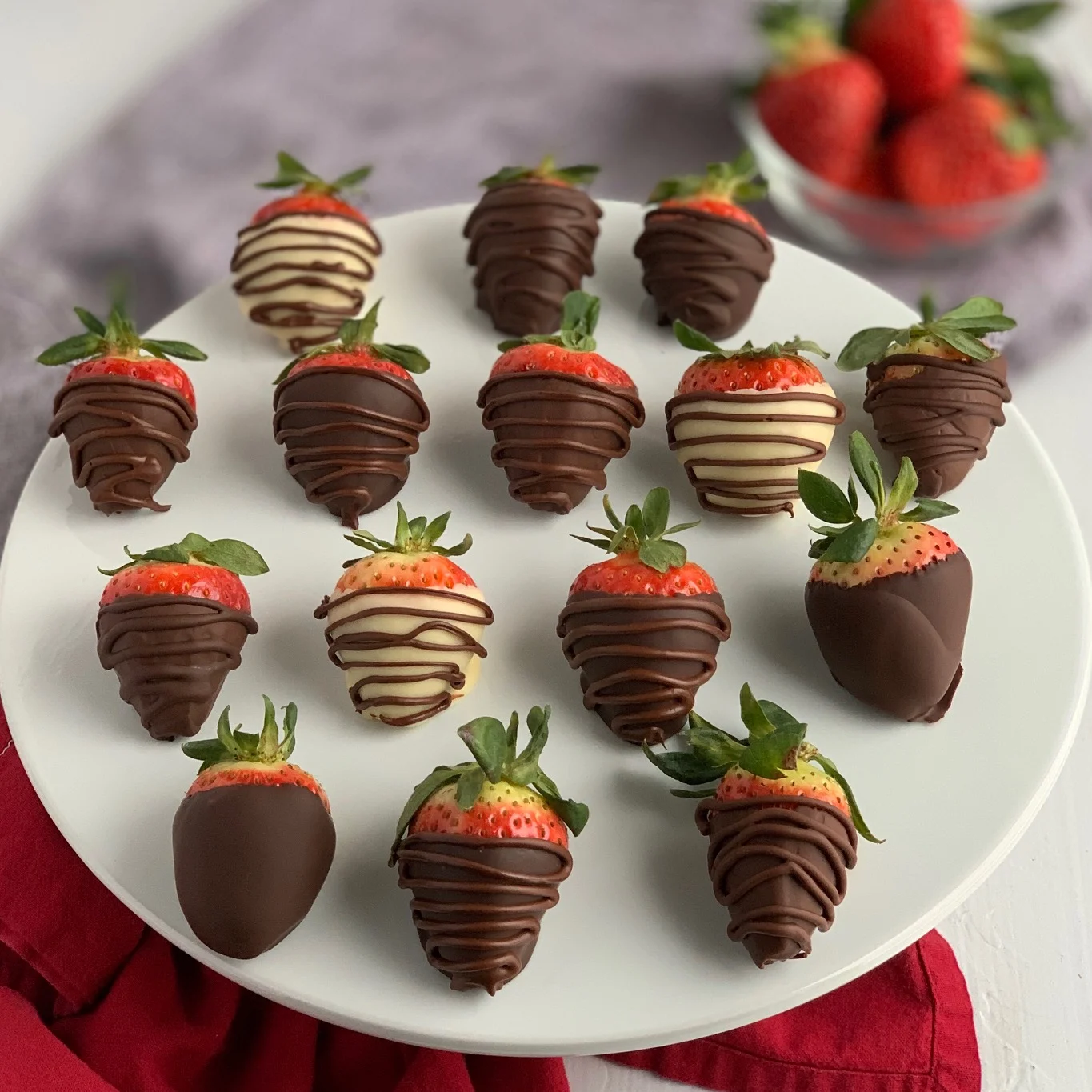 These need no explaining. They're beyond amazing.
And they're so quick and easy to make that they've become a Valentine's Day tradition in our home. Can you believe they're 100% gluten and dairy free!
Tap here for my chocolate covered strawberry recipe guide. You'll find step by step instructions to walk you through the process and guarantee the best results.
Chocolate Heart Covered Rice Krispie Treats
These Rice Krispie treats will be the highlight of your child's school party. They are everything you'd dream of from Rice Krispie's and more. Don't they look magical with the chocolate and sprinkles?!
First make the Rice Krispies from my blog post Your New BFF. Yes, seriously this recipe will be your BFF. You can enjoy these treats as is. Or transform them into something even more magical with cookie cutters and chocolate ♥.
After the Rice Krispie treats are made, cut with a heart cookie cutter. After the cookie cutter is pushed into the treats, use a knife to cut around the heart cutter. This will make it much easier to get the beautiful heart shape you're looking for. After the treats are removed from the cookie cutter, take a few extra seconds to shape them with your finger. There might be a few rough spots needing to be smoothed. Place them on a cookie sheet.
Then melt gluten and dairy free Enjoy Life Chocolate Chips in a sauce pan over the stove top on low or in the microwave. After the chocolate is melted, place a tablespoon onto the center of heart. Spread carefully around the outline of the heart with a spoon.
Next, sprinkle with Valentine's colored sprinkles. Place a decorative paper straw into the hearts if you like and wrap in cellophane. Paper straws cut in half are the perfect grab size for these Valentine treats.
These make safe and delicious treats for your children and others! Enjoy these festive Valentine treats!
Valentine Heart-Shaped Sugar Cookies
These cookies look and taste amazingly perfect, y'all! They are the softest sugar cookie you'll find. The dairy free sour cream in these cookies helps them stay soft and chewy. First you'll find the recipe for these gorgeous cookies on my blog here. Second, you'll find the perfect heart cookie cutter here.
This frosting recipe has been in development for years. I've tried it with several different ingredients. I like using Tofutti dairy free sour cream in my cookie recipe. When they came out with a dairy free cream cheese, I was ecstatic. But, those feelings were short-lived. I didn't care for Tofutti cream cheese taste in this frosting recipe.
For these soft sugar cookies I ice them with the Buttercream Frosting recipe here on my website. You can make the consistency thicker by adding in less dairy free milk or runnier by adding in more. This buttercream is rich and decadent tasting. A wonderful compliment to these cookies.
Chocolate-Covered Oreos on a Stick
My kids think these are the best. I mean, you're dipping an already amazing gluten and dairy free oreo into chocolate. We're talking about sweet on sweet here. I will say these are easy peesey to make. Older kids could make these on their own.
For this recipe you'll need a package of Kinnikinnick Cookie ktoos Chocolate
Sandwich. Their products are dairy, gluten, nut, peanut, and soy free! Carefully, place a sucker stick in between the sandwich layers. Then melt gluten and dairy free chocolate morsels over the stove top. With a spoon drizzle each sandwich cookie with a generous tablespoon of chocolate. Decorate with sprinkles before the chocolate dries. Let harden and store in an air-tight container.
These are perfect school party treats!
Wrap them in cellophane bags and tie with red ribbon. They look gorgeous and you'd never guess they're are gluten and dairy free!
♥ Side note on the Enjoy Life chocolate chips... the link above is for a 5 lb bag from Amazon. It's a better deal than you will pay in the grocery store for individual bags... unless they're on a massive sale. I only buy the 5 lb bag now.Â
Are your now ready to enjoy your best Valentine's Day yet?!!
Which breakfast or dessert will you be trying? Did you have a hard time deciding which school treat to send with your children? Isn't it hard to believe these 9 recipes are gluten and dairy free!
More gluten and dairy free valentine recipes:
lastly
Please let me know in the comments which recipes you chose to celebrate your Valentine's Day.
And be sure to follow along on Pinterest, Facebook, and Instagram so you don't miss the best of eating gluten and dairy free.
This is your year. Let it be your best celebration yet. Happy Valentine's Day, y'all. Feel the love and share the love.
Feel well and eat well! ♥
Jill