The Best Taco Bake recipe is a simple recipe for busy weeknights with layers of refried beans, seasoned ground beef, salsa, corn, crunchy tortillas chips, romaine lettuce, and all your favorite taco toppings. Serve this easy taco bake recipe with a dollop of dairy free sour cream for the ultimate dinner meal.
And everyone needs another delicious gluten and dairy free dinner recipe to keep on hand for busy nights.
This has become one of our favorite family meals.
This gluten and dairy free Taco Bake is full of cozy and comforting flavor and very filling. So be prepared to have your taste buds dazzled!
First, the refried beans add a creamy component to this dish making you quickly forget it's dairy free.
And the festive flavors of the ground beef and salsa are rich in flavor and spice.
This combination is so.so.good. Okay, who am I kidding? Salsa, bell peppers, and ground beef combined is delectable.
Then add the crunchiness of the salty tortilla chips… oh my, it's just so good.
Top this dish with shredded romaine lettuce, diced tomatoes, green onions, sliced jalapeno peppers, and olives. Garnish with a dollop of guacamole or dairy free sour cream. This dinner dish has it all.
And the Taco Bake toppings are really endless and effortless to make, too.
Why Make This Taco Bake Recipe
The whole family will enjoy it
It's super easy to customize to make it exactly how you like it
It's the perfect addition to make for Taco Tuesday or Taco Night
This easy taco casserole recipe is the perfect thing to make when all you want is a list of easy recipes ideas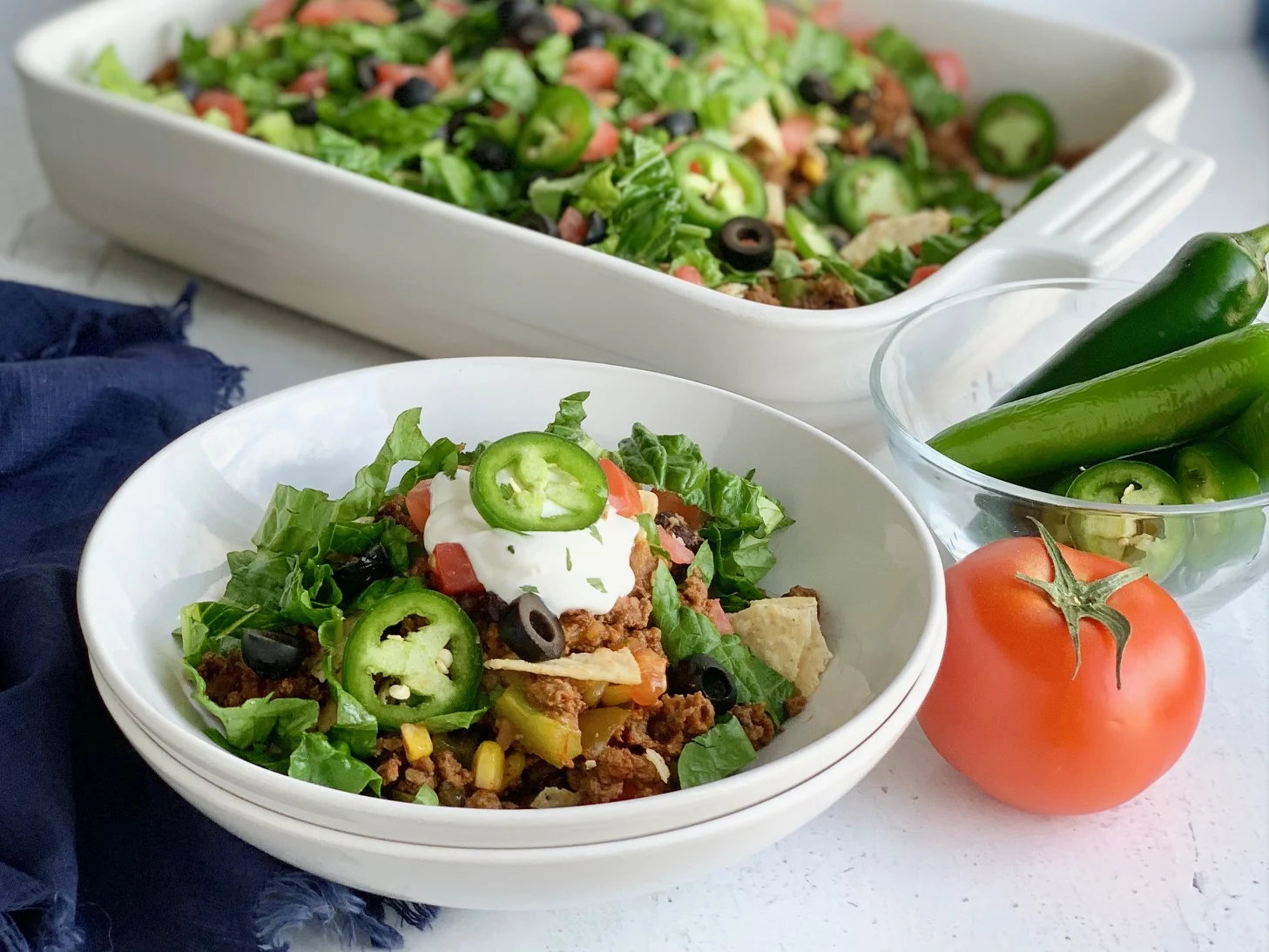 Ingredient list and notes
Get more info on these simple ingredients in the recipe card below at the bottom of the page. Here's our notes and brands suggestions if you need them.
oil-- we use grapeseed oil but you can use olive oil, canola oil, coconut oil, whatever cooking oil you like
onion --yellow onions, white onion, red onion, whatever you prefer
ground beef-- ground turkey works too
chili powder-- always double check your spice brands are gluten and dairy free
cumin
corn-- frozen, canned, or fresh this is an optional ingredient
bell pepper-- green is our favorite in this dish, use what you have on hand
salsa-- use your preference of heat. We love using this brand here.
refried beans-- 16oz can works great. We use this brand here.
tortilla chips-- we use the Mission brand, here is their gluten and dairy statement. We like the Certified Gluten Free Round Tortilla Chips or the Triangle Chips.
romaine lettuce-- iceberg will work too
fresh tomato
optional toppings-- sliced black olives, green onions, sliced jalapeno peppers
garnishes-- fresh cilantro, guacamole or dairy free sour cream, The sour cream brand we use in this dish is WayFare.
9x13-inch baking pan
How to Make an Easy Taco Bake
Start to finish in under an hour makes this dish a soon to be favorite.
First, preheat the oven to 350 degrees Fahrenheit. Then, begin to sauté the diced onion in a large skillet on medium heat.
Once the onion is translucent, add 1 pound of ground beef to the skillet. While the meat browns, ready the other ingredients.
Evenly spread the refried beans in the bottom of a 9x13-inch dish and set aside.
Then, dice the bell pepper.
Next, shred the lettuce into bite-size pieces. Dice ½ a tomato, or more if it's your family's favorite. Drain and rinse the olives and set aside. Lastly, thinly cut the green onions and any other toppings. Set all aside.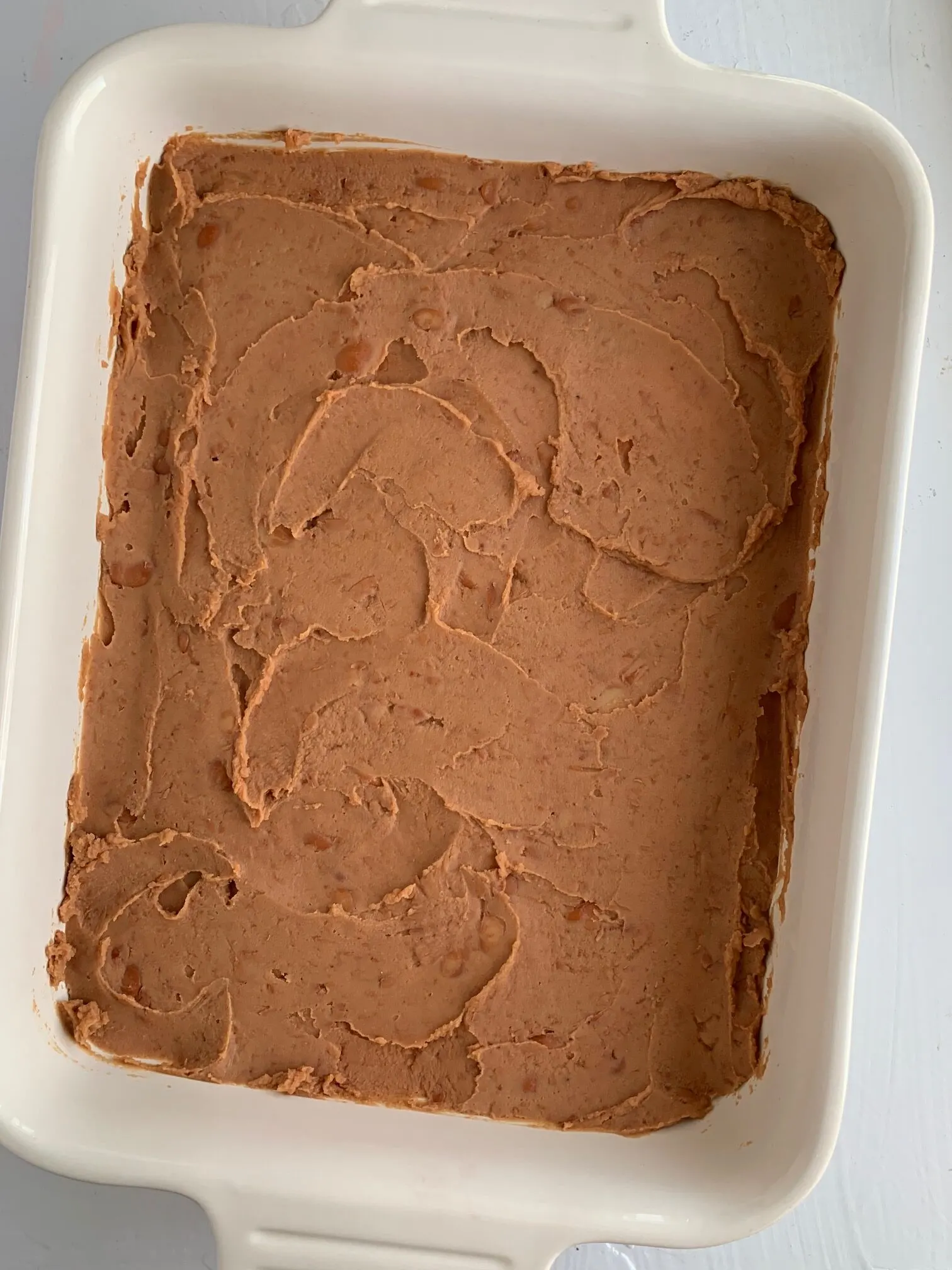 After the beef is browned, drain fat from the skillet. Then, add in the chili powder and cumin followed by the corn, black beans, and diced bell pepper.
Stir well and place a lid on the skillet. Let it simmer for a few minutes until the bell pepper is softened.
When the bell pepper is softened, add the jar of salsa. After you've stirred the salsa well into the ground beef mixture, place it on top of the refried beans.
Then, bake for 15-18 minutes so it's heated through.
Now starts the most enjoyable part. Or at least it's the best part for this foodie. ♥
Start with a handful of tortilla chips in your hands. Crush them between your fingers and drop the pieces onto the best taco bake.
Note, take note to not completely destroy the chips. We prefer larger chunky tortilla pieces.
We use about a regular size bag.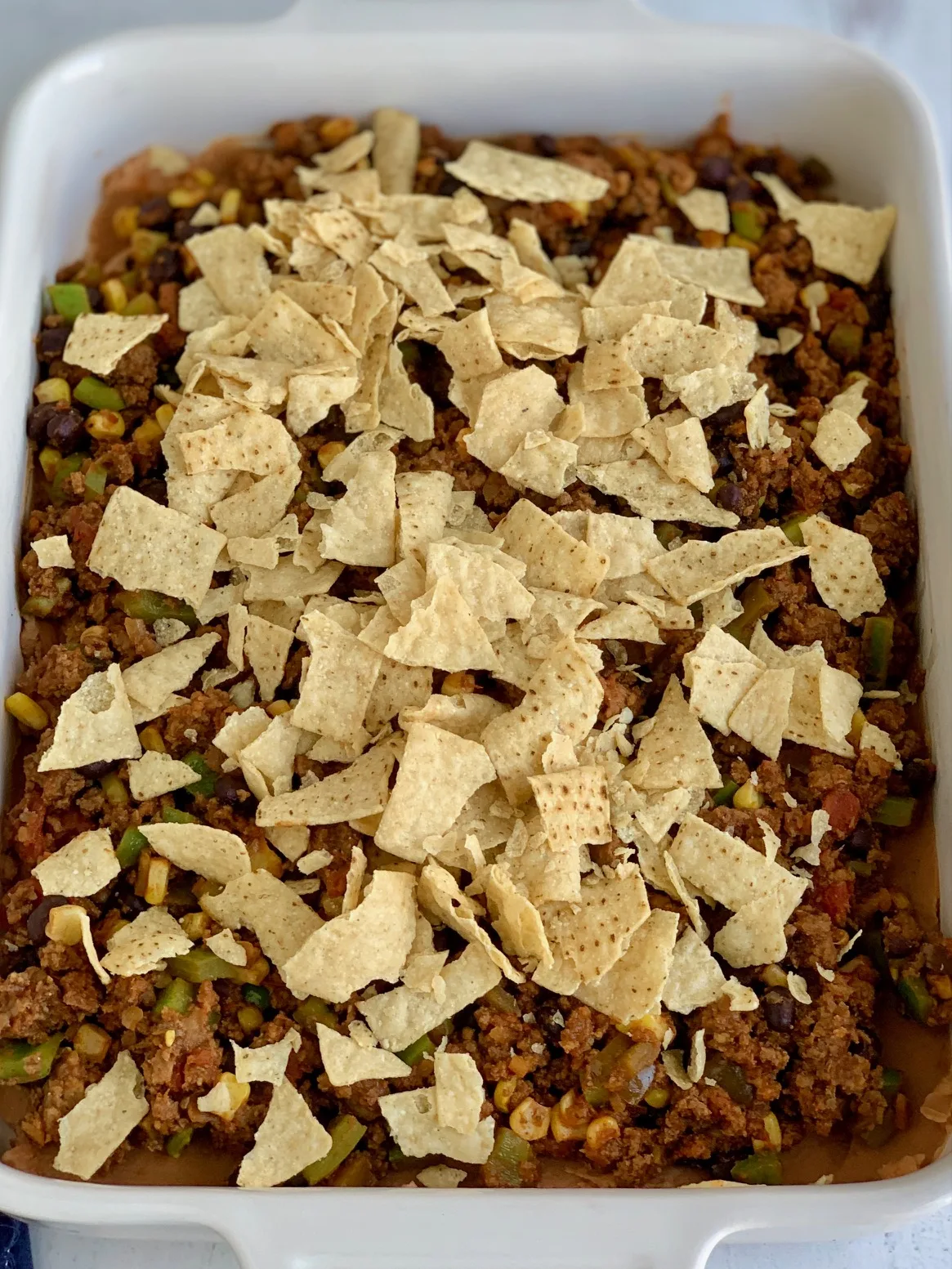 Now load your taco bake with your favorite taco toppings. Layer shredded lettuce all over your taco bake. Then add handfuls of diced tomatoes, olives jalapeno peppers-- whatever you enjoy best.
Lastly, top it off with sliced green onions and fresh cilantro. Oh, we love the taste green onions and cilantro bring to any dish, especially this taco bake.
Yaaaauuum.
After you've dished up, serve with a dollop of sour cream or guacamole. Tada! Dinner is served.
Storage
Leftovers should be stored in an airtight container and kept in the refrigerator for up to a day or two. This may quickly get soggy, so it's best when you first make it.
You can also cover leftovers with aluminum foil and store them in the fridge.
frequently asked questions
Why is my taco bake runny?
Bummer, if you see that your taco bake is looking a little runny, it could be from the juices from the salsa, lettuce or any other fresh vegetables that you added.
But, it's okay! It's best to serve this delicious dish within an hour or so of making it so it doesn't become too runny.
Can you make this dish ahead of time?
While we looove this recipe, we don't recommend fully assembling this ahead of time or it can become runny and the chips on top could get soggy.
However, you can make the meat ahead of time. When it's time to enjoy this dish and you want to assemble it, you can warm your meat up in the microwave or reheat it on the stovetop.
How long is taco bake good for in the fridge?
This recipe is best served when freshly made. If made or stored for a period of time, the chips may get soggy.
If you do want to store leftovers in the fridge, wait to add chips to dish so this dish doesn't become runny and your chips soggy.
What tortilla chips are safe to use on this?
Unfortunately, some brands may deep fry their chips with other products that contain gluten.
Just a reminder, we use the Mission brand. And here is their gluten and dairy statement for your comfort.
Most importantly, we recommend you check your brand and allergen statement as well for safety.
Other topping ideas
Pico de gallo
Diced red bell pepper
Green chilies
Tomato sauce with your ground beef
add some taco seasoning to your sour cream
dairy free shredded cheese, like Mexican shredded cheese or cheddar cheese
pinto beans
extra tortilla chips
Tips and Variations
You can add homemade taco seasoning to your lean ground beef, ground turkey, or ground chicken.
Customizing this to something your entire family will like is super easy, you could even add all the toppings in their own containers and everyone can add their toppings as they make their own servings.
This delicious taco casserole is gluten and dairy free- always check your ingredients to ensure they're still safe to use before adding to your recipe .
more delicious recipes
lastly
Enjoy a straightforward and easily done dinner that will dazzle your taste buds.
You'll love the creaminess of the refried beans paired with the spice of the salsa and ground beef topped off with crunchy tortilla chips and fresh toppings in this Best Taco Bake recipe.
This gluten and dairy free meal can be customized to include your family's favorite toppings. Make it your way.
Print Recipe
The Best Taco Bake
Ingredients
1

tablespoon

oil

we use grapeseed

½

onion, diced

1

lb

ground beef

ground turkey works too

1

tablespoon

chili powder

1

tablespoon

cumin

½

c

corn

frozen, canned, or fresh

1

green bell pepper

diced

1

16 oz jar

salsa

a 15 oz jar works too

1

16 oz can

refried beans

bag of tortilla chips

suggestion in post

2

cups

romaine lettuce

shredded

½

tomato, diced

½

2.25 oz. can

sliced black olives

drained and rinsed

optional-- 1 can black beans and sliced jalapeno peppers

optional garnishes-- cut green onions, fresh cilantro, guacamole, dairy free sour cream
Instructions
Saute diced onion in large skillet with oil on medium heat.

Once onion is translucent add ground beef to skillet. While beef browns place refried beans in bottom of 9x13-inch baking dish. Spread evenly. Cut and dice toppings, set aside.

When ground beef is browned, drain fat.

Add in chili powder, cumin, corn, black beans and diced bell pepper. Mix well. Place lid on skillet and simmer until bell pepper is softened.

Add salsa to ground beef mixture and stir well. Place on top of refried beans.

Bake for 15-18 minutes until heated well throughout.

Take handfuls of tortilla chips and loosely crunch in hand. Place on top of the ground beef mixture.

Layer with shredded lettuce, tomato, green onions, jalapeno peppers, and black olives to taste.

Serve immediately with a fresh cilantro, and a dollop of sour cream or guacamole.

Cover and refrigerate leftovers. This is best the day of.
Make sure to follow us on Instagram and Pinterest to keep up with all our new recipes. Tag us if you make the recipe on IG or share your thoughts by commenting on the pin on Pinterest. If you try this recipe, feel free to give it 5 🌟 below
Eat Well and Feel Well
Pin It For Later