Who doesn't love biting into crispy, crunchy tater tots with hints of Mexican flavor?? Watch out Taco Tuesday, this easy One Pot Tater Tot Skillet brings full-on Mexican flavor to any weeknight dinner with each savory bite. Enjoy tater tots, ground beef, black beans, corn, garlic, cumin, oregano, and… of course, would it be Mexican food without some zesty Enchilada Sauce??
If you're looking for a new taco recipe with a twist, this is for you. The top layer of tater tots adds wonderful flavor and a slight crunch to this taco tater tot skillet recipe.
Honestly, the Mexican flavors make this meal absolutely delicious.
This is a must pin and print recipe! Keep reading to see how amazing this dish is.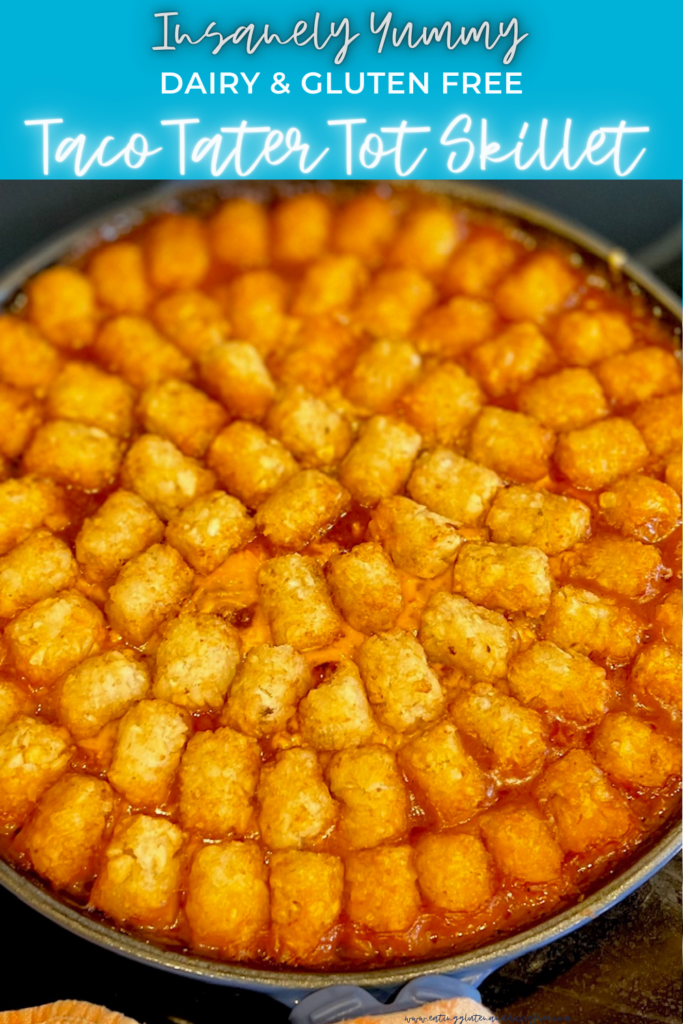 Not only is this recipe easy, filling, and comforting, it's also full of so much flavor, ready for the oven in minutes. You won't have any problems preparing this meal after work or between sports practices.
And really, who doesn't love another one-dish recipe? I'm tired of cleaning just one pan after dinner, said no.one.ever.
However, if you don't have an oven skillet that can go from the range to a heated oven, this recipe will easily conform to a 9 x 13-inch baking pan.
taco tater tot ingredients
ground beef
onion
garlic clove
chili powder— always double check your spices are gluten free and dairy free
cumin
dried oregano
salt
tomato sauce
black beans
corn— fresh, canned, or frozen
enchilada sauce – enchilada sauces seem to come in many different sized cans. We prefer using the Hatch 15 oz. Organic Red Mild Enchilada Sauce when we eat this, found here. But any gluten free sauce will do. Even a smaller 10 oz. can will work fine.
tater tots— these Ore-Ida are our favorite and here is their allergen statement. But whatever your favorite gluten free tater tot brand is will work wonderfully for this recipe. Typically, we have a few tater tots left over in the bag after making this recipe. If you're using a different size skillet or pan, you might use them all.
taco seasoning– If you're new to eating gluten free, take note — most taco seasoning packets have gluten and/or dairy in them. Silliest thing ever, right?! So always check ingredients if you're looking at taco seasoning packets.
optional dairy free sour cream – Our fave dairy free sour cream is Wayfare or the Forager. Both are creamy and used in several of our recipes.
garnishes— diced green onions or fresh cilantro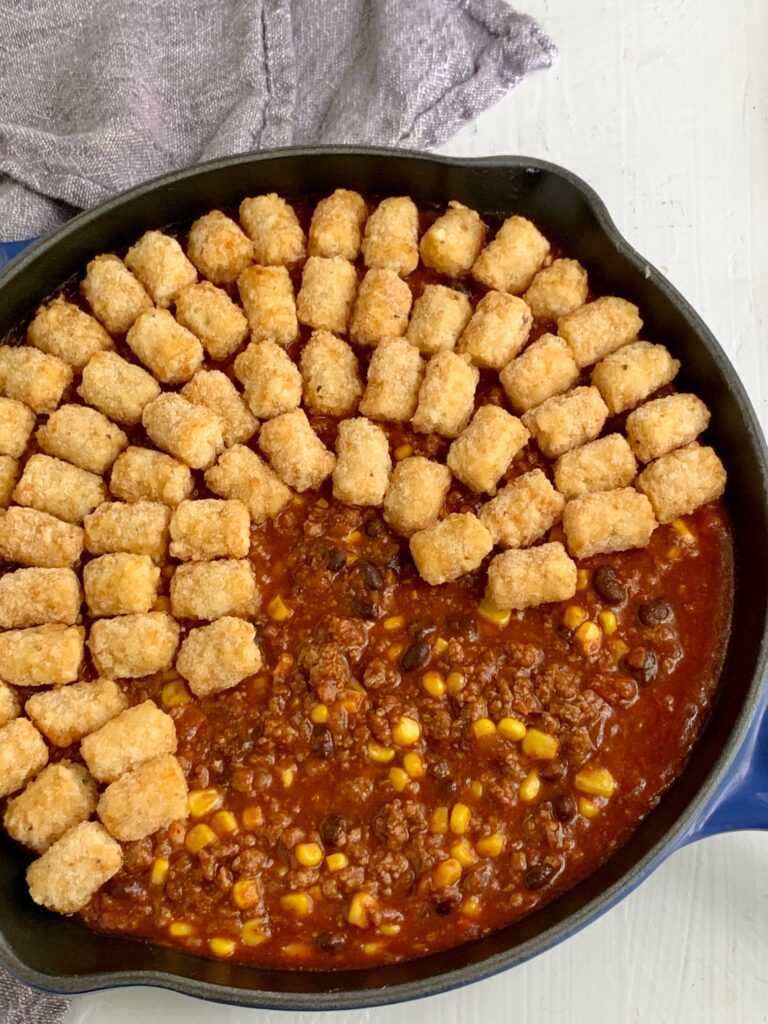 taco tater tot skillet recipe tips
cast iron skillet – this is a kitchen must have. If you know how to cook with cast iron, you'll be in business. We use it weekly.
baking dish 9×13-inch – if you don't have cast iron, you can easily make this in a regular 9 x 13-inch baking dish.
Serving spoon – grab yourself a good serving spoon that washes nicely. It helps make cleaning a breeze.
Measuring spoons– you always need a nice set of measuring spoons to use in the kitchen.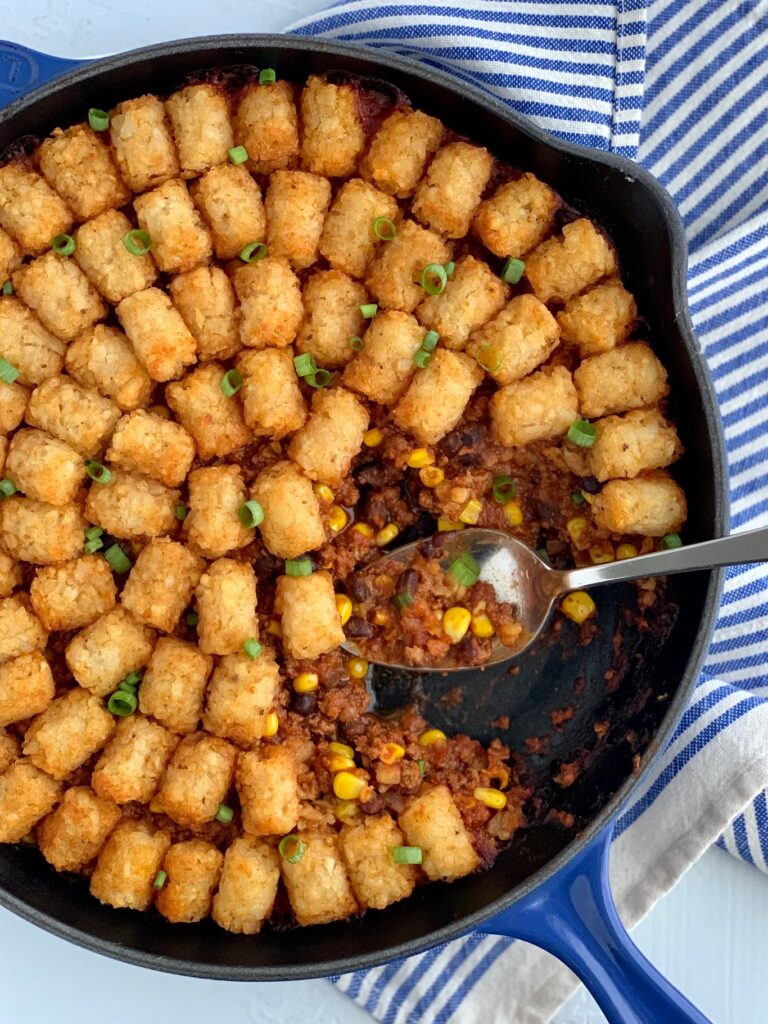 what do you put on top of tater tots?
This recipe is so easy to customize to include your favorites too! Such as dairy free sour cream, fresh cilantro, or even diced green onions.
If you're after some serious heat, add in diced green chilies.
Or if you've found an amazing dairy free cheese, add in 1-2 cups of shredded cheese to the meat sauce before layering with tater tots.
However, this recipe doesn't need cheese. You won't even miss it in this skillet.
can you reheat and eat this as leftovers?
Not surprisingly this recipe is wonderful reheated for leftovers. You just can't go wrong with this recipe.
Just as simple as it was to make this dish, it's super easy to reheat!
All you have to do is toss it all in the cast iron skillet, wrap it back up with aluminum foil and pop it back in the preheated oven and you'll have a nice crispy taco inspired tater tot casserole ready to enjoy.
are tater tots and hash browns the same thing?
No, while both tater tots and hash browns are made of potatoes, they're actually different.
Hash browns are shoestring potatoes or shredded potatoes that are usually pressed together. While tater tots are usually fragments of potatoes, like little pods or cylinders.
can you use ground turkey?
Absolutely. If you have ground turkey on hand, feel free to substitute the ground beef for the turkey instead in this one pot meal.
more delicious taco-themed gluten and dairy free recipes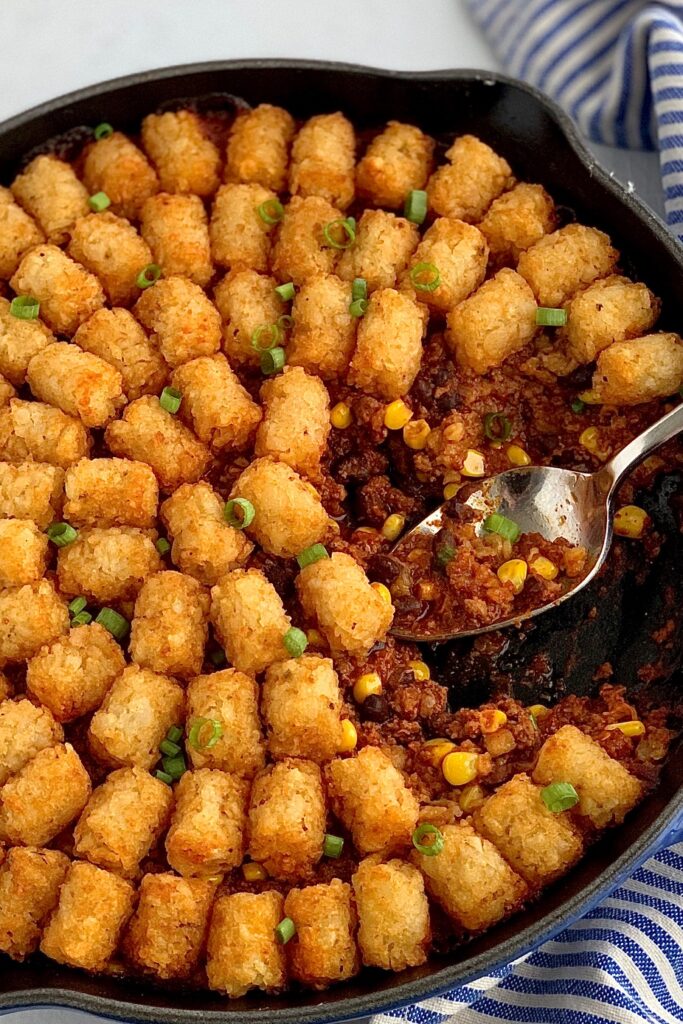 lastly
You'll quickly fall in love with this dish.
The enchilada sauce adds the perfect heat and flavor to the meat, black bean, and corn mixture.
And the top layer of tater tots becomes slightly crunchy while in the oven. Your taste buds will love you. You'll want to make this now
Follow along on Pinterest, Facebook, and Instagram. Be sure to like and comment often so you keep seeing our posts in your social media feed.
We don't want you to miss out on the best of eating gluten and dairy free.
Eat well and feel well,
Jill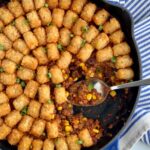 Print Recipe
Taco Tater Tot Skillet
Ingredients
1

lb

ground beef

1

small onion, diced

1

clove garlic, minced

1

tbsp

chili powder

1

tsp

cumin

1/2

tsp

dried oregano

1/2

tsp

salt

8

oz can

tomato sauce

15

oz can

black beans, rinsed & drained

12

oz bag

frozen corn

15

oz

Hatch organic red mild enchilada sauce

32

oz bag

frozen tater tots
Instructions
Brown beef and onion in a large oven-safe skillet. Drain when beef is fully cooked.

Add in minced garlic and stir.

Next add in all seasonings, tomato sauce, black beans, corn and enchilada sauce.

Place frozen tater tots on top of the taco mixture. Place directly into the oven for 30 to 35 minutes.

Variations: If using a 9 x 13 baking dish prepare taco mixture as directed. After spraying the baking dish with nonstick spray place taco mixture in dish and spread tater tots on top. Bake as noted above.

Optional add ins: diced green chilies, dairy free shredded cheese. Top with diced green onions and dairy free sour cream.