Have you tried these Fruity Pebble Donuts yet from a local bakery? They've definitely become an Instagram sensation. And yes, I've seen every one of y'all's Instagram posts holding these glorious donuts outside your favorite bakery bragging about how wonderful they are.
So guess what?!
I couldn't take one more day of seeing your posts and yet not be able to enjoy a bite. And since these aren't available locally; I took matters into my own hands. I rushed to my nearest grocery store, grabbed myself a box of Fruity Pebbles, and got to baking. Then I couldn't get them out of the oven fast enough.
And you're welcome. Because now you can have these epic donuts anytime you want to. And they're so easy to make it's almost pitiful, y'all.
Interestingly enough... my kids had never even tried this cereal until I whipped up these donuts. I might even go so far as to say they were skeptical these little colored flakes on top of their donuts were good.
But once they took one bite, they were hooked on these delicious donuts. And suddenly I was so relieved I'd made a double batch! They melted my heart by oohing and ahhing between each bite. And you will too. I guarantee it. Now every time I prepare a batch of these donuts I make a double batch.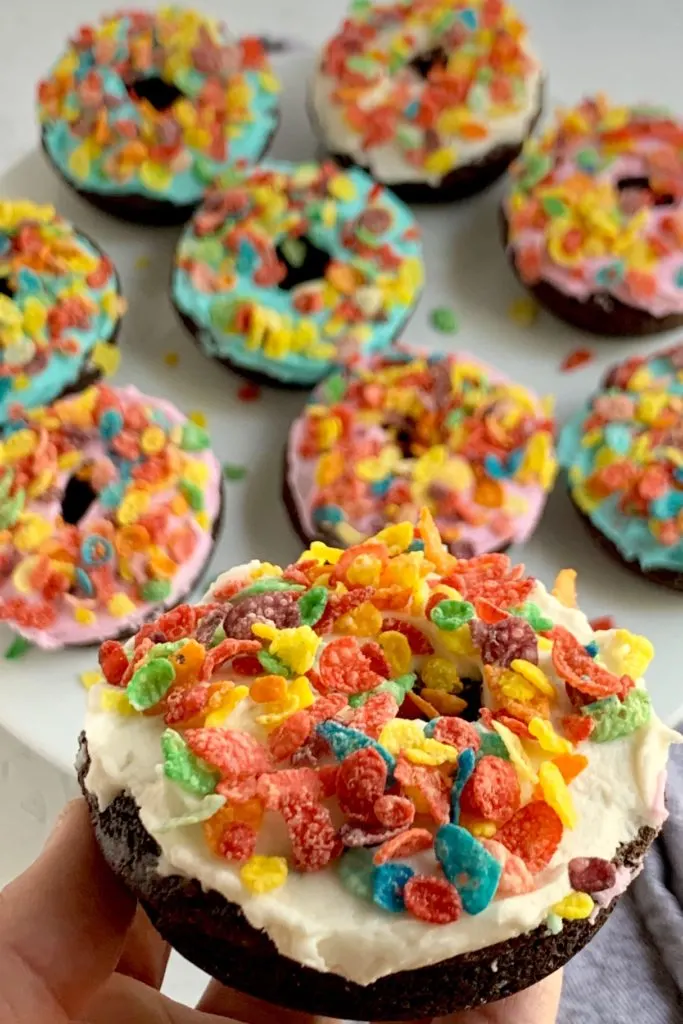 Surprisingly I used the recipe from my popular oreo donut post for these. Yes, I used the same donut and frosting recipe! Now that's a huge donut victory. The only change you will need to make is substituting the fruity pebble cereal.
4 FRUITY PEBBLE DONUT TIPS:
Earth Balance produces handy dairy free butter sticks, making measuring butter effortless in recipes. I always have a box of sticks in my refrigerator.
Unsweetened cocoa powder can so easily be mistaken for other ingredients in the grocery store aisle. You can order it from Amazon here. This is also an item I use frequently with baking, so I like to keep it on hand.
If you're new to baking homemade donuts, you'll want to grab a donut pan. These are simple to bake with and clean afterwards. Here are the donut pans I use and recommend -- click here.
Icing donuts or cakes with an angled cake spatula makes it so e-a-s-y. I bought mine here, and I use it almost daily.
SERVING SUGGESTIONS
Well, obviously, for the ultimate breakfast treat
School snacks to pack for your child; be warned -- your kids will be envied by their classmates
Birthday party treats
Sleepovers for your kids
Brunch (won't your company just freak with delight at the sight of these donuts?)
Classroom parties for school children
Breakfast work parties (be the cool coworker)
Or surprise your college student and their friends with these when you visit
IN CONCLUSION
Most importantly, these Fruity Pebble Donuts do live up to their hype. Honestly there aren't words for just how good they are. They are amazing. If you try just one, you'll be hooked.
Similarly, if you're like me and your love language is donuts, you won't want to miss another popular donut recipe. Click here for your Oreo Donut recipe. With the Fruity Pebble and Oreo Donut recipes in hand, your breakfasts will never be the same.
I don't know how many times someone has commented on how boring eating gluten and dairy free must be. Or with an honest heart ask what our family can possible have to eat.
Actually eating gluten and dairy free is delicious! These Fruity Pebble Donuts prove that point. These are moist and soft with a rich frosting. I would have no problem serving these to those who eat "free from" and those who don't. And won't either.
Eat well and feel well,
Jill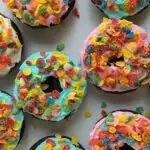 Print Recipe
Fruity Pebble Donuts
Ingredients
1

egg

⅓

c

dairy free buttermilk (see easy recipe below)

4

tablespoon

dairy free butter melted and cooled

1

teaspoon

vanilla

¾

c

gluten free all purpose flour blend (I use Mama's Almond Blend)

1

teaspoon

xanthan gum (omit if your all purpose flour has this)

⅓

c

unsweetened cocoa powder

¼

c

brown sugar

¼

c

sugar

½

teaspoon

baking soda

½

teaspoon

baking powder

½

teaspoon

salt
Dairy Free Buttermilk Ingredients
⅓

c

unsweetened almond milk, or any nondairy milk

1

teaspoon

vinegar, white or apple cider
Dairy Free Icing Ingredients
¼

c

dairy free butter, softened

¼

c

shortening

2 ½

c

powdered sugar

2

teaspoon

vanilla

1-2

c

Fruity Pebble Cereal
Instructions
Preheat to 350° F. Spray donut pan with nonstick cooking spray.

Prepare the dairy free buttermilk. Combine the unsweetened almond milk and vinegar in a small bowl. Let set for 5 minutes in the refrigerator.

While the buttermilk sets, place egg, butter, and vanilla in a medium size bowl.

Add buttermilk to bowl and whisk well.

Add dry ingredients to wet bowl. Whisk to incorporate.

Place donut batter in a half gallon Ziploc bag. Snip an opening in the corner of the bag. Fill each donut hole.

Bake for 10-12 minutes until set in the middle. Set donut pan on a cooling rack. Cool for 20 minutes or so, and release donuts to rack. Gently use a knife to help lift donuts out if needed.
Dairy Free Icing
Beat butter, shortening, powdered sugar, and vanilla with a mixer. A handheld mixer works great.

Add milk 1 tablespoon at a time until icing is thick, but spreadable.

Using an angled cake spatula, ice each donut.

Liberally sprinkle each donut with Fruity Pebble Cereal. Note: Place cereal on donuts within 1-2 hours of serving to prevent the cereal from tasting stale.

Unsprinkled donuts can be refrigerated overnight in an airtight container and are best when consumed within 1-2 days.