Prepare yourselves now for the Ultimate Peanut Butter Brownies. After all these brownies combine to make the best food duo… peanut butter and brownie. You must try these. NOW. Like today. Until now your life has been lacking without them.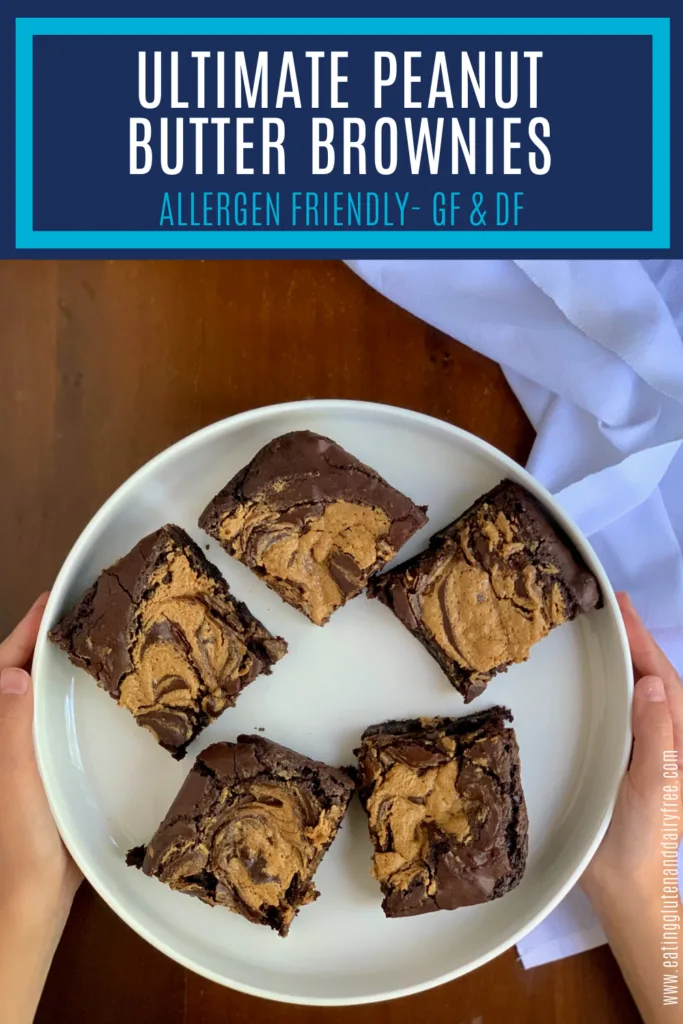 As a matter of fact I'll confess — the kids and I have to restrain ourselves around these. Otherwise we'd embarrassingly consume the whole pan in a day immediately. There is no denying these peanut butter brownies are addictive. In light of this take note now… do not leave these brownies casually on your countertop. Just don't. They either need to be consumed immediately or hidden out of sight.
And not only are they addictive… they are also one of the easiest desserts to bake. If you're silently muttering to yourself, "Oh but, Jill, you don't understand. Baking isn't my thing." Trust me, you got these! You will own this recipe like a food wars boss.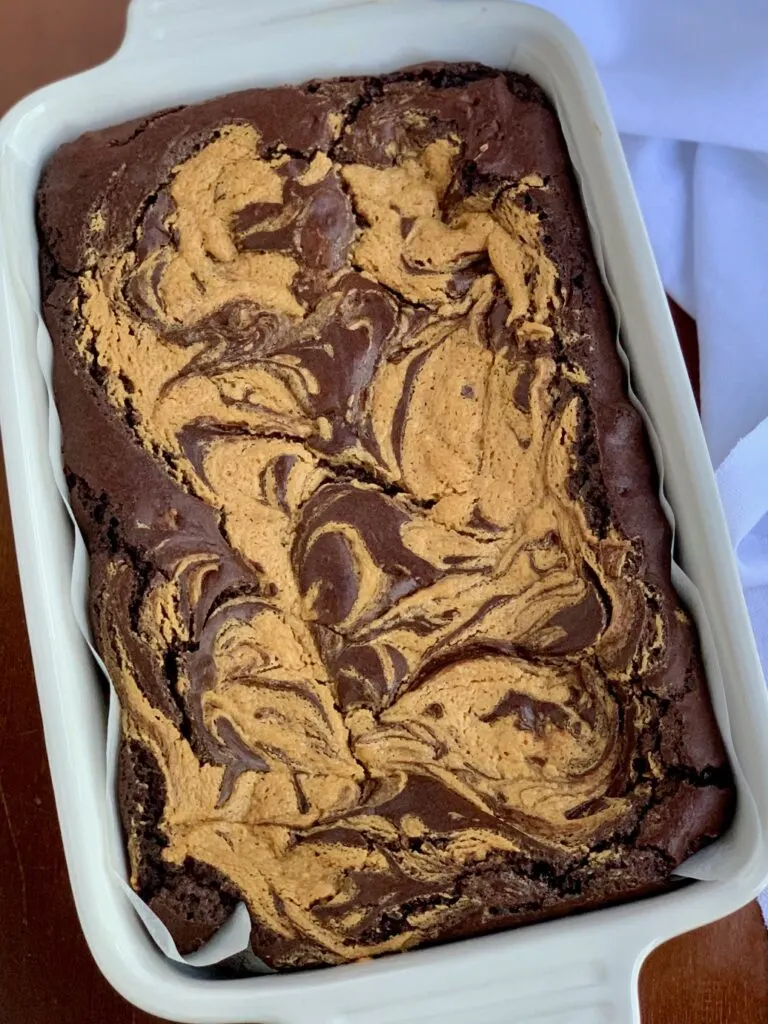 the ultimate peanut butter brownies recipe notes
First, use your go-to homemade brownie recipe or boxed mix. Our go-to boxed brownie mix is so dangerously good I don't bother baking a recipe from scratch. We prefer the King Arthur's Gluten Free Boxed Brownie Mix. Furthermore this brand is so delicious I always keep at least one or two boxes in my pantry. And this brownie mix is usually the base for dessert when we have company coming that isn't restricted by "free from's." It's equally important to stress company cannot tell these are gluten and dairy free brownies. They are life in our home. If you can't find this brand locally, they are available from Amazon. Click here for the link. And if you're already in love with this brownie mix, did you know King Arthur is selling their brownie mix in single serve cups now? You just add water and microwave. Moreover these smaller sizes taste like the real box mix. Pick some up now for an upcoming event or vacation. You can view them here.
Generally speaking the peanut butter mixture is easier to swirl if you heat the peanut butter in the microwave for 20 seconds prior to mixing.
And swirling the peanut butter mixture into the brownie batter is such a fun experience for kids! If you have littles, let them help you on this fun part.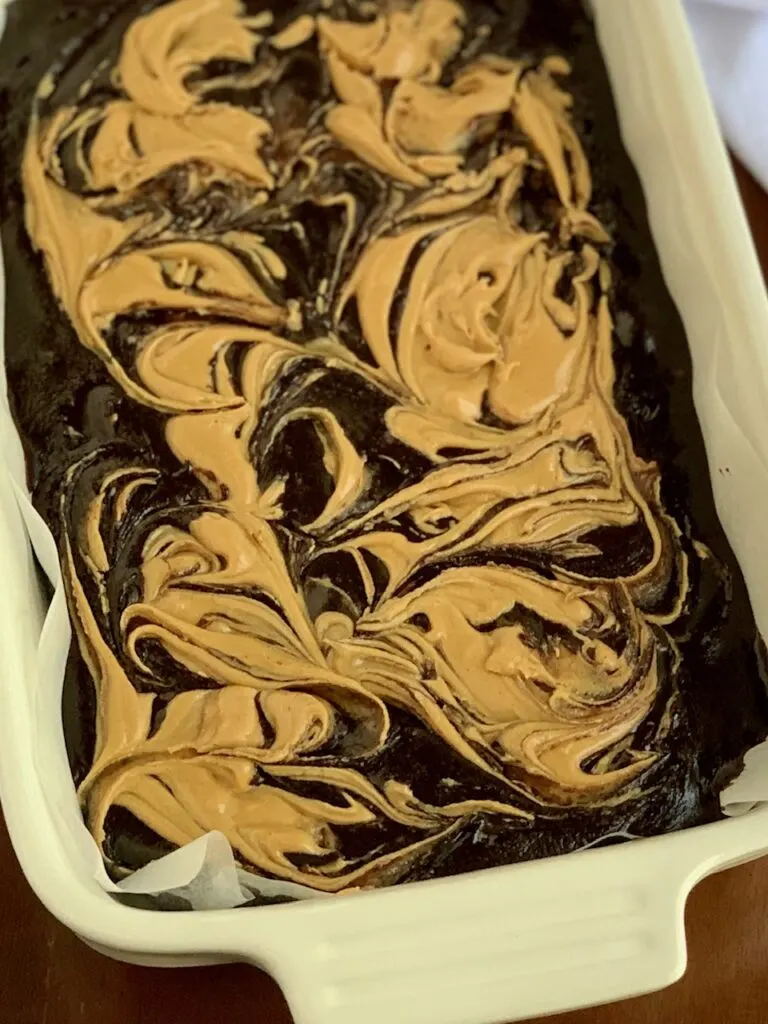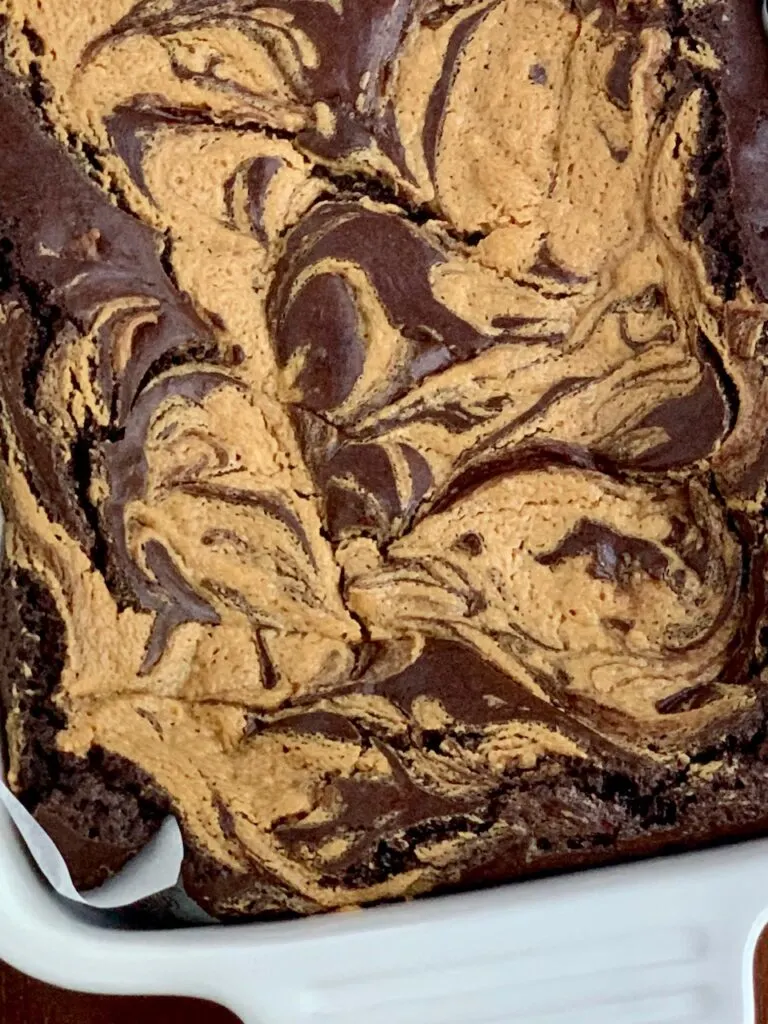 more classic dessert recipes
Another easy brownie recipe is Irresistible Fruit Brownie Trifle found here. This brownie mix dessert is mouthwatering and a crowd favorite.
Next pin this Softest Sugar Cookie recipe found here. You won't believe these sugar cookies are gluten and dairy free. And they're perfect with cookie cutters for any holiday or birthday celebration.
Lastly, beware of these addictive Peanut Butter Cups. Plan on preparing a double batch because they will go fast! The recipe is here.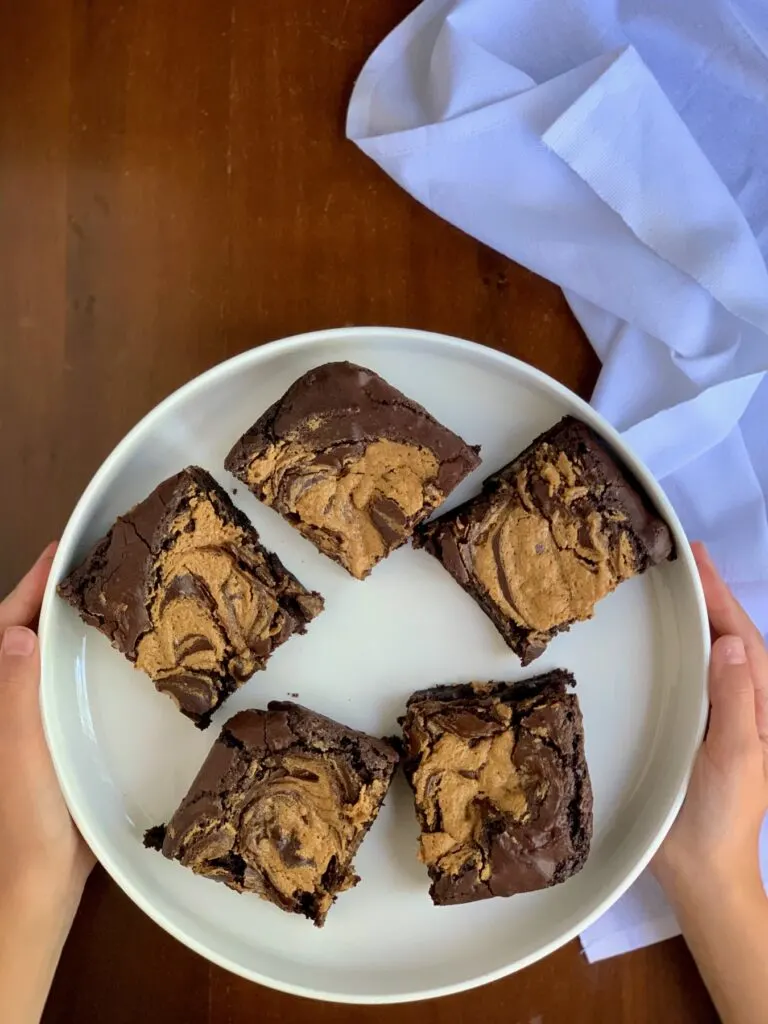 IN CONCLUSION:
Lastly, you'll find these are the Ultimate Peanut Butter Brownies. Each bite balances the right amount of chocolate brownie and peanut butter. It's no surprise they're a family favorite.
Keep these in mind for your next get-together or work party. Everyone will be drooling over these delicious treats. Let me know in the comments how much you like these.
Eat well and feel well,
Jill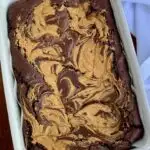 Print Recipe
The Ultimate Peanut Butter Brownies
Ingredients
1

9×9 box

brownie mix and ingredients to make brownies

⅓

c

peanut butter, slightly softened. Microwave for 20 seconds.

2

tbsp

powdered sugar

¼

tsp

vanilla

⅛

tsp

salt
Instructions
Spray 9 x 9 baking pan with nonstick spray.

Prepare brownies as directed by the box directions. Place brownie batter in the baking pan. and set aside.

Next prepare peanut butter mixture by mixing softened peanut butter, powdered sugar, vanilla, and salt with a hand mixer.

Drop dollops of peanut butter mixture by spoonfuls on top of brownie batter. Using a knife or toothpick to swirl peanut butter into brownie batter.

Bake for 35-40 minutes or until a toothpick comes out clean in the center.

These brownies taste best when cooled. Store in an airtight container up to 3-4 days.