These chocolate covered peanut butter hearts should come with a large warning sign.
Because you will want to eat all of them... and by eat all of them, I mean all 15 hearts in one sitting. These little chocolates are ridiculously addictive and just.so.freaking.good! Do yourself a favor and plan on making a double batch.
And if I'm being honest with y'all... last time I prepared these I made a triple batch. And my whole family was doing their happy dance. Now that my kids are on the chocolate covered peanut butter heart bandwagon I just have to make more. What else is a mom to do?
While I'm being so honest and sharing my secrets I might as well let you all in on an important life saving tip with these treats. Stash a few in the freezer for those moments you just need a little sweet treat to keep your mom sanity. Just don't tell the kids.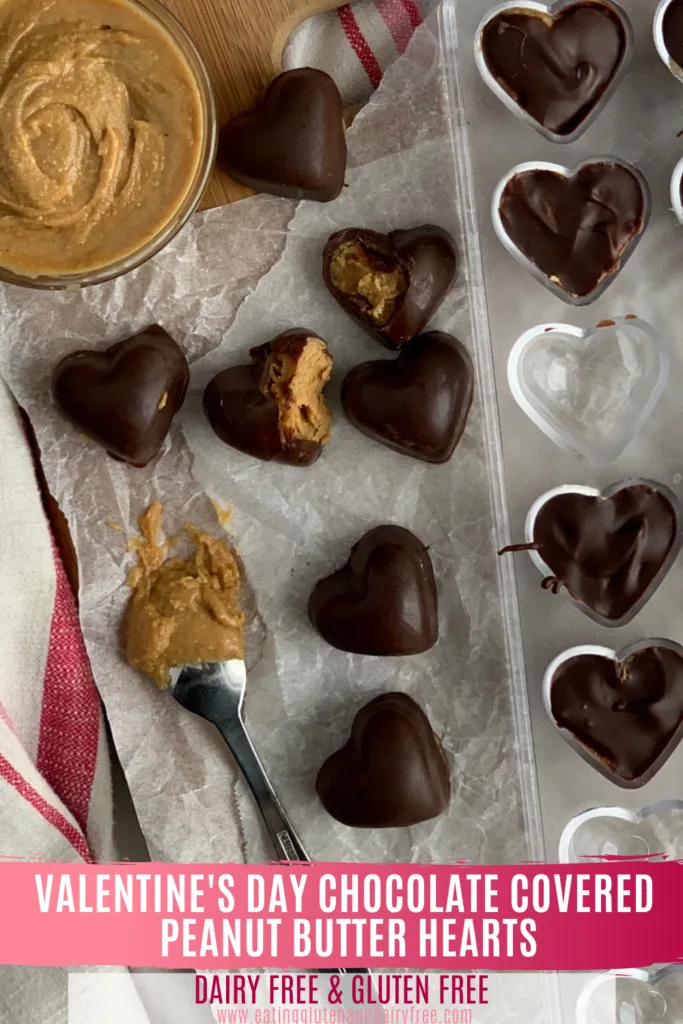 So it's not any surprise these chocolate covered peanut butter hearts are one of my family's favorite treats. And there is nothing better than making a batch of these and sneaking one into my children's school snacks. Having seen their reactions to these treats at home, I can only imagine the smiles on their faces at school. As you can tell these heart treats are delectable to enjoy year round.
Keep in mind if you want to get super fancy for Valentine's Day, wrap these chocolate hearts in small aluminum foil pieces like store-bought hearts. Or place a handful in cellophane bags and tie with red ribbon for the most festive Valentine's Day treats.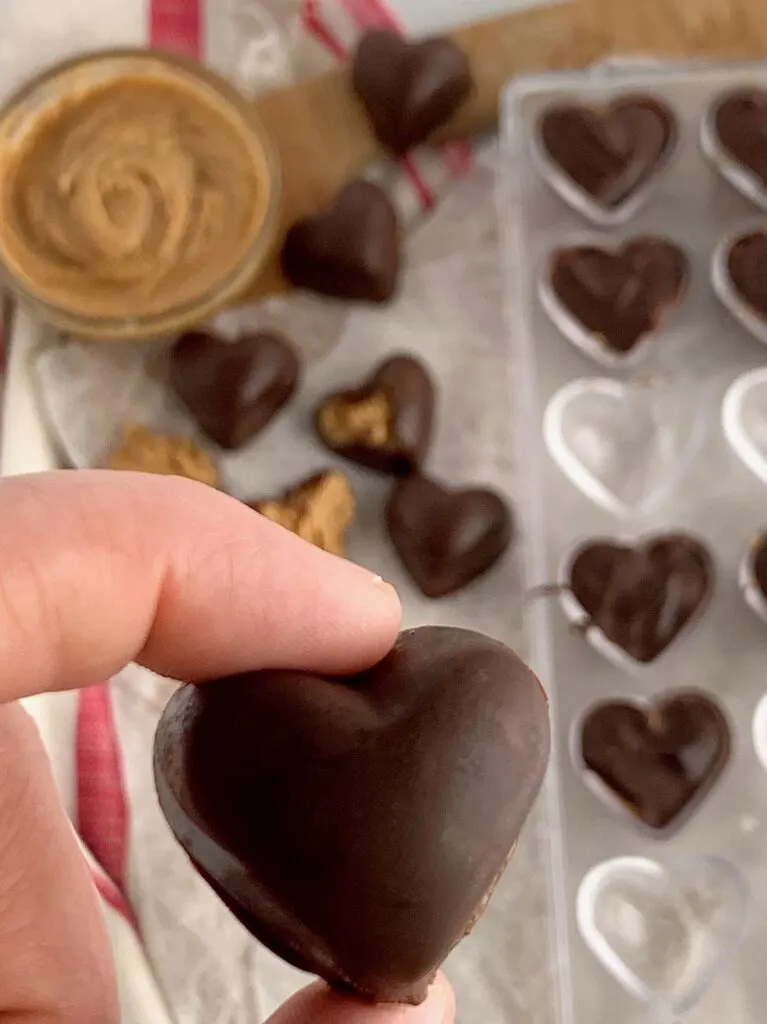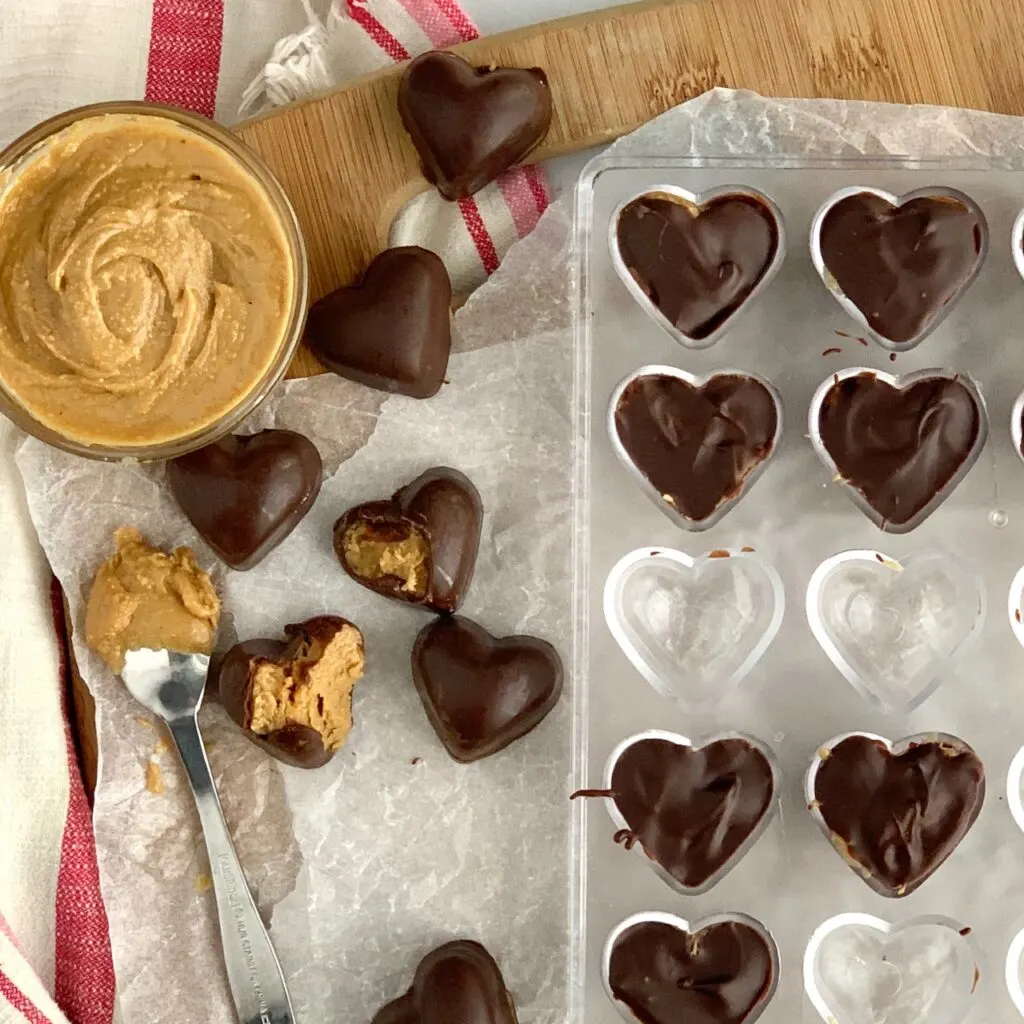 chocolate covered peanut butter heart ingredients + recipe notes
dairy free semi-sweet milk chocolate, or dark chocolate can be used too. Oftentimes I purchase Enjoy Life Semi-Sweet morsels in bulk from Amazon. This has been a huge money saver for me. You can check out their bulk deal here. Occasionally this 5 lb bag goes on sale too.
coconut oil
peanut butter
honey
vanilla extract
almond flour
salt
12-15 cavity silicone heart mold. Note the mold I recommend is not the mold in my pictures, as it was difficult to remove the hearts from. Instead I recommend this silicon mold which I bought shortly after taking these pictures. I use it often and it works perfectly every time. And while you're at it, order 2 of these molds. #trustme
a child's paint brush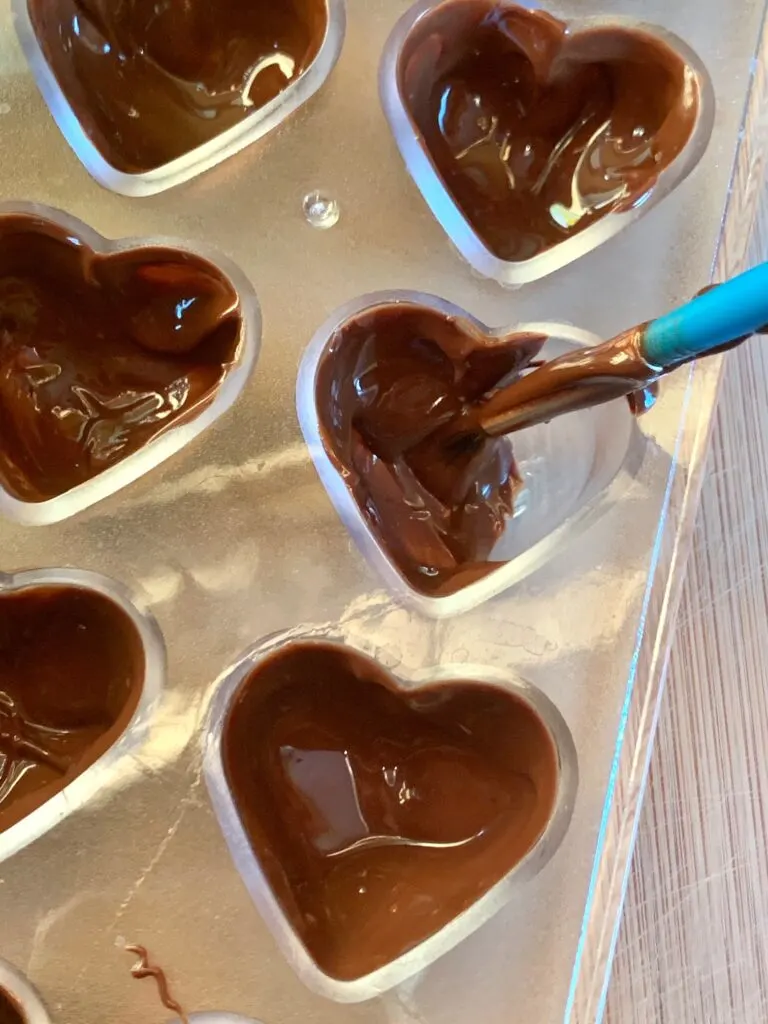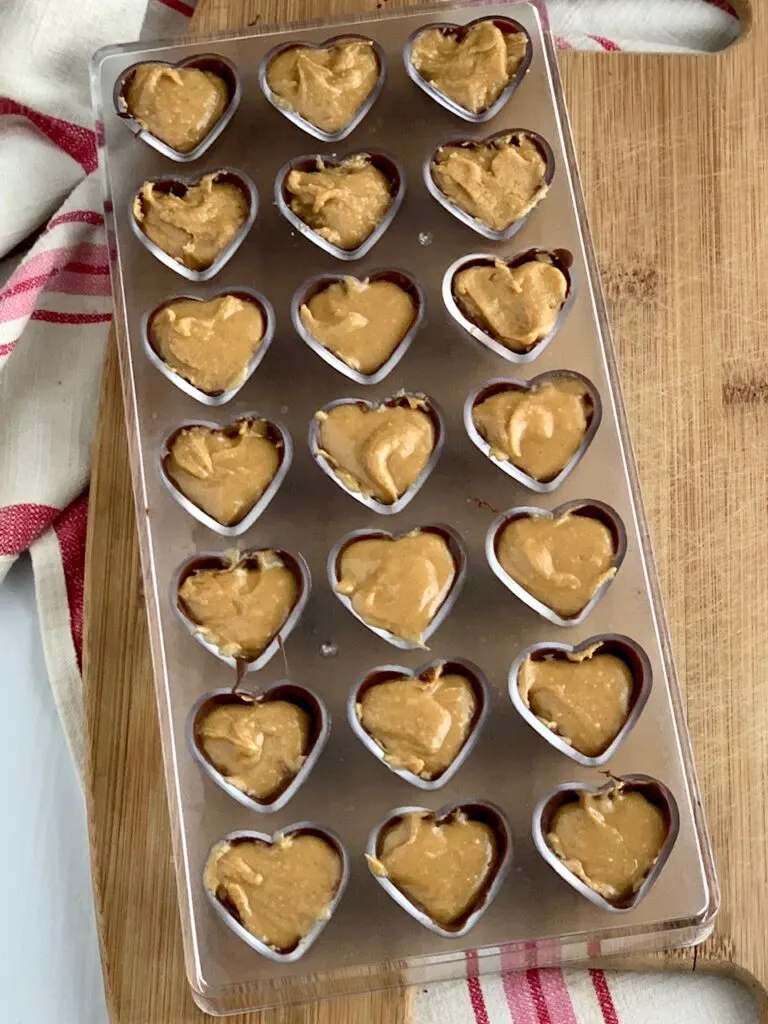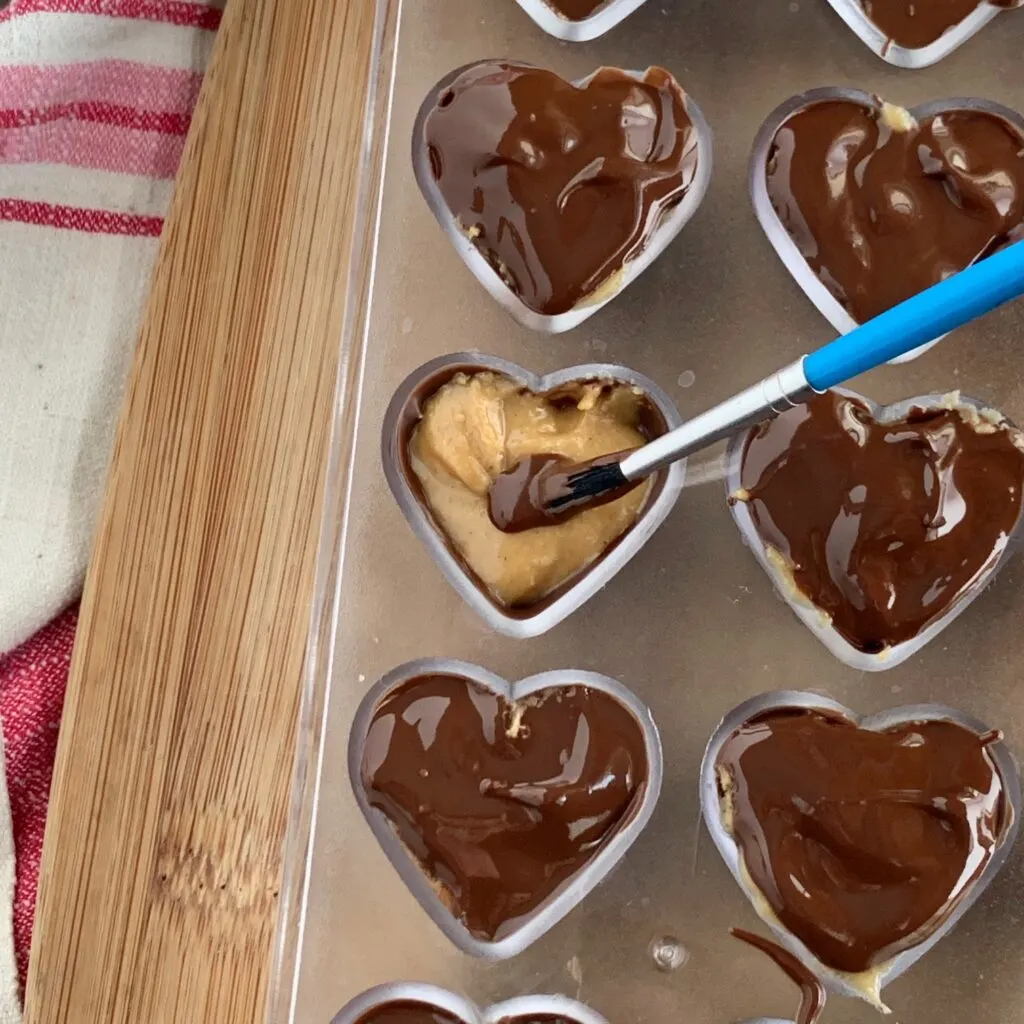 more Valentine recipes
softest sugar cookie perfect for your heart cookie cutters
DYI chocolate kisses yes, you can make your own dairy free Hershey kisses and they taste decadent! These are so much fun; you've got to check these out.
Valentine's Day food Guide is packed with several gluten and dairy free ideas to make the entire day fun, exciting, and even romantic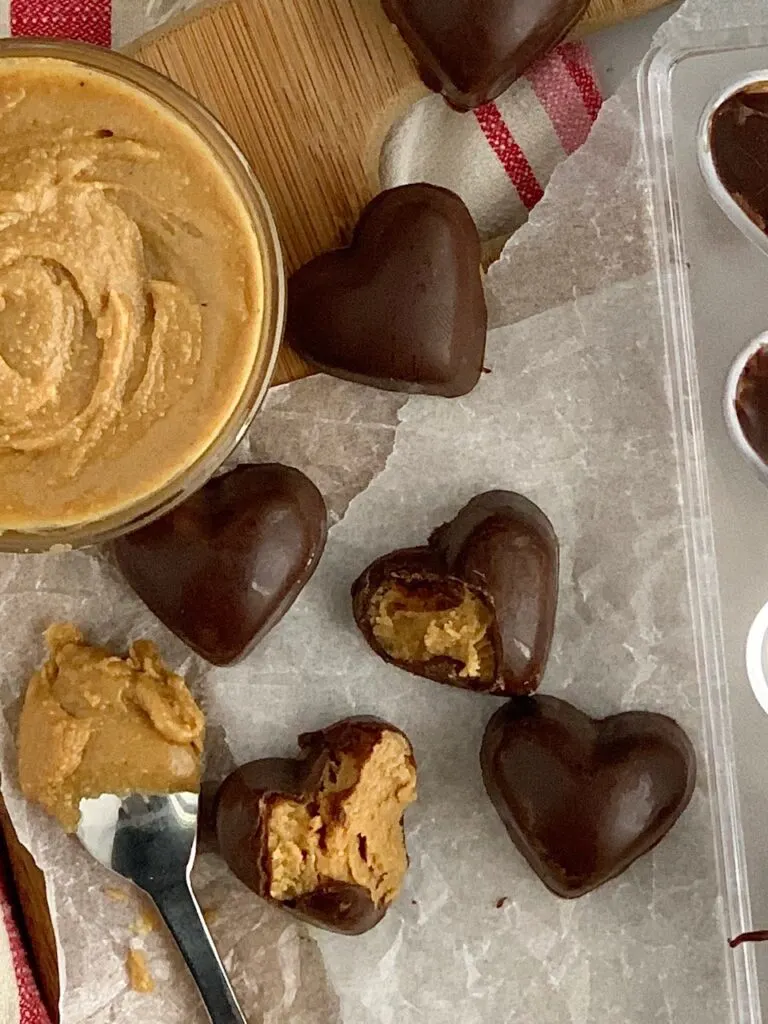 lastly
Eating gluten and dairy free this Valentine's season can be fun and decadent. Make a double batch of these chocolate covered peanut butter hearts and you'll be in Heaven. Be sure to check out more of my Valentine's recipes.
If you're new to eating gluten and dairy free, take more time to explore more of my website including recipes, food travel guides, and tips for easier living. While eating this way can have its own challenges and frustrations, it doesn't have to be boring or tasteless.
And please do me a favor and leave a 5 star rating if you found this recipe helpful.
Eat well and feel well,
Jill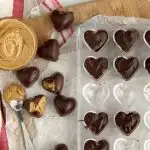 Print Recipe
Chocolate Covered Peanut Butter Hearts
Ingredients
½

c

dairy free chocolate morsels

¼

teaspoon

coconut oil

2

tablespoon

peanut butter

½

tablespoon

honey

½

tablespoon

almond flour

⅛

teaspoon

vanilla extract

pinch of salt
Instructions
Melt chocolate morsels and coconut oil in the microwave or over the stove top.

After chocolate mixture is smooth, use a paint brush and coat the inside cavity of each heart mold. Leave a thick coating over cavity.

Place into the freezer for 10 minutes. Remove from the freezer and lightly coat the cavity with another layer of melted chocolate. You want the sides of each cavity to have a nice thick coat. Return to the freezer for 10 minutes.

Place peanut butter in a small bowl and place in a microwave for 30 seconds. Having a softened peanut butter mixture makes it easier to place in the cavity. Now combine all other ingredients with the peanut butter and mix well.

Remove mold from the freezer and place dollops of peanut butter mixture into the mold. Spread around inside mold. Most likely these will look a little messy and that's normal.

Return to freezer for about 10 minutes.

Reheat chocolate mixture and remove hearts from the freezer.

Now paint melted chocolate over the peanut butter to encapsulate the peanut butter.

Again allow to freeze for 15-20 minutes, then remove from freezer. Chocolate covered peanut butter hearts can easily be removed from the molds. Store in an airtight container 4-5 days.