These homemade gluten and dairy free fudgy brownie cookies have all the best parts of a brownie– the fudgy cake-like middle, chewy edges, and crackly crust. And let's not forget about the decadent chocolate brownie flavor we all love and have to have.
I'm not exaggerating when I say these cookies are my family's latest sweet tooth obsession. We're really enjoying the change up from a pan of brownies to a grab and go cookie. Honestly the first time I baked these cookies and shared them with the kids– they were falling all over themselves trying to grab another. I might have been in stitches watching them.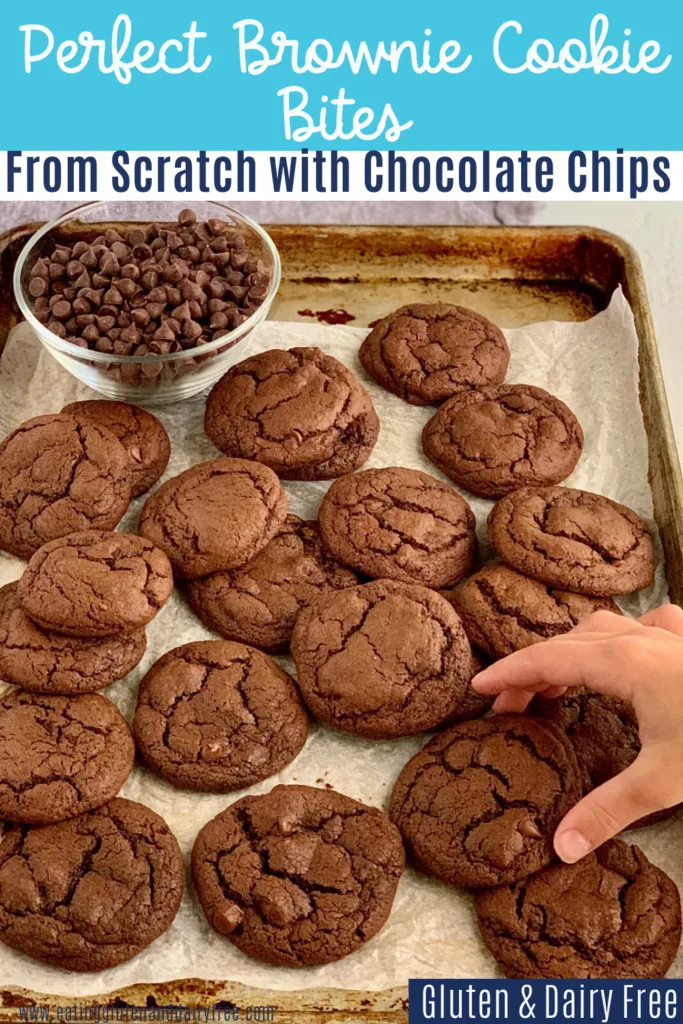 And why not? These cookies are like eating the best of both worlds– you get to enjoy the chewy-crispy edges AND the fudgy, cake-like center.
Pin this recipe before you forget. These are perfect for any dessert table or holiday buffet. Keep these cookies in mind for a work potluck party– no one will guess these are gluten and dairy free.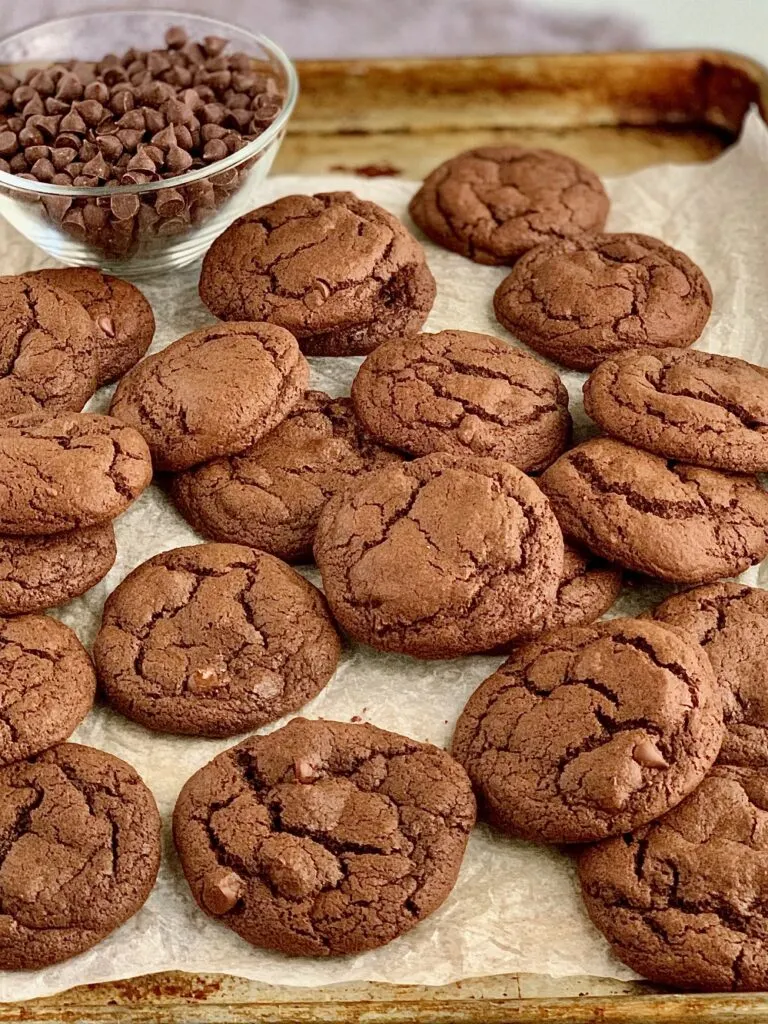 fudgy brownie cookies– recipe notes
dairy free butter— my go-to butter for baking is Earth Balance Buttery Sticks. These are soy free too.
dairy free semi-sweet chocolate chips— Enjoy Life and Toll House Simply Delicious
gluten free all-purpose flour— for most recipes my preferred all-purpose flour is Bob's Red Mill GF 1 to 1 Baking Flour. This also has xanthan gum. Blogger tip–I purchase this off of Amazon in bulk to save money (you can too here).
xanthan gum— omit this from the recipe if your all-purpose flour contains it.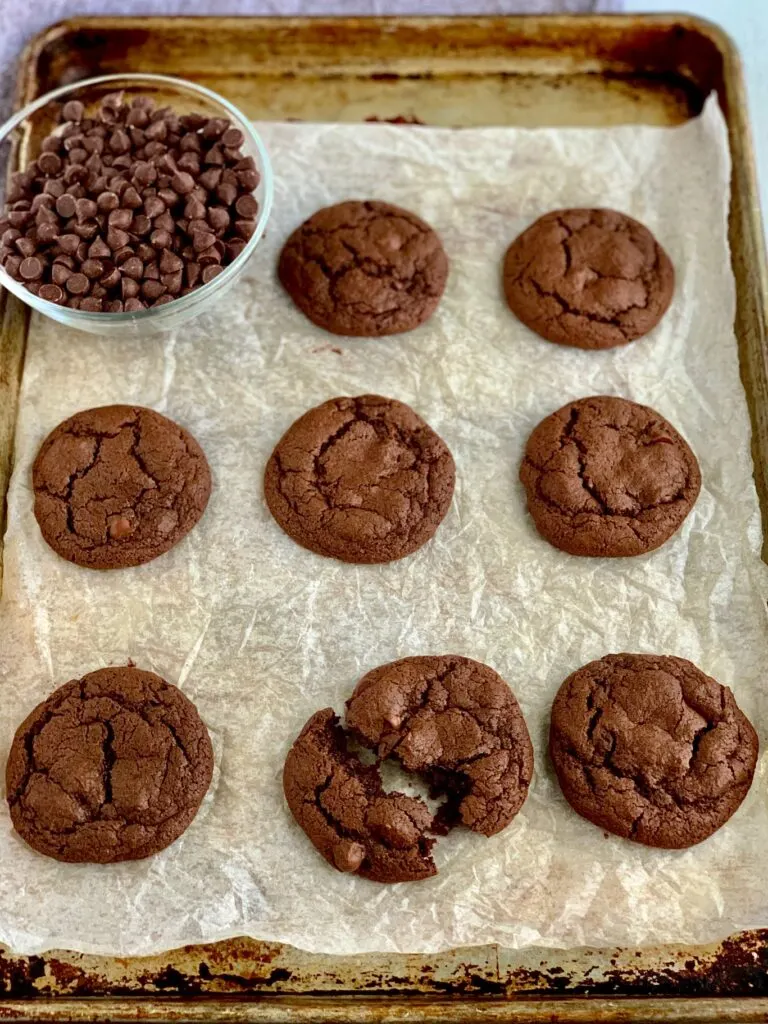 more yummy, safe recipes
lemon streusel bars— this lemon bar recipe is set apart from others by the sweet streusel topping and crust sandwiching the creamy and tangy lemon filling
cherry dessert pizza— bake your own amazing dessert pizza just like the pizza buffet restaurants have. Imagine cherry topping bursting with robust flavor alongside a buttery streusel topping and sweet drizzle over a bubbly pizza crust.
the softest chocolate chip cookies— you will fall in love with these homemade, soft chocolate chip cookies. They are addictive and full of chocolate goodness.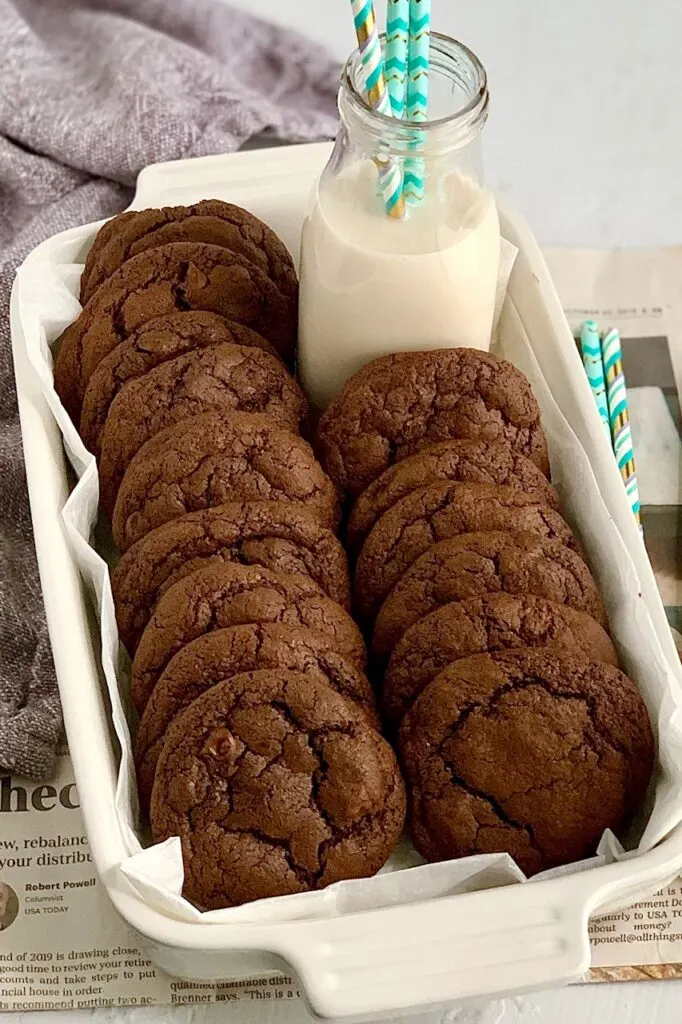 lastly
Your family and friends will be in awe of this new cookie recipe. These fudgy brownie cookies are absolutely delicious– you can't go wrong baking up a batch of these.
Did you know I have more safe and easy to follow recipes on my website? There's something perfect for every meal and occasion.
And be sure to follow me on Facebook, Instagram, and Pinterest. You'll find just how fun eating gluten and dairy free can be.
Eat well and feel well,
Jill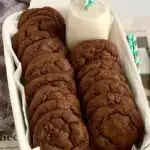 Print Recipe
Fudgy Brownie Cookies
Ingredients
½

c

DF butter

suggestions in post

1½

c

DF semi sweet chocolate chips, divided

¾

c

brown sugar

2

eggs

1

tsp

vanilla extract

1

c

GF all-purpose flour

see post for suggestions

½

tsp

xanthan gum (omit if your AP flour has this)

⅓

c

unsweetened cocoa powder

¼

tsp

salt

½

tsp

baking soda

optional: sea salt, melted DF chocolate chips to drizzle across cookies, chopped nuts
Instructions
Melt butter and 1 cup chocolate chips in the microwave in 1 minute intervals, stirring in between, or in a saucepan over the stove top stirring often. Melt until the mixture is smooth, but not overly hot. Remove from heat, and transfer to a large mixing bowl. Allow the mixture to cool until room temperature.

Add the brown sugar, eggs, and vanilla. Stir until well-combined.

Next, add in the flour, xanthan gum, cocoa, salt, and baking soda. Stir until combined, being careful not to over stir.

Add in remaining ½ cup chocolate chips.

Transfer to the refrigerator for 1 ½ hours to firm up.

Then preheat the oven to 350°F. Place parchment paper or baking mats on 2 large baking sheets.

Scoop out heaping tablespoon-sized portions of dough. Roll into balls and place on a cookie sheet. You will have 24 balls.

Place in the oven and set a timer for 10-11 minutes. The cookies will still be soft in the middle and puffy. Out of the oven they will flatten and crack looking more like brownies.

After 5-10 minutes transfer cookies to a cooking rack.

Optional: lightly sprinkle sea salt on cookies as they come out of the oven. Or drizzle with melted chocolate chips after cookies have cooled. And these brownie cookies taste great with chopped nuts on top– sprinkle nuts on cookies right before placing them into the oven.

Place cookies in an airtight container up to 3-4 days. Cookies can also be frozen up to a month.
This gluten and dairy free recipe was adapted from a traditional recipe found at Mel's Kitchen Cafe.