Does anyone else have an obsession with cold and refreshing Ice Cream Sandwiches? The combination of frozen chocolate chip cookies sandwiching ice cream is unbeatable.
I mean it's only June, and my family is already complaining about the heat. Mind you we live in Montana and have only had one day above 90 degrees.
But, we know what's to come over the next few months. And nothing beats cooling off with frozen ice cream sandwiches.
Really-- what is better then ice cream sandwiched between two chocolate chip cookies on a hot, summer day?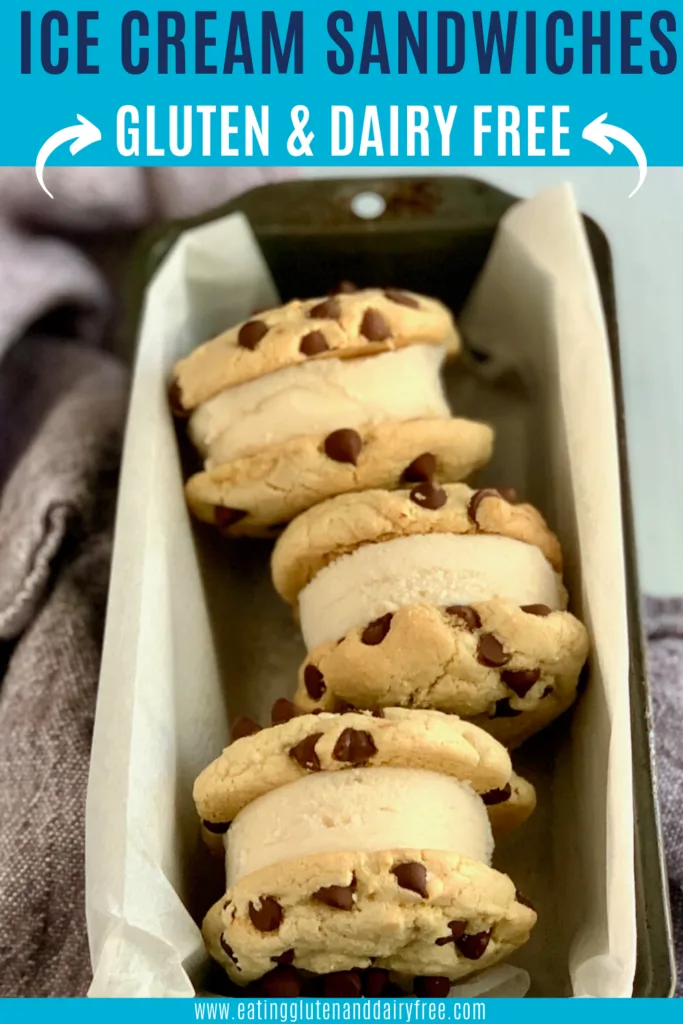 The recipe card below will yield you 7 homemade sandwiches.
Speaking from experience these mega frozen treats are easy to prepare in a larger batch too. I prefer to bake a double batch of my "soft chocolate chip cookie" recipe found here for 14 gluten and dairy free sandwiches.
For this recipe feel free to use the cookie recipe link below, your favorite cookie recipe or even store bought cookies. Either way, after the cookies have been baked and cooled, place them in the freezer to harden.
I find it's easier to place the ice cream on hard, frozen cookies.
Next, let's talk gluten and dairy free ice cream.
The brand So Delicious tends to be favored by many. Using your go-to ice cream, you can either generously spread the ice cream between two cookies and return to the freezer, or you can place semi-soft ice cream in a 9 x 9 inch pan.
Then using an angled icing spatula smooth ice cream. After the ice cream is smooth and evenly placed, move it to the freezer for a couple of hours.
Next use a round cookie cutter cut out ice cream rounds and sandwich between two cookies of similar size.
Return to the freezer until ready to enjoy. If you're preparing a double batch of this recipe, use a 9 x 13 in. pan for the ice cream.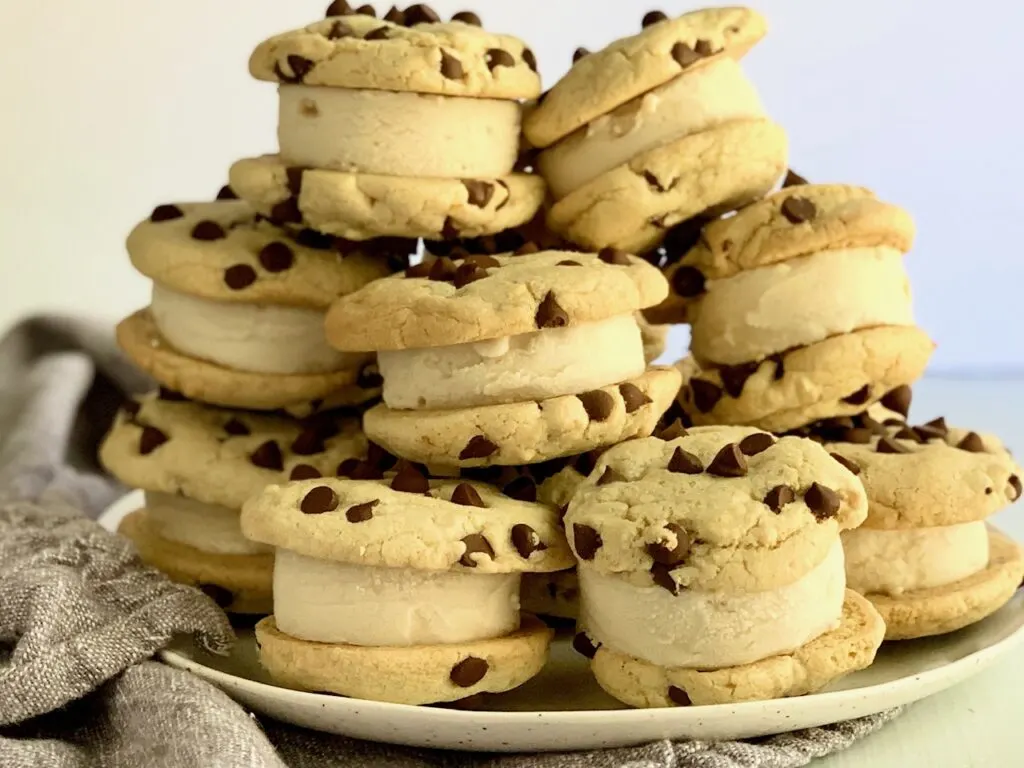 bonus ice cream sandwich ideas
roll frozen sandwiches into sprinkles (this brand sells gluten and dairy free sprinkles) or mini chocolate chips from Enjoy Life
another festive idea is to dip the bottom of cookies in melted dairy free chocolate chips. Then allow to harden before placing ice cream between cookies.
adding crushed allergen friendly add-ins to your ice cream such as chocolate chunks, oreo sandwich cookies crumbs, homemade peanut butter cups (click here), or peppermint candies found here is fun too.
and adding festive sprinkles to your ice cream sandwiches is always a hit. We like using Sweets Indeed Sprinkles and Supernatural Sprinkles, both are available on Amazon. The Supernatural allergen statement is here.
lastly try drizzling melted chocolate chips across cookie tops and freezing before placing ice cream between the layers.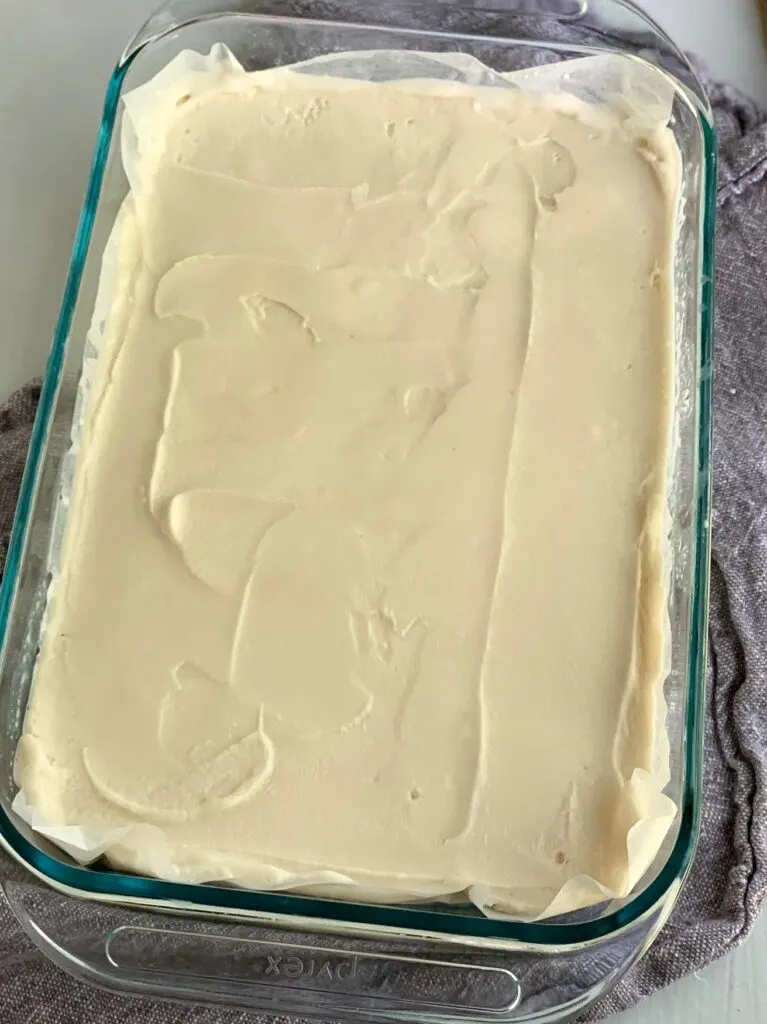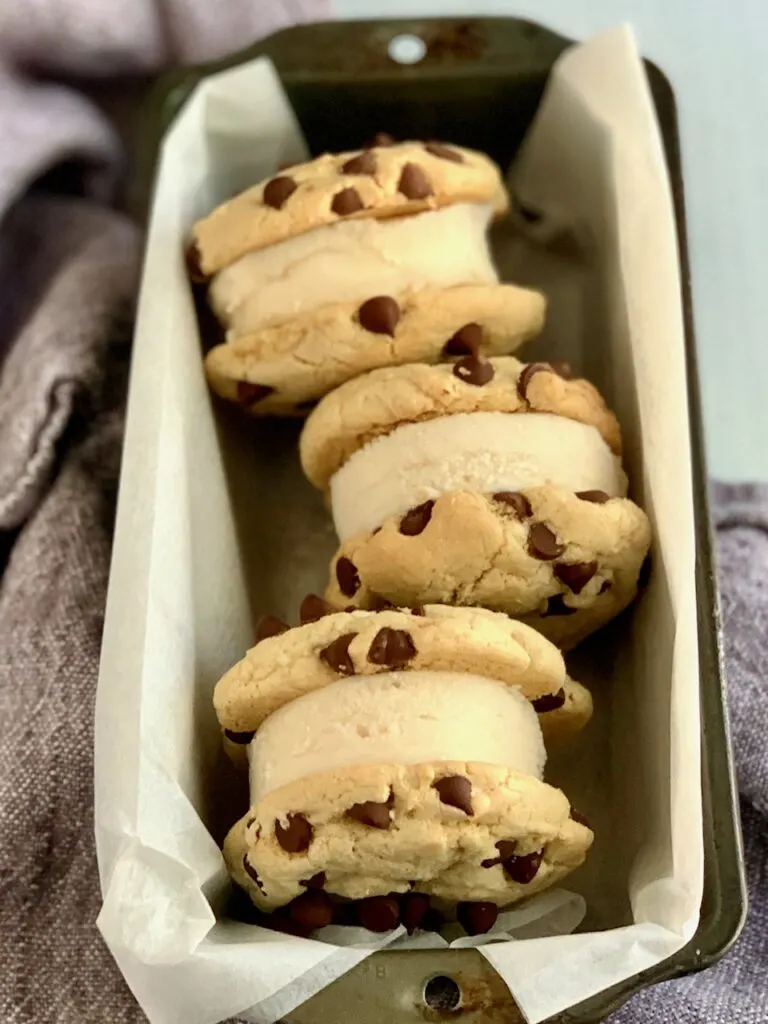 more summer recipes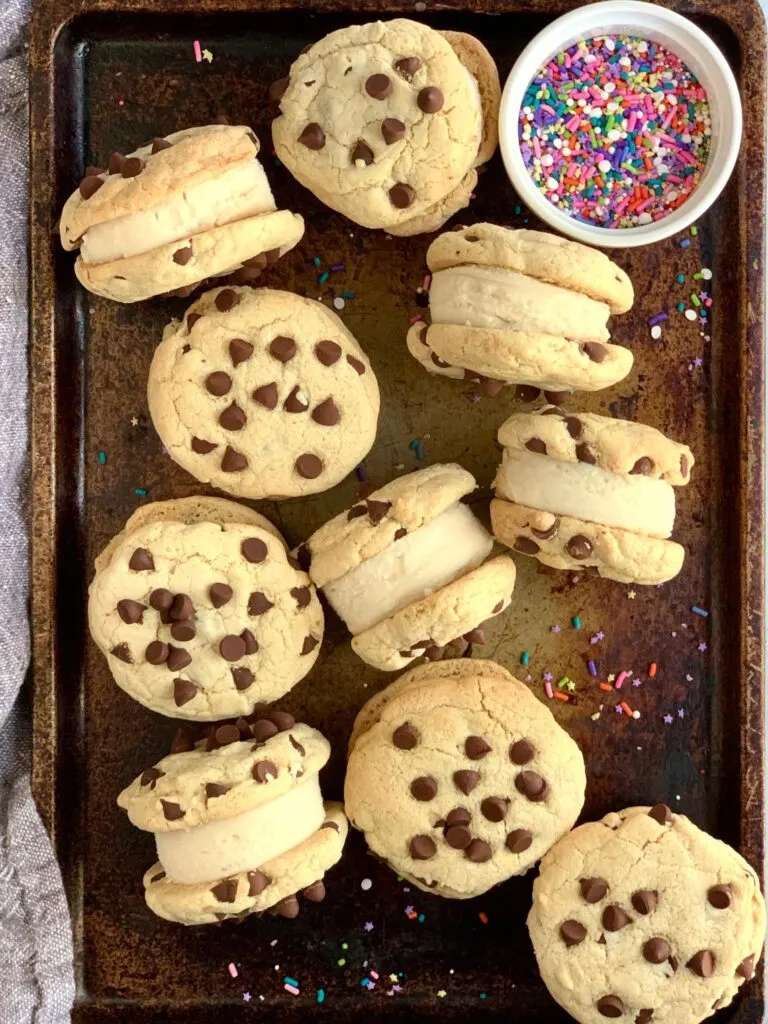 lastly
There's just something beautiful and delicious about combining chocolate chip cookies and ice cream together. Not to mention it's not every day you can grab a gluten and dairy free treat this yummy and easy. So stock your freezer now with these grab and go desserts for when summer is it's hottest.
You'll find mouthwatering recipes for every occasion, gluten and dairy free eating tips, and food travel guides my website. So make yourself at home and start pinning.
Please, please, please share your EGADF food pics with me on Instagram. I absolutely seeing them. Tag me and use the hashtag #eatingglutenanddairyfree.
Eat well and feel well,
Jill
Print Recipe
Ice Cream Sandwiches
Ingredients
Cookies
14

frozen cookies of similar size and shape

link in post for GF DF homemade cookies
Ice Cream Rounds
2

pints

GF DF ice cream of choice

suggestions in post
Optional GF DF extras
mini chocolate chips, sprinkles, or add-in flavors such as peppermint candies, peanut butter cups, and oreo sandwich crumbs

see links in post for GF DF brands
Instructions
Place slightly softened ice cream between 2 cookies and freeze for 2-3 hours before enjoying.

Or place parchment paper in a 9 x 9 inch baking dish.

Then place ice cream into the baking dish. Using an angled icing spatula smooth ice cream to the same thickness. Then place in the freezer overnight or for several hours.

Remove the parchment paper from the baking dish, Using a circle cookie cutter press down into the frozen ice cream to make 14 ice cream rounds. Sandwich ice cream round between 2 frozen cookies. Return to the freezer until ready to enjoy.

Optional-- roll ice cream sandwiches in a bowl of sprinkles or mini chocolate chips and freeze. Or crush other suggestions and mix into the ice cream just before spreading it in a 9 x 9 baking dish.
Notes
If doubling this recipe-- place ice cream into a parchment lined 9 x 13 inch baking dish for ice cream rounds and use 2 quarts of GF DF ice cream.