Get ready to fall in love with this gluten and dairy free double chocolate chip cookie recipe. Just when I thought chocolate chip cookies couldn't be any more perfect, I baked these.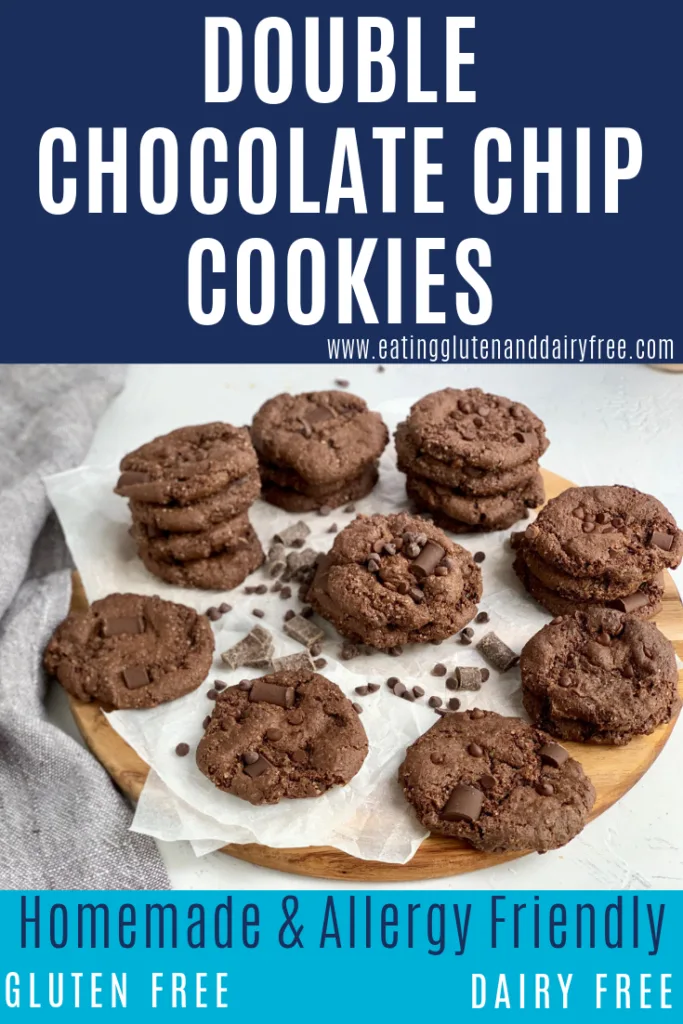 First of all, these cookies come out of the oven crispy around the edges and chewy on the inside. Another reason is the Enjoy Life mini chocolate chips and chunks melt in your mouth. Yaaasss that's a huge cookie score, y'all. They are addictive so prepare yourself.
Speaking of Enjoy Life products… if you frequently bake, consider purchasing this 5 lb bag of mini chocolate chips from Amazon (link here). It's where I order mine. You'll save money and not worry about running out as often.
For an over-the-top-tasting double chocolate cookie I like to use half minis and half chunks. However, bake with what you have on hand.
Undoubtedly, this cookie recipe is straightforward. These gluten and dairy free cookies mix and bake quickly. Almost too quickly. As a result, I find it's best to set a timer for the baking duration. They can quickly get too crispy, but even then they're still delicious.
Oh, that reminds me… are y'all using silicone baking sheets for your baking? I feel like I was the last one to the silicone party. Thankfully my extended family in Canada highlighted just how wonderful they are. Regrettably, I wish I'd bought mine a few years ago. They make clean up effortless AND best of all…I don't need nonstick spray. Less chemicals the better.
How do you like your silicone baking sheets? Comment below. Here's a link to check out what I use.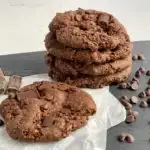 Print Recipe
Double Chocolate Chip Cookies
Ingredients
1/2

c

dairy free butter softened

Earth's Balance works great

1

c

sugar

1/4

c

unsweetened almond milk, or other dairy free alternative

1

tsp

vanilla

1 1/4

c

all purpose gluten free flour

Mama's Almond Blend Flour

1 1/2

tsp

xanthan gum, unless your all purpose flour has this in it

1/4

c

cocoa powder

1

tsp

baking soda

1

tsp

baking powder

pinch of salt

1

c

dairy free chocolate chips, divided

mega chunks and mini's work great
Instructions
Preheat oven to 375 F.


In a large mixing bowl beat dairy free butter well. Mix until it is light and fluffy.


Add in sugar to butter and mix well.


Then, mix in almond milk and vanilla.


In a separate bowl, whisk together gluten free flour, xanthan gum, cocoa powder, baking soda, baking powder, and salt. Add this to the bowl of liquid ingredients. Mix until all is incorporated.


Cookie dough should be thick. Add in 1/2 cup of dairy free chocolate chips.


Line 2 baking sheets with parchment paper or silicone baking mat. Roll dough into the size of 1 tablespoon balls and place on baking sheet. Cookie dough balls should be small.


Place last of chocolate chips on top of balls.


Place into the oven for 9-10 minutes. Watch cookies carefully. After 10 minutes they become very crispy.


Allow to cool on a cooling rack and then move to an airtight container.

Recently we traveled with a batch of these double chocolate chip cookies. And they hit the spot late that night when we wanted a snack at the hotel. In fact, we commented how nice it was to have a homemade cookie… or two… to indulge in.
If you're not gluten free, follow the link here that gave me the inspiration for these delicious cookies.
Lastly, if you're new to my website, welcome! I hope you take the time to check out more of my gluten and dairy free recipes and travel guides.
For instance, my family is particularly fond of this Crock-Pot Taco Soup recipe. Of course it's gluten and dairy free. It's also a melting pot of deliciousness. There are so many complementary flavors that make this a wonderful comfort food, too. And did I mention it's a Crock-Pot Recipe?!
What I like most about this recipe is it's versatility. It's a raid the pantry and refrigerator kind of meal. Our favorite taco soup topping is tortilla chips. And a dollop of dairy free sour cream adds a creaminess to the dish. Click here for your new Crock-Pot soup recipe.
If you're traveling soon, pin both of these recipes now. You can make both ahead of time. Box your cookies up and place the soup in a cooler. We've enjoyed both recipes while in hotels and Airbnbs.
Eat well and feel well,
Jill