Strawberry Bleu Cheese Salad is prepared with loads of fresh, sweet, sliced strawberries, toasted nutty pecans, paper-thin red onions, crunchy salad greens, dairy free bleu cheese crumbles, and a tangy homemade balsamic vinaigrette everyone goes wild for.
In fact, this classic salad is the best starter to your meal. And use this recipe to prep a week's worth of easy grab-and-go healthy lunches too.
Because the strawberries give a juicy burst of sweetness, and the dairy free bleu cheese gives a soft, creamy yet sharp addictive flavor on a large bed of fresh, crunchy greens, this salad is a hit with family, friends, and large crowds.
While this is traditionally known as a spring and summer salad, we must confess we serve this gluten free and dairy free salad year-round.
The Strawberry Bleu Cheese Salad flavors are absolutely amazing.
So grab those fresh strawberries out of the garden, from the farmer's market, or in the grocery store produce aisle, and you can enjoy the most delicious gluten free and dairy free salad.
strawberry salad ingredients
fresh salad greens-- use your favorite greens such as spinach, kale, arugula or a variety mix
red onion-- sliced paper-thin
toasted pecans-- these provide a wonderful nutty flavor and crunch, plus toasting them brings out their best flavor
fresh strawberries-- hulled and cut into thin slices lengthwise; buy the freshest strawberries you can get your hands on
dairy free crumble bleu cheese-- we use the Follow Your Heart brand. If you cannot find this locally, always check stores when you travel. Because while this isn't available locally for us to purchase in stores, we have found it when we travel, causing us to buy extra and bring it home in our airplane carry-on cooler. If neither area an option, then you will still enjoy this salad without the bleu cheese. Just add in extra toppings like we do.
optional salad toppings-- blueberries, blackberries, grilled chicken, crispy gluten free bacon, toasted walnuts, or avocado slices for a bit of extra creaminess
balsamic vinaigrette ingredients
balsamic vinegar-- this is our go-to brand
grapeseed oil-- or vegetable oil of your choice
honey
Dijon mustard-- we use Annie's Dijon Mustard; here is their allergen statement
kosher salt
ground black pepper
optional-- you can quickly turn this into a delicious poppy seed balsamic vinaigrette by adding in 1 tablespoon of poppy seeds.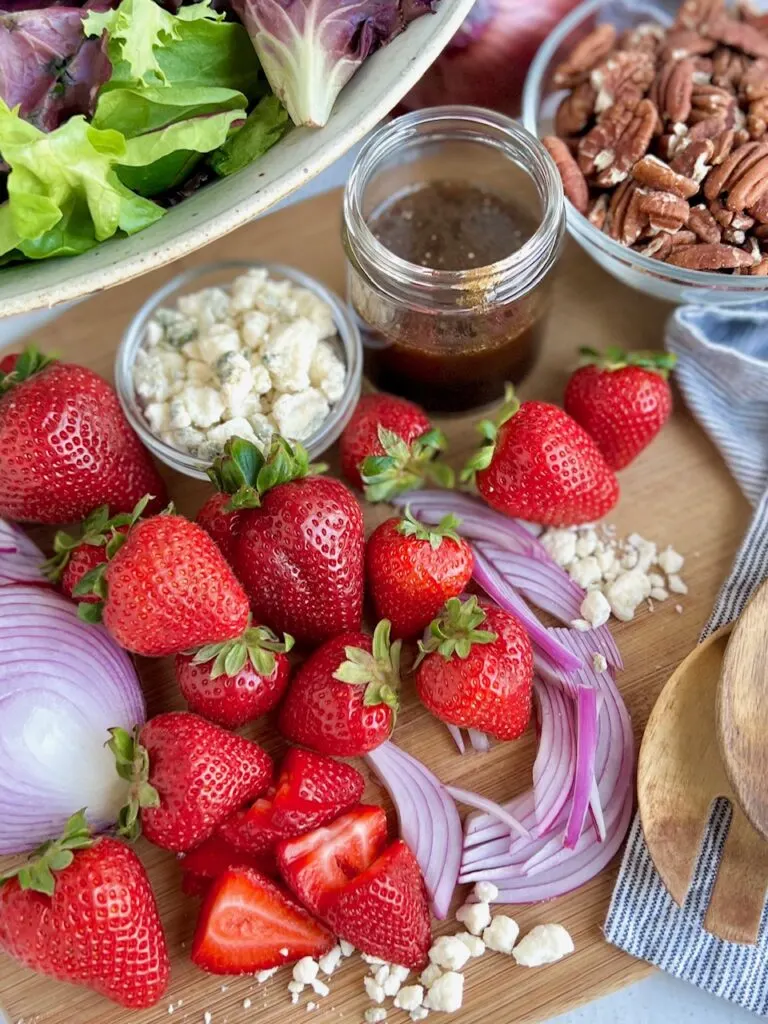 kitchen utensils and essentials for this recipe
For this delicious strawberry salad with toasted pecans, sliced fresh strawberries and dairy free bleu cheese, we use these pieces in the kitchen:
cutting boards
sharp knives
measuring spoons
measuring cups
large salad serving bowl-- or use a glass trifle bowl
dressing shaker-- or a glass canning jar with lid
frequently asked questions
can other fruit be used
Yes, you will also enjoy the flavor of fresh blueberries, blackberries, peaches, or cherries.
how do I toast pecans
Preheat the oven to 350 degrees and line a baking sheet with parchment paper or baking mat.
Spread the pecans or walnuts evenly across the pan. Bake for 5 minutes, remove from the oven and flip the nuts.
Return to the oven for an additional 5 minutes. Remove from the oven and allow to cool completely.
Store roasted nuts in an airtight container in the fridge.
can this salad be turned into a meal
Most definitely! To turn this side salad into a filling meal by adding grilled or baked chicken.
The chicken pairs well with Strawberry Salad toppings and balsamic vinaigrette.
what other toppings can be used
Not only can this salad be prepared with the toppings as pictured-- strawberries, red onions, toasted pecans, and bleu cheese-- but you can also top with fresh blueberries, blackberries, grilled chicken, crumbles of crispy gluten free bacon, toasted walnuts, and avocado slices for a bit of creaminess.
Some also add in mandarin oranges for wonderful flavor.
can we make this with a poppy seed vinaigrette
Absolutely, and we do add poppy seeds to our vinaigrette recipe.
To do so, add in 1 tablespoon poppy seeds to the balsamic vinaigrette recipe card below.
does dairy free bleu cheese taste good
This is one of the biggest questions we get and yes-- we enjoy using the Follow Your Heart Bleu Cheese Crumbles.
We might even be guilty of eating it right out of the container... but if you cannot find this cheese locally or you don't like the taste of bleu cheese, omit it from the recipe.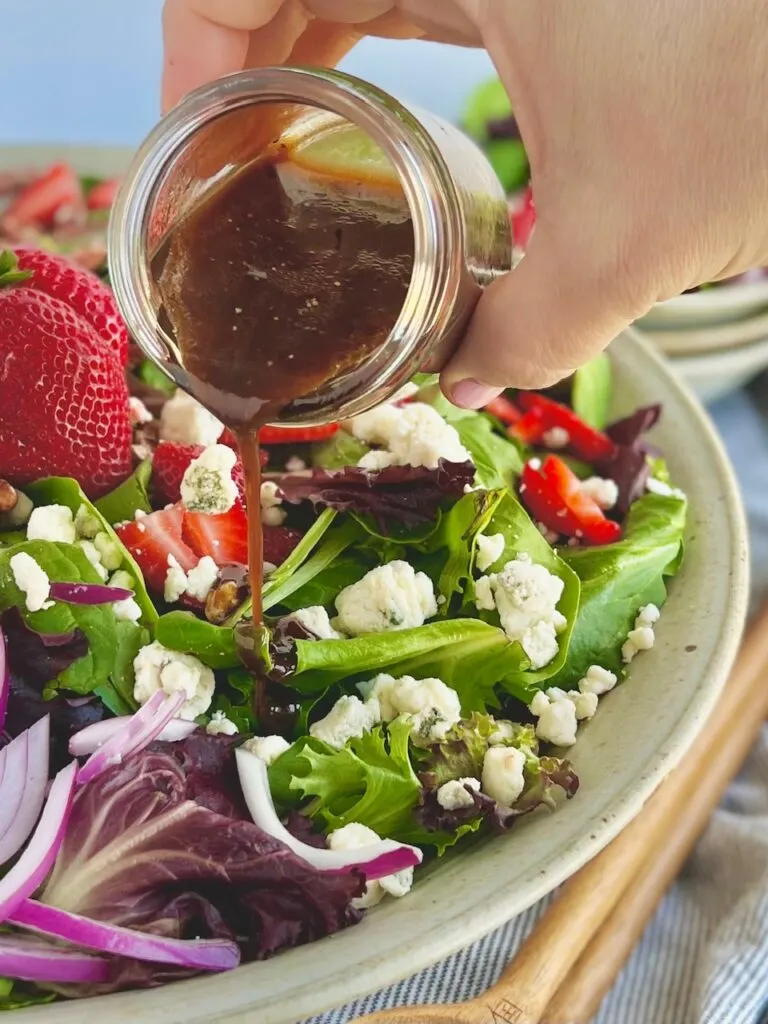 more fruit recipes
lastly
This will forever be one of our favorite family salads.
We absolutely love the sweet, tangy, and crunchy flavors this Strawberry Salad has to offer.
It also easily works well with any dinner recipe we use, such as shish kabobs, grilled teriyaki chicken, roasted salmon, and delicious manicotti.
And if you are craving more gluten free and dairy free salad recipes, save our copycat Applebee's Oriental Chicken Salad recipe with oriental dressing and our mouthwatering Grilled Steak Salad now.
Plus you will find delicious recipes for every occasion and holiday on our website at Eating Gluten and Dairy Free.
Be sure to follow along on Facebook, Pinterest, and Instagram. Like and comment often to keep our posts in your scroll.
That way you will never miss a delicious recipe, important product alert, or important tip to living and eating your best.
Eat well and feel well,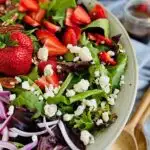 Print Recipe
Strawberry Salad
Ingredients
Strawberry Salad Ingredients
10

ounces

salad greens

rinsed and dried

½

small

red onion

sliced paper-thin

¾

c

toasted pecans

1

quart

fresh strawberries

hulled and thinly sliced lenthwise

¾

c

dairy free crumbled bleu cheese
Balsamic Vinaigrette Dressing
¼

c

balsamic vinegar

3

tablespoon

grapeseed oil

or oil of your choice

1½

tablespoon

honey

½

teaspoon

Dijon mustard

½

teaspoon

kosher salt

dash

ground black pepper
Instructions
Prepare the balsamic vinaigrette in a dressing shaker bottle or canning jar; set aside.

Add the salad greens to the bottom of a large bowl and top with remaining salad ingredients. Add vinaigrette to salad or add to individual servings.

Cover and refrigerate any leftovers. Dressing will keep up to a week in the refrigerator.

See post for guide to toasting pecans and optional topping ideas.