This post may contain affiliate links. Read the full disclosure here
Mini Blueberry Galettes-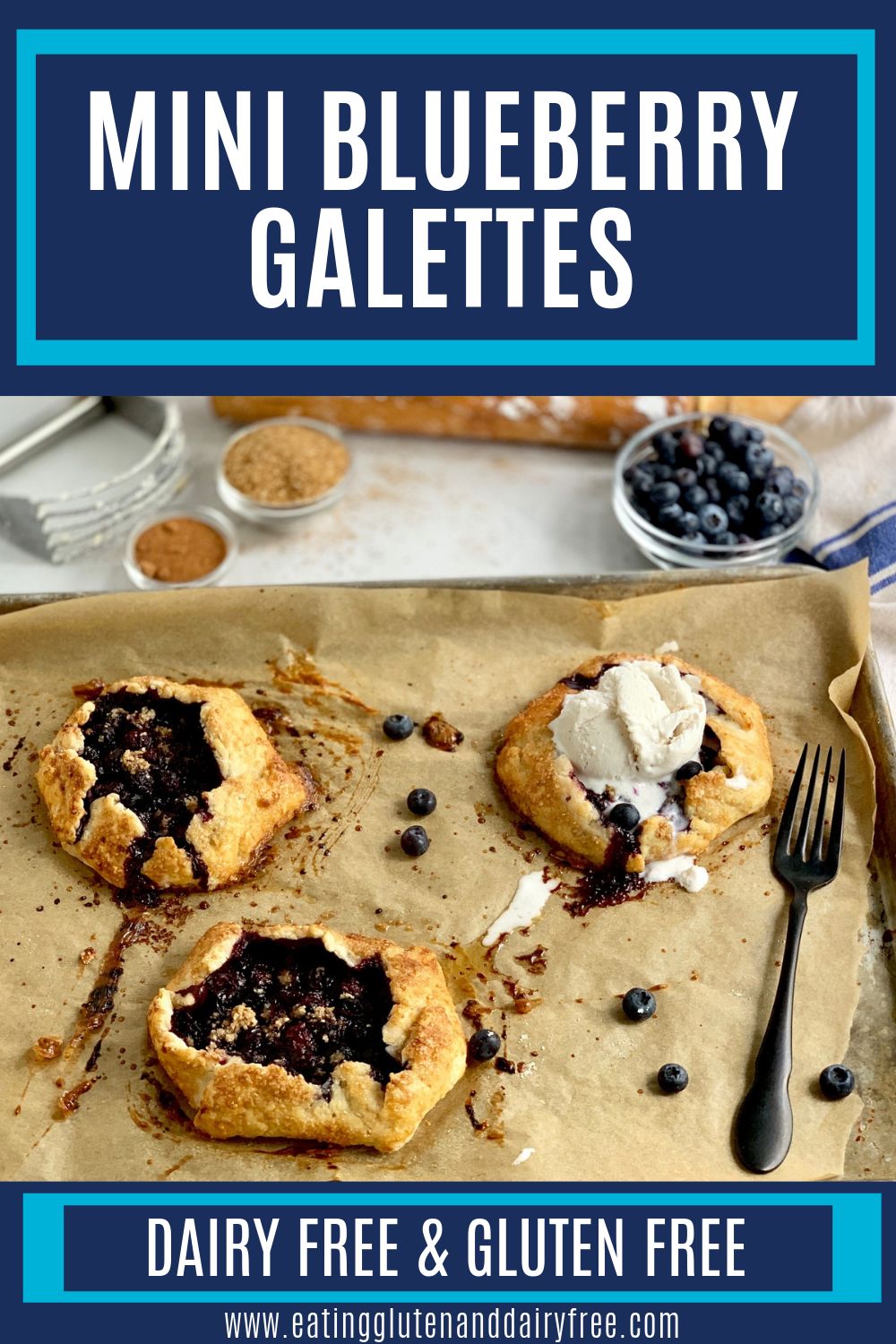 Every bite of these gluten and dairy free mini blueberry galettes is newsworthy. Eating one will ensure a blissful food moment. Really! You'll want to shout about it from the mountaintops.
Honestly this dessert makes me forget I eat gluten and dairy free. The crust is the perfect amount of flakiness. And the filling is full of blueberry goodness with a hint of lemon. Yes, you read that right! Our favorite summer combo of blueberry and lemon is legit in this recipe. You have to try them to believe the taste.
THE GALETTE CRUST:
Now truth be told the first time I tried this recipe I let the crust ingredients sit on my countertop for a few days. If you know me, then you'll be just as shocked as I was. There was some serious stalling going on. I am OCD when it comes to my countertops be free of "stuff."
But y'all, I was so nervous to try this recipe.
And if you've read a previous blog post, The Pie Party You Need, you know I'm not kidding. Historically speaking, gluten and dairy free crusts are not my thing. Actually, I'm more afraid of rolling out pie crust dough than spiders.
However, all I did was embarrass myself. Rolling out this dough reminded me of why I wanted to create this recipe in the first place. It's. so. easy.
Point being, one of the best parts of a galette is the easy peasy crust. Thankfully galette crusts aren't suppose to be a perfect circle shape. There are no perfect crimped edges to stress about, and no pie pan to contend with.
I promise this crust is easy to roll out. And they're easy to assemble and bake.
THE GALETTE FILLING:
This filling is bursting with fresh flavor. You'll notice the nutmeg and lemon zest bring a lovely balance to the sugar and blueberries. And seriously, I can't brag on the blueberries enough.
After your mini blueberry galettes have baked, consider topping them with a dollop or two of dairy free ice cream. Bite after bite you'll be drooling for more.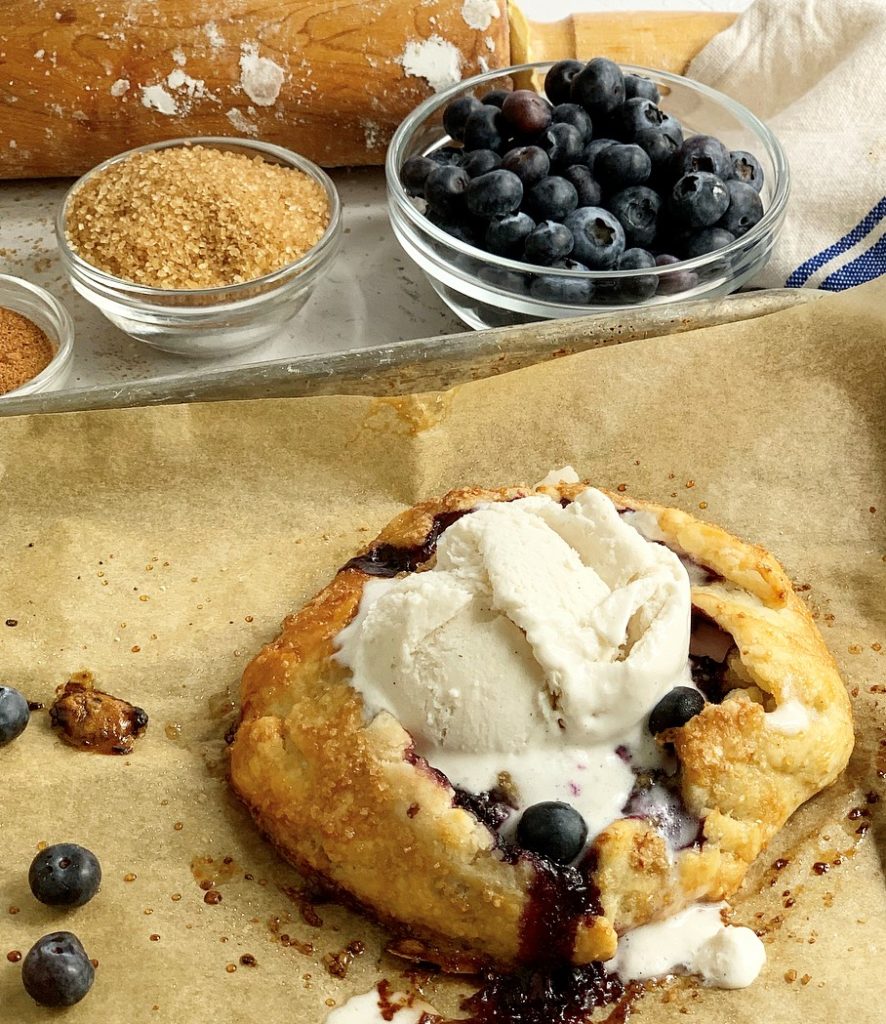 INGREDIENTS NEEDED FOR MINI BLUEBERRY GALETTES:
All-purpose gluten free flour. I use Mama's Almond Blend. I typically find it cheaper at the health food store. However keep your eye on Amazon. At times you can buy from their website for an amazing bulk price. I saved over $20 buying it in bulk last month from Amazon.
Xanthan Gum (omit if your all-purpose flour blend has this in it)
Dairy free butter (Earth Balance Buttery Baking sticks work fantastic)
Sugar
Salt
Dairy free buttermilk. And there is no need to stress about making your own buttermilk. In the galette recipe I provide you with an easy 2 ingredient recipe. All you need is unsweetened almond milk and vinegar. Soy and coconut milk can also be substituted.
Fresh or frozen blueberries (frozen will have a slightly longer bake time)
Cornstarch
Zest of 1 lemon
Nutmeg
Egg
Dairy free ice cream is optional. So Delicious Vanilla Bean is fabulous on these warm mini galettes.
Or adding a dollop of creamy So Delicious CoCoWhip would be mouthwatering as well.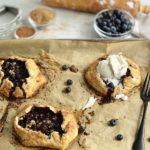 Print Recipe
Mini Blueberry Galettes
Servings:
6
Mini Galettes
Ingredients
1 cup Dairy Free Buttermilk:
1/2

c

unsweetened almond milk

other nondairy milks work well too

1/2

tbsp

vinegar
For the Crust:
1

c

dairy free butter, Earth Balance buttery sticks work well

cold and cut into cubes

3

c

all-purpose gluten free flour, Mama's Almond Blend is has a nice flavor

1 1/2

tsp

xanthan gum, omit if your all-purpose gluten free flour has this in it already

1

tbsp

sugar

1

tsp

salt

1/2

c

dairy free buttermilk, cold
For the Galette Filling:
3

c

blueberries

1/3

c

sugar

2

tbsp

cornstarch

1/4

tsp

ground nutmeg

1

zest of lemon
For Garnish:
1

egg for egg wash

sprinkle of sugar for the top of each galette
Instructions
Prepare dairy free buttermilk first. Mix unsweetened almond milk and vinegar. Refrigerate.

Prepare the crust in a large bowl. Stir together the flour, xanthan gum, sugar, and salt. Add in the cubed butter and mix well.

Next add the dairy free buttermilk one tablespoon at a time to the crust ingredients. Mix ingredients well.

Divide dough into 6 mini balls and wrap individually in plastic wrap. Place in the refrigerator for an hour or even overnight.

Preheat oven to 400 F. Line 2 cookie pans with parchment paper and set aside.

Remove dough from refrigerator. One at a time roll out dough. The dough will make an 8-10 inch circle. The best part of these galettes is they don't have to be a perfect shape or even on both sides. Place each completed dough round on the parchment paper.

For the filling combine sugar, cornstarch, nutmeg, and lemon zest in a large bowl. Mix well. Add in blueberries and gently mix.

Place 1/6 of the filling in the center of each crust. Then fold the dough over the filling. You should still see quite a bit of filling in the middle.

Lastly, brush dough with the egg wash. Then sprinkle the top of each mini galette with a light dusting of sugar.

Bake for 30-35 rotating pans in the oven after 15 minutes. The crust should look golden and the filling be bubbly.

Remove from oven and serve. Add optional dairy free ice cream or CoCoWhip to the center of each mini galette.

Refrigerate any leftovers in an airtight container. These make great breakfast leftovers!
IN CONCLUSION:
These mini blueberry galettes are a win-win for everyone. They are easy to make and taste like a homemade pie you spent hours making. And the best kicker is they can easily feed a crowd with several different allergies. And those who eat gluten and dairy won't even guess these are without.
If you'd like to check out the recipe that inspired this mini blueberry galette, check it out here. The author of Completely Delicious offers a similar recipe with gluten and dairy.
Eat well and feel well,
Jill