Nourished Festival: Should I Attend?
There's been so much social media attention given to the exclusive gluten free Nourished Festival. It begs the question everyone should be asking themselves... should I attend?
NOURISHED FESTIVAL: WHAT IS IT?
For those of you unfamiliar with this festival, grab something delicious and let's chat. First, the Nourished Festival is a two-day event visiting ten US cities a year. Uniquely, it's the largest gluten free, allergy, and specialty diet festival in the United States.
Yes, let's quickly recap... everything at the festival is gluten free.
Here are the specific 5 Food Zones they currently offer:
Gluten Free
Nut Free
Keto
Paleo
Plant-Based
The best feature of this festival was the sampling of gluten and dairy free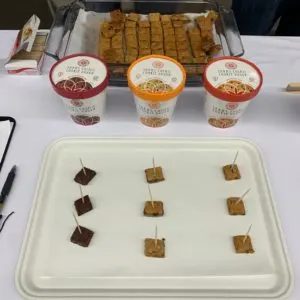 foods. It was undoubtedly one of my favorite features of this event. Almost every vendor had something to sample and many times they had several flavors to pick from.
And why are samples important in our gluten and dairy free world? How many times have we shelled out cash for gluten and dairy free food and not liked the taste?! Not to mention our food is expensive. In the same way I know I'm not the only one this happens to. And it's so frustrating.
In contrast the Nourished Festival takes the guesswork out of it. You know right away if you like the pizza crust, yogurt, bread loaf, or crackers.
And not only are you given small bite size samples to try at the event, but many vendors will also send extra prepacked samples home with you. Check out all the free samples I walked away with... minus a few things we'd already snacked on. Everything in the picture was free.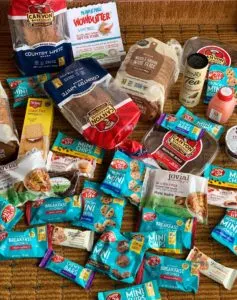 Not to mention several vendors also provide you with coupons to use for future purchases in your local grocery store. #score
Lastly, another important facet of the Nourished Festival are the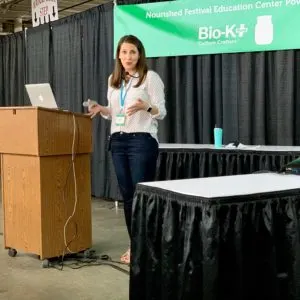 educational classes they offer. Honestly these classes highlight topics we need to hear more about in the gluten and dairy free world. It's obvious the planners of this festival spend time carefully choosing topics and speakers that will spread a wealth of knowledge. For instance, Jenny from Good For You Gluten Free gave helpful tips and suggestions for navigating restaurants on a celiac disease diet. I use many of her tips on a weekly basis!
MY THOUGHTS ON THE DENVER, COLORADO, FESTIVAL IN MAY 2019:
PROs list:
The educational classes were outstanding. I was given information I could immediately put to use.
Wow, the samples were fantastic. For instance, exhibitor Outrageous Baking from Colorado had a large table with a variety of products for purchase. Their focus is gluten free breads, flour mixes, etc. Thankfully they had select vegan offerings too. We sampled the gluten free and vegan pumpkin bread and ended up buying two whole loaves!
Speaking of samples... Enjoy Life had an outstanding exhibit booth. They offered prepackaged samples of several products, y'all. Thankfully I grabbed a couple of their prepackaged breakfast oval samples. Wow, they're delicious too! I can't imagine life before them! Honestly, though, I probably wouldn't have bought them at our local grocery store without sampling them first. I've been burned too many times by gluten and dairy free items that cost a small fortune and taste nasty. And if you're looking to purchase items at the festival, Enjoy Life will gift you a percentage off your total purchase and offer free shipping to your home. Keep in mind they don't sell items for purchase at the Festival. Instead they help you place an online order.
The festival even provides an interactive children's play area. While this isn't a drop off area for kids, it does offer a variety of activities for all ages. This section provides children a nice break from the crowds.
Now if I had to be picky, there were a few cons to the festival:
In reality it was tricky to find an exhibitor's allergen card. This card lists specific allergens the vendor will check if any allergens are in their products. With so many people at the event and at times in front of the same exhibit, it was challenging to locate their card. For instance, there was one exhibitor with crackers. It wasn't until after I'd already accepted three bags of chips I found their allergen card. Sure enough their products contained dairy...so learn from me -- look for the allergen card first at each exhibit.
Unfortunately, there were a few booths offering samples we really enjoyed. However, they didn't have any product for purchase at the event. It was unfortunate as I would have enjoyed bringing more quality gluten and dairy free foods home with me. In contrast Mom's Place Gluten Free from Utah greeted consumers with samples and a large display of product for sale. And guess what?! People were flocking to this booth and buying so.much.food. I'll admit I bought several dry sauce mixes and dips.
Additionally more vendors. I know as this festival gains more momentum it will host more and more vendors. Truthfully, vendors are crazy not to participate in this event!
With all that in mind... it's a fair question to ask... the Nourished Festival: Should I attend? Ultimately you're asking should I make time for this festival when life's busy and weekends are already packed pull of activities.
YES, Yes, you should!
Let it be known our family drove nine hours one way to attend the Nourished Festival. It was worth every hour in the car with three littles. And it was worth the hotel and gas costs.
The knowledge and education I received from the educators and exhibitors was incredible. As a matter of fact, I can't put a price tag on it.
It was enjoyable meeting others who eat like our family.
I was able to establish relationships with vendors and other allergen food bloggers.
Most of all our family discovered countless new foods to swoon over... and some to stay away from.
The educators presented valuable information to help you walk the interesting food journey we're on.
IN CONCLUSION:
Nourished Festival: Should I Attend? YES. So here's what you need to do:
First, check out the dates for upcoming Nourished Festival events on their website. They've already released dates for the next year.
Next "like" the Nourished Festival on social media (Facebook and Instagram). You will be best informed when tickets go on sale and new dates are released.
Keep in mind there are three ways to score your tickets. The best way is to find a food blogger giving away free tickets. Not only did I give away 30 free tickets to the Denver festival, I noticed several other gluten free food bloggers doing the same on social media. Secondly, you can also score discounted tickets from the Nourished site itself. They offer special sales on tickets prior to a Festival. These discounts range from 10-30% off. Lastly, you can also pay at the Festival door for admission.
Then take notice of the educational speakers, classes, and times. Plot out which presentations are most important to your needs and plan your visit accordingly. There will be speakers on each day of the weekend event.
Of course ask questions and show your interest at booths. What do they have to sample? What new products are they coming out with? Will new products be offered in your local grocery store?
And I can't emphasize this last tip enough. Come hungry! Again, there are so.many.awesome.samples.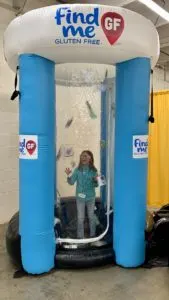 Importantly, I look forward to the growth of this festival. If you've already been to this event, please leave your own festival highlights in the comment section. And share your favorite product sample.
Lastly, if you're new to my website, keep reading! You'll also find the best gluten and dairy free recipes and food travel guides. Click here.
Eat well and feel well,
Jill