You'll love this homemade Oreo Ice Cream Cake recipe. This allergen friendly homemade ice cream cake is made with crunchy Oreo Sandwiches, smooth vanilla ice cream, a fantastic homemade chocolate ganache, creamy coco whip and some amazing chocolate ice cream.
Recently a friend told me about her love for Dairy Queen ice cream cakes. And she didn't spare any details in her infatuation with them.
Listening to her immediately gave me flashbacks to years ago. When I was in my teens, DQ ice cream cakes ruled.
So ice cream cakes and I were a thing. Honestly, they made the best birthday cakes. And as a kid it was the biggest perk to having a summer birthday!
However, when I said goodbye to gluten and dairy, I also said goodbye to DQ ice cream cakes.
Or so I thought.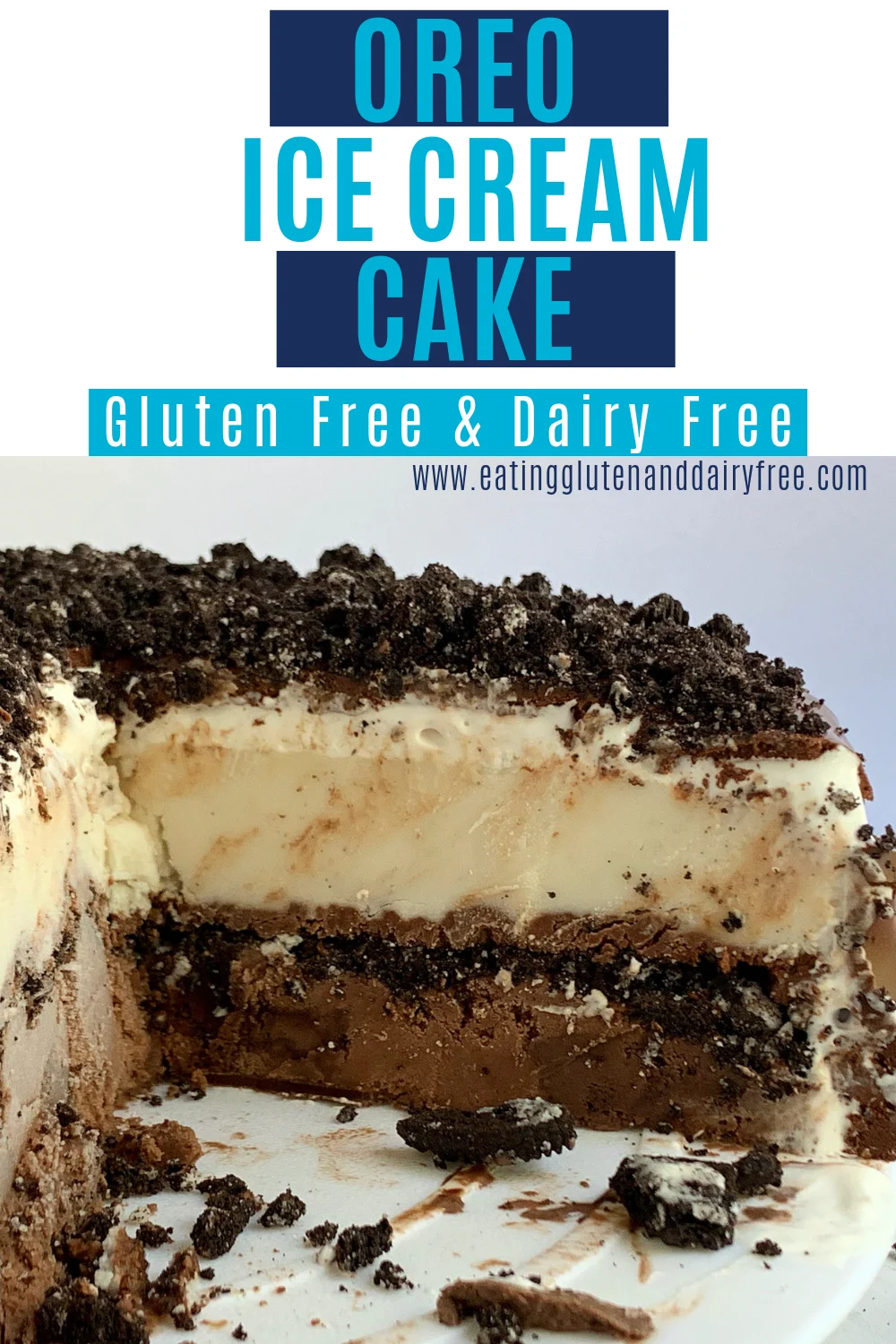 This homemade gluten and dairy free Oreo ice cream cake is delicious, yall. As in absolutely mouthwatering.
Not only is this Oreo ice cream cake a dream come true, but especially for those with food allergies.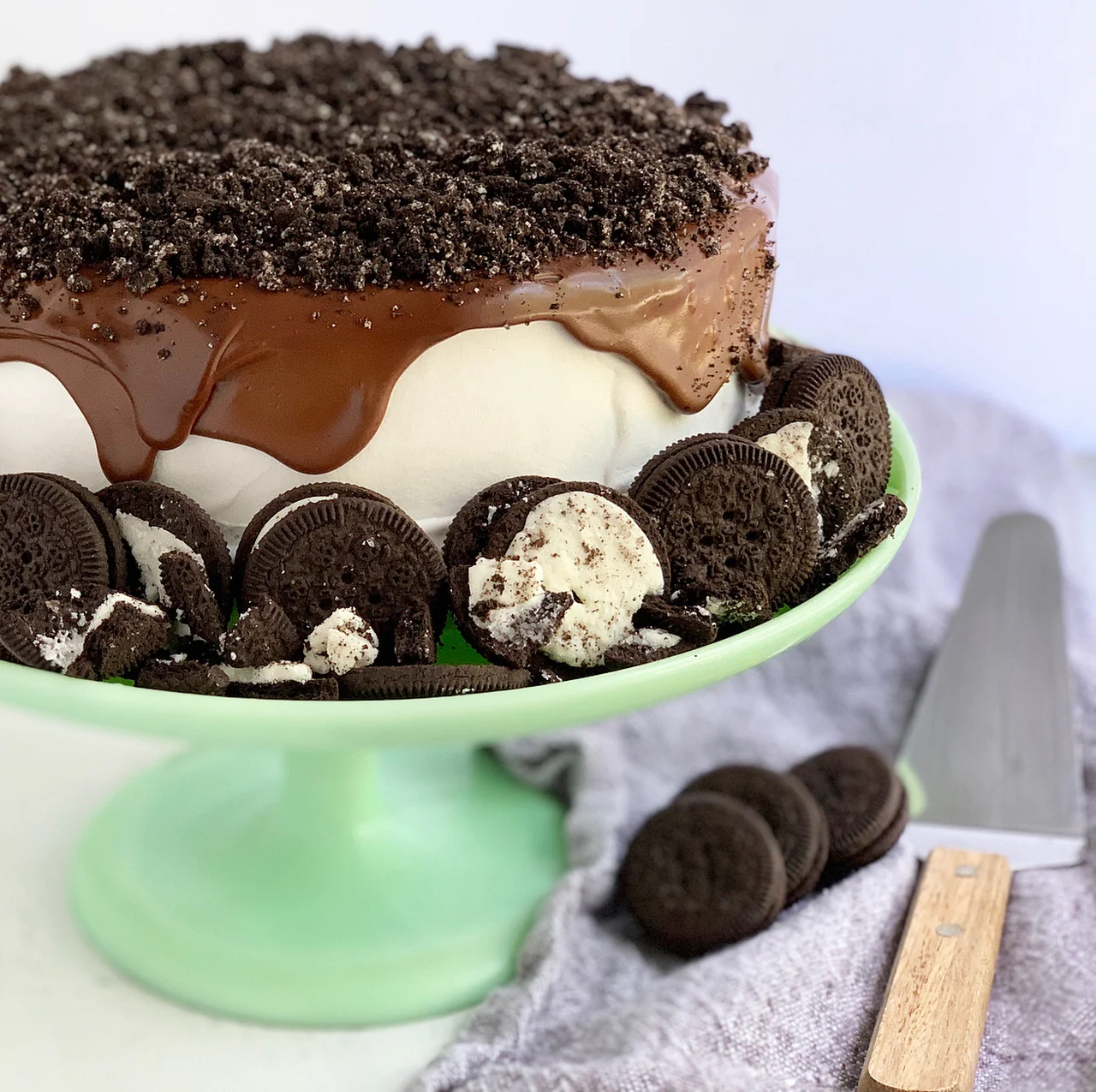 ice cream cake ingredients
helpful cake making tools
how to make an oreo ice cream cake from scratch:
Get the full recipe instructions and ingredients down below in the recipe card.
This homemade ice cream cake is so easy to make and the whole family devours it. It's better than any store-bought oreo ice cream cake for sure.
recipe notes and tips
using a 10 inch cheesecake springform pan will make this Oreo ice cream cake turn out perfectly round like a cake. A 10 inch round cake pan also works.
next an angled icing spatula is helpful with this recipe. You'll use it for several layers of this cake. I also use this spatula with several other recipes. It is a lifesaver.
it's helpful to cover sides of the pan with Glad Press'n Seal Plastic Food Wrap.
importantly, place the vanilla and chocolate ice cream pints on the counter top to thaw well before you need them. I find dairy free ice cream requires more time to soften.
keep in mind this mouthwatering homemade ganache can be used for other recipes too!
lastly, this ice cream cake can be made a day or two ahead of time. Woot woot for all you early birds who like to get the worm.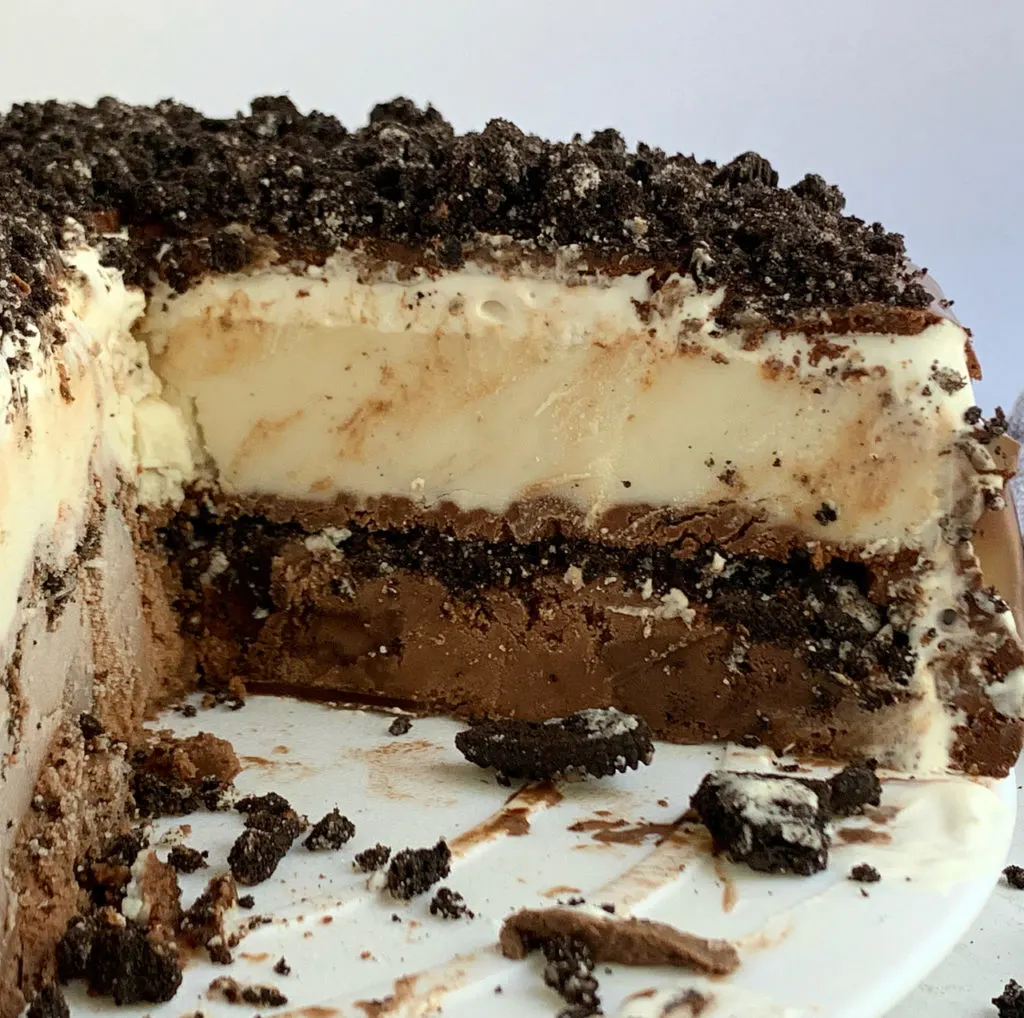 more gluten + dairy free dessert recipes
more allergen friendly cake recipes
chocolate loaf cake-- a rich and moist chocolate loaf cake that is made with the homemade chocolate ganache, just like this oreo ice cream cake.
lemon poppy seed bundt cake-- this delicious cake is made with fresh lemon juice, lemon zest, and has a fantastic poppy seed flavor.
chocolate bundt cake -- this homemade chocolate cake is perfect for anybody who loves chocolate.
layered carrot cake-- this is a soft, moist, spiced carrot cake that is rave worthy.
ice cream cake-- get our classic ice cream cake recipe. It's so yummy!
pineapple cake-- this is a great cake to make for birthdays, celebrations, and holidays. Bursting with delicious pineapple flavors and homemade pineapple flowers.
MORE cake recipes-- check out alllllll our cake recipes on our website. There's cakes for every occasion!
Make sure to scroll down and join the email list below to make sure you don't ever miss out on any of the goodies.
We don't want you to miss out on the best of eating gluten and dairy free.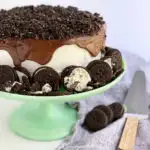 Print Recipe
Oreo Ice Cream Cake
Ingredients
2

pints

dairy free vanilla ice cream

2

pints

dairy free chocolate ice cream

13.5

ounce can

canned coconut milk

10

oz bag

dairy free dark chocolate chips

1

box

gluten and dairy free oreo cookies, crush 10 for the middle layer, 6 for the top layer. Use extra for garnish.

1

container

So Delicious Coco Whip

1

tablespoon

(optional) corn syrup
Instructions
Place bottom layer of ice cream on counter top to slightly thaw.

Place all of coconut milk in a medium size sauce pan over medium heat. Just before sauce boils take off the burner.

While coconut milk heats, place chocolate chips in a medium size bowl. Add corn syrup if using.

After coconut milk heats pour it over chocolate chips. Let sit for 3-4 minutes then stir well to combine. Set aside to allow ganache to slightly cool.

Wrap the sides of spring form pan with plastic wrap. Use an ice scream scooper to place both pints of vanilla ice cream in the bottom of spring form pan. Even out ice cream with an angled icing spatula.

Pour ½ to ¾ cup of ganache over vanilla ice cream. Sprinkle crushed oreo crumbs over ganache.

Top spring form pan with plastic wrap and place in the freezer for 20-30 minutes.

Take out 2nd layer of ice cream (chocolate) to partially thaw.

Remove ice cream cake from the freezer and spread softened chocolate ice cream over oreo crumbs. Cover with plastic wrap and refreeze for a couple of hours. You want the cake to be well frozen for the next step.

Just prior to removing the cake from the freezer stir the container of Coco Whip well. Remove cake from freezer, dispose of top plastic wrap layer and release the spring form pan. Leave cake as it is on the spring form board or flip cake over onto a cake plate. Carefully remove the plastic wrap. Using an angled icing spatula "ice" top and sides of cake with Coco Whip.

Return to freezer for a least 30 minutes and then remove. Add a second layer of Coco Whip to entire cake. Place back in freezer.

Just before serving: reheat chocolate ganache if needed and spread even coat over top of ice cream cake. With angled icing spatula spread over top of cake. Push over edge of cake to create dripping effect.

Lastly, place 2-3 oreos in a baggie and crush with a rolling pin. Spread oreo crumbs evenly over top of cake.

Cake is ready to serve. Cover any leftovers and return to the freezer.