This post may contain affiliate links. Read the full disclosure here
Awhile back I was shopping at Costco. Once I came to the fruit section I found the cases of organic raspberries were calling my name. Honestly, I couldn't pass by without putting at least one carton in my cart. They looked so fresh and luscious. Can you believe I decided then and there I wanted to create the perfect raspberry crumble muffin recipe. Not only did I buy several cartons of raspberries I went home and hid them all… in the very back of the refrigerator. Like the waaaaay, way back of the fridge.
You know, the spot that you forget what's back there. Only I wasn't forgetting what I'd stashed away. Nope I was buying time until the next day when the kids went to school and the hubs went to work. I knew very well what was hiding in the back oh my refrigerator.
You see, they would have devoured the raspberry cartons as a "snack" in about 10 minutes. No joke, y'all. In the blink of an eye they would've vanished. I couldn't have that. Oh no I had special plans for these little berries of pure goodness. As a matter of fact I was determined to make yummy-licious raspberry crumble muffins.

I found what looked to be a delicious gluten and dairy raspberry muffin recipe here. However that recipe was far from gluten and dairy free.
Truth be told I was a wee bit nervous tweaking the recipe. The type of flour and butter you use can make such a big difference… in any recipe. As in, a tweaked recipe either tastes out-of-this-world amazing or yuck-my-dog-wouldn't-eat-this! There's typically not an in-between.
Tips for making these raspberry crumble muffins: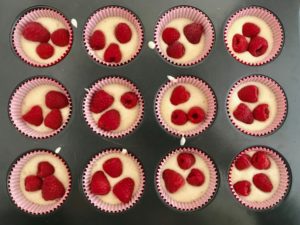 First, I substituted the gluten flour for Mama's Almond Flour Blend. I'm sure other gluten free flour blends work well, too. However, if you've been baking gluten free for while you know… you never know. Gluten free flour blends can be real finicky. Next, I used Earth Balance "butter" sticks. And in place of the plain Greek yogurt I substituted Tofutti dairy free sour cream I had on hand, the same dairy free sour cream that's the star ingredient in my sugar cookie recipe found here. I usually try to have a few tubs of this in the refrigerator. You just never know what amazing recipe you'll need it for… like this one.
Honestly, this raspberry crumble muffin recipe turned out better than I expected. Two of my kids couldn't get enough of these, and my third, well… he's lukewarm on muffins at best… so he wouldn't even try one. So, I don't think that counts as a "no" on these gluten and dairy free raspberry crumble muffins. He has no idea what he's missing! And until he realizes his mistake… we'll enjoy there being more for us. ♥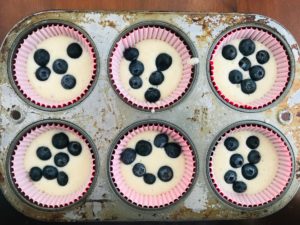 You'll enjoy how quickly this recipe comes together. All the ingredients where in my pantry except for the raspberry's.
In like manner I had a few blueberries on hand and made a few muffins with those.
I took this blueberry muffin picture before I added the crumble topping. Doesn't the pop of fruit color reach out to you?! And say, "Eat me…the entire batch, right now!" It does to me. There's nothing like luscious fruit to sweeten any muffin recipe. The lemon zest in the crumble is subtle, but noticeable. It interjects a fresh lemony taste into this sweet recipe.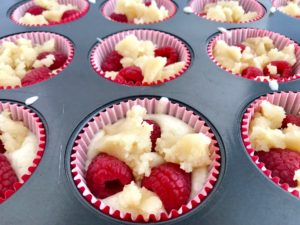 A few other notes of difference between recipes. I found it was best to fill my muffin liners halfway vs 3/4 of the way. I realized this the hard but fun way. My first batch gave new meaning to "muffin top." Yes, you can let your mind run wild on that one.
It was more like a muffin explosion. I mean a good explosion. Just a messy tasty one.
Print Recipe
Raspberry Crumble Muffins
Ingredients
1 3/4

cups

gluten free flour

1

cup

sugar

2

tsp

baking powder

1/4

tsp

baking soda

1/4

tsp

salt

3

eggs

room temprature

1

cup

dairy free sour cream

1 1/4

tsp

vanilla extract

2

cups

fresh raspberries
Crumble Topping
1/2

c

gluten free flour blend

no xanthan gum needed

1/3

c

sugar

zest of 1 lemon

4

tbsp

dairy free butter

melted
Instructions
Line 24 large muffin tins with liners and preheat oven to 350 F.


Make crumb topping: stir together melted butter, flour, sugar, and lemon. Set aside.


In medium bowl whisk together flour, sugar, baking powder, baking soda, and salt. In a larger bowl whisk together eggs, sour cream, and vanilla.


Add dry ingredients to wet ingredients and mix. Be careful not to overmix.


Fill muffin liners 1/2 full with batter. Top with 3-4 raspberries and crumble topping.


Bake 25-30 minutes. Remove from oven and allow to cool in the muffin tin 5-10 minutes, then place on a cooling rack. Store in an airtight container up to a week.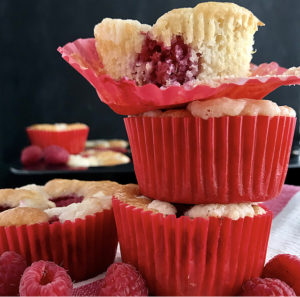 The original poster said these muffins are great frozen. Honestly, our raspberry crumble muffins have never made it that long. They've been consumed way before I had a chance to freeze them… or even think about freezing them. If you freeze yours, let me know how they turned out.
These raspberry crumble muffins are the perfect way to kick off your day for breakfast or enjoy as a snack. They're infused with fresh raspberries and lemon zest. If you struggle to stay gluten and dairy free this recipe is for you!
Go ahead and pin this now.
Lastly have you seen my grilled Hawaiian BBQ chicken pizza? Who knew gluten and dairy free pizza crust could grilled so easily? This recipe walks you step by step through the grilling process. Click here for the link.
Eat well and feel well,
Jill