What is better than two layers of chocolate chip cookie dough with a cream cheese layer in between? With only a few pantry staples and loads of semisweet chocolate chips, this is an addictive and wonderful after dinner treat that will not disappoint.
These gooey chocolate chip cream cheese bars are just as good as they sound. They're soft and so flavorful. And cream cheese always adds an element of wonderfulness to any recipe.
That being said, this recipe offers a nice thick cream cheese layer too. You cannot go wrong with baking a batch of these today.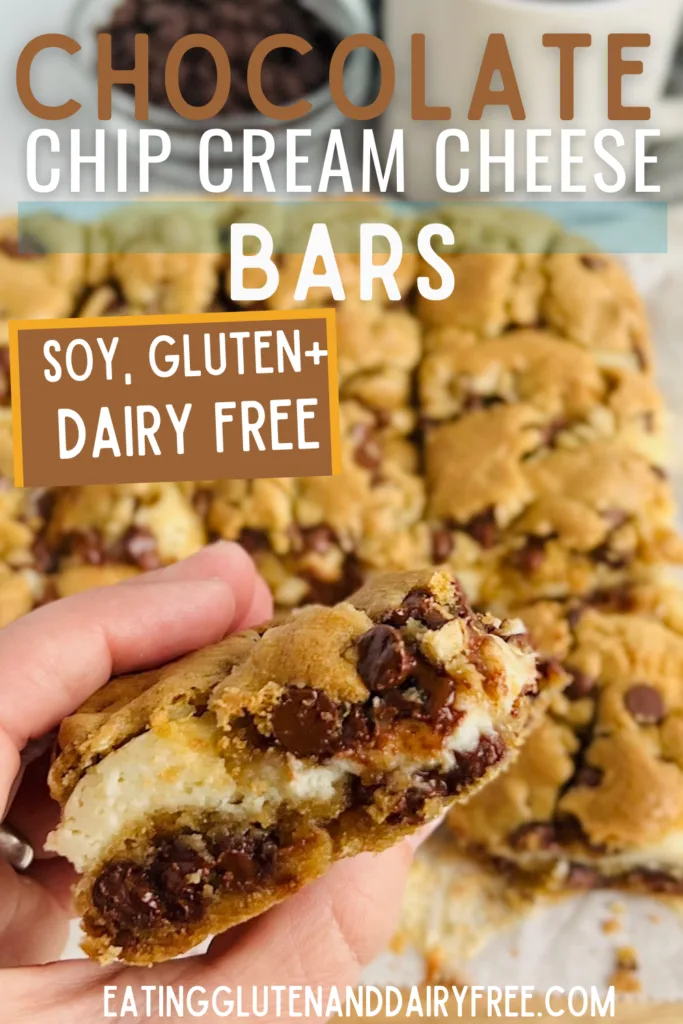 These are also a great spur of the moment snack, as we almost always have all the ingredients on hand. And when the Kite Hill Plain Cream Cheese is on sale, we like to stock up for baking this recipe and our Cheesecake Brownie recipe everyone loves.
This easy to follow recipe is a fun mashup of our chewy chocolate chip cookie recipe and dairy free cream cheese. Why not combine the two for an out of this world treat to share with family and friends?
And the next time you are craving homemade chewy chocolate chip cookies with an emphasis on the chocolate chips, bake these.
We previously shared this recipe on our website and readers are loving it too.
chocolate chip cream cheese bar ingredients
dairy free butter-- our go-to is Earth Balance Buttery Sticks
gluten free all-purpose flour-- use the spoon and level method described below. Our favorite gluten free blend is Bob's Red Mill Gluten Free 1 to 1 Baking Mix. This mix does contain xanthan gum.
xanthan gum-- omit if your all-purpose gluten free flour blend contains this or guar gum
baking soda-- keep in mind this loses its potency after being opened more than 6 months. We like to label a new baking soda container with the date we open it so where are always using a fresh container.
kosher salt
brown sugar-- packed
granulated sugar
large eggs-- room temperature
vanilla extract-- we bake with the McCormick brand
semisweet chocolate chips-- the two brands we keep stocked in our home are Enjoy Life mini chips or chunks and Nestle Toll House Allergy-Free Chocolate Chip brand. We purchase the Nestle Toll House Allergy-Free chips from Walmart. They are free from the top 8 common allergens, and are the traditional chocolate chip size.
dairy free plain cream cheese-- we like the Kite Hill Plain Cream Cheese brand; you can use your favorite brand of cream cheese
nonstick spray or parchment paper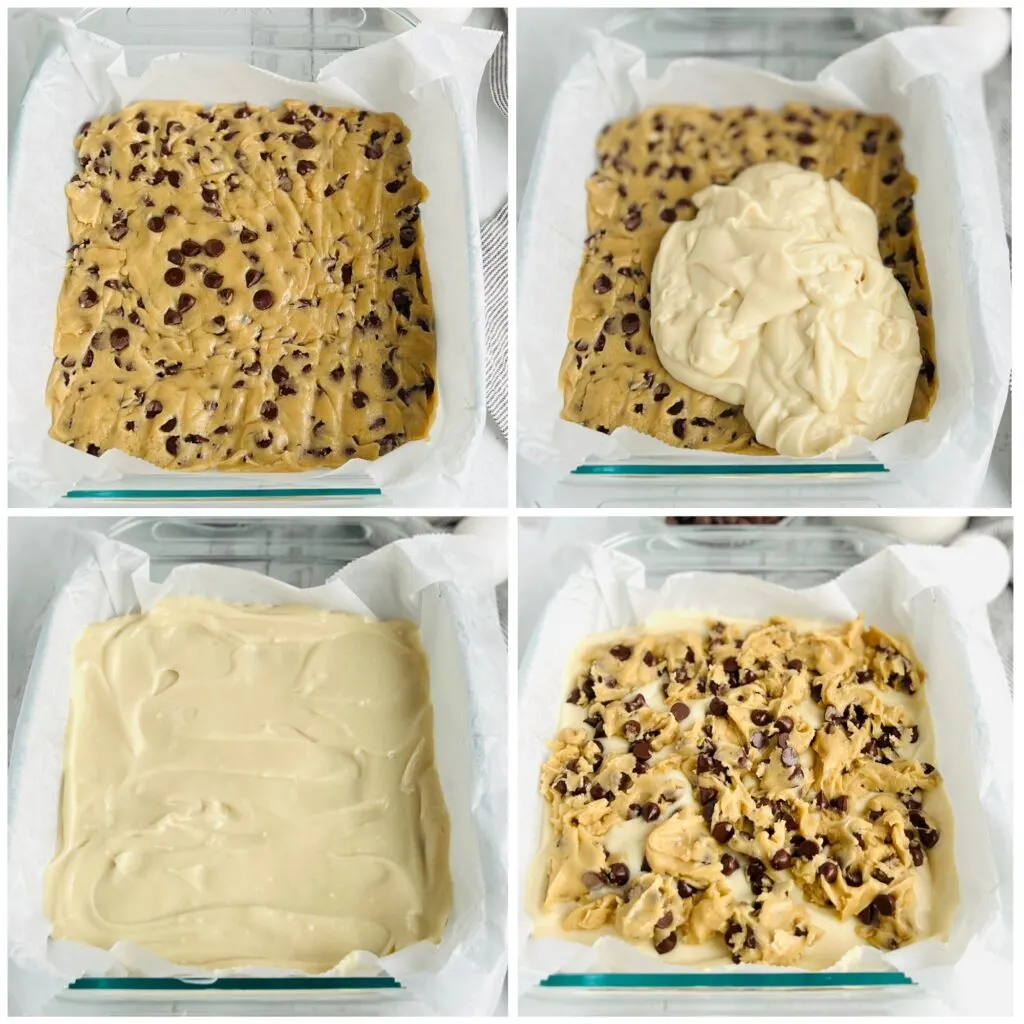 kitchen essentials to prepare this recipe
large mixing bowls or stand mixer with paddle attachment
large spatula
angled spatula-- we use our spatula almost every day for dinner, snack, or dessert recipes. With the angled spatula you can easily and more evenly move batter to the corners of the dish.
8x8-inch square baking dish-- we use these pyrex dishes with the lids that fit perfectly and stack well in the refrigerator
frequently asked questions
what is the spoon and level method with flour
This is an important tip for any baking you do with flour. Honestly, the spoon and level method is considered the most accurate method for measuring flour.
Simply put, this method is exactly what it sounds like. You'll use a spoon to scoop the flour into your measuring cup.
Then, you'll level off the top with the back of a knife so the flour is level with the top of the measuring cup.
If you scoop your dry measuring cup into the flour bag, you can surprisingly end up packing the flour and increase the flour in recipes by ¼ cup. Yeeks!
We have been guilty of this over the years, but now that we know... we know and we always take the extra step to grab a large spoon and knife.
can these be baked ahead of time
These dessert bars are best when consumed a day or two after baking. But we don't think you will have any problem getting rid of these delicious and rich bars loaded with chocolate chips.
can this recipe be doubled
Yes, you can easily double this recipe and alter the bake time accordingly.
how do we store these baked chocolate chip cream cheese bars
We store our baked chocolate chip cream cheese bars tightly covered and refrigerated for up to 2 days.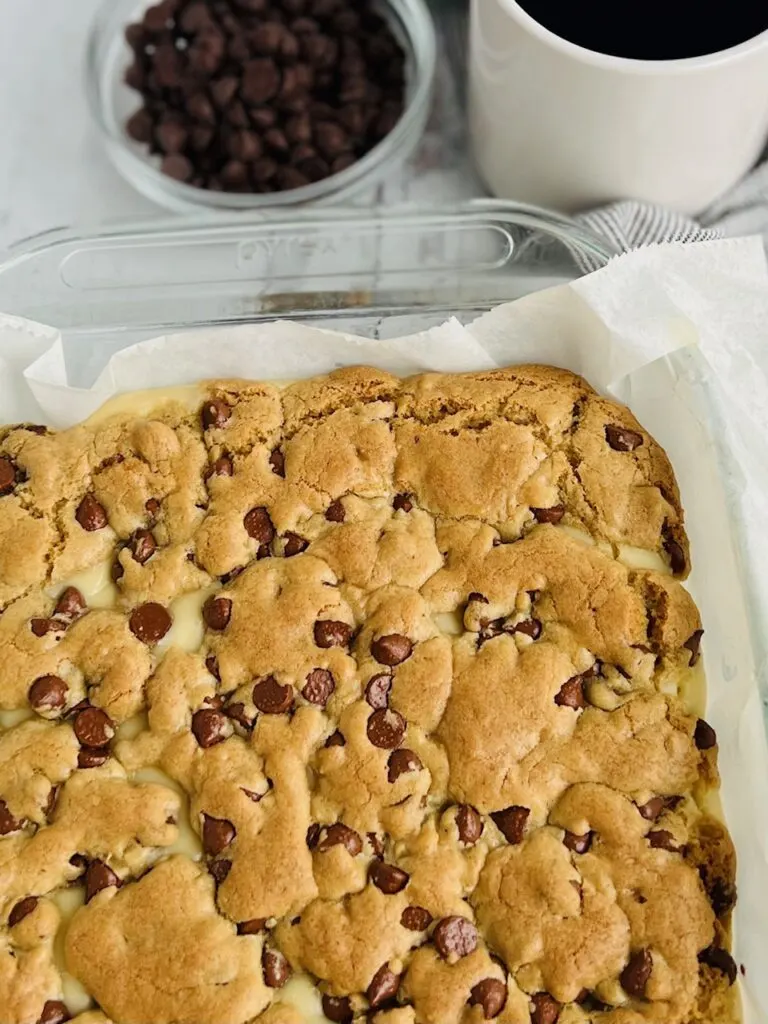 more must-have dessert recipes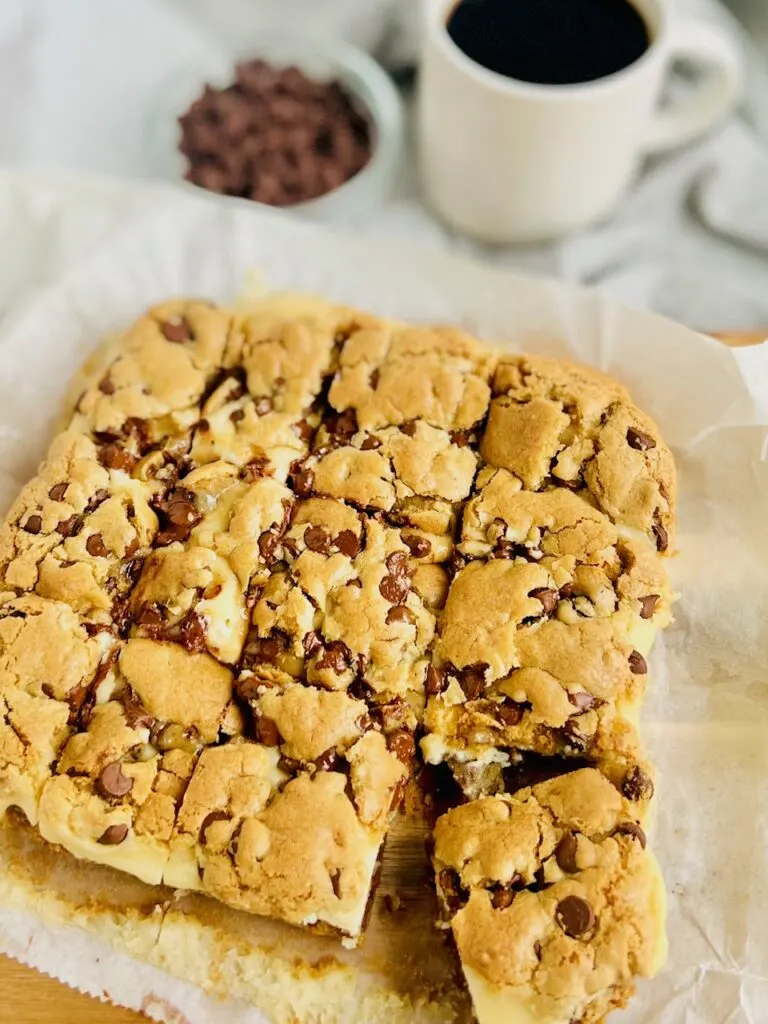 lastly
We just love these Chocolate Chip Cream Cheese Bars and know they will be a favorite of yours too. You won't even believe something so good is possibly gluten free, dairy free, and even soy free.
You will want to share these at your next BBQ, potluck, game night, or holiday dessert table.
Plus you will find more gluten free and dairy free recipes on our website, Eating Gluten and Dairy Free. Moreover there are recipes for every occasion including Thanksgiving Day, Christmas, Valentine's Day, Mother's Day, and even the 4th of July.
Plus here is a reader-favorite recipe-- vanilla buttercream frosting, perfect for your cakes, cupcakes, and other treats.
Be sure to follow along on our Facebook, Pinterest, and Instagram. Like and comment often so our posts keep showing up in your feed. We don't want you to miss out on the very best of eating gluten and dairy free.
Plus-- sign up for our exclusive emails.
Eat well and feel well,
Jill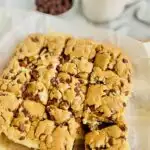 Print Recipe
Chocolate Chip Cream Cheese Bars
Ingredients
Chocolate Chip Cookie Bar Ingredients
½

c

dairy free butter

1 stick

1¼

c

gluten free all-purpose flour

spoon and level method

¼

teaspoon

xanthan gum

omit if your gf all-purpose blend contains this or guar gum

½

teaspoon

baking soda

½

teaspoon

kosher salt

½

c

brown sugar

packed

¼

c

granulated sugar

1

large

egg

1½

teaspoon

vanilla extract

2

c

dairy free semisweet chocolate chips
Cream Cheese Filling
8

oz

dairy free cream cheese

1

large

egg

¼

teaspoon

vanilla extract

⅓

c

granulated sugar
Instructions
Chocolate Chip Cookie Batter
Preheat oven to 350°F. Spray a 8x8-inch pan with nonstick spray or place a layer of parchment paper on the bottom; set aside.

In a small saucepan, melt the butter over medium heat until it melts and just begins to boil. Remove from heat and allow to cool for 20 minutes.

While the butter cools, prepare the remaining cookie dough.

In a large mixing bowl or in a stand mixer with the paddle attachment, combine the sugars, egg, and vanilla extract until just combined.

Scrape down the side of the bowl as needed. and add the butter.

Add in the flour, xanthan gum, baking soda, and salt and combine. Then fold in the semisweet chocolate chips.

Remove one cup of the cookie batter for the topping; set aside.

Then evenly place the remaining chocolate chip cookie batter in the bottom of a 8x8-inch pan.
Cream Cheese Filling
In a medium-sized bowl combine the cream cheese, egg, vanilla extract, and sugar until mixed.

Using an angled spatula evenly spread the cream cheese mixture across the baking dish of cookie batter.

Lastly drop small chunks of the remaining chocolate chip cookie batter over the cream cheese mixture. You will not cover all the cream cheese mixture, just most of it.

Bake for 30-32 minutes until puffed, golden and the center has set.

Remove from the oven and allow to cool completely on a cooling rack. Cut into 12 bars and serve. Tightly cover leftovers and refrigerate.