Falling somewhere between cookie bars and brownies, these Coffee Blondies are soft, chewy, and the ultimate rich dessert. And the added coffee flavor enhances these dessert bars even more-- to rock star-level dessert.
Believe us when we say these Coffee Blondies are dense, gooey, and unbelievably delicious. This recipe is a dessert dream come true!
And we bet you have all the simple pantry ingredients on hand too.
Not only does this recipe call for everyday baking ingredients, but these bars are also prepared in one large saucepan, so cleanup is ridiculously quick and easy.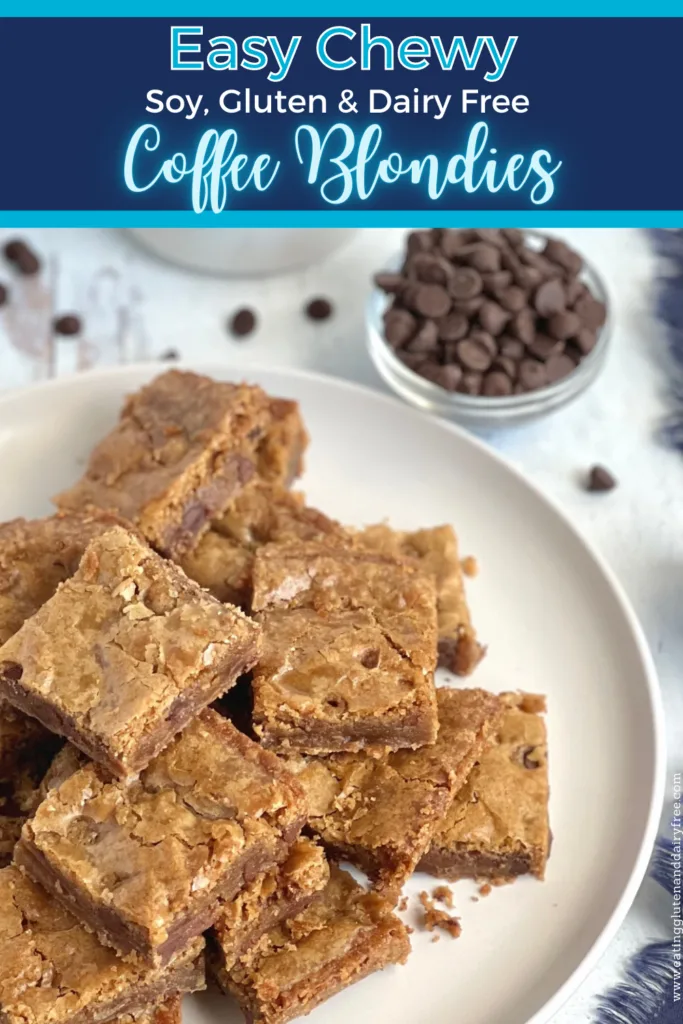 At the end of the day, do you ever find yourself with leftover coffee in the pot? You can either freeze it and make ice cubes or better yet save it for this recipe.
Or this recipe can give you another reason to make that extra pot you wanted all day, but kept telling yourself no.
And while you won't necessarily enjoy a bold coffee flavor with these blondie bars, you will notice the coffee enhances the chocolate flavor, making these bars a decadent, light-colored golden treat.
coffee blondies ingredients
dairy free butter-- our safe go-to is Earth Balance Buttery Sticks
light brown sugar-- packed; dark brown sugar can be substituted. The lighter sugar helps keep these blondies blonde.
kosher salt
strong coffee or espresso--room temperature; you will not even taste the coffee flavor; the coffee strongly enhances the overall wonderful flavor of these bars
large egg
gluten free all-purpose flour-- we use Bob's Red Mill Gluten Free 1 to 1 Baking Flour. We buy it in bulk here to save money. This does contain xanthan gum.
xanthan gum-- omit if your all-purpose flour contains this or guar gum
baking powder-- this loses its potency after being opened longer than 6 months. So we suggest labeling the canister when it is first opened with the date so your baked goods recipes turn out as they should
semi-sweet chocolate chips-- there are several chocolate chip types you can use with this recipe. Here is our top pick: Nestle Toll House Allergen Free Semi-Sweet Morsels. We buy these at Walmart. Scroll below for more safe suggestions.
optional-- pecan halves, chopped, and toasted
nonstick spray-- or line the baking pan with parchment paper
And have you noticed how many bars this recipes makes? This recipe goes a long way at the dessert table. Plus with no fancy, expensive ingredients, you'll wanna bake these again and again.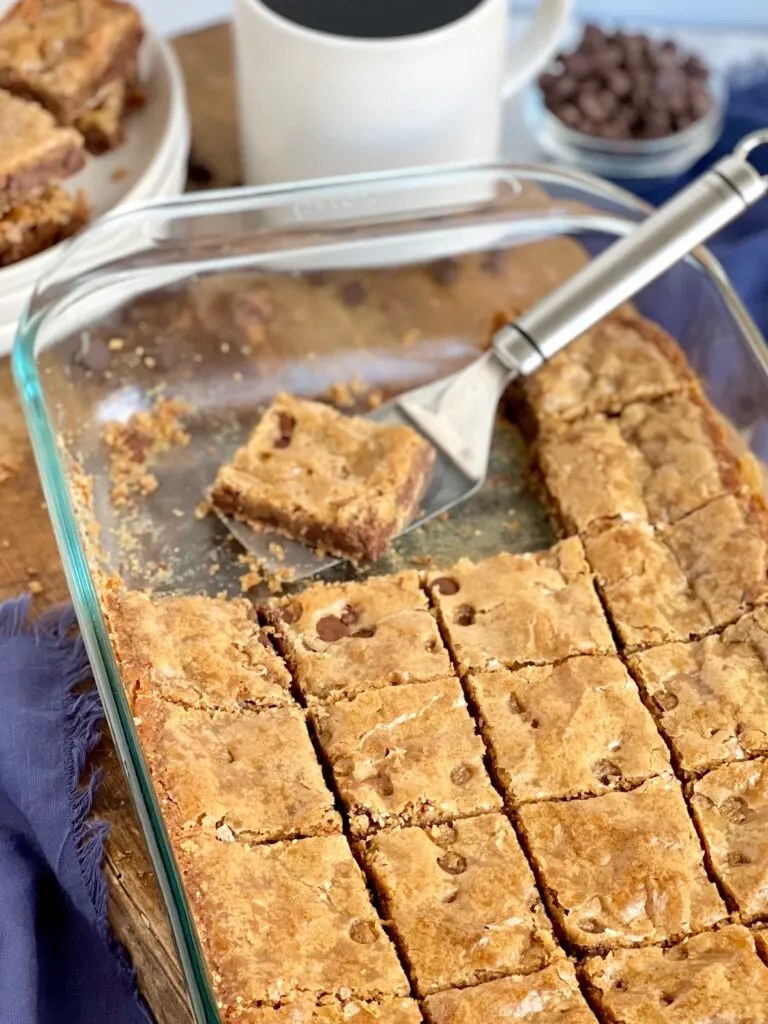 kitchen essentials and gadgets for this recipe
large saucepan-- this is a one-pot recipe making cleanup quick and easy
whisk-- we use all 3 sizes in our kitchen on a weekly basis
large mixing bowl
9x13-inch pan-- we have used this pyrex baking pan with a lid for years
frequently asked questions
what is the difference between a blondie and a brownie
The ultimate difference between a blondie and a brownie is the chocolate.
Blondies are referred to as "blonde brownies" as they are made without cocoa powder. You will taste a rich, decadent vanilla flavor with blondies instead of chocolate in brownies.
what gluten and dairy free chocolate chips can we use
Our top pick is the Nestle Toll House Semi-Sweet Morsels because they look and taste identical to traditional chocolate chips.
You can also enjoy this recipe with Enjoy Life Mini Chips, Mega Chunks, or their White Mini Chocolate Chips.
why do my blondies go cakey
Chances are if your blondies go cakey it is the result of over-stirring or -whisking. When you whisk the batter, you are bringing air into the blondie batter and creating a lighter crumb.
Therefore, a cakey blondie is caused by having too much air in the batter, which in turn causes a fluffy and cake-like blondie.
do we have to use pecans in this recipe
No. These do add lovely nutty flavor to the Coffee Blondies, but they are completely optional.
can these be baked ahead of time
Yes. You can prepare this dessert recipe up to 2 days ahead of time, cover, and store on the countertop.
We were inspired to create this recipe from a similar coffee blondie recipe on the Vanilla Bean Blog. We love this recipe with gluten and dairy free ingredients. Who ever knew eating gluten and dairy free could be so good.
more delicious dessert recipes you'll love
lastly
There is no doubt these Coffee Blondie bars have a reputation for being super addictive. The coffee enhances the chocolate chips so much this recipe will take you to new heights. You'll have a hard time saying no to these.
Not only that, but you will enjoy the vanilla flavor of these grab and mingle bars. Plus these are easy to cut and serve on a pretty plate for loved ones to grab and enjoy.
Have you pinned more dinner and side dish recipes from our blog, Eating Gluten and Dairy Free?
And did you know we also have recipes for every occasion and holiday such as Fall Desserts, Thanksgiving Day recipes, Christmas Desserts and Cookies to enjoy the entire month, plus Super Bowl must-haves, and Valentine's Day treats, Mother's Day celebration foods, and even 4th of July BBQ foods everyone loves.
Be sure to follow along on Facebook, Pinterest, and Instagram. Like and comment often so our posts keep showing up in your scroll.
We don't want you to miss the very best of eating gluten and dairy free.
Eat well and feel well,
Jill
Print Recipe
Coffee Blondies
Ingredients
Wet Batter Ingredients
12

tablespoon

dairy free butter

suggestion in post

1½

c

light brown sugar

packed

¾

teaspoon

kosher salt

2

tablespoon

strong coffee or 2 shots espresso

room temperature

1

large egg

1½

tablespoon

vanilla extract
Dry Ingredients
1½

c

gluten free all-purpose flour

spoon and level method, suggestion in post

1

teaspoon

xanthan gum

omit if your gf all-purpose blend contains this or guar gum

1½

teaspoon

baking powder

¾

c

semi-sweet chocolate chips

¾

c

optional-- pecan halves, chopped, and toasted
Instructions
Preheat the oven to 350°F. Spray nonstick spray over a 9x13-inch baking pan.

In a large saucepan over medium heat, combine the butter, brown sugar, and salt.

Once melted, remove from heat and stir in the coffee.

Allow the mixture to cool to room temperature.

Then add the egg and vanilla extract to the saucepan and whisk until combined; set aside.

In a medium bowl, whisk the dry ingredients together.

Add the dry ingredients, chocolate chips, and roasted pecans to the wet batter and stir until just combined.

Transfer the batter to the baking pan and spread evenly.

Bake for 20-22 minutes or until a toothpick inserted into the middle of the pan comes out clean.

Remove from the oven and let cool on a rack.

Once cooled, cut blondies into bars. Enjoy these bars as they are, or add a scoop of dairy free vanilla ice cream to the top of each blondie.
Keep scrolling below to sign up for our exclusive emails.