Oh Henry Bars are a classic no-bake recipe with crunchy rice cereal smothered in melted peanut butter with a semisweet topping spread across the to a mouthwat3ering dessert bar. After cutting the bars into squares serve and enjoy.
There is not doubt– children and adults enjoy these no fuss gluten free and dairy free treats loaded with peanut butter and semisweet chocolate chips.
I had my first experience with Oh Henry Bars 14 years ago when I worked in a hospital.
There usually isn't much to be said for hospital cafeteria food. But their Oh Henry bars were oh so out of this world. They should've been called "Oh Heavenly Bars." Staff at the hospital knew how good they were.
Oh Henry Bars would sell out! I'm telling you, if you wanted one, you had to be on it.
This was back in the day before I was gluten and dairy free. So fast forward 12 years, and I decided to recreate this classic recipe.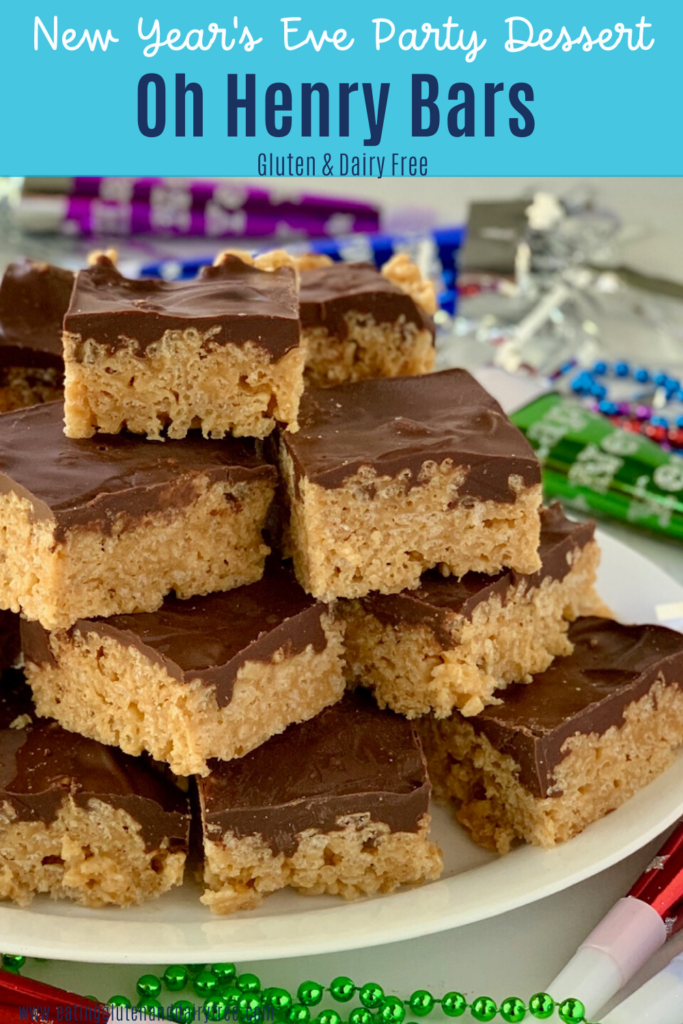 Gluten free and dairy free Oh Henry bars have the perfect peanut butter and chocolate balance.
The Karo syrup gives these bars that heavenly gooeyness factor.
The krispie cereal adds just a bit of crunch and, hello, you've now met a dessert you won't forget!
You can't eat just one of these bars. They are absolutely addicting.
Nope. You'll definitely want to sneak another without the kids noticing!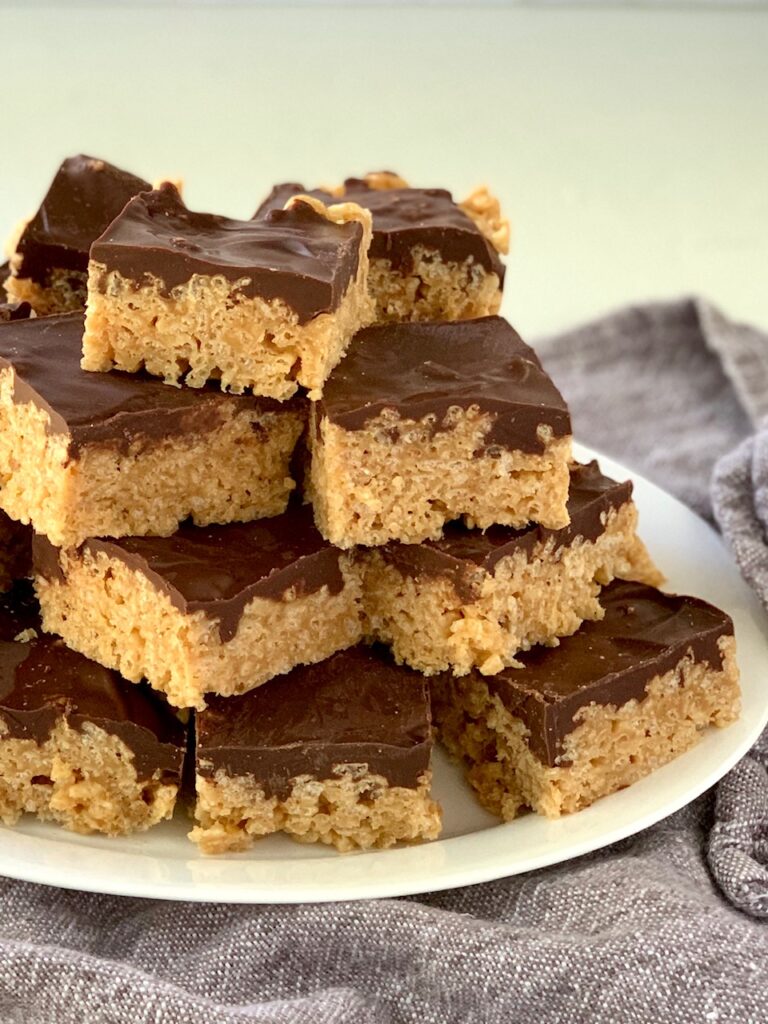 Oh Henry bars are perfect for any occasion.
They're your go-to dessert if you're hosting company or needing an easy dessert to take someplace. These bars perform great at your favorite outdoor BBQ or next work potluck!
This is a favorite for school classroom treats, too! You pack them in a container and off they go with your kiddos.
They don't need stirred, refrigerated, cooled, or tableware like bowls and spoons.
I like making these in the summer because they don't require the oven. They can be made a day or two ahead of time when kept in an airtight container. Such an easy dessert score. Woot woot!
They. Are. So. Easy.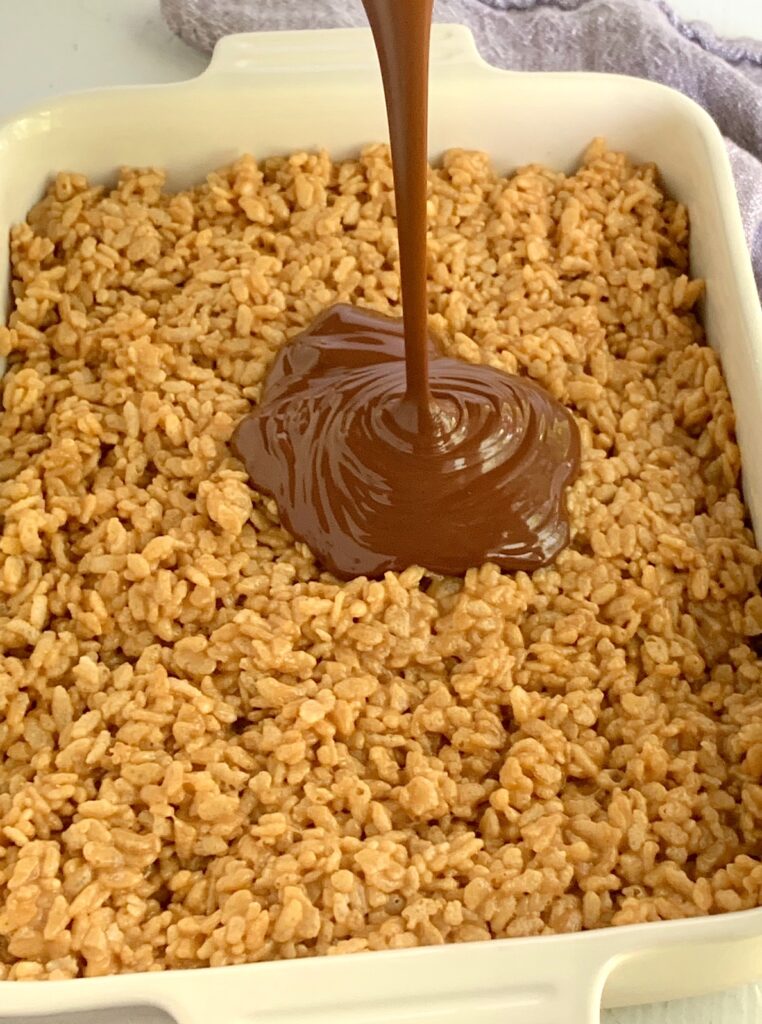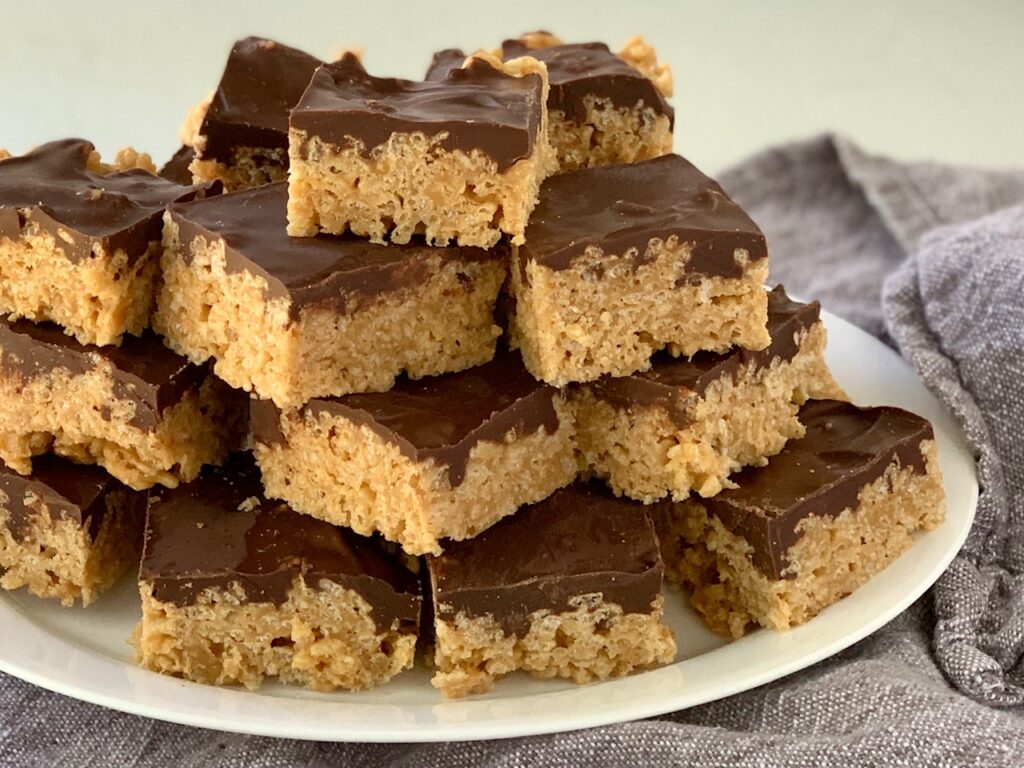 oh henry bar ingredients
granulated sugar
karo syrup
creamy peanut butter
gluten free rice krispie cereal–Nature's Path Crispy Rice cereal found here. I've heard favorable reviews about Walmart (called Crispie Rice), Aldi and Harris and Teeter's rice krispie cereal.
dairy free semisweet chocolate chips–Â Enjoy Life Foods semi-sweet chocolate chips are fabulous! They melt without a problem in this recipe. A tip for those of you new to gluten and dairy free eating… this is definitely an item to stock up on when they go on sale! $ave yourself some change! This recipe card calls for dairy free semi-sweet chocolate. You could also use a mixture of dark chocolate and semi-sweet!
optional– chopped nuts sprinkled across the chocolate layer is good too.
Either way these bars are a crowd favorite. Gluten free and dairy free is so good!
more gluten + dairy free desserts
chocolate cream pie— this super easy pie recipe will leave you wanting another slice.
homemade brownie bites— another quick dessert ready in minutes, with a delicious taste. These are a crowd favorite.
oreo milkshake— oh who doesn't love a good milkshake recipe? And it's 100% gluten and dairy free.
3 safe meal recipes to pin & enjoy this week
taco stuffed peppers— filled with seasoned lean ground beef, sweet corn, black beans and a zesty enchilada sauce topped with dairy free cheese and sour cream with fresh cilantro garnishes
Italian meatballs— these cozy, delicious meatballs are the perfect addition to your tender, buttery pasta noodles and sauce
cowboy hamburger soup— recipe warms you up from the inside out with its tender pieces of Yukon Gold potatoes, flavorful mixed veggies, and tongue waking fire-roasted tomatoes in a tasty ground beef broth mixtureÂ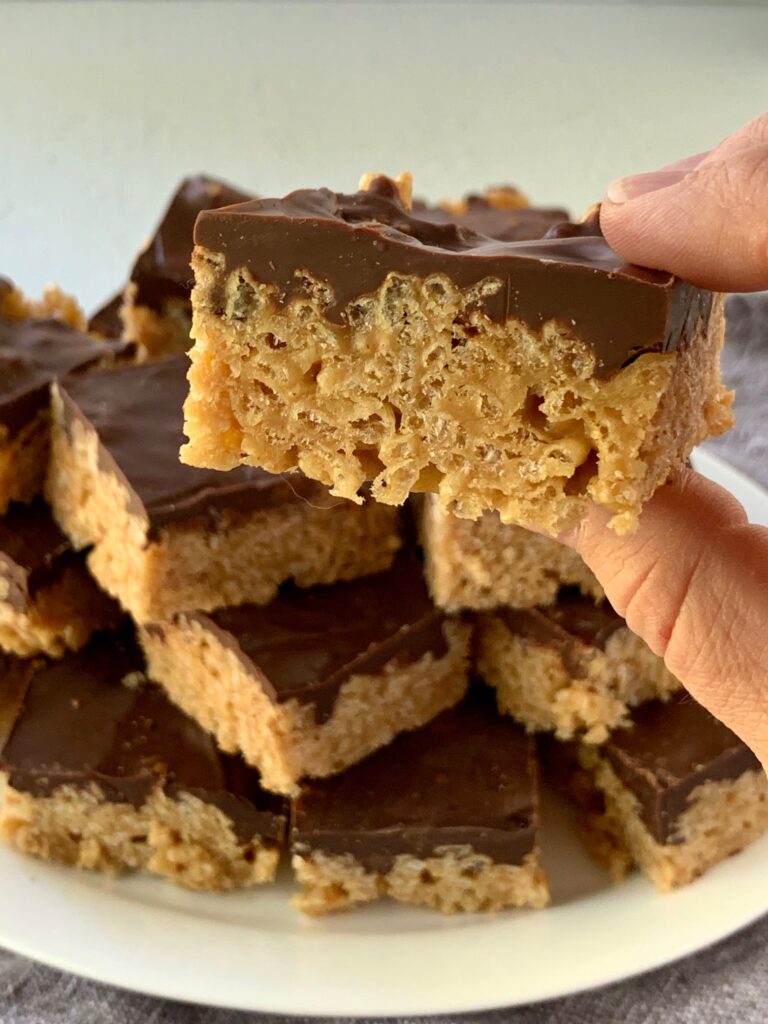 lastly
Enjoy making these gluten and dairy free Oh Henry Bar treats! They're sure to be a heavenly hit.
And you will find so many more gluten free and dairy free recipes for on our website. Go now and grab our eBook, The Classics, to instantly download 16 recipes that will become staples in your home.
We also have shared our Best TSA Approved Snacks to take through security during your next flight.
Let's connect on Facebook, Instagram, and Pinterest. We don't want you to miss the very best of Eating Gluten and Dairy Free.
Eat well and feel well,
Jill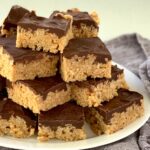 Print Recipe
Oh Henry Bars
Ingredients
3/4

cup

granulated sugar

1

cup

white Karo syrup

1

cup

creamy peanut butter

6

cups

gluten free rice krispie cereal

see brand suggestions in post

2

10 oz bags

Enjoy Life semi-sweet chocolate chips
Instructions
Heat sugar and Karo syrup to a boil in saucepan. Remove from heat and add peanut butter. Mix well.


Pour rice cereal into peanut butter mixture in the saucepan and stir well.

Then press peanut butter rice krispie mixture into a 9 x 13 pan.

Melt Enjoy Life chocolate chips in the microwave or over the stove top on low, stirring often. Spread on top of peanut butter rice krispie mixture. Cut into bars once chocolate is set.

Best the day of. Store in an airtight container up to 5 days.

Optional: Sprinkle chopped nuts on top of chocolate.

Keep scrolling to sign up for our exclusive emails below.
Enjoy making these gluten and dairy free treats! They're sure to be a heavenly hit.