This gluten and dairy free lasagna recipe is so simple to make. It has crazy good layers packed full of tender lasagna noodles, a hearty meat sauce, and an optional dairy ricotta mixture, all topped with fresh basil. Yum!
Lasagna is a common go-to meal in our house and the whole family loves a heaping portion of this comfort food to enjoy.
When you make this recipe, you don't even realize that it's allergen friendly and safe for everyone to enjoy around the dinner table.
We had a Facebook follower first ask for the recipe when we shared a photo of our family dinner.
But this was one of those easy meals that we just tossed together and didn't really think about the ingredient quantities or how to share the instructions.
So the next time we made it, we paid a bit more attention to the details and we are so excited to share them with you in this easy Gluten and Dairy Free Lasagna recipe!
The Italian sausage and ground beef combo is like a knockout punch. We've experimented with the amount of Italian sausage used. We find more than 1/4 pound is too spicy for our kids.
But if spice is your thing… try adding more Italian sausage and less beef.
easy gluten and dairy free ingredients
ground beef- ground turkey or ground pork can also be used. You can even make a combination using any of those suggestions
Italian sausage
onion
green bell pepper- while this is optional, it really helps add flavor and another element of texture
garlic
marinara sauce- 2 jars of your favorite marinara sauce. We like Rao's Marinara
brown sugar- this helps cut the acidity of the marinara sauce
gluten free lasagna pasta noodles- we use Tinkyada Brown Rice Pasta "Lasagne" gluten free noodles
parsley- we like fresh for this recipe and use it chopped up as garnish
optional: Violife cheese shreds, vegan ricotta cheese (you can use a homemade recipe, or our favorite is the creamy Kite Hill Ricotta found in the refrigerated section of the grocery store. This is, in our opinion, the superior dairy-free ricotta cheese option), you can also add fresh spinach
frequently asked questions
Can I freeze this for later
Unfortunately, unlike traditional lasagna, we haven't had much luck freezing gluten free lasagna noodles for later.
So, we don't recommend freezing this recipe, even though we wish we could just toss leftovers in a freezer-safe container for later – they just won't thaw and reheat right the next day when you want to eat leftover lasagna again.
However, if you're looking for a quick and easy lasagna one pot meal that you could whip up, try our Lasagna Skillet.
Get more info on that recipe by visiting the post or heading down to the more lasagna recipes area and checking it out there.
How to store this lasagna
Storing this easy gluten and dairy free lasagna is quite simple. Put the leftover dairy-free lasagna in an airtight container in the refrigerator. It should keep for 4-5 days in the fridge.
If you're just storing a small piece for a short period of time, you can store it in the refrigerator covered in plastic wrap. If storing for a long time, it should be stored in the container.
Can you make this ahead of time?
Yes! You can make this dairy free lasagna ahead of time. In fact, it's something we like to do that way it gives the meat time to meld the flavors together forming the perfect gluten-free lasagna flavor!
We wait to boil lasagna noodles and to assemble until we are ready to cook though. But making all of the sauce and meat ahead of time is a huge time saver.
easy gluten + dairy free lasagna recipe tips
Allow time to let the meat to brown slowly.
The longer the meat and pasta sauce sits the more flavorful it is. So when we can, we like to prepare the sauce a day or two ahead of time and refrigerate until it's time to assemble with the lasagna noodles.
The lasagna can also be prepared in the morning, refrigerated, and then baked right before dinner.
Serve with a side salad and warm gluten and dairy free French baguettes from Udi's or My Bread Bakery. Both of these brands are wonderful and highly recommended for the gluten and dairy free community.
If you have a good dairy free parmesan cheese choice or other dairy-free option for cheese, feel free to garnish with that as well.
Gluten free noodles can be testy, so always boil noodles in a large pot according to the package directions that you are using.
If you want more cheese flavor and don't love dairy-free cheese or vegan cheese that you enjoy, you can try to add some nutritional yeast to the layer of sauce.
more lasagna recipes
lasagna soup— a one-pot soup with the flavors of homemade lasagna without all the work. You'l find your favorite Italian ingredients perfectly simmered and ready to serve with fresh basil and topped with a dollop of dairy free ricotta to add creaminess to this soup. If you love lasagna, you'll love this recipe!
lasagna skillet— another one dish meal with tender lasagna noodles in a delicious meaty sauce topped with your favorite dairy free cheese or a dollop of ricotta- all made in a large skillet.
gluten + dairy free recipes you'll love
allergen friendly dessert recipes to enjoy after lasagna
Here are some easy and tasty dessert recipes to give a try
grab our cookbook
Want all the best gluten and dairy free recipes all in one convenient and easy place?!?!? Well, we have just the cookbook for you! The Classics, is the perfect ebook cookbook delivered straight to your inbox.
It's easy to print and you could even bind it at your local print shop for a quick and easy flip thru to keep in your kitchen.
Don't want anymore kitchen clutter?
Just leave this bad boy downloaded right on your desktop for easy access.
The Classics is packed with 16 of your favorite household recipes that are Gluten and Dairy Free!
No more endless scrolling on Google or Pinterest looking for an allergy safe recipe. Grab your copy today. Instantly sent to your email.
lastly
We hope you enjoy this classic gluten and dairy free lasagna recipe. With tender sheets of lasagna noodles, and a delicious meaty tomato sauce make this the perfect dish.
Feel free to add in more favorites or keep it simple.
Our family loves the sausage and ground beef combo in the recipe. How about you? Let me know in the comments.
Will you be camping soon or need kid snack ideas? Here's our food camping guide and 50+ kid snacks ideas.
We don't want you to miss out on the absolute best of Eating Gluten and Dairy Free.
Make sure to follow us on Instagram and Pinterest to keep up with all our new recipes. Tag us if you make the recipe on IG or share your thoughts by commenting on the pin on Pinterest. If you try this recipe, feel free to give it 5 🌟 below
Eat Well and Feel Well
Pin It For Later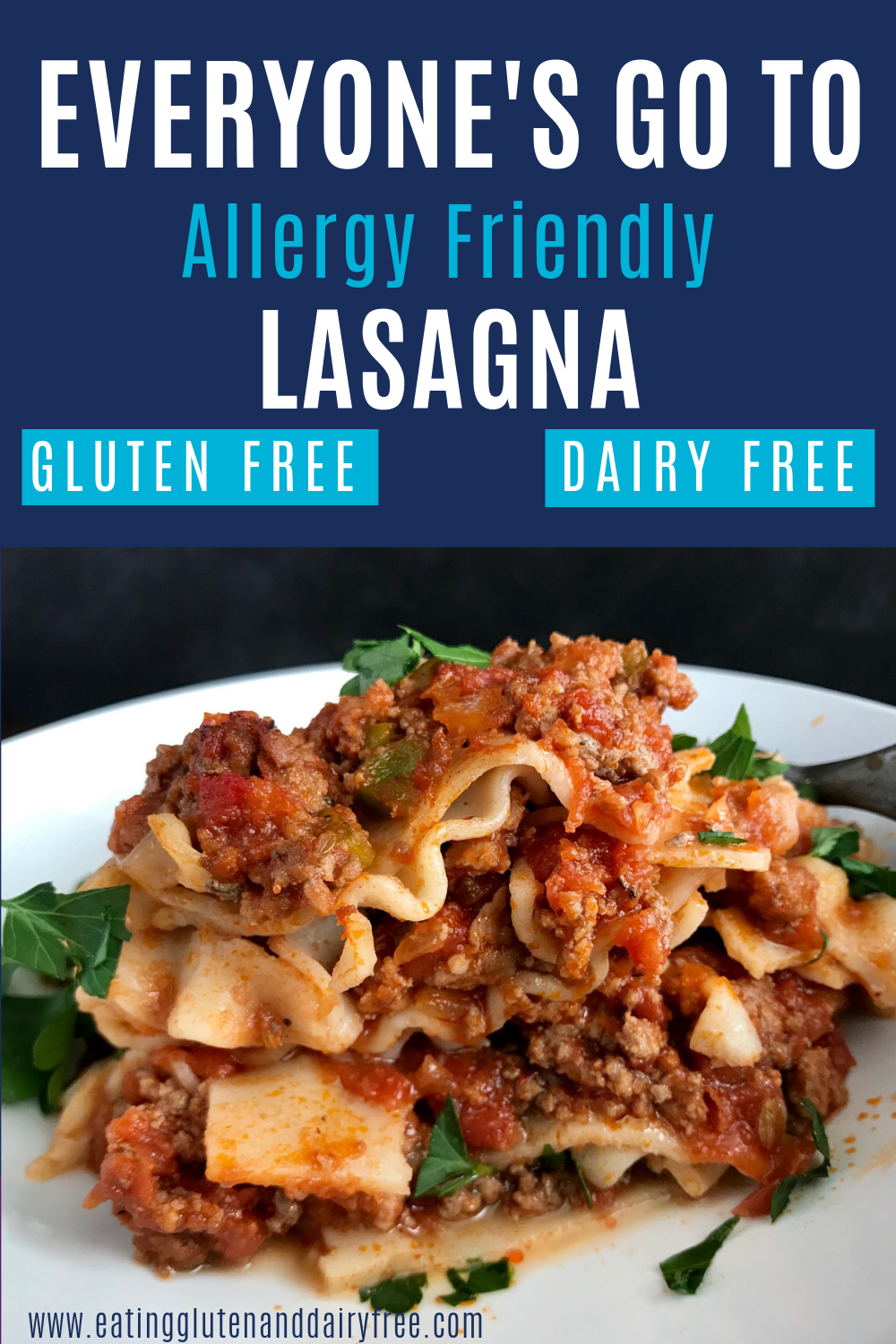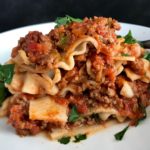 Print Recipe
Easy Gluten and Dairy Free Lasagna
This easy lasagna is full of flavor. You won't believe it's gluten and dairy free!

Ingredients
1/2

lb

ground beef

1/4

lb

Italian sausage

1/4

onion, diced

1/2

green bell pepper, diced

optional

1

clove

garlic, minced

1-2

24 oz jars

marinara sauce

1

tsp

brown sugar

9

noodles

gluten free lasagna pasta noodles

suggestion in post

2

snips

fresh parsley, chopped

to garnish

optional– Violife cheese shreds, Kite Hill Ricotta
Instructions
For the sauce, combine the ground beef and Italian sausage in a large sauce pan. Cook until meat is brown and drain.

Stir in onion, garlic, and green pepper. Add most of marinara sauce. Leave enough sauce to lightly coat the bottom of a 9 x 9-inch baking dish. Add brown sugar to sauce and let the sauce simmer, covered. The longer the sauce sits the more flavor it will have.

Meanwhile, cook gluten free noodles for 10-12 minutes. The noodles should be tender, but firm. Drain noodles; rinse with cold water.


Place a thin layer of marinara sauce on the bottom of a 9 x 9-inch baking dish. Then layer noodles and sauce. Top with marinara sauce. The lasagna noodles need to be cut down to fit the baking dish. Optional–add in Kite Hill Ricotta or Violife Cheese Shreds in-between layers.

Bake at 375° degrees for 30-35 minutes. Let it stand for 10 minutes before serving. Garnish with fresh parsley.
Notes
Optional– add in VioLife Cheese Shred's and Kite Hill Ricotta for an even creamier taste.