Get ready to enjoy a delicious one-pot breakfast recipe that is amazing. These Sweet Potato Breakfast Bowls are easy to make and use all the best, filling breakfast ingredients, like sweet potatoes, apples, onion, bell peppers, and everyone's favorite, BACON!
This is an easy breakfast recipe that is filled with veggies and some of your favorite breakfast meats. We love being able to chop everything up and then only have to dirty up one big pan on the stove.
Then toss everything into a bowl and you have a super simple breakfast bowl recipe!
Knowing that this is an allergy-safe, gluten and dairy free breakfast recipe it's hard not to want to cook it up all the time.
This Sweet Potato Breakfast Bowl Dish has become a staple for breakfast in our house, especially when we have busy weekends.
Whip this up in the morning with all fresh ingredients, enjoy it as a family, and off you go with a fully belly to get your errands done.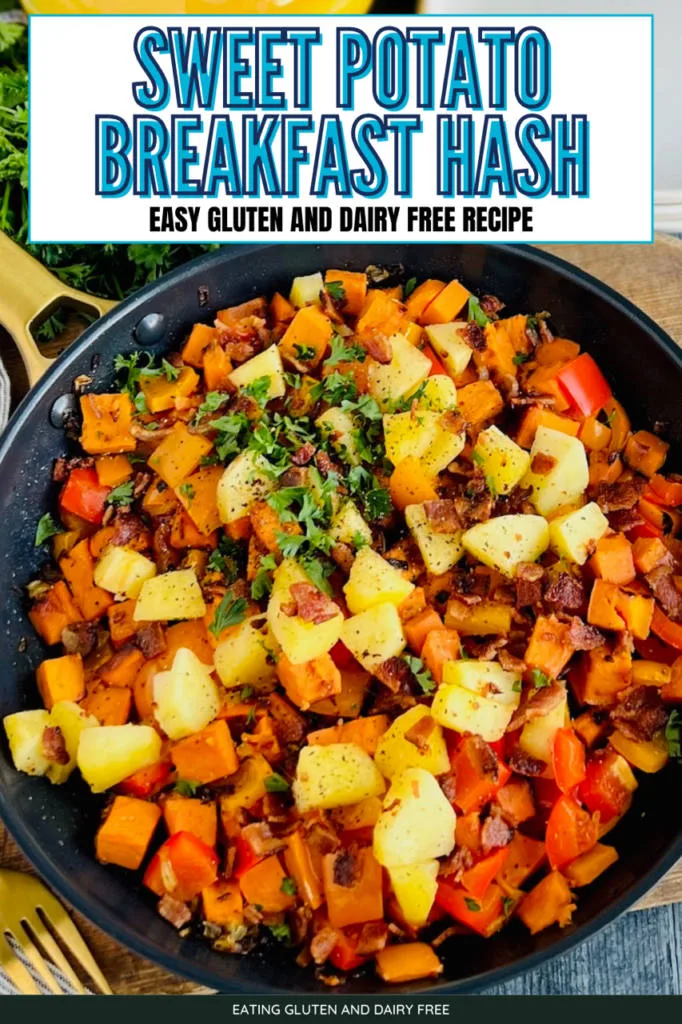 Ingredient notes and brands
Get all the info on these ingredients in the recipe card at the bottom of the post for this yummy sweet potato bowl. You'll see the instructions and full ingredient list there together. Here is where we share notes on each ingredients and brands if necessary.
sweet potatoes
b

acon

-- the quality of your bacon matters. We use Pederson's which we can find at our local Natural Grocers. Always check your bacon to ensure that it's allergen friendly as this is an item many brands like to sneak gluten into.
apple-- you can use whatever apple variety you have on hand, we prefer sweet apples
onion-- we prefer to use a white/yellow onion
garlic cloves
shallot
bell pepper-- use whatever color you have on hand, we like to use a yellow and green peppers, but orange and red work too
cooking oil-- we use grapeseed oil and enjoy its high heat cooking flexibility, coconut oil works too
salt and black pepper to taste- We like using fresh ground pepper and kosher salt!
kitchen essentials
sharp knife - this helps make chopping all the ingredients faster, more efficient and easier on you.
cutting board have one ready to go for all these ingredients that need prepped
spatula
How to Make Sweet Potato Breakfast Bowls
Cook bacon until crisp. Cube bacon and set aside.
Saute cubed apples in bacon fat. Set aside when slightly browned, but crunchy.
Add cooking oil, if needed, and cook garlic, shallots, onions, and sweet potatoes together until onions are translucent.
Add cubed peppers and cook until soft and slightly crispy.
Add bacon and apples to rewarm. Salt and pepper to taste.
Transfer your breakfast bowl to an actual small bowl or large bowl and enjoy!
Storage
Leftover sweet potato and apple breakfast bowls can be stored in an airtight container and kept in the fridge for up to 5-6 days.
You can reheat in the microwave or on the stovetop to bring back the crispness of all the ingredients.
For freezing options- check out the FAQ below.
frequently asked questions
Can you make this dish ahead of time?
This is a great meal to prep ahead of time. If you want to, you can dice the vegetables and keep in an air-tight container in the refrigerator overnight to help make this dish even easier for the morning.
What's the easiest way to prepare bacon
We have tried every way you can think of to prepare bacon including baking in our oven. Our family enjoys bacon best prepared on the griddle. It's always crispy and perfect.
This is the griddle we use for not only bacon, but also pancakes, French toast, and other recipes.
Can you double this recipe?
You sure can. Like we mentioned above, this recipe is great for meal prep and is easy to prep ahead of time.
Now, if you want to double this recipe, you can have some for now and some for later, again great for prepping multiple meals to use throughout the week or for serving to a large crowd.
You can easily double or even triple this recipe and it will turn out great each time. Just make sure that you have a pan large enough to cook altogether or batch cook it if needed.
Can you add other things to your breakfast sweet potato hash?
Absolutely! If you have some more favorite breakfast ingredients that you want to toss in that are gluten and dairy free, feel free to do so.
We suggest trying things like other colored bell peppers, sausage, eggs and spinach. Always check the ingredients in your sausage and other meats to ensure no hidden dairy or gluten are to be found.
Adding things is a great way to round out the meal, just be aware that this may change the cooking time needed.
Tips and Variations
Try to cup up your ingredients in similar sizes so they can all cook evenly together.
Sweet up your easy breakfast bowl by adding a drizzle of honey or maple syrup (love natural sweetness), a dollop of peanut butter or almond butter, or even a few of your favorite dairy free cacao nibs on top!
Make this dish go even further by adding more ingredients like black beans for more fiber.
Add some crunch to your sweet potato breakfast bowl recipe by adding some pumpkin seeds or chia seeds on top before serving your healthy breakfast bowls.
Add some more protein to the dish by making some scrambled fluffy eggs or adding some cooked sausage links or any of your other favorite foods, turning this into an even more yummy savory breakfast bowl!
See just how easy it is to take your favorite ingredients and create a savory sweet potato breakfast bowl!?! Sooo many tasty ways to customize this so it can become one of your favorite things to make during your morning routine.
More delicious recipes for breakfast
If you're in need of delicious breakfast recipes, we have you covered!
breakfast burritos- these are always a hit and another meal that is perfect for prepping ahead. Fill your burrito with all your favorite breakfast burrito ingredients and it's sure to be a hit
banana bread- this is a classic, make-ahead sweet bread that's perfect when you need breakfast on the go. Want another fun variation? Try our Chocolate Banana bread!
fruity pebble donuts- not just a kid favorite, adults go crazy for these donuts too. They're fun to make and who doesn't love some fruity pebbles and donuts
yeast-free cinnamon rolls- this is the ultimate weekend or holiday breakfast. So yummy, light, fluffy and packed with gooey cinnamon sugar inside
gingerbread pancakes- super easy to make warm and fluffy Gingerbread Pancakes that bring all the festive Christmas vibes.
lastly
We hope that this easy sweet potato breakfast one pot meal fills and warms your belly, but also brings you a sense of peace and ease of cooking and eating a dairy and gluten free lifestyle.
We know that it can feel complicated at times, but that's why we're here to bring you all the stress free breakfast, side dish, appetizers, dinner recipes, desserts and more recipes that you can try out.
We're happy to help you along this journey and excited to be bringing you more recipes you and your family will love.
To make cooking and baking even easier, we've put together some of our top recipes and a special one, just for you, in our new cookbook, The Classics: Safe Versions of Your Favorite Recipes.
It's directly delivered to your inbox and you'll have more breakfast, desserts and dinners at your fingertips in no time. Or, you can get the print copy from Amazon! Check out all the details for either option here.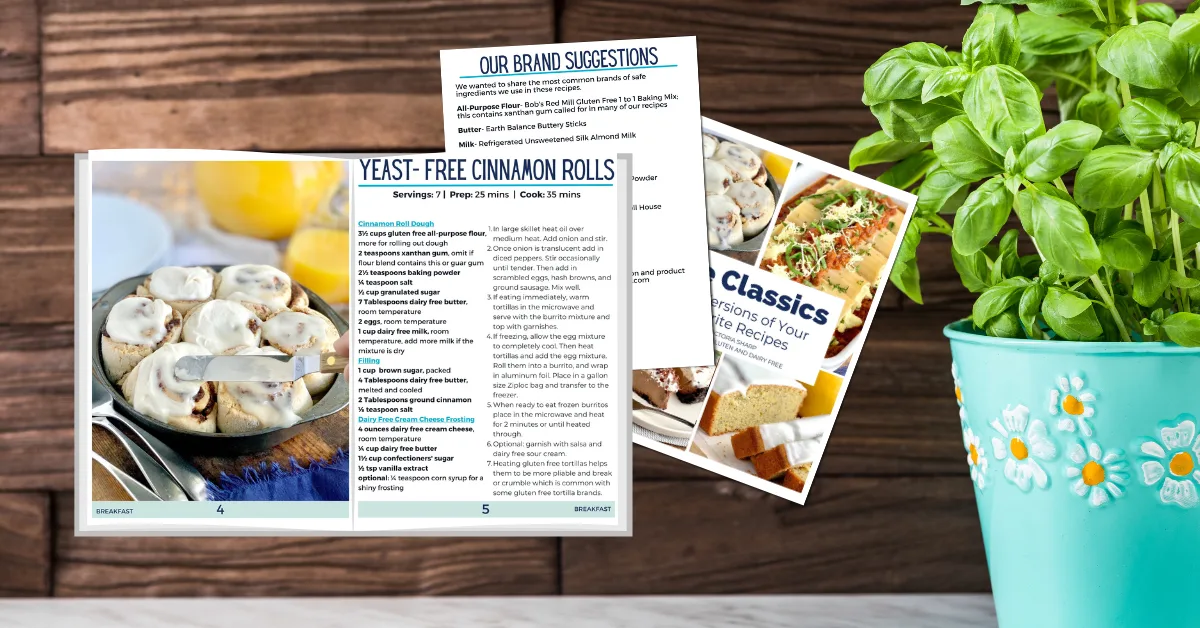 Print Recipe
Sweet Potato Breakfast Bowls
This breakfast hash is an easy stand-on-its-own dish or is well complemented with eggs and other savory breakfast flavors. This would be a lovely addition to any brunch or breakfast buffet!

Ingredients
6-8

pieces

bacon

1

large apple

washed, peeled, and cubed

3

garlic cloves

finely chopped

1

shallot

chopped

1

yellow onion

diced

2

sweet potatoes

peeled and cubed

1

bell pepper

washed and diced

salt and ground pepper taste

optional-- top with shredded dairy free cheese or eggs of your choice
Instructions
Cook bacon until crisp. Cube bacon and set aside.


Saute cubed apples in bacon fat. Set aside when slightly browned, but crunchy.


Add cooking oil, if needed, and cook garlic, shallots, onions, and sweet potatoes together until onions are translucent.

Add cubed peppers and cook until soft and slightly crispy.

Add bacon and apples to rewarm. Salt and pepper to taste.


Refrigerate leftovers in an airtight container.
Make sure to follow us on Instagram and Pinterest to keep up with all our new recipes. Tag us if you make the recipe on IG or share your thoughts by commenting on the pin on Pinterest. If you try this recipe, feel free to give it 5 🌟 below
Eat Well and Feel Well
Pin It For Later