Soft, gooey, and even crunchy layers of graham cracker cookie bars with melted marshmallows and semi-sweet chocolate chips combine for a mouthwatering dessert you will crave all the time.
These S'more Cookie Bars are an easy sweet treat the whole family can enjoy in minutes. Or share with friends at your next get together.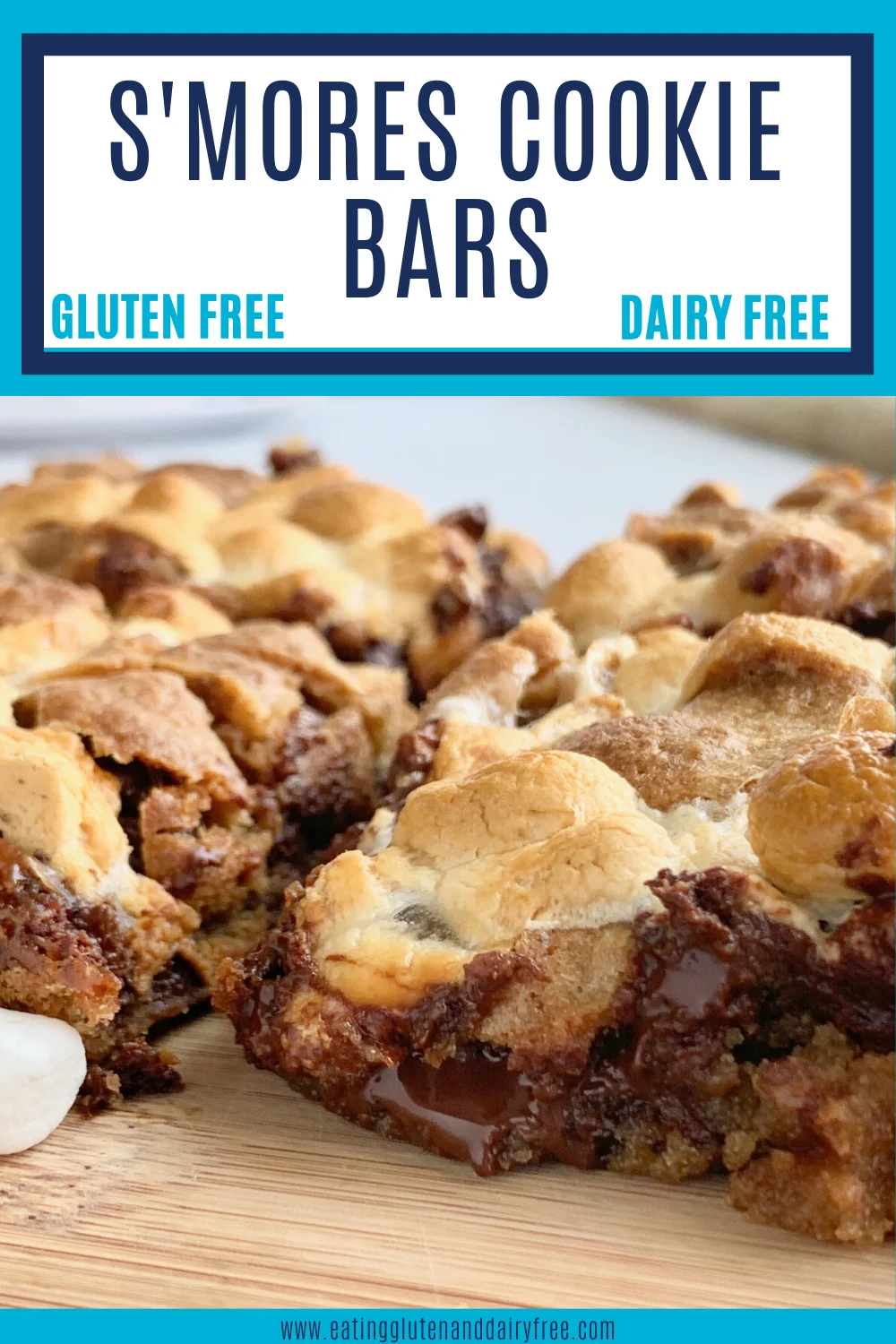 Soon enough snow will be covering the ground and I'll have to tell my s'mores campfire obsession goodbye until next spring. Unfortunately when you live in Montana that means you might be waiting until late June!
But honestly, that feels dreadful, y'all. So it was imperative I create a s'more to be enjoyed year round. And even if these s'more cookie bars aren't enjoyed over a crackling campfire, the nostalgia when eating them still gives the warm fuzzies of a campfire.
The graham cracker crust and extra layer of topping in these bars tastes like a campfire s'more. Not to mention the middle is loaded with melted chocolate and soft, gooey marshmallows. Y'all catching what I'm laying down?! These delicious s'more cookie bars taste like the real thing!
And you can't go wrong when serving these s'more cookie bars. They are everything you love about s'mores, but in a bar.
check out the four layers of awesomeness
first the crunchy graham cracker and cookie dough form a delicious bottom crust
second load these up with handfuls of dairy free chocolate chunks
then overload them with mini marshmallows that melt perfectly
next drop another layer of the graham cracker and cookie dough on top, turning these into layered s'more cookie bars
after baking add an optional layer of melted chocolate drizzle over the entire pan.
recommended products for s'more cookie bars would be:
gluten free all purpose flour-- Bob's Red Mill Gluten Free 1 to 1 Baking Flour
gluten free graham crackers-- we recommend the Schar Honeygrams or Kinnikinnick Graham Style Crumbs
dairy free butter-- we love using the Earth Balance Buttery Sticks for all our baking
semi-sweet dairy free chocolate--Enjoy Life Chocolate Mega Chunks, Nowhey Milkless Chocolate Bar, or dairy free chocolate chips all melt perfectly in this recipe
marshmallows-- Dandies is a vegan and gluten free brand many use. For Kraft marshmallows consider some of their product have a large chance of containing natural flavorings sourced from suppliers who use gluten and could easily come into contact with gluten.
optional-- melt dairy free semi-sweet chocolate and drizzle across the top of the baked S'more Cookie Bars. Allow to set then cut.
icing spatula-- makes spreading the bottom layer a piece of cake. I bought this set of three different spatula lengths awhile ago. It was the best present to myself. I use at least one of these spatulas weekly. Check them out here.
Wilton Mini Squeeze Bottles-- from Amazon make drizzling the chocolate effortless. I use these on a weekly basis too.
And these S'mores Cookie Bars taste like you're eating them over a campfire... they're chewy, gooey, and addictive. I'm happy ecstatic to enjoy s'mores year round now! Woot Woot. #dreadfree #happyallthetime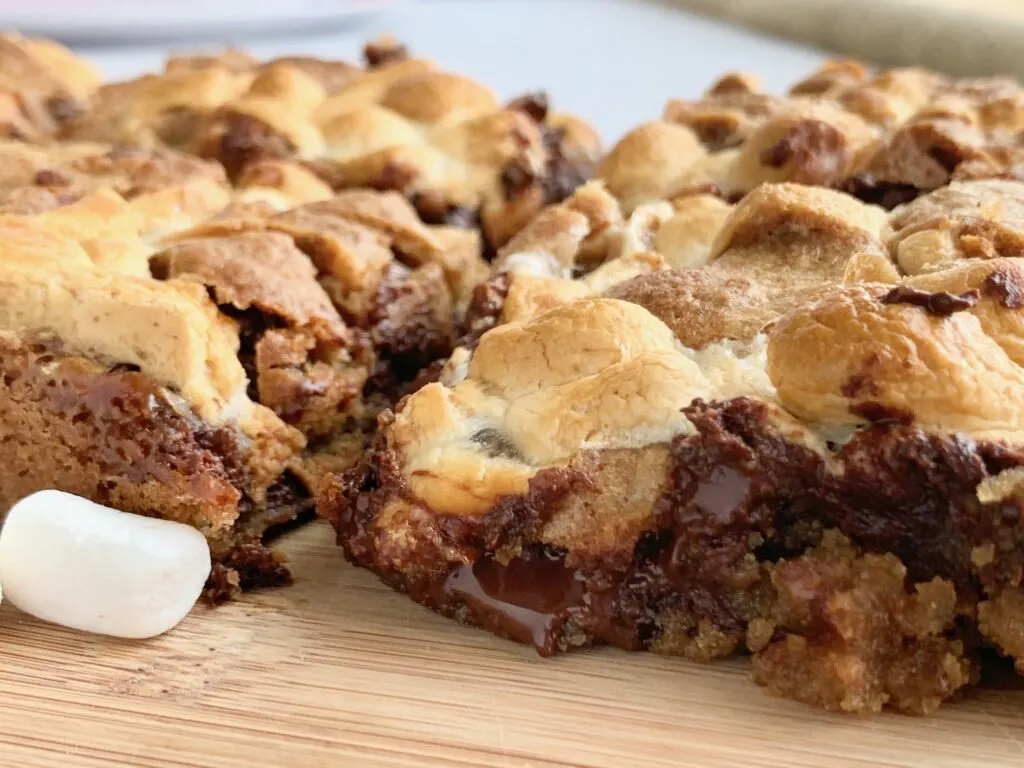 more delicious gluten and dairy free dessert recipes to pin:
Lastly, pin and print this recipe now. And while you're pinning this recipe, follow me on Pinterest.
You won't believe all the delicious gluten and dairy free recipes I've been pinning for you.
Follow along on Facebook, Pinterest, and Instagram. Like and comment often so you keep seeing our posts in your feed.
We don't want you to miss the best of eating gluten and dairy free.
Eat well and feel well,
Jill
Print Recipe
S'more Cookie Bars
Ingredients
2

c

gluten free all purpose flour

suggestions are in the post

1½

c

crushed gluten free graham crackers

1

teaspoon

xanthan gum- omit if your all purpose GF flour has this

¼

teaspoon

salt

1

c

dairy free butter, room temperature

1½

c

brown sugar

2

large

eggs

2

c

semi-sweet dairy free chocolate chip chunks

2 ½

c

mini marshmallows

½

c

optional: semi-sweet dairy free chocolate chips melted for drizzle over the top
Instructions
Spray a 9 x 13 inch pan with non stick spray. Set aside.

In a large bowl combine the dry crust ingredients: flour, crushed graham crackers, xanthan gum, and salt. Mix and set aside.

In another large bowl blend the wet crust ingredients: butter and sugar for 2 minutes. Add in eggs and mix until combined. Then slowly add in the dry crust ingredients and mix again.

Reserve 1 cup of this mixture and set aside.

Spread the remaining crust ingredients evenly into the 9 x 13 inch pan.

Sprinkle chocolate chunks over crust followed by the marshmallows.

By hand scatter clumps of remaining crust over the top. Keep in mind this won't cover the entire pan.

Bake for 30 minutes. Allow to set for 20 minutes then cut and serve. These also taste good after they've completely cooled.

Optional: melt dairy free chocolate in the microwave or over the stove top and drizzle over the top.

These bars store well in an airtight container for up to a few days. However they are best the day of.