This post may contain affiliate links. Read the full disclosure here

I had never tried a French dip sandwich until our recent Norwegian Cruise. Wow, I'd definitely been missing out!
Really, my whole family had been.
When we came back from our cruise I was determined to create this mouthwatering sandwich in our home. And of course it would be need to be gluten and dairy free! It actually wasn't hard once I thought about it for awhile and experimented in the kitchen with a couple different recipes and breads.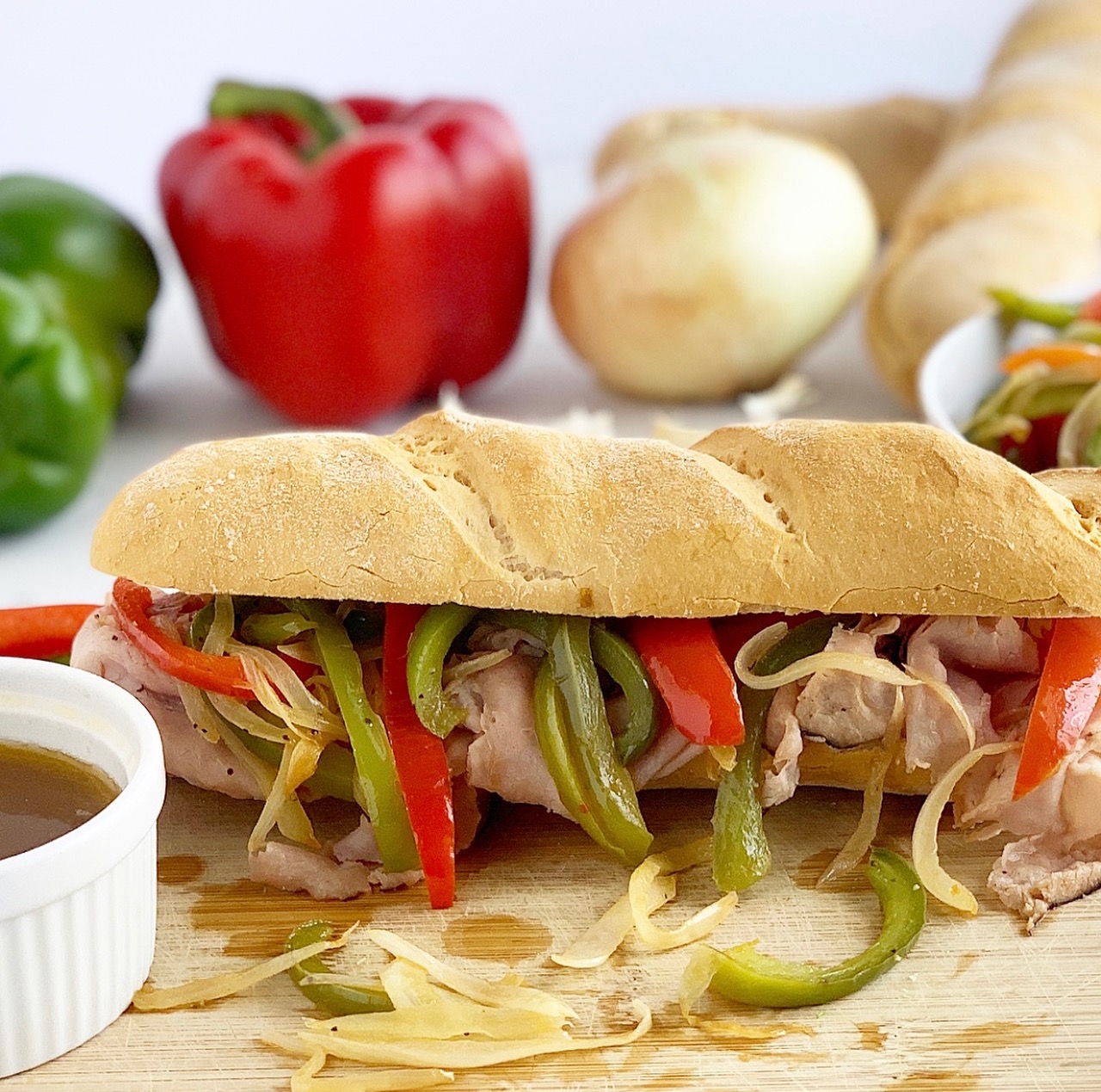 In the end I came up with a delectable gluten and dairy free French dip sandwich.
And the exceptional flavor of the Au Jus is mouthwatering!
Don't miss out on this tantalizing meal any longer! This deliciously drippy gluten and dairy free french dip is a knock out meal.
The thinly sliced deli roast beef or black forest ham taste mouthwatering. Add on top of that sauteed onions and bell peppers. Place all that between a toasted French baguette and your meal is going to be unforgettable.
I prefer using Follow Your Heart smoked Gouda slices for dairy free alternatives. This product is not only gluten and dairy free. Would you believe it is also soy free, vegan, Non-GMO, and casein free too.
 Undoubtedly, I've found people either love dairy free cheese or hate it. My kids prefer no dairy free cheese alternatives on their french dip sandwiches. On the other hand I enjoy the flavor.
You'll like how easy to follow this recipe is.
As a matter of fact let's talk about the recipe. Grab your favorite cup of joe while we discus the finest points of this delicious French dip sandwich recipe.
First, rinse and dry the bell peppers then thinly sliced. Also, thinly slice the
onion. Next, melt the oil or dairy alternative butter in a large skillet over medium heat. After the skillet heats add onions, minced garlic, bell peppers, salt and black pepper. Saute several minutes until bell peppers are softened. Remove from the skillet and set aside.
Next, add the arrowroot powder to the heated skillet. Then add in 1-2 tablespoons of beef broth. Stir arrowroot powder and broth to form a paste.
To this paste add the gluten free Worcestershire sauce and remaining broth. I discussed gluten and dairy free Worcestershire sauce in a previous post here.
After the juice comes to a boil, reduce heat. Allow this Au Jus to simmer for 15 minutes. Then add in the sliced deli ham or roast beef.
In the meantime prepare your bread.
Your gluten and dairy free bread choices are endless.
Since you will be dipping your bread in the Au Jus you need something that won't fall apart. Toasted sliced bread, buns, and even Udi's French Baguettes work. Udi's French Dinner rolls work wonderfully too.
Place Au Jus in ramekin dishes. One doesn't need to purchase these cute little dishes just for this meal. This gluten and dairy free french dip sandwich will taste just as delicious with them in a soup bowl. However they are so fun to use and I use mine often for showcasing fruit and veggie dips too!
Lastly top the bottom of the baguette with meat, onion, bell peppers, and cheese if desired. If using cheese place sandwich back into the oven to melt cheese on low heat for 5-8 minutes.
Serve with steamed broccoli or maybe your favorite chips!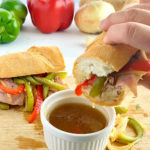 Print Recipe
Delicious French Dip Sandwich
Ingredients
2

tbsp

oil

1

onion, thinly sliced

2-3

bell peppers, variety of red & green, sliced thin

1

clove

garlic, minced

1/2

tsp

black pepper

1/2

tsp

salt

1 1/2

tbsp

arrowroot powder

2

tbsp

gluten free Worcestershire sauce

32

oz box

beef broth, divided

1

lb

deli roast beef or ham, sliced thin

gluten free rolls, bread, baguettes

dairy free cheese slices, Follow Your Heart Gouda cheese works
Instructions
Melt oil in large skillet over medium heat.


Once heated add sliced onions, bell peppers, salt, black pepper, and garlic to skillet. Saute until tender. Remove from skillet and set aside.


Add arrowroot powder to skillet and 2 tbsp of beef broth. Stir to make a paste.


Add gluten free Worcestershire sauce and remaining beef broth to skillet and bring to a boil.


Reduce heat and simmer for 15 minutes.


Toast bread in oven or toaster. If using rolls or baguette split with a knife. Preheat oven for cheese if using. For Udi's French Rolls or French Baguettes wrap each piece in aluminum foil and place on a baking tray in the oven.


Add sliced roast beef or ham to skillet and warm for 5 minutes.


Place sliced roast beef/ham mixture on bottom of bread. Top with onions and bell peppers. Cover with cheese and melt in oven for 5-8 minutes.


Place top bread slice on sandwich and serve with Au Jus in ramekins or small dipping bowl.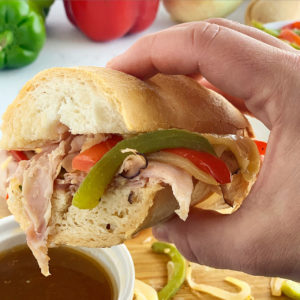 If you enjoyed reading my delicious French dip sandwich recipe then you should like my Facebook page and follow me on Instagram. I post on Instagram almost daily gluten and dairy free meal and snack ideas. You will also receive alerts about new products and company's catering to our dietary needs.
A proper shout goes to Cincyshopper for posting a similar recipe. Her recipe inspired this delicious gluten and dairy free sandwich option.
I posted an irresistible gluten and dairy free Brownie Trifle recipe on the website a couple months ago. Man oh man…. the flavors in this trifle are mind blowing! You'd never guess it's gluten and dairy free! Each bite tastes of ooey gooey brownie, creamy cocowhip topping, and fresh fruit. You've got to check it out! Yaaaauuumm.
Thank you for checking out my blog. I hope you'll make yourself at home, grab a second cup of joe and browse other recipes and food travel guides.
Eat well and feel well,
Jill