Our family can't get enough of these easy enchiladas for dinner. The Mexican flavors in this mealtime dish are spot on! Made using all gluten and dairy free ingredients and without too much effort, this is the perfect weeknight meal.
This shredded chicken is moist and tastes of garlic, cumin, and chili powder. It's mouthwatering! Sauteed bell peppers and onion add flavor and filling to this classic dish. My Spanish rice recipe elevates this enchilada meal to restaurant worthy! And the enchilada sauce packs all the heat this dish needs.
And if you love chips and dip with your easy Enchiladas, then you must try this 2 ingredient guacamole dip!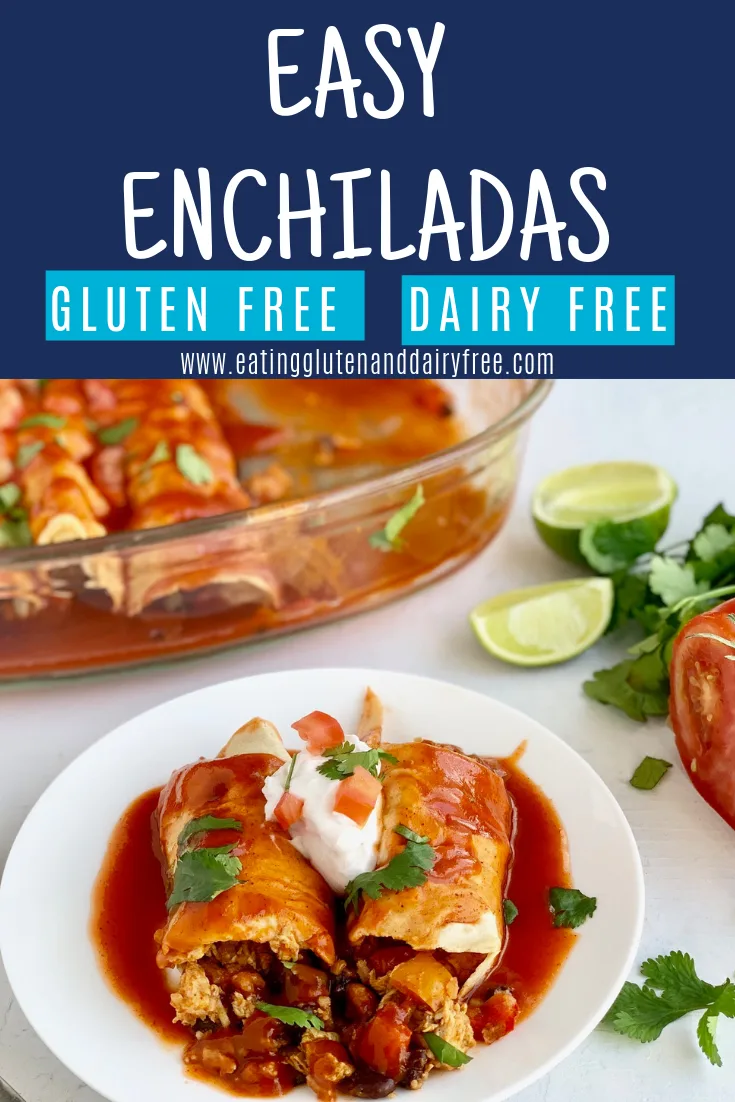 There are countless extras you can add to flavor this dish, too! I stuff our enchiladas full and add several toppings.
Pick your fillings and toppings:
corn
bell peppers
onion
refried beans (this will add extra creaminess to the dish)
shredded turkey or even shredded beef
black beans
jalapenos, if you're into extreme heat
dairy free sour cream (Wayfare dairy free sour cream is a great product)
sliced avocado
bacon...! (yes, it's an enchilada thing)
dairy free cheese
chunky salsa
fresh cilantro
diced tomato
green chiles
sliced black olives
copycat Chipotle rice instead of Spanish rice
I've have great results using Udi's gluten free tortillas and Mission Food tortilla wraps found at Walmart in this dish. They are easy to wrap and don't disintegrate from the salsa juice or enchilada sauce. Can you believe these tortillas are nut and soy free, too?!
Lastly the kicker of this recipe. It's the authentic Spanish flavor of the enchilada sauce that seals the deal! I've been using Hatch Organic Red Enchilada Sauce for years! They are certified gluten free and Non-GMO. This particular sauce is vegan and in a non-BPA liner. #happydance
Most importantly, this gluten and dairy free enchilada recipe comes together easily.
The hardest part of this recipe is deciding which fillings and toppings to use.
Seriously!
How to make these easy enchiladas:
To make this dish first prepare your protein. I typically use shredded chicken, but many others use shredded beef and even turkey. As the meat prepares, saute onions and bell peppers on the stove top. If using Spanish rice prepare that, too. Drain the black beans and rinse, setting aside.
Then add all your fillings to the stove top pan. This includes the shredded chicken or other meat, corn, black beans, and Spanish rice. Also add any other delicious fillings you've decided on. Sprinkle in seasonings and mix well. I always use homemade "Mexican seasoning." Many of the prepackaged packets from the grocery store contain gluten.
Place Spanish fillings in each tortilla and tightly wrap. Place tortillas seam down in your 9 x 13 inch baking dish.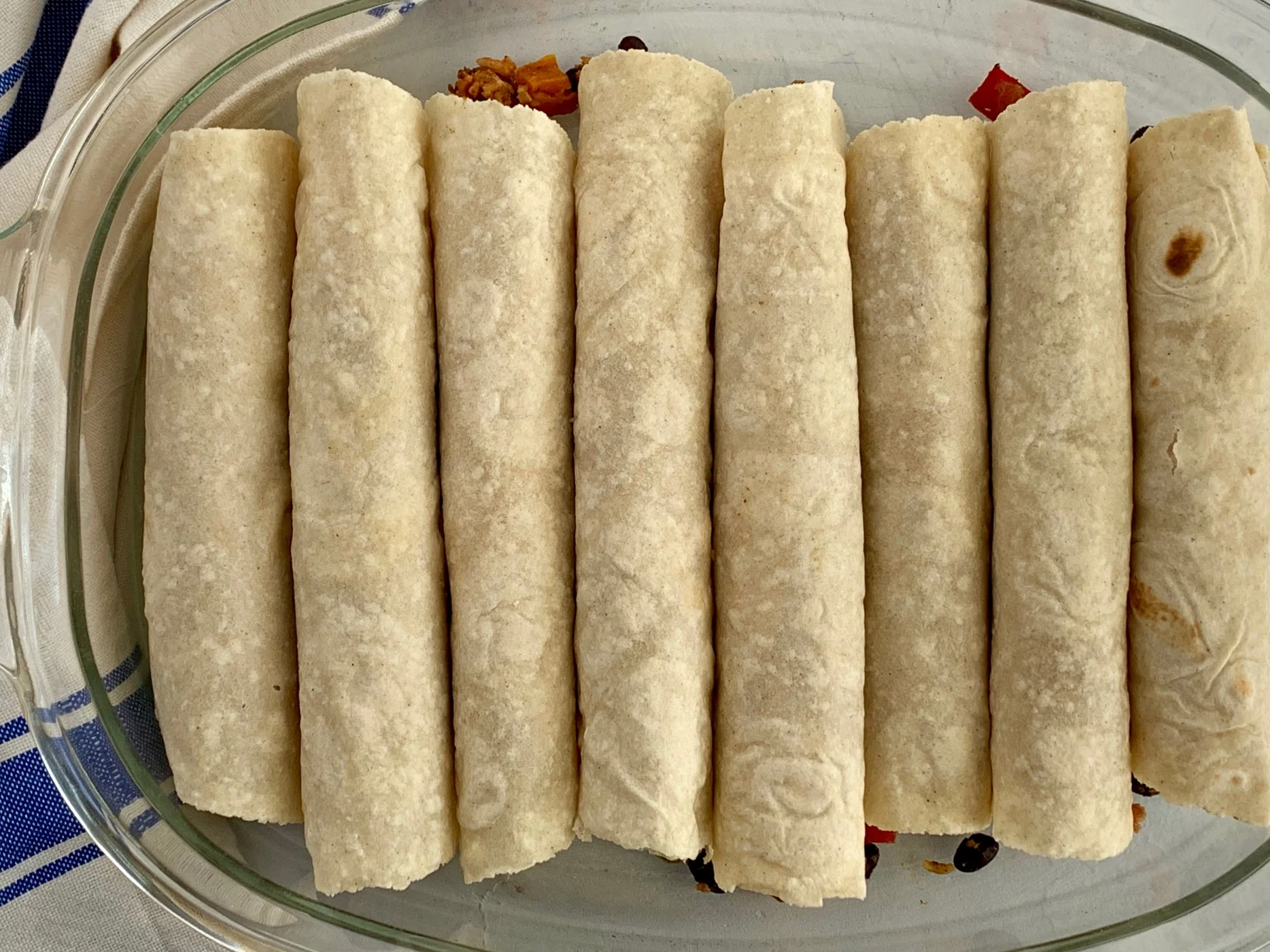 After tortillas are placed in the pan, pour enchilada sauce over tortillas. My kids aren't into spice yet, so I go light over most of the dish. Then I drench a couple enchiladas for me ♥. Place your dish in the preheated oven.
Side note and tip... I've made this dish plenty of times in the morning. After you drizzle the enchilada sauce place the dish in the refrigerator. Then pop it in the preheated oven with you're ready later in the day. The tortillas taste just as delicious and aren't soggy.
Did you know the fun begins after this dish has been baked?! It's a toppings party, y'all! One of my favorite things about enchiladas is the variety of toppings.
Place your toppings on and serve!
Be sure to sign up for our exclusive emails and follow along on Facebook, Pinterest, and Instagram. We don't' want you to miss the very best of eating gluten and dairy free.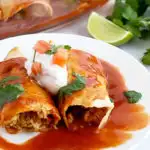 Print Recipe
Easy Enchiladas
Ingredients
2

tablespoon

oil

½

medium onion, diced

2

chicken breast, skinless, baked and shredded

shredded beef or turkey works too

2

bell peppers, diced

different colors are appealing

½

can

black beans, drained and rinsed

1

cup

corn, canned or thawed

2

cups

Spanish rice, if using my recipe or 1 boxed brand.

2

teaspoon

ground cumin

3

tablespoon

chili powder

salt and pepper to taste

1

teaspoon

garlic powder

15

oz can

Hatch Oragnic Red Enchilada Sauce

1

bag of 8

gluten free tortillas, Udi's works great

optional fillings: green chiles, jalapenos, refried beans, salsa, bacon

optional toppings: dairy free sour cream, sliced avocado, dairy free cheese, salsa, chopped fresh cilantro, diced tomatoes, chopped green onions, and black olives
Instructions
Bake chicken and shred using two forks; set aside. Prepare Spanish rice in saucepan. Heat oil in large skillet over medium heat on stove top. Once heated through add diced onion to skillet.


Preheat oven to 350 degrees F.


Once onion is translucent add in diced bell peppers. Stir. Let soften.


Rinse and drain black beans; set aside.


Once bell peppers have softened add in shredded chicken, black beans, corn. Add in all spices and stir well.


Place heaping spoonfuls of filling down the center of tortillas. Then tightly roll tortilla and place seam down in 13 x 9 inch baking dish.


After baking dish is full, top with enchilada sauce.


Bake uncovered for 30 minutes.


Remove from heat and let stand for 5-10 minutes prior to serving. Place your favorite toppings of choice on.


Lastly, sometimes extra toppings are left over. When this happens save them for an upcoming taco night or heat over tortilla chips for a quick kid lunch.

This gluten and dairy free enchilada dish is a classic. I hope it becomes a family favorite in your home, too.
If you're searching for an amazing breakfast recipe, read this. Check out my gluten and dairy free oreo donut recipe. The recipe is easy to follow and these donuts are sure to be a family hit!
What I like best about this recipe is the amazing oreo flavor and crunch in these donuts. As an added bonus most of the ingredients are common and already in your pantry. ♥
Well, now it's time to go get your enchilada on! Pin this recipe and grab your gluten free tortillas!
Eat well and feel well,
Jill