These gluten and dairy free double chocolate muffins will have you looking forward to your next bite! They are moist, filling, and so chocolaty.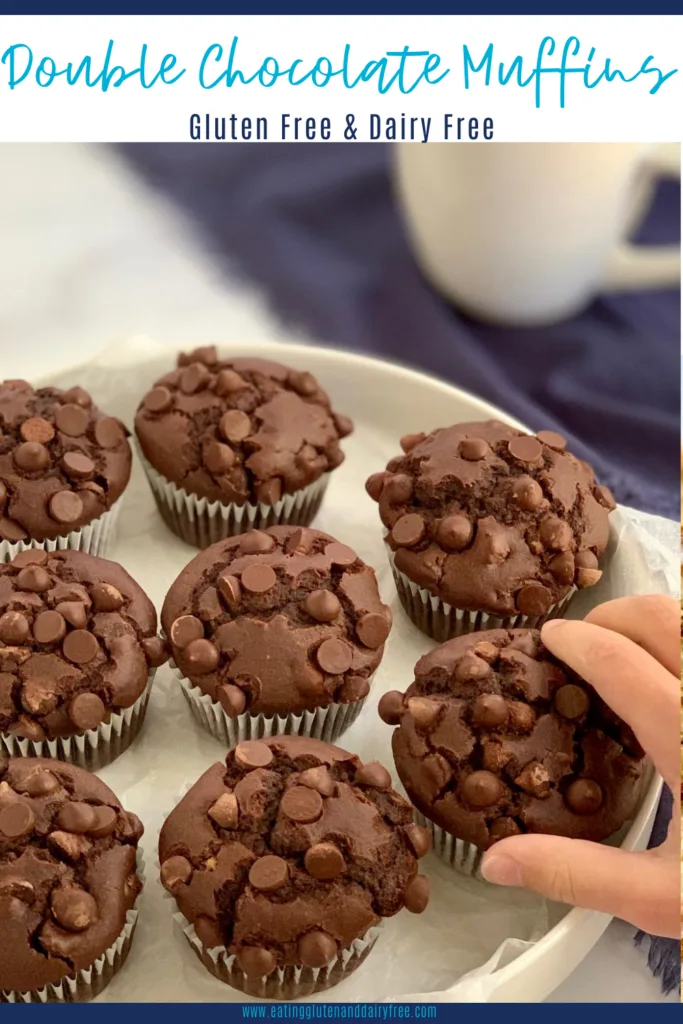 And do you sometimes find it nerve- racking to make gluten and dairy free substitutions in a new recipe? Please tell me I'm not the only one who experiences these feelings!
Sometimes I'm too afraid to try a new recipe if it requires questionable food substitutions. First, I don't want to waste my time. It's time consuming to try new recipes and have them fail. Second, gluten and dairy free alternatives are expensive.
You already know this.
I wonder two questions when I read through a recipe listing gluten and dairy as ingredients...
How involved is the recipe? If it is a huge flop, how much time will I have invested wasted?
And how much money will I have into this recipe if it fails?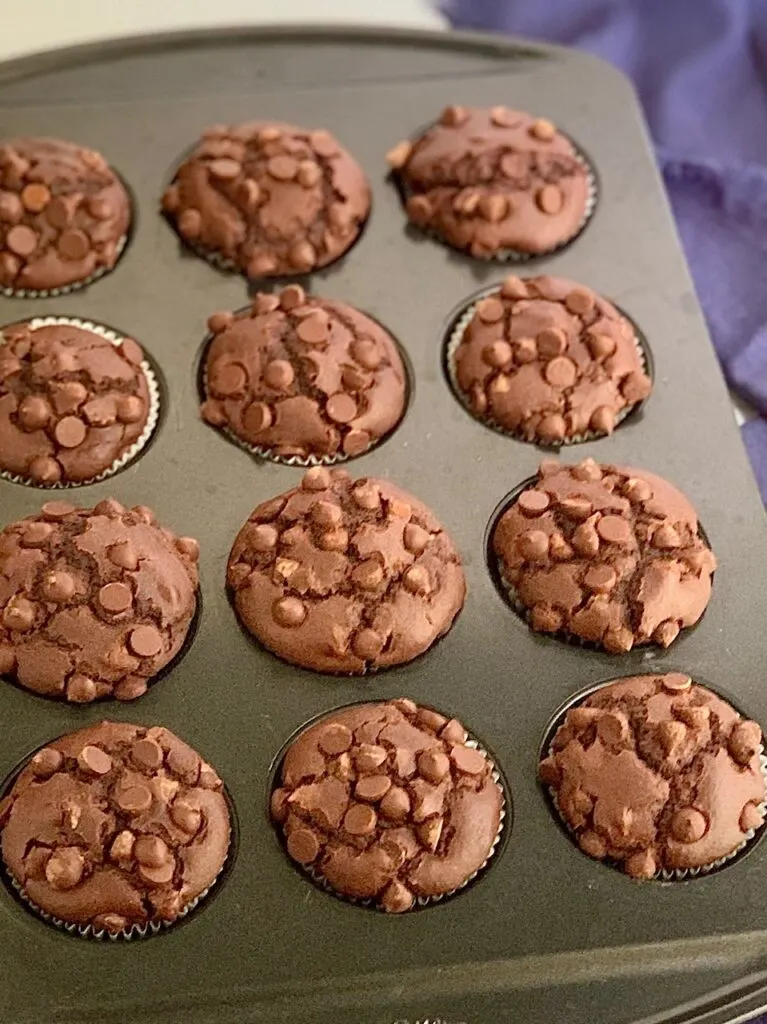 Well, this double chocolate muffin recipe pushed my comfort zone. I was not only substituting the flour and adding xanthan gum. I was also using using a dairy free sour cream.
I felt my odds of this recipe turning out with substitutes was 50/50.
Typically those aren't the odds I cook or bake with. I'm more of a 70/30 kind of girl. So when I decided to take this gluten and dairy double chocolate muffin head on...
I felt like a food daredevil... I was living on the edge, y'all. 50/50 was risky!
But guess what?!
They turned out more amazing than I had hoped.
Even with tweaking this recipe, they were ridiculously moist and rich in flavor.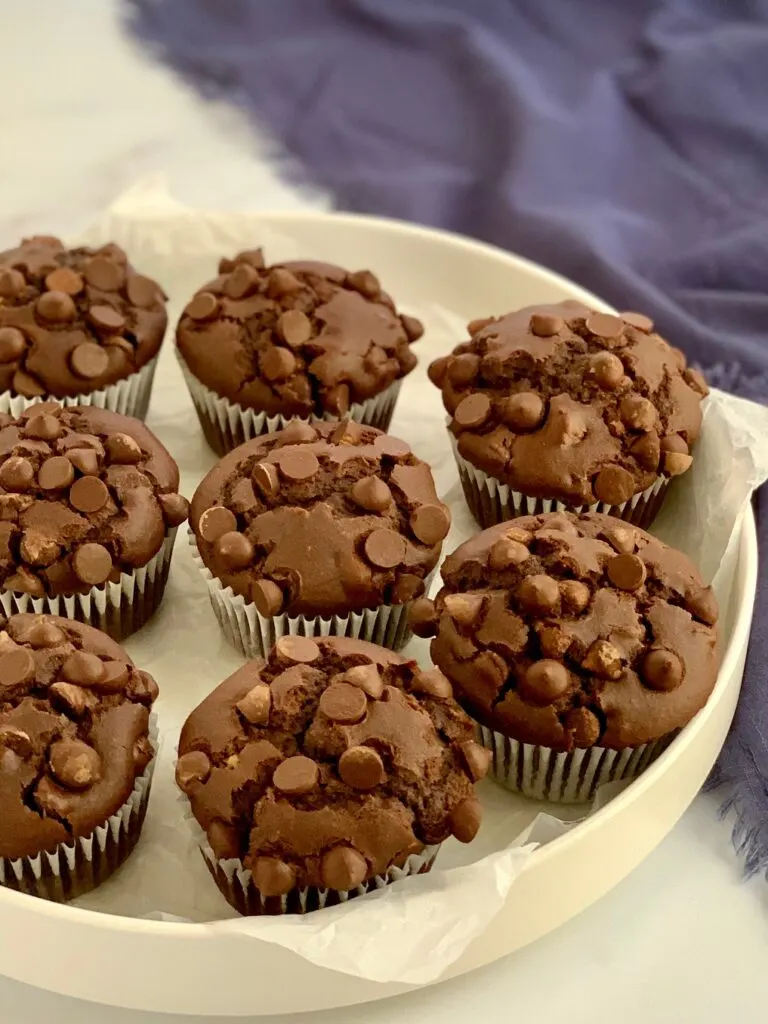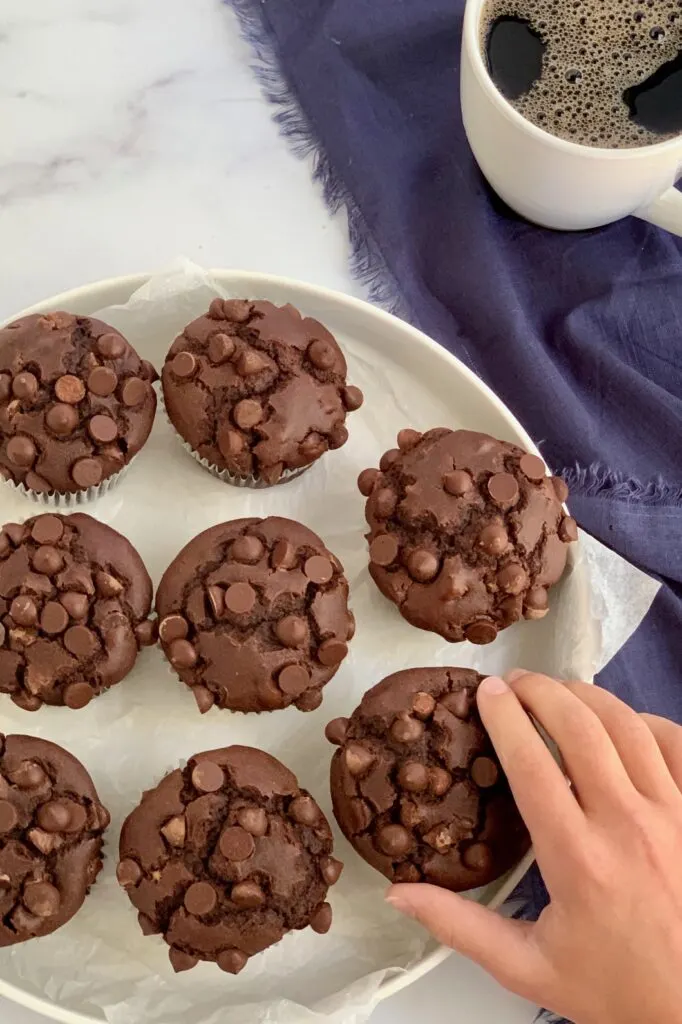 In the end, I'm so glad I took the baking leap on this one. The odds weren't in its favor, but it turned out beautifully.
There are a couple of tips for this recipe include adding xanthan gum. You'll want to add a teaspoon to this recipe if your gluten free flour doesn't have it in the ingredients. By the way I used Mama's Almond Flour Blend in this recipe. I also used dairy free sour cream. I've only tried WayFare sour cream with these chocolate muffins. Lastly, I used Enjoy Life mega chunk and mini morsels. I have always had good baking experiences with Enjoy Life. I personally like to purchase the 5 pound bag here. It seems like a hefty baking investment, and you're right. It is! But as often as I'm reaching for the mini morsels this bag saves me money over the long run. And they are soy and nut free!
These gluten and dairy free double chocolate muffins are lit, y'all. My kids and I never get enough of them. Because they're so rich and moist, I limit myself to baking one batch at a time!
If you like to live on the edge, treat yourself to these for breakfast. Otherwise they make the perfect after school or bedtime snack. I like to savor mine for when the kids are in bed. Ssshhh don't tell.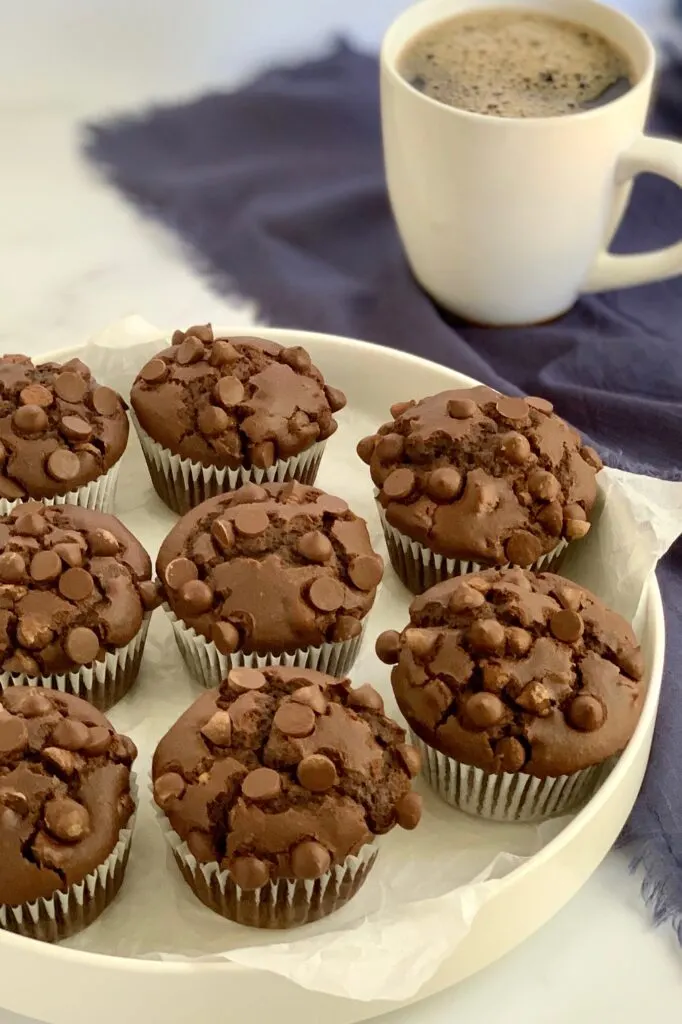 lastly
If you're in need of a new dinner recipe, check out this gluten and dairy free shepherd's pie. It's a definite comfort food for our family. This shepherd's pie has incredible flavor, and it's made with many fresh ingredients. The subtle rosemary in this recipe is mouthwatering. Go ahead and pin it!
These gluten and dairy free double chocolate muffins are a blessing in our home and I hope your home, too!
I hope you keep taking food risks with me! Follow along on my Facebook, Instagram, and Pinterest pages for the latest and greatest in gluten and dairy free.
Eat well and feel well!
Jill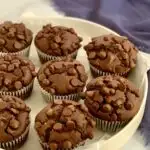 Print Recipe
Gluten and Dairy Free Double Chocolate Muffins
Ingredients
¾

c

brown sugar

⅓

c

oil or melted coconut oil

6

tablespoon

unsweetened cocoa powder

6

tablespoon

hot water

2

eggs, room temperature if able

2

teaspoon

vanilla

1 ⅔

c

gluten free flour

1

teaspoon

xanthan gum, if your GF flour has this then omit

½

teaspoon

baking soda

2

teaspoon

baking powder

¼

teaspoon

salt

¾

c

dairy free sour cream

1 ⅓

c

dairy free chocolate chips, can mix mega and mini morsels

optional: top with chopped nuts
Instructions
Preheat oven to 375 degree F. Line with muffin liners and set aside.


In a large mix bowl combine the brown sugar and oil. Beat on high for 2 minutes.


In small bowl, combine the cocoa and hot water. Whisk until it is smooth. Add this into the large bowl of sugar and oil. Beat for 1 minute. Add eggs and vanilla. Mix until combined.


In a medium bowl, whisk flour, xantham gum, baking soda, baking powder, and salt. Gradually alternate adding in the dry ingredients and the dairy free sour cream to the large mixing bowl. Do not overmix.


Add in 1 cup of dairy free chocolate chips to muffin mix and stir.


Using a cookie or ice cream scoop fill each muffin liner. Sprinkle muffins with remaining chocolate chips. It's fun to use different sizes of morsels.


Place in preheated oven for 18-20 minutes.


Allow to cool completely. Store in an airtight container on the counter up to 3 days.

This recipe was adapted from a simian traditional recipe found here, Life Made Simple Bakes.