Salt Lake City Food Travel Guide-
Our recent whirlwind trip to Salt Lake City, Utah, was unexpected. And planned oh so last minute. For this trip I didn't get a chance to do my normal Pinterest research. It seemed I was winging it more than normal. I don't want you to wing it thou. This Salt Lake City food travel guide highlights six places we visited.
Not only has Salt Lake City built a wonderful atmosphere for families, but
they have some of the tastiest gluten and dairy free food, too!
This Salt Lake City food guide will highlight five restaurants and a bakery we explored. As with any food travel guide, I always suggest emailing or calling restaurants ahead of time. It's good to inquire about food preparations to ensure you can eat safely.
Unfortunately, managers and owners sometimes change procedures without notice. And what used to be a clean kitchen or gluten free fryer may not be anymore.
Nevertheless, we found some outstanding gluten and dairy free food in and near Salt Lake City. Read about our gluten and dairy free eating experiences below.
In-N-Out Burger
There are several In-N-Out Burger restaurants outside of Salt Lake City. Thankfully there was one north of SLC in Centerville, Utah. Long story short, we happened to be traveling through Centerville on our way to our hotel in downtown SLC. Let's just say whew... we were able to hit this In-N-Out Burger on our way into the city. Thus an In-N-Out Burger crises was averted, y'all!
The In-N-Out protein burgers and fries are epic. Summed up they always get them just right. First, they use 100% sunflower oil in their deep fryers that are only used for their fries. And second is the best part... their fries are REAL fries, unlike McDonald's fries which have a coating that includes gluten and dairy.
For the protein burger they swap out the bun for a large,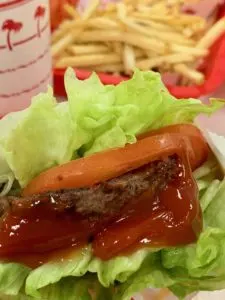 fresh lettuce bun. It is so tasty and crunchy. Never mind I got a little reckless with the ketchup for dinner. In the moment I was livin' the burger dream, y'all.
Normally I'd pack gluten free Udi's buns for the kids' protein burgers. Yes, I do take food into restaurants with us. But face palm on this trip... I forgot the buns.
Like I said it was a last minute trip. The kids were cool though.. look at those fries. Enough said. Needless to say everyone ate happy for dinner.
It's important to note there is a Chick-Fil-A across the street, too! As a family we faced a hard decision deciding which restaurant to eat at. We don't have either restaurant remotely close to our hometown in Montana.
Our google did locate a Chick-Fil-A in a small mall in downtown SLC. Unfortunately, it didn't work out for us to eat there this trip. However, there is one.
City Cakes Cafe
Wow the gluten and dairy free options in this locally owned and operated cafe are incredible! City Cakes Cafe offers breakfast pastries, breads, and also soups, cakes, waffles, desserts, and packaged lunch specials.
There are two City Cakes locations in and around Salt Lake City. We visited the downtown location.
Initially I was confused by their vegan and gluten free options. From reviewing their website I believed all their products were gluten and vegan.
Wrong... I was very wrong.
After talking to staff I understood their Draper location makes all the vegan products. They then send many of those vegan, but not gluten free items to sell in the downtown location.
The downtown location where we ate produces 100% of the gluten free options.
And I applaud them for striving to be cross-contamination free in the baking of their GF treats.
However, I was disappointed to see gluten free and gluten treats in the same display case.
Personally I think it would be hard to eliminate cross-contamination at that point.
Please keep this in mind if you choose to eat there.
If we were to revisit this cafe, I'd phone our gluten and dairy free order in several days ahead of time.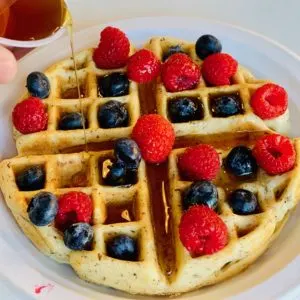 We would request our items be boxed as they are produced and set aside for us. Lastly it would work best to explain we'd prefer our selected items not go in the display case This might narrow down our selection, but it would be a safer choice.
As a result of the shared display cases I can't recommend this bakery if you suffer from Celiac Disease.
With all that behind us, I'll say we were thrilled with the gluten and dairy free waffles topped with fresh fruit. The waffles were large and thick so we ended up sharing a couple orders.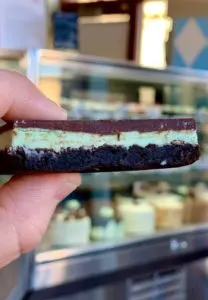 Again, they have such a gorgeous selection. We visited on St Patrick's Day. I was impressed with their holiday selection. My son enjoyed this mint treat so much he wasn't willing to share... even a bite.
Side note -- there was a 100% gluten free bakery in town, but they didn't have any dairy free products at the time. When I phoned, they offered to make a batch of GF and DF muffins for us. However, they required us to purchase a dozen of one kind. If we're in town longer next time I'd like to try them out.
Taqueria 27, Downtown
Undoubtedly, Taqueria is the jewel of this Salt Lake City food travel guide. This Mexican restaurant was so delectable and over the top amazing we ate there twice... IN TWO DAYS.
Taqueria is no joke!
The Taqueria 27 food was so fresh and real. Everything tasted like it had just been hand picked from the garden.
First of all, this restaurant was suggested on another gluten free blog. The author went into detail about the strict food allergy protocol they use to eliminate cross-contamination. I
also asked our waitress quite a bit about their frying pracices. Surprisingly, they use a dedicated gluten free fryer for their tortilla chips, churros, and other items.
Furthermore, the five of us were literally fighting over the chips and homemade salsa. Had we not ordered another basket of chips it might have gotten ugly.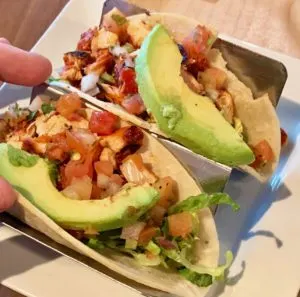 I wish they sold the salsa in to-go containers. Embarrassingly we would of eaten it by the spoonful back at our hotel.
Moreover, you know you're in a fabulous restaurant when you have a difficult time deciding what to order. Everything sounded delectable and mouthwatering.
We finally decided on two taco dishes. The first was an Achiote Marinated Grilled Chicken Breast minus the quesadilla in corn tortillas. The kids liked this one the best.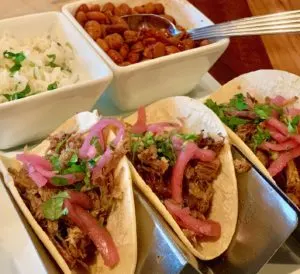 I was thankful, because I had my eye on the Chile-Citrus Carnitas with corn tortillas.... and I didn't want to share.
You'll want to grab your sombrero because the carnitas are lit!
Can you believe I'd eaten two of them before I took my first breath! The corn tortillas were incredibly soft and warm. You'd thought you were eating a carnitas slider.
And, the meat was incredibly tender and flavored exceptionally well! The cilantro rice and beans added another layer of taste, too.
The biggest surprise came next. And it was an epic one.
We couldn't believe they had gluten and dairy free churros on the menu!
Hold the phone, y'all.
The kids and I had never experienced them before, though I've heard from my Disney World lovin' friends how epically delicious they are.
Eating these churros was a glorious moment in time. They were fresh, warm, and coated in cinnamon sugar. You've got to try these! Do yourself a favor and order extra! These are a special treat you can hardly find anywhere else. The sauces were dairy based, but we didn't even miss them.
As I said earlier, we enjoyed our experience so much we ate at Taqueria 27 the following night with extended family. Most of all, I was thankful to eat at a restaurant that offered so much gluten and dairy free on their menu. It was awesome they had dedicated fryers for their chips and churros, too!
If you're eating gluten and dairy free in Salt Lake City you must eat here.
There are five Taqueria 27 locations in Utah. So if you're traveling through another part of the state, check them out. Please always double check their fryers are 100% gluten free. I don't know if all locations are this amazing.
Brass Smoothies
As much as I enjoy fresh baked items and occasional waffles, eggs, or bacon, I need my smoothies. My body was screaming for a smoothie the second day in town.
And a shout-out to the hubs for making it happen! We all grabbed breakfast from Brass Smoothies. This smoothie shop has almond milk and coconut yogurt they use in many of their smoothies. We all ordered The Classic.
Tucci's
This was an incredibly authentic and friendly eatery. They also had the best customer service I've experienced in years! Even the hubs was talking about how accommodating their kitchen was to our gluten and dairy free diets.
Tucci's kitchen staff is known for taking extra steps to prevent cross contamination. Thankfully will use new cutting boards, pots, pans, spoons, etc. if you ask. Definitely inform the staff of any food allergies or intolerances. We found the staff will go overboard to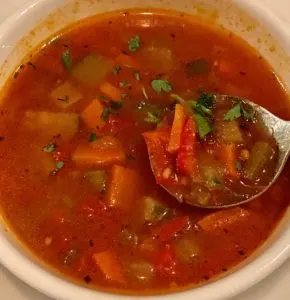 help you leave their restaurant full and and satisfied!
For instance, they came to the table with "garlic bread" for the kids and me. It was incredibly thoughtful of them to serve us this while the rest of the family ate from a bread loaf. The pizza crust had light marinara sauce on it.
Surprisingly, most of their soups can be served gluten and dairy free. Your server will go through each soup with you and discuss it. Honestly I wasn't used to having so many soup options at a restaurant. Needless to say I savored every bite of the minestrone.
The kids shared a pizza with pepperoni. I enjoyed the Penne Alle Vodka pasta. My bowl was heaping with red and green bell peppers, onions, Italian sausage, and garlic.
We were ridiculously full afterwards.
They do offer gluten and dairy free dessert options as well.
As a result of their outstanding service I'd highly recommend this restaurant. Often times when eating out we feel like inconveniences to kitchen staff and servers.
Does anyone else ever feel this way?
This restaurant was refreshing to the soul y'all.
And another reason to dine at Tucci's.... ♥ there is a Whole Foods across the street. Talk about a bonus!
Monkey Wrench
This vegan ice cream parlor is quite popular with the local vegans. Keep in mind all their selection is dairy free. However, only a few of the flavors are gluten free too.
From our observations most of the Money Wrench customers order their ice cream in a gluten cone. Most importantly, I'd suggest asking the staff which of their to-go pints is gluten free.
We purchased two pints to-go. The first was Funfetti. Unfortunately, we thought the name was more fun than the flavor. Let's just say the kids didn't want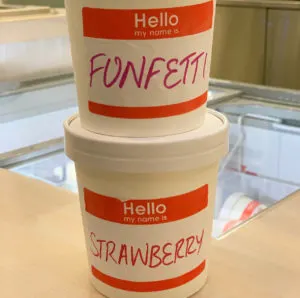 to finish their bowl. Now that's saying something.
On the other hand I selected strawberry for the hubs and me. And the flavor was quite tasty!
But, if I had to pick over again, I'd vote to pick up So Delicious Ice Cream from Whole Foods.
Maybe it would be worth it to try a different flavor? Anyways, we do enjoy trying new places and eating "new to us" foods. This place just wasn't worth the cost for the taste.
Discovery Gateway
Laslty if you're looking for fun family activities, the Discovery Gateway is worth the time and money. It's located in the heart of downtown with easy access. We visited the center on a Sunday. And I was surprised the crowds weren't overwhelming.
There was a nice varity for all ages. The kids really enjoyed the hands-on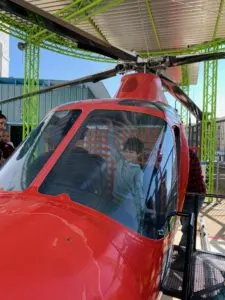 activities that didn't take much adult explaining.
And it certainly didn't hurt they feature a retired Life Flight helicopter for their Saving Lives from the Sky exhibit. This exhibit takes place on the terrace so pick a nice weather day.
Kids can role play being a crew member sitting in the back for a flight. Then they can jump into the pilot seat and take off.
Similarly, all three kids enjoyed the "emergency" features of this exhibit... placing "patients" on a gurney and rolling them around, playing in the makeshift ER room and triage, etc.
This center is definitely a must visit for the littles.
Plan this stop into your itinerary. The kids ran, jumped, and explored. I mean, look at my middle child's face in this pic! #mindblowing
In conclusion:
We found Salt Lake City has a great deal to offer. Not just in family fun and games, but also food options.
The city is full of many more gluten and dairy free options than I highlighted.
In other words I can't wait to return to Salt Lake City. I'd love more time with extended family. And naturally to eat more of those gluten and dairy free churros!
I hope this Salt Lake City food travel guide is helpful. Eating gluten and dairy free is not only doable it's actually pretty fabulous!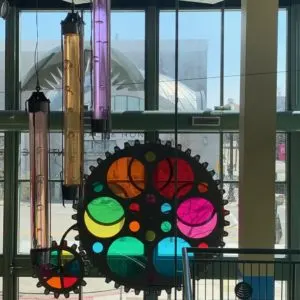 There are other food travel guides on my blog. Be sure to check back as I'm posting new locations often. If you're traveling to Maui or the Miami area, read and pin those guides!
Eat well and feel well,
Jill