The hubs and I recently returned from a crazy restful and inspiring couples-only vaca in Maui.
Oh how nice it was!
We were with over 350 other couples for the
Love Song Couples Getaway
. We were entertained by Christian music artists such as
Mercy Me
, along with marriage counselor and
New York Times best seller, Dr. Gary Chapman
.
It was literally the best of all worlds!
It was also a stress free food week, and let's be honest, how often does that happen in our gluten and dairy free world?
Seldom…to never??
Maui was amazing for gluten and dairy free allergies, y'all! There were So. Many. Options.
The key for me was researching ahead of time…which basically means I enjoyed hours on Pinterest, sending a couple of restaurants emails, and exploring the Find Me Gluten Free app. I was able to arrive in Maui with a list of grocery stores and restaurant ideas that would make the hubs AND me happy. See, you really need to vaca in Maui!
Once we landed in Kahului, Maui, we made a dash for the Whole Foods Market. We were able to score a few essentials (aka dinner and breakfast) before they closed at 9:00 pm. This is a smaller Whole Foods than you'd find on the mainland. However, they do have a great selection of gluten and dairy free items. If there is a specific item you need to know if they carry, I'd suggest emailing them. They did respond to my email quickly.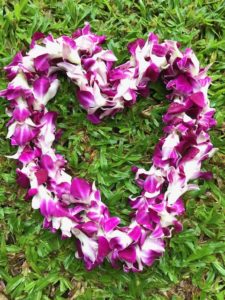 Our hotel, the Ritz-Carlton, Kapalua, was on the west side of the island. It was about an hour away from the airport, and my beloved Whole Foods. The Honolua was a cheap convenience store (as in cheaper…much cheaper than hotel food), and within walking distance of our hotel. This place made the hubs very happy!
The Honolua had a huge variety of breakfast, lunch, and dinner options
, including a couple different grills you could order from (think breakfast foods on one, and sandwiches with fries on the other). My husband grabbed breakfast and lunch from the grill pretty much every day. I thought the grill had all the makings of a gluten contamination nightmare. So, I stayed clear and picked fresh fruit or a salad. The fruit was so fresh!
That being said, my Maui food highlights for the week were…
I had these AMAZING rejuvenating gluten and dairy free smoothies for breakfast from the cafe in the Ritz-Carlton… literally every morning, people. They were my safe go-to breakfast. They were a bit on the pricey side. A smoothie cost between $13-15, but honestly it was so worth it. Just typing this makes me want another. Yum, such fresh fruit! I'd never tried pomegranate in my smoothie before. I really enjoyed the taste and texture, but I didn't care for the seeds clogging my
paper straw every other sip. So by default of the seed straw drama, I'd pick the Wow-Kapalua as my favorite.
We also dined at the Three's Bar and Grill in Kihei for lunch one afternoon. If you can, ask to be seated on the patio! The patio was so relaxing and low key. They also had a local musician playing guitar and singing…it just doesn't get much better than that.
Maui+ shaded patio + amazing food + guitar dude + the hubs = relaxing lunch.
They offer a gluten free menu, and our server, Mama J, was in the know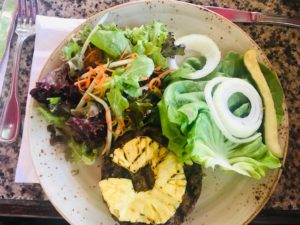 -how on food allergies. The hubs had been to Maui a year before…to this SAME restaurant and with the SAME server! Yeah it was kinda crazy cool. When he got home last year, he raved about the hamburgers served with pineapples. Honestly, I thought it sounded a wee bit gross, but by the time we went for lunch that day I was starved and the pineapple hamburger sounded really good.
Y'all — this burger was all that and more. Let's just say we'll be making these at home…it will be a bite of Maui heaven.
Friends — who's coming over to try these pineapple burgers of awesomeness?!
We also enjoyed a luau at the Feast at Lele, Lahaina. In the online
reservation form I noted a gluten and dairy allergy. I would suggest looking at the online menu ahead of time. I did and was thankful. There were 2-3 dishes served with each course. There were a few dishes that had gluten or dairy, so I declined those dishes and asked for extras of a previous dish. Our server was more than happy to make dish substitutions from previous courses.
If you're the dessert kind, I would suggest sneaking in your own. They do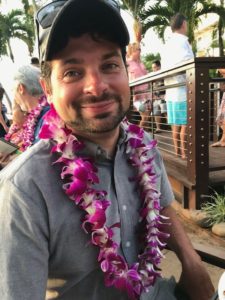 offer a gluten free dessert, but it wasn't dairy free.
The luau itself was gorgeous, and locals agree it's the best one. The Feast at Lele tends to sell out, and the earlier you make your reservation the closer to the stage you'll be seated. Also come early to take epic Instagram beach pics with the sunset.
My favorite mealtime though was hands down my first acai bowl from
Choice Health Bar, Lahaina. I decided on the ka'anapali point with gluten free oats. The small was crazy filling and delicious. I'm still craving more! The acai bowl was crazy refreshing on a super hot and humid Maui day. I also picked up a cold-pressed juice for the next day. I'd recommend grabbing one…or two of these to go!
Had we been in Maui longer, I would have definitely pleaded to eat there again.
Lastly, on our last night we had an early dinner at the Maui Brick Oven in Kihei.
This place is a dream! It's 100% gluten free!
You can easily score a yummy gluten and cheese free pizza. And of course we had the Hawaiian because hello we were in Hawaii! They also have a nice selection of appetizers, salads, and other main courses.
Overall, I was happy with the gluten and dairy free options I had in Maui. We did quite a bit of exploring, and it seemed I always had choices. The fresh fruit served with dishes was out-of-this-world amazing.
I would've done some things differently had we been traveling with our kids. I definitely would've packed snacks and breakfast items for the kids.
If you're in the Lahaina or Kapalua area, I'd highly recommend two free and rewarding places to explore.
The first is the Banyan Tree…it's literally mind-boggling.
That's all I'll say. I don't want to ruin its beauty or uniqueness. My picture does not capture the beauty of this magnificent area.
Second, the hubs and I really enjoyed a short hike to witness the Nakalele Blowhole, and the becoming famous Heart-Shaped Rock.
Ok to be honest…I dragged the hubs to see the heart-shaped rock.
As an added bonus he saw the Nakaele Blowhole as I took 349 pictures of the heart. I'll just say both are real beauties.
Ladies, I'd suggest not wearing flip flops for this little lava rock adventure. You're welcome.
If you haven't been to Maui, I'd suggest you add it to your bucket list. There were other fabulous allergen friendly restaurants we ate at in Lahaina. And a bakery I hope to visit someday. Maui is amazing because there are just so many options!
Please share your Maui adventures in the comments! Bonus if your comments are gluten and dairy free suggestions. I have a feeling this is a vacation spot I'll be back to, and I'd enjoy hearing about other gluten and dairy free options.
You will find more gluten and dairy free food travel guides on my website for cities like New York City and Miami. And you'll want to check out my post, "Best TSA Approved Airplane Snacks."
If you're looking for gluten and dairy free recipes check out more of my website. You'll find recipes for any occasion. Start pinning today.
As always… eat well, feel well, and travel well!
Jill