One question I see over and over again on social media is, "What are the best TSA approved airplane snacks?"
Let's be honest -- passing through TSA with food in your carry-on can be tricky. But once you've figured out the art of mastering TSA you'll be flying with the best stash of safe food.
Until then check out my suggestions and keep in mind I'm a huge TSA nerd. I love to see how much food I can pack without TSA even batting so much as an eyelash.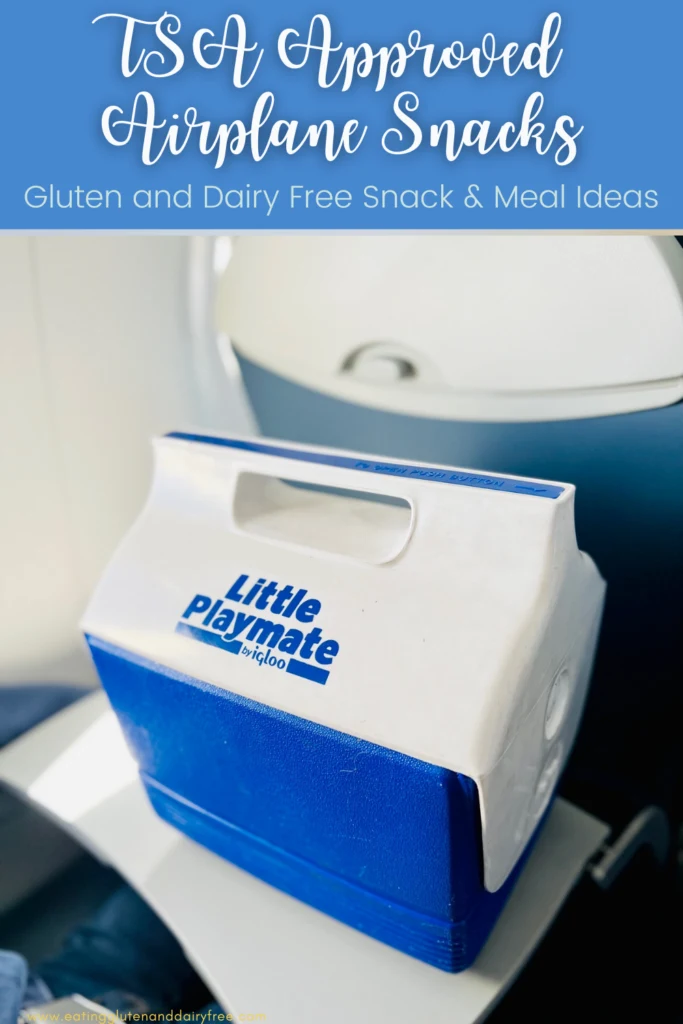 You definitely want to pin this now for your next trip. Because this post is packed with helpful travel information.
Importantly, listed below you'll find tips for keeping your food cold while on a flight, lists of the best airplane snacks for kids and adults, and my must read "7 Tips for Flying With Food Allergies."
how should I transport my TSA approved food
first invest in good quality ice packs like these. Or freeze drinks to place in your cooler. But never try to pass through with unfrozen liquids; you'll definitely be slowed down in TSA and have your drinks removed. This even includes factory-sealed water, yogurt, almond milk, etc. Now if you'll be staying in a hotel at your final destination, kindly ask them to store your ice packs in their freezer until your departure. I've never had a problem with a hotel saying no to this request.
now let's talk coolers. I can't remember the last time I flew and didn't travel with a carry-on cooler. And when my children travel with me the size and number of coolers changes. Here are my recommendations depending on your need:

a large carry-on compact insulated cooler with rolling wheels
this Yeti Cooler is a popular brand for carrying perishable or
frozen items you won't be able to purchase locally at your final destination. This is a large cooler so you'll want to check it through to your final destination.

lastly here is the most up to date TSA link to review their "What Can I Bring?" food section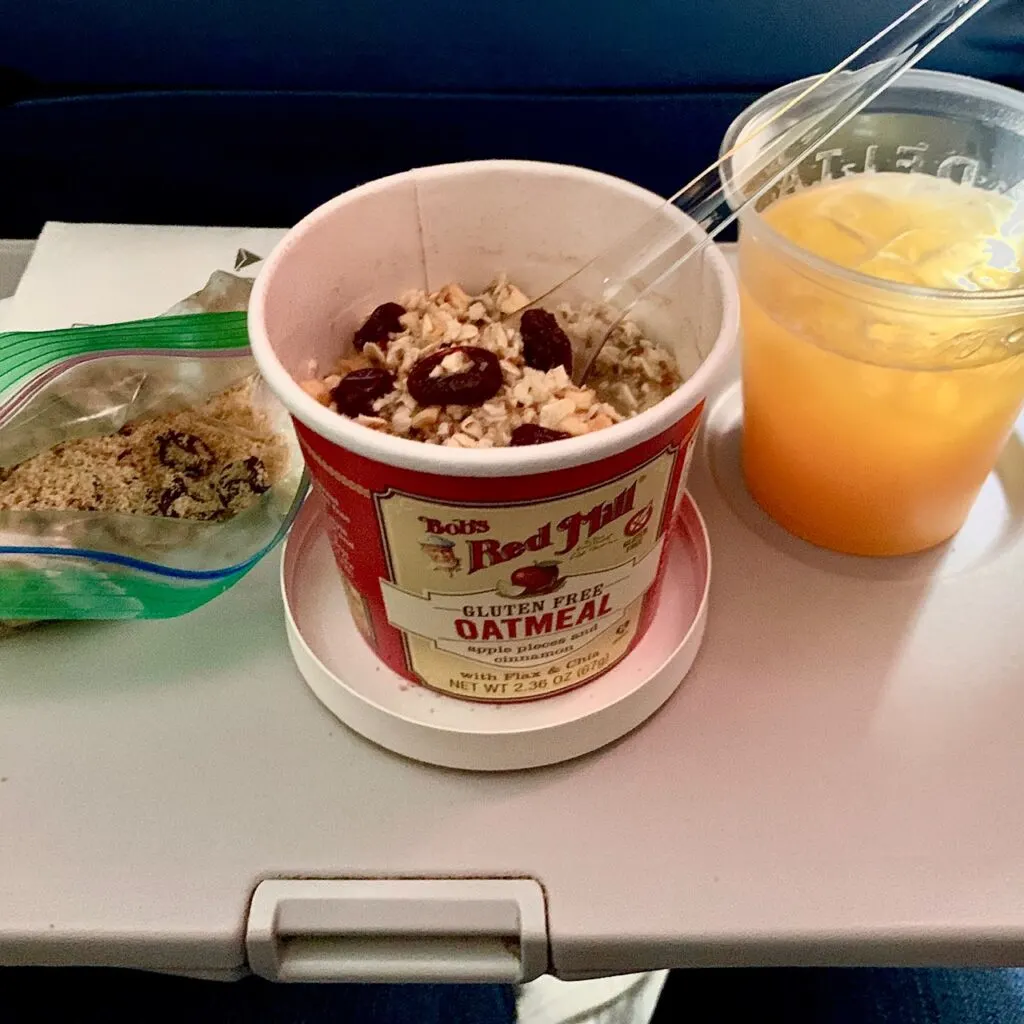 TSA approved breakfast ideas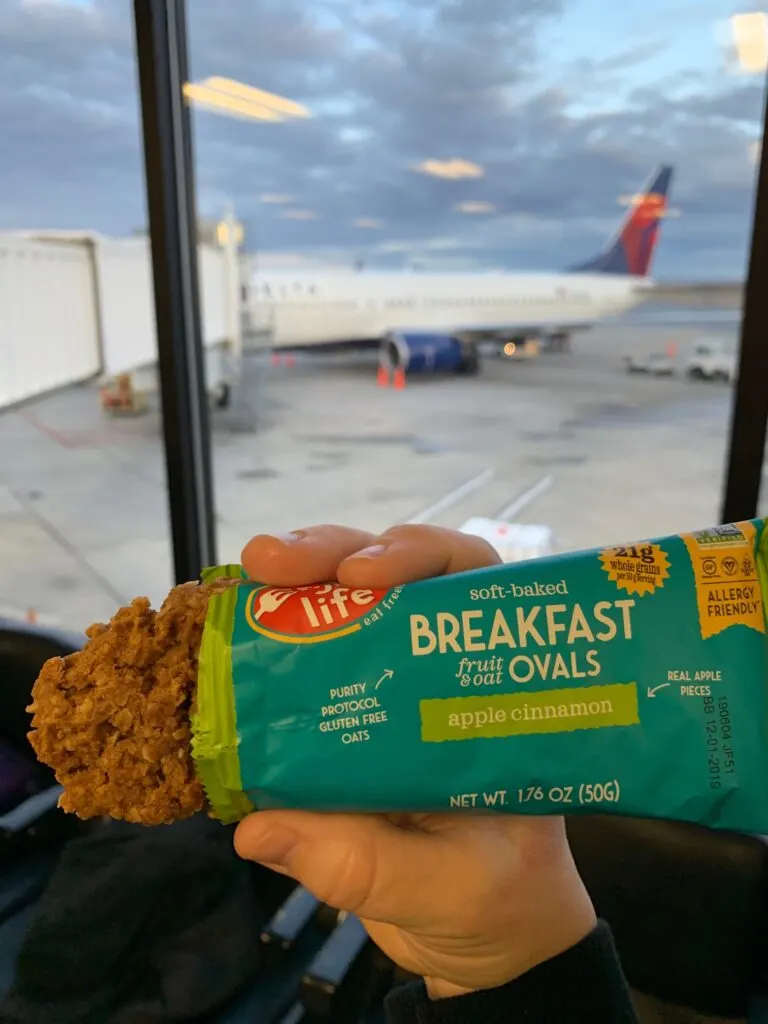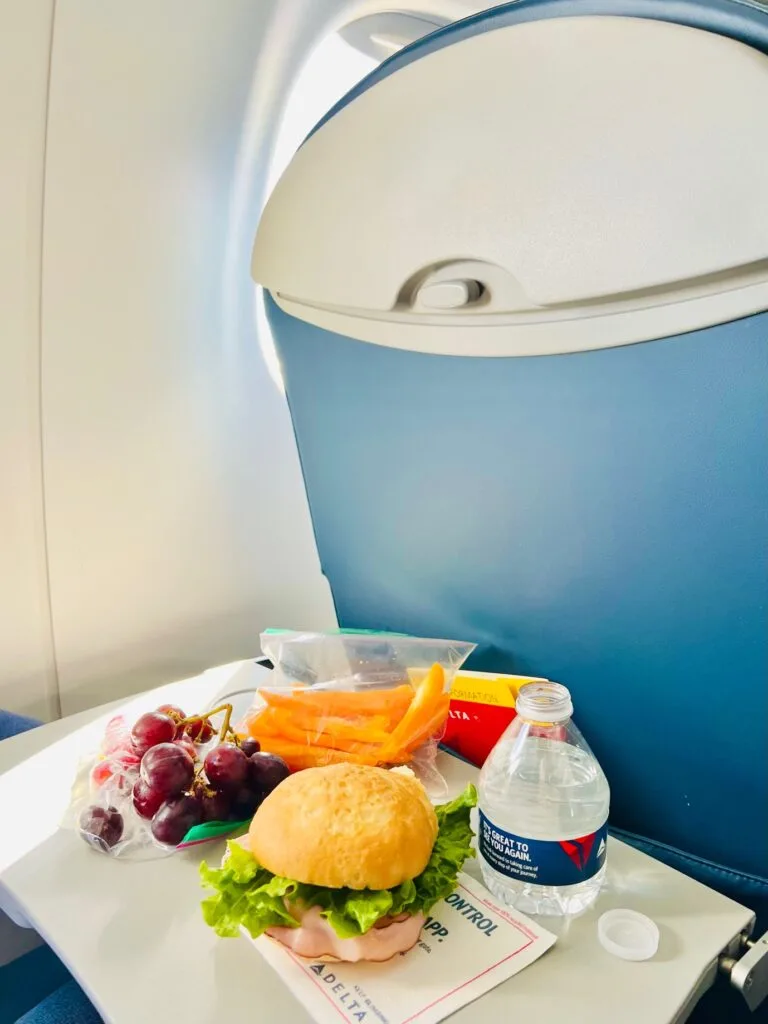 best TSA approved lunch and dinner ideas
sandwiches or tortilla wraps-- we like Udi's Sandwich Buns. They hold up better than gluten free bread slices which tend to break apart with much jostling. Pack those sammies with your veggie and meat favorites.
salads with dressing in a side container--the dressing needs to be less than 3.4 ounces
jerky
hard boiled eggs
fruit and veggies (grapes and sliced peppers are our favorites)
Peanut butter packets & jelly/ jam packets for PB & Jelly sandwiches
leftover pizza-- who else loves slices of cold, leftover pizza?!
slices of summer sausage and these allergen friendly crackers ; side note -- we love, love, love this airline meal
protein bars
Lara bars, Kind bars
raw energy bites (protein balls)
and if you're flying internationally always consume anything perishable before you land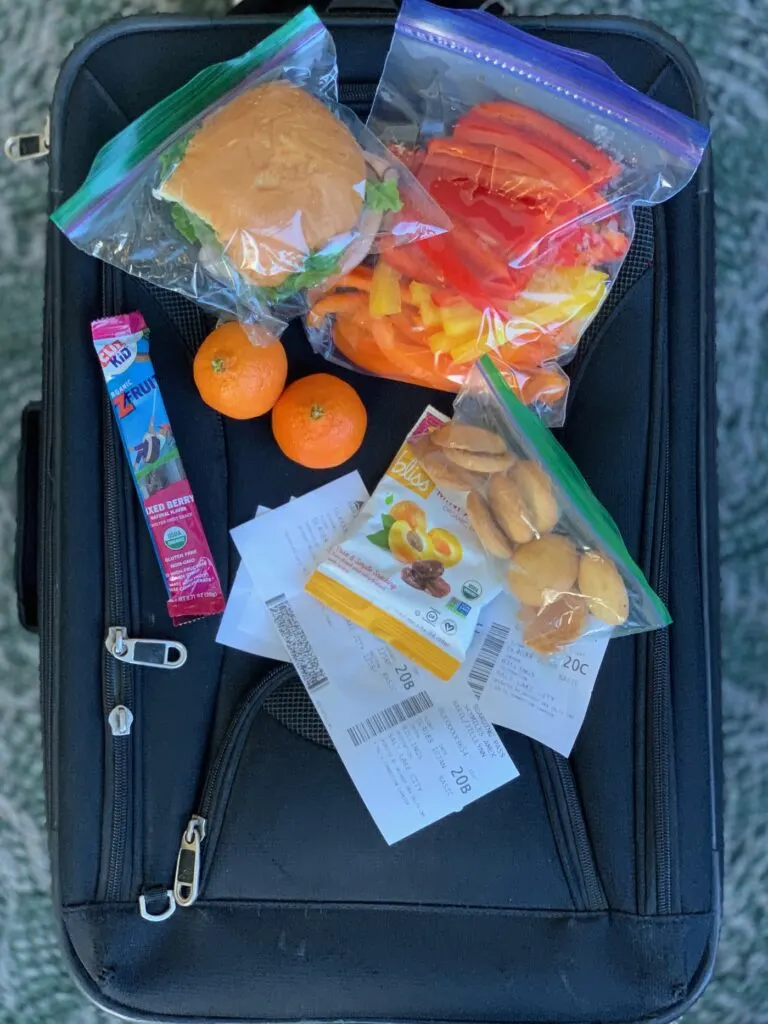 best TSA approved airplane snacks
popcorn
muffins
fresh fruit salad bowl--oranges, bananas, melon, grapes, watermelon, apples, blueberries
homemade trail mix packed with pumpkin and sunflower seeds, almonds, dried fruit (Enjoy Life mini chocolate chips or banana chips are fun to add in)
fresh veggies--bell peppers, cucumbers, carrots, celery
crunchy homemade chex mix-- make this in the crock-pot a few days before your trip for an epic in-flight snack mix
taffy and suckers (I love to give my kids this when we are taking off or landing to help their ears adjust)
jerky packets
and don't forget about these snacks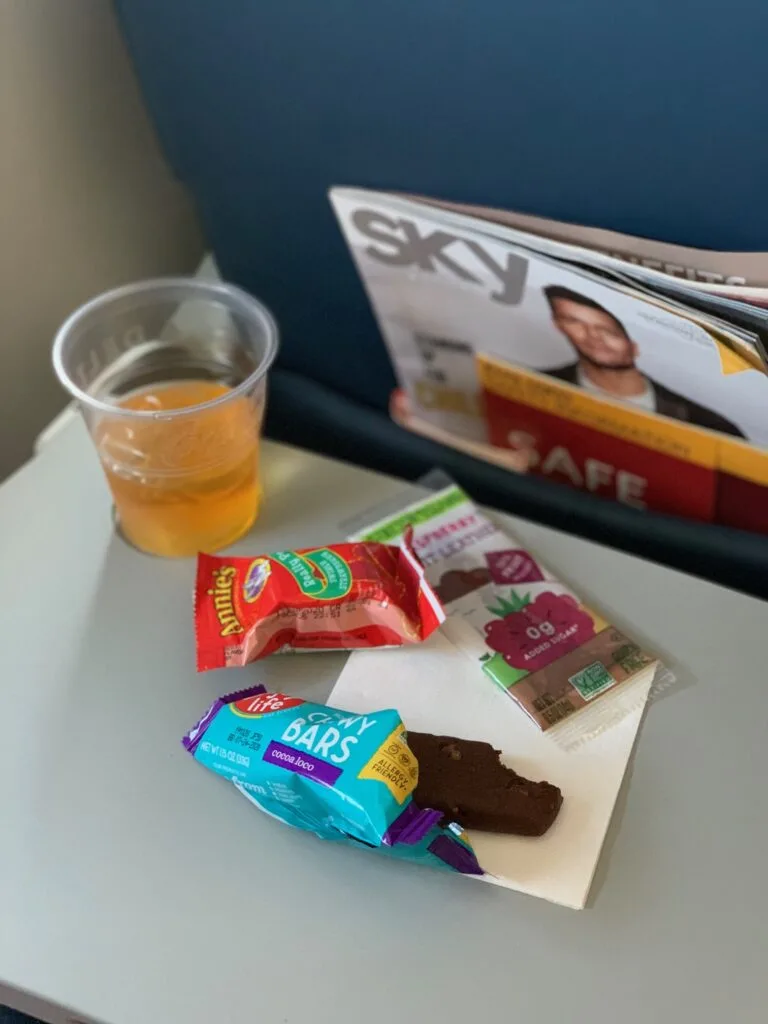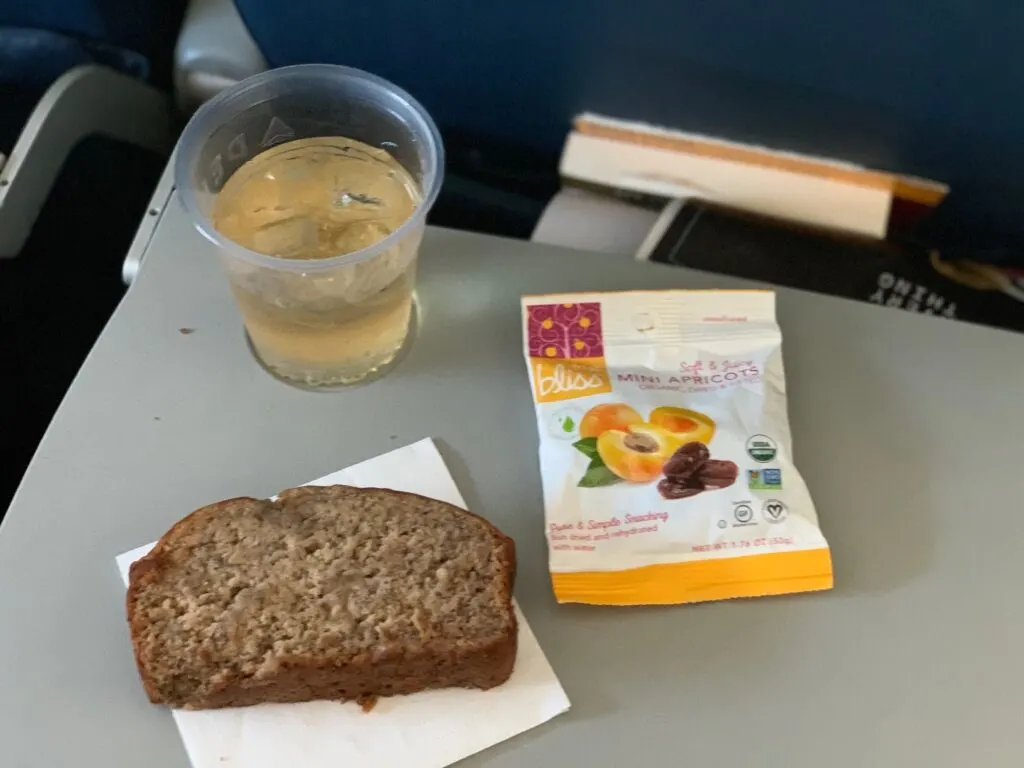 the most important thing I always pack in my suitcase
is a brown paper bag filled with safe snacks for the return flight.
When I was just starting out on my gluten and dairy free journey, I struggled over our first few flights to have food for return flights home. And when you live in Montana, you typically have 2 or oftentimes 3 flights until you make it home.
The worst thing I could do was not have snacks for the return flights, but then this happened.
You won't believe this huge mistake I made for my family once.
Imagine I forgot to pack "the brown bag" and it's Christmas Eve. There's bad weather and we're on our 3rd and last flight of the day.
Because of bad weather we weren't able to land in our hometown so we flew another hour to a different airport.
Then our family of 5 sat on the tarmac for over 2 hours praying we can take off for another chance to land in our hometown on Christmas morning.
While seated the flight attendants pass out snacks, but nothing we can enjoy.
Eventually the pilots had everyone deplane well after midnight in a small Montana town with nothing but a small gas station open at 12:30 a..m. on Christmas morning.
Needless to say we're starving! We persuaded our hotel shuttle driver to go out of the way so we could swing by the only gas station open.
We grabbed safe junk food like chips and salsa and headed to our hotel. Talk about a serious mom fail, y'all.
Never again will I travel without our brown bag packed full of dried fruit, bars, and some kind of safe chocolate.
Because if anything goes crazy and you're on the tarmac for awhile trust me-- you wanna make sure you have semi-sweet dairy free chocolate packed!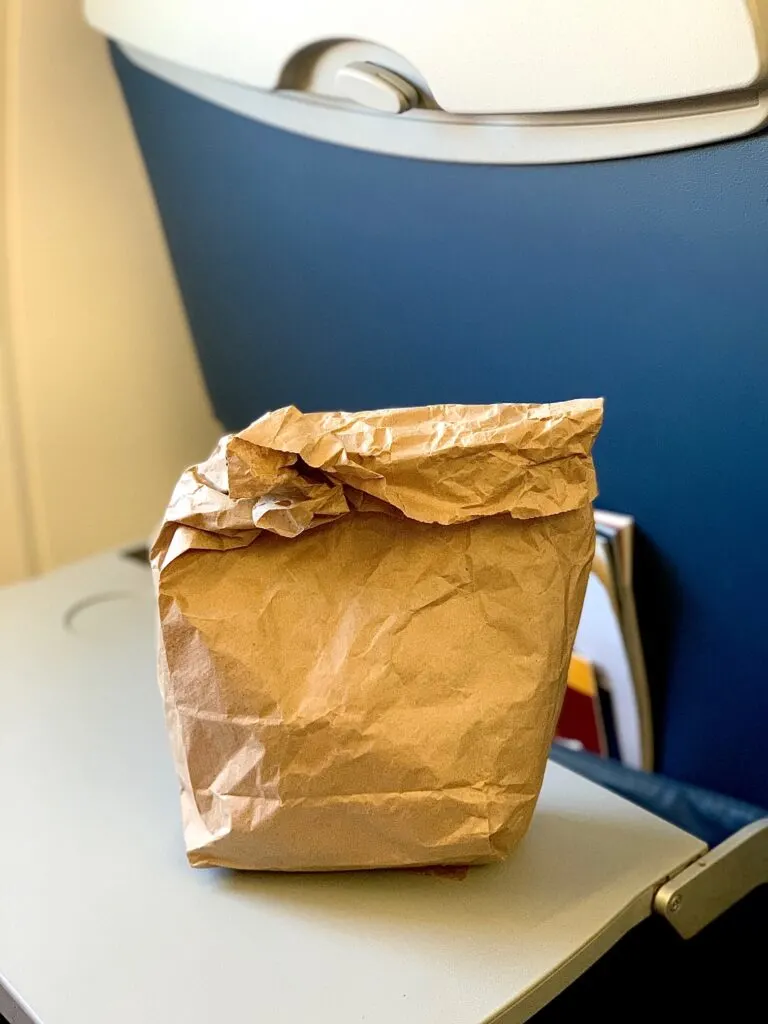 7 tips for flying with food allergies
always plan ahead; make your TSA approved snack and meal list days before your flight and pack food the day before. You don't want to be grabbing snacks as you're running out the door. It just won't end well and you'll most likely get hungry and frustrated on your flight.
stay away from too many peanut and tree nuts foods. If you've packed mostly snacks with peanuts or tree nuts, then the worst thing you can hear announced on your flight is that it will be a peanut or tree nut free flight. I always try to make a note of packing snacks or meals that for the majority are peanut and tree nut free.
always be prepared for delays by packing extra snacks... plenty more snacks than you think you'll need because you can always bring the extras home. And I would rather have extra food in my carry-on than being hangry on a flight or even worse... having hangry kids. You never know when you'll be stranded in an airport overnight, sitting on the tarmac for hours, or running to catch your next flight and not have time to grab terminal food.
fly with a favorite. This isn't the time to pack all veggies and rice cakes unless that's what you'd normally eat. Always pack one fun and exciting snack especially if you're traveling with kids.
include a return flight snack bag, always! See my highlights above on this important tip.
if you're traveling internationally, phone the airline to request in-flight gluten and dairy free meals; however I've heard so many horror stories about passengers not receiving their gluten free and vegan meals. It seems really risky. Again I'd pack an abundance of extra food in case your safe airline meal doesn't make its way onto the plane.
invest in TSA Precheck. This was the best travel investment we made for our family. If you fly even once a year, I'd recommend this perk. The TSA Precheck line and staff are much more lenient with your packed food. They very, very rarely look at or test the food in our coolers with their testing strips. And you zip easy-peasy through security.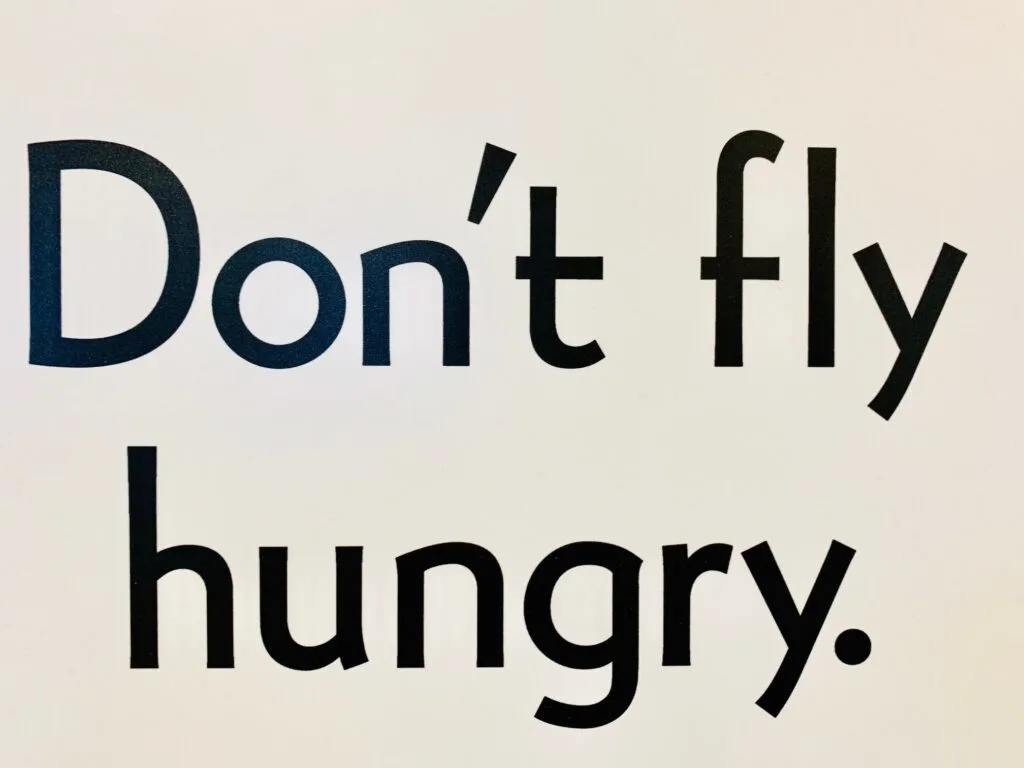 lastly
How many times have you had to sprint from one terminal to another without time to use the restroom, let alone grab a bite to eat so you could catch a flight?
This happened to me not so long ago just before a long flight to Hawaii. I was so thankful I had packed extra snacks!
It's worth noting you never know if you'll be offered a safe airline snack or have time to find something in the terminal.
We can't control airport or airline food, but we can control what we pack. Planning ahead is key to eating well and flying well.
And speaking of planning ahead, be sure to check out my food travel guides. You'll notice I offer safe food suggestions for several cities, and I'm adding to this list often.
Pinning this best TSA approved snacks post is a must. You never know when you might need it.
And do me a favor -- please give me a 5 star rating if you found these suggestions helpful. Let me know in the comments what other snacks you like to pack.
Follow along on Facebook, Instagram, and Pinterest. Comment and like often so you don't miss an important post in your feed. And sign up below for our exclusive emails.
Eat well, feel well and travel well,
Jill