New York City is not only the city that never sleeps, it's also the city that has endless gluten and dairy free food options. This New York City food travel guide won't come close to suggesting all of the fabulous options available. However it will guide you to my favorite must-eat spots!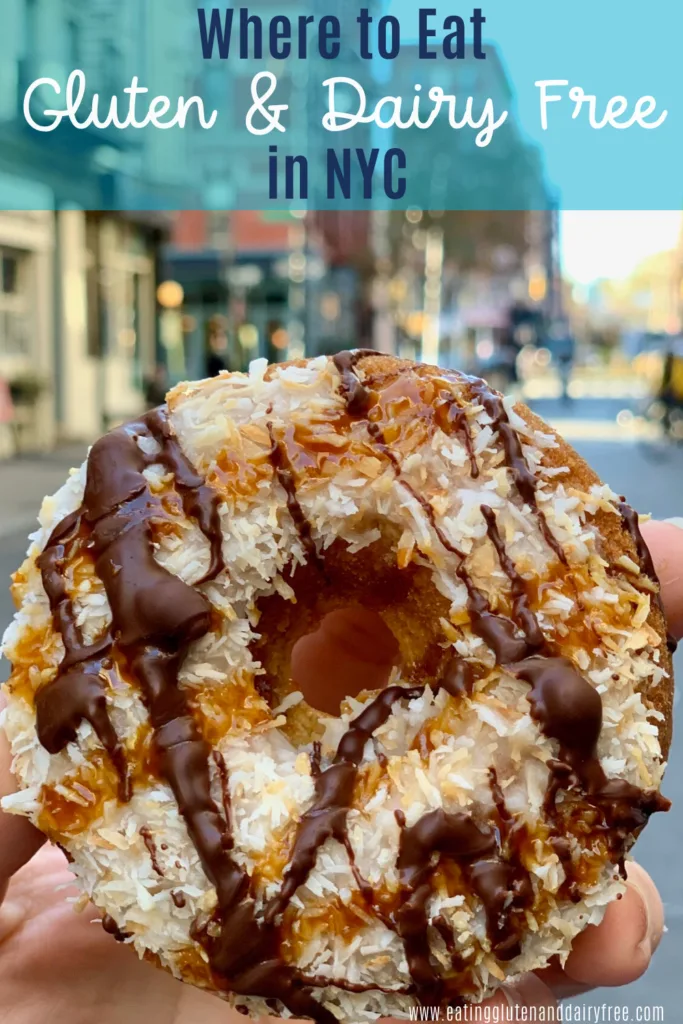 Just for you I've rounded out my favorite spots from our recent NYC visit. And let's just say I'm still dreaming about these delicious NYC places. Be sure to let me know in the comments your favorite NYC gluten and dairy free foods.
This bakery has locations on the upper west and east sides of the city. We visited the upper east side location and were blown away by all their fresh options. Everything is 100% gluten and dairy free, y'all.
You can purchase gorgeous cakes in all flavors and small treats like biscotti, brownies, and the most amazing variety of cookies. And they also offer mouthwatering muffins, scones, tea cakes, cupcakes, and challah.
It's no joke when even the hubs was blown away by their scrumptious options. Needless to say we grabbed several items to enjoy for a couple of our early morning breakfasts.
Keep in mind you can also place an online order for in-store pickup.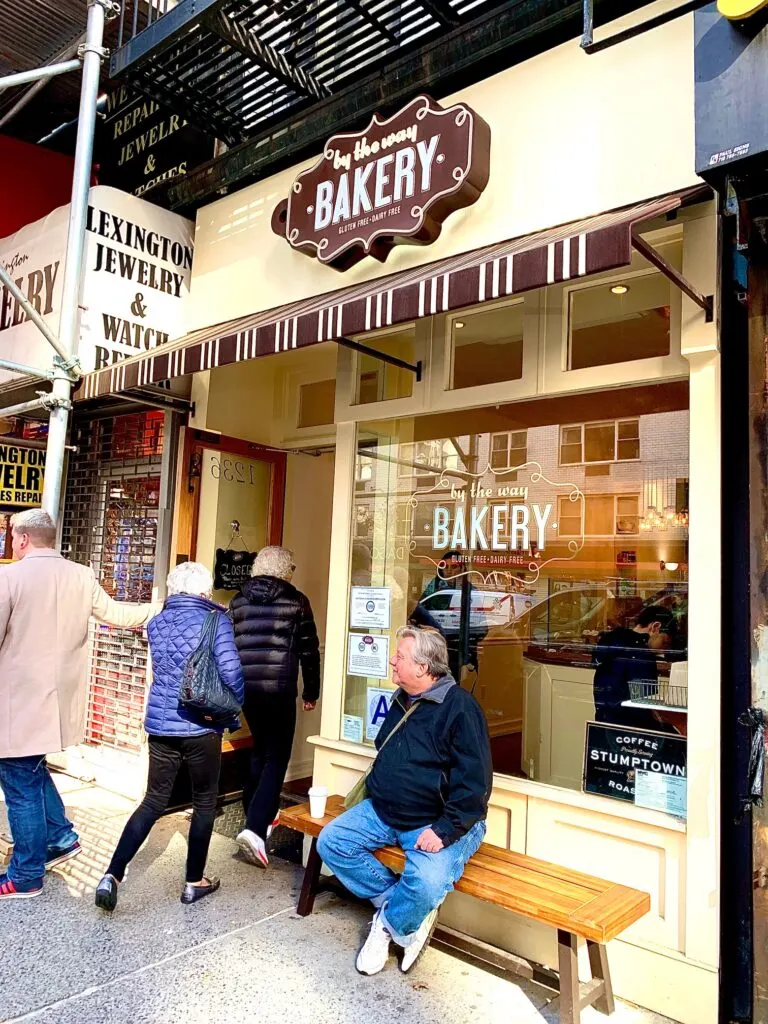 This gluten free, Paleo, and vegan restaurant's motto is "NO WEIRD INGREDIENTS. EVER." And they definitely pull this off well. We ate the most incredible lunch at this trendy spot. As a matter of fact I'm still drooling over the gluten free and vegan homemade lasagna. This lunch was creamy, meaty, and filling! Hands down the best ever.
If I could only visit one restaurant in NYC Hu Kitchen would be it. This is the biggest must-visit of my New York City Food Travel Guide.
Check out their online website before your visit for a current menu.
And while there buy a stash of their delectable chocolate bars. Or enter my code "EDADF" for 15% off any online orders through their website here. These chocolate bars are a 10/10 and I've never tried one I didn't like. A bit pricey, but well worth the treat. Keep in mind their chocolate bars are certified gluten free, but have a warning on the package stating they're manufactured in a shared facility with gluten and dairy. They do take numerous precautions and swab-tests in between production runs.
To put it simply... this is one restaurant I hope opens more US locations, like now.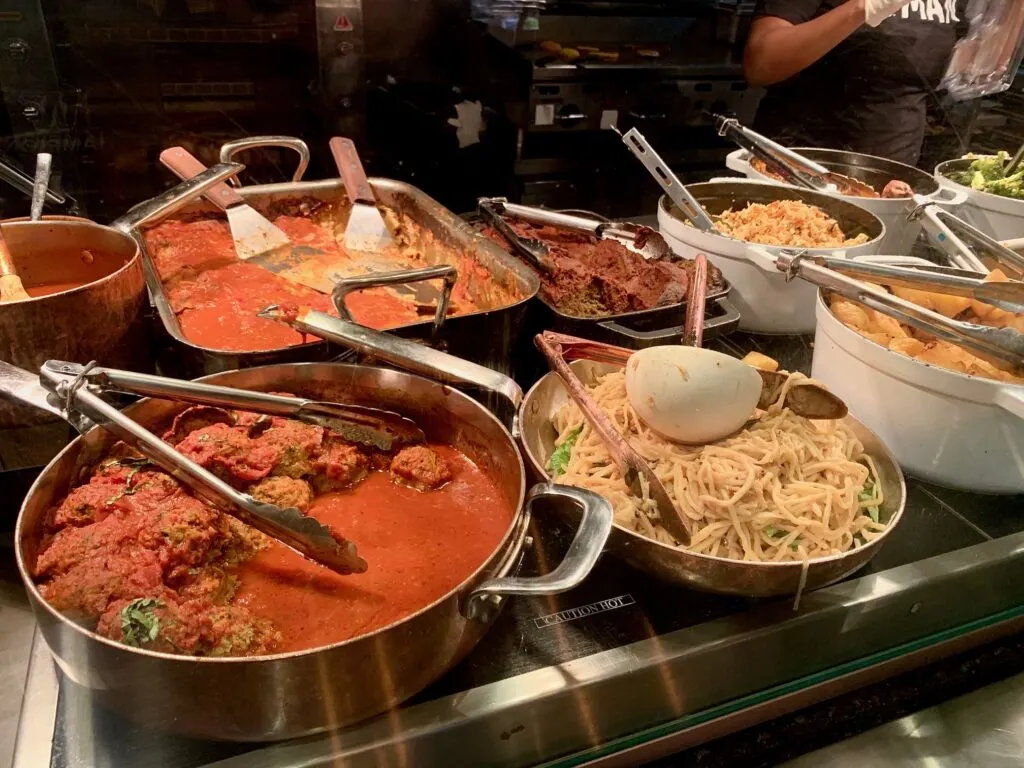 This bustling midtown NYC restaurant has fresh to order smoothies, juices, and acai bowls. Check out their online menu for more options. Keep in mind this restaurant isn't entirely gluten free, so cross-contamination could be a problem depending on your severity. We grabbed quick to-go smoothies and truly enjoyed a hit of fresh fruit.
Again this Chinatown bakery is 100% gluten free, vegan and also egg and soy free. But you would never know by the taste. We visited this bakery late in the day when they had unfortunately sold out of most items. However I lucked out and still scored a samoas donut and apple cupcake. It seems like someone on my Instagram feed is posting about this bakery all the time. And now I know why. Their baked goods are impressive and well worth the visit.
You can also check out their locations in LA and Orlando, Florida.
Nothing surprised me more on our NYC trip than coming across a gluten free food service in Madison Square Garden (section 112). Now not all of the items were dairy free, and I can't speak of cross-contamination; however I was able to purchase a safe, prepacked brownie. And there were other snacks and foods available too, such as salads, fruit, prepacked frozen pizzas (with dairy cheese). Gluten free beer was also an option. As always I did go into the Garden with gluten and dairy free snacks tucked away in my purse.... yes my purse is large and in charge, y'all.
I hope this New York City Food Travel Guide has highlighted must-have places to eat. Your next visit to the city can be more about enjoying the sights and less stress about where to eat.
Speaking of sightseeing... I want to put a plug in for viewing the NYC skyline from The Rockefeller Center. Be sure to check out the 70th floor of the Rock Center Observation Deck on your trip. And it's totally worth paying a little more for the sunset tour. Just do it.. trust me.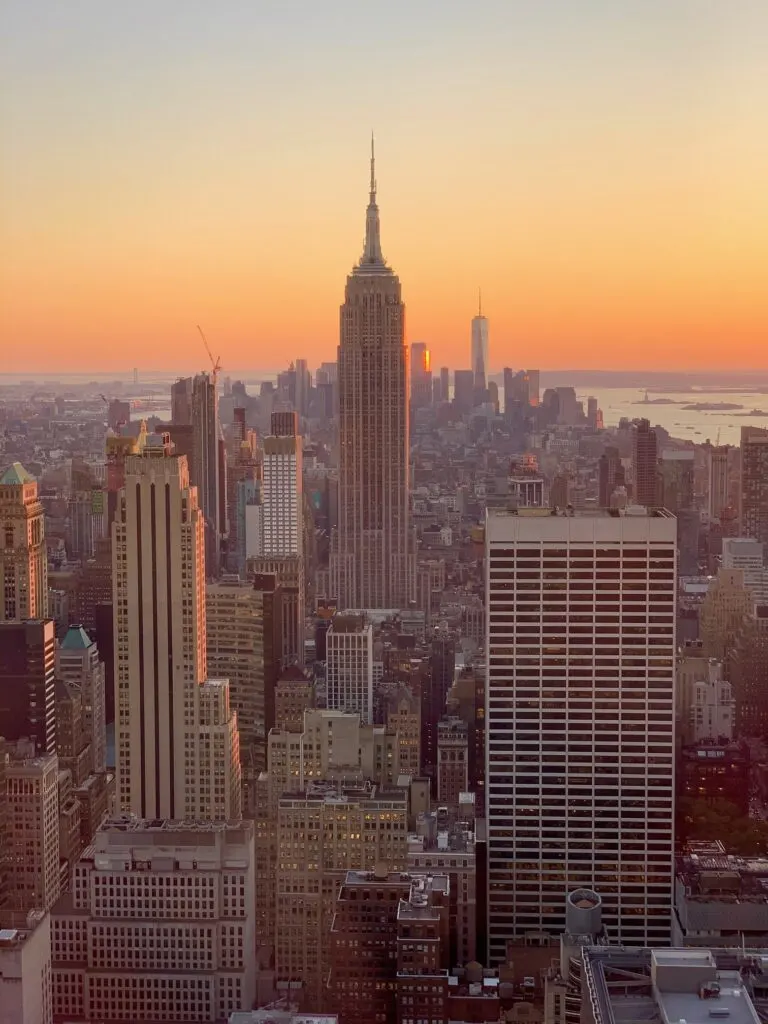 Lastly a friend who lives in NYC and was a wealth of knowledge when I planned our trip has a NYC guide I highly recommend. Her guide covers everything... where to stay, transit, how to score the cheapest Broadway shows, must-see attractions, money-saving tips, and so much more. If this is your first or tenth visit to NYC, you'll definitely want to consider her guide. You can tell she knows all parts of NYC well. Use this link here to download her guide. You can also find her on Instagram @christaeevansonnyc. I've got to give her a shout out and say thanks for your tips and suggestions.
lastly
It's important to realize I only suggested a small handful of options in this New York City Food Travel Guide. There are so.many.more gluten and dairy free opportunities in NYC. When planning your trip I'd recommend following the establishments I mentioned on social media. You'll get a pretty good idea if they should be on your must-visit list or not. Then check out the Instagram hashtag #glutenfreenyc for more meal time ideas. Some of the Insta posts you'll need to filter out simply because they aren't dairy free. However, this is a great resource to include in your trip planning if you're on Instagram.
And keep in mind most of the cafes, bakeries, and restaurants are small with little room to sit. Speaking of which both bakeries I mentioned offered no sit down and enjoy your baked goods space. Consider this planning your adventures particularly when traveling with kids.
more gluten and dairy free travel food guides
Again let me know in the comments your NYC food favorites. I hope to visit NYC again soon and enjoy more delicious eats in the city.
And if you're looking for delicious and filling gluten and dairy free recipes be sure to visit my blog here for easy to follow recipes.
Eat well, feel well, and travel well,
Jill