Nothing screams summer like BBQ'ing. Right? So why not combine popular food favorites?
For example combine grilling and this gluten and dairy free Hawaiian BBQ Chicken Pizza.
The grilled flavors of the crust and smoked toppings are indescribable. You just have to make it for yourself.
This special homemade pizza is nothing like you'll receive in a restaurant. In contrast notice how thick the crust is and all. those. toppings.
By comparison this pizza recipe has 2-3 times the toppings of restaurant pizzas. Every bite is full of smokey, rich flavor.
Moreover it's a huge bonus keeping the oven off in the heat of summer yet still enjoy homemade pizza night.
In other words you need this grilled pizza recipe.
Ingredient List:
Bob's Red Mill Pizza Crust. This crust package can make 1 large thick pizza crust or 2 medium thin crusts. However, the entire dough has to be made up at once. Fortunately, it isn't a problem consuming all that pizza in our family. And if needed, pizza leftovers are the best. *This pizza crust does have an egg free option on the bag.
oil (grape seed oil works fantastic)
BBQ sauce, Gayle's Sweet 'N' Sassy BBQ Sauce tastes amazing and is available here for purchase. Sweet Baby Ray's barbecue sauce is also an allergen friendly brand.
baked or grilled chicken breast (rotisserie chicken works excellent too)
bacon
pineapple tidbits
thinly sliced red onion
shreds of dairy free cheese (Follow Your Heart Smoked Gouda tastes lovely)
top with chopped cilantro
other pizza toppings would work lovely on this grilled crust too. Follow the same similar steps with pizza sauce and other toppings.
Grilling Tips:
It might be intimidating to grill a gluten and dairy free crust. I'll admit it was for me the first time I grilled pizza this way.
We know how finicky gluten and dairy free anything can be. And I know you feel me on this one!
Let me highlight a few tips to make this grilled Hawaiian BBQ chicken pizza less intimidating for you.
First, follow the Bob's Red Mill package directions to roll out the dough. To do this I placed parchment paper on my pizza pan and lightly spray with nonstick spray. I placed the dough in the middle of the pan and topped with saran wrap. Gently push the dough into a large circle about the size of the pizza pan. This took a few minutes of pushing and pulling.
After the dough is the shape you'd like, brush the top with 1-2 tablespoons of oil.
Move close to your preheated grill with the pizza dough on the pizza pan. Flip the dough directly onto the grill and remove the pan and parchment paper from the top of the pizza. Again brush dough with 1-2 tablespoons of oil and close the grill lid for 4-5 minutes.
I found two large spatulas worked best to flip the pizza onto the other side. After you've flipped the pizza, brush with BBQ sauce and place toppings. Then, lower the grill lid for another 5 minutes.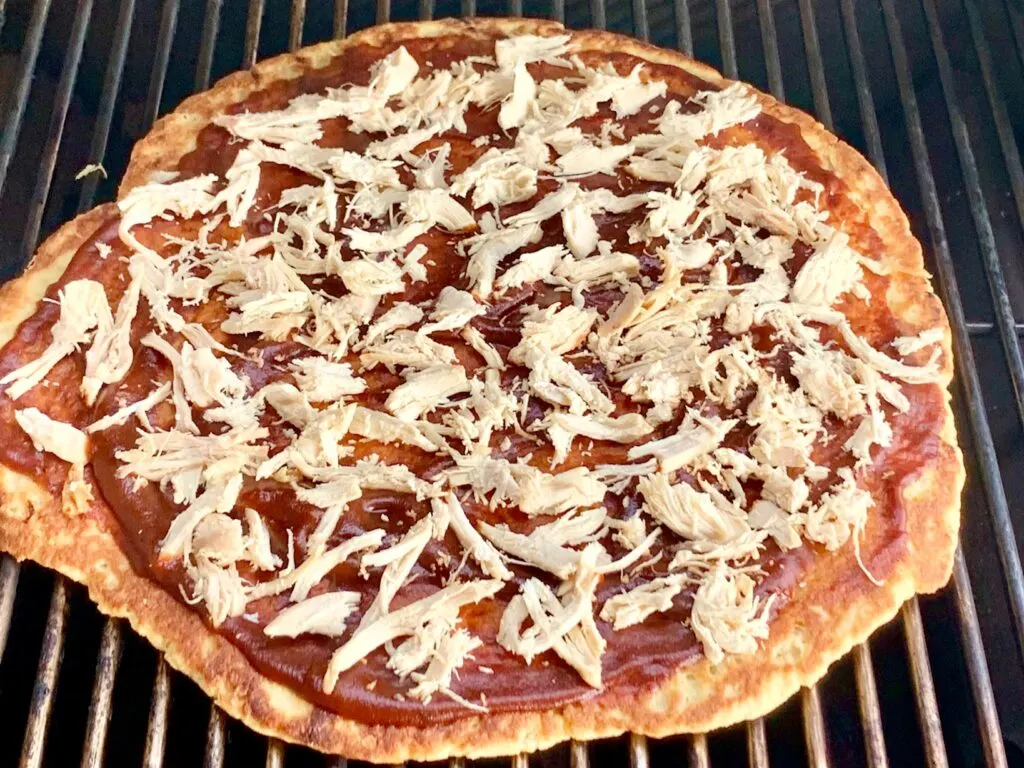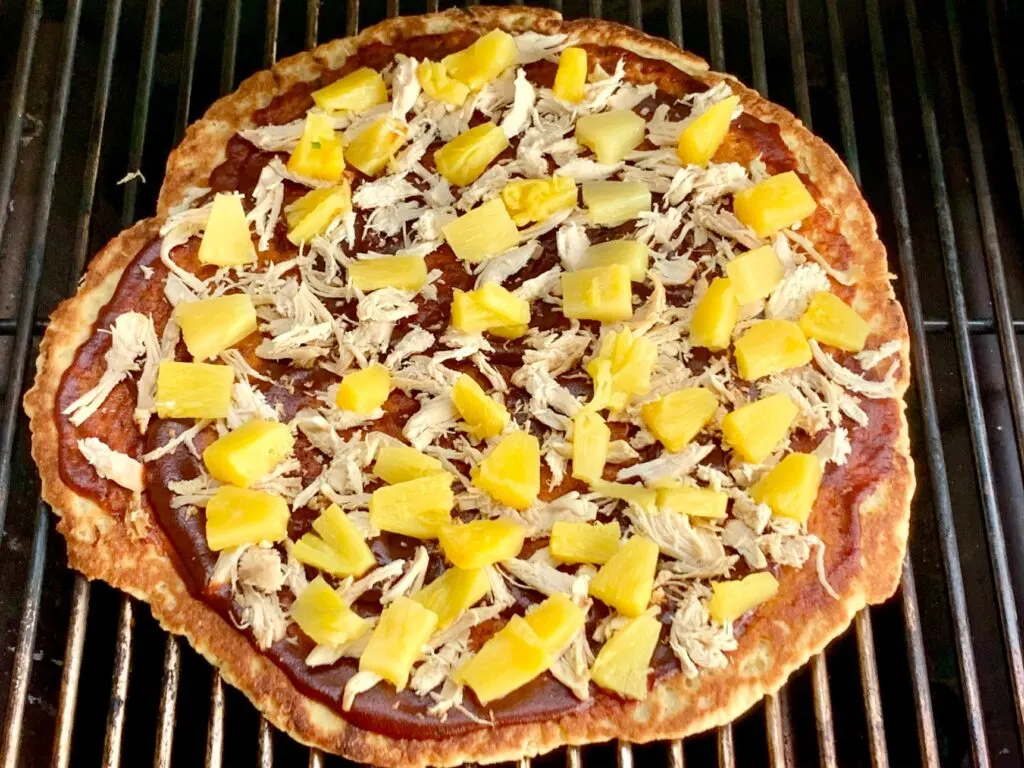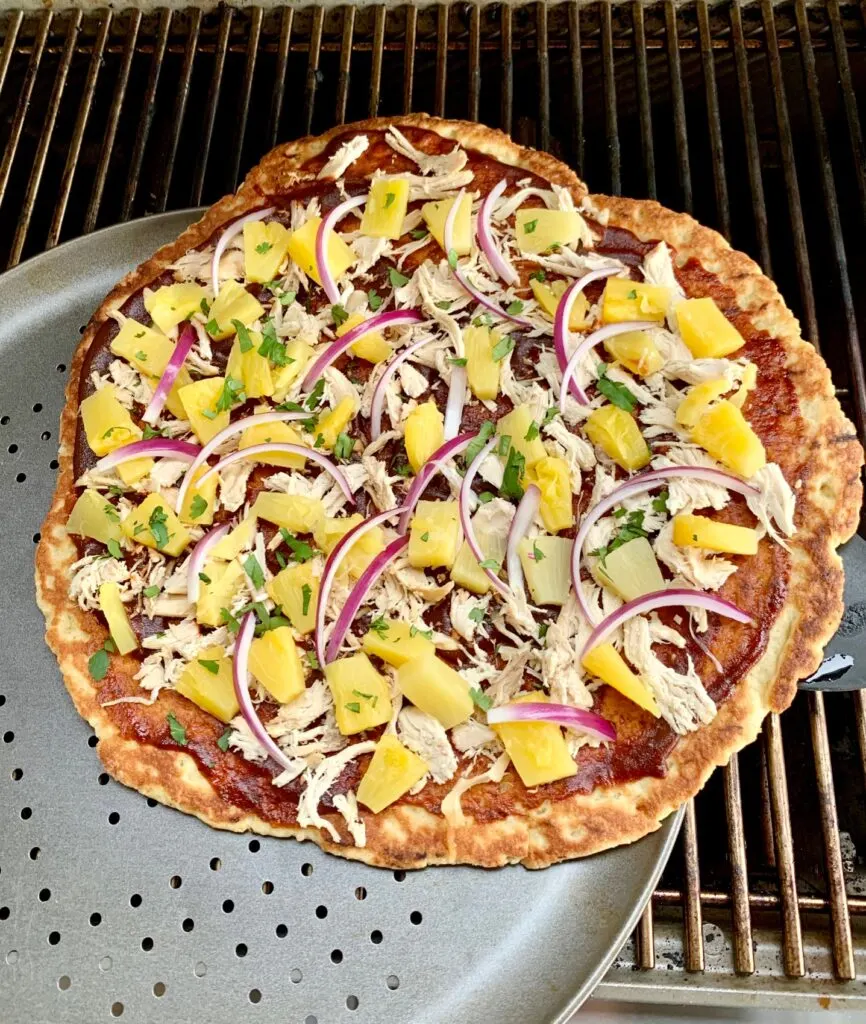 Lastly, using large spatulas place grilled Hawaiian chicken pizza back onto pizza pan. Cut and serve.
more recipes you'll love
lastly
The smokey flavors of this grilled Hawaiian BBQ chicken pizza are delicious. You'll be surprised how quickly these grilled pizza slices will go.
Pin and print the recipe now so you can grab the ingredients at the grocery store.
Another delicious gluten and dairy free dinner recipe is my Taco Bake. Wow -- this Mexican themed recipe is creamy, crunchy, and full of flavor. The best part of this recipe is how you customize it to the toppings you like best!
No doubt check out the recipe by clicking here.
Be sure to follow along on my Pinterest, Facebook, and Instagram so you're always in the know how of everything gluten and dairy free.
Eat well and feel well!
Jill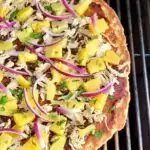 Print Recipe
Grilled Hawaiian BBQ Chicken Pizza
Ingredients
Pizza Crust
1

pkg

Bob's Red Mill Gluten Free Pizza Crust

1

packet

yeast (included in Bob's Red Mill Crust package)

1 ½

c

warm water

2

eggs, vegan option on package

4

tablespoon

oil of choice, divided

grapeseed works well
Pizza Toppings
1 ½

c

BBQ sauce, divided

½ c is for cubed chicken

3

small

chicken breasts, cooked then chopped into small bite sizes

smother in BBQ sauce. Baked, grilled or rotisserie chicken

6

slices

cooked bacon, chopped into small pieces

½

c

pineapple tidbits, juice drained

thinly sliced red onion

shredded dairy free cheese alternative

From the Heart Gouda tastes great

optional for garnish: chopped cilantro
Instructions
Prepare Bob's Red Mill Pizza Crust per package instructions,
While crust rises cut precooked chicken and bacon. Thinly slice red onion and shred cheese.


Place parchment paper on large pizza pan. Spray parchment paper with non stick spray,


Place pizza crust on parchment paper. Then lay large piece of saran wrap over pizza dough. Using your fingertips gently work doughs into a large, round pizza crust.


With a brush rub oil over crust.


At the grill, take pizza crust and flip over onto the grill. You will have the oiled side down on the grill first. Remove parchment paper and pizza pan.


As the bottom of the pizza is grilled, brush the top with oil.Then lower grill lid cover.


Grill pizza crust for about 5 minutes, then flip to grill the other side.


Either place toppings on the pizza as it grills or remove pizza from grill to place toppings on pizza.


Brush top of pizza with 1 c BBQ sauce. Place chicken, pineapple, and bacon on crust. Then add red onion, shredded cheese, and more pineapple to pizza.


Return pizza to grill for 5 more minutes, lower lid. Allow toppings to heat and take on the smokey grill flavor.


Remove pizza, sprinkle with cilantro. Cut and serve.