Whether you grew up watching the infamous 1975 thriller Jaws series or your child knows every word and dance move to the 2016 Baby Shark song, this themed cake is a must. Or maybe your child is like my son who enjoys endless time frolicking in the ocean... and asking countless shark questions.
There was no doubt when I came across this shark cake design on the Wilton Blog website, I immediately knew it was just the cake to celebrate my son's upcoming birthday.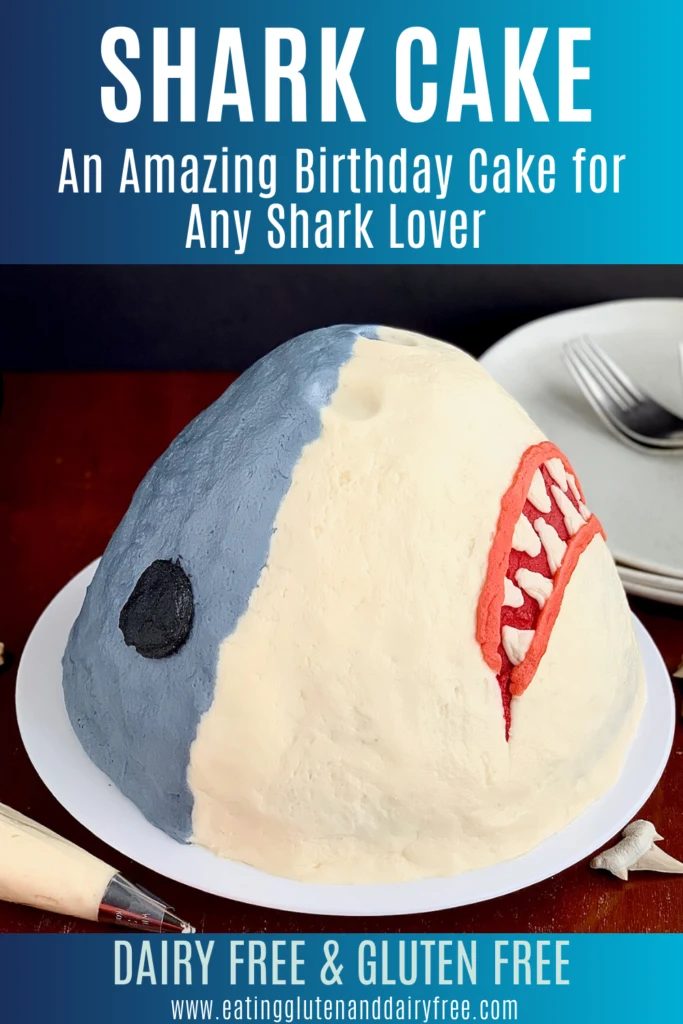 Let it be noted this cake doesn't just look awesome, it also tastes moist and delicious!
Prepare yourself the buttercream frosting is spot-on. I adapted the Wilton buttercream icing recipe found here. And there will be no judging from me if you secretly eat it by the spoonful. This is definitely my new go-to icing... for everything.
After we sliced into the cake, my kids couldn't stop with the favorable compliments. In fact it became clear they couldn't get enough of the cake or frosting. Of course it was up for debate who was going to score a slice of the eyeball or the teeth.With this in mind I must admit this cake was a fun surprise for my son, and I enjoyed icing it too.
And the cake was easier to bake and decorate than I originally thought. Before I knew it, I'd finished icing my son's shark birthday cake, and we were ready to get our party on.
baking + icing tips
There are several tips I've included in this post to help you easily bake and ice this shark birthday cake. Tips include:
first I suggest baking the cake in the pan set a day before you intend on icing and serving. After you remove the cake from the pan and it has completely cooled, wrap the cake in saran wrap and store in the refrigerator.
also the dairy free buttercream can be whipped up to a week or two ahead of time. Store it in the refrigerator until you're ready for it.
but keep in mind you can bake and decorate this shark birthday cake in one day. However if you're like me and you prefer to prep everything the day before, know this cake mix and buttercream icing will taste just as lovely when made a day ahead.
importantly before icing the cake, measure out the icing into 5 different small bowls. Then tint the icing in each bowl as the recipe calls. It's a huge time saver to have each individual icing color already mixed.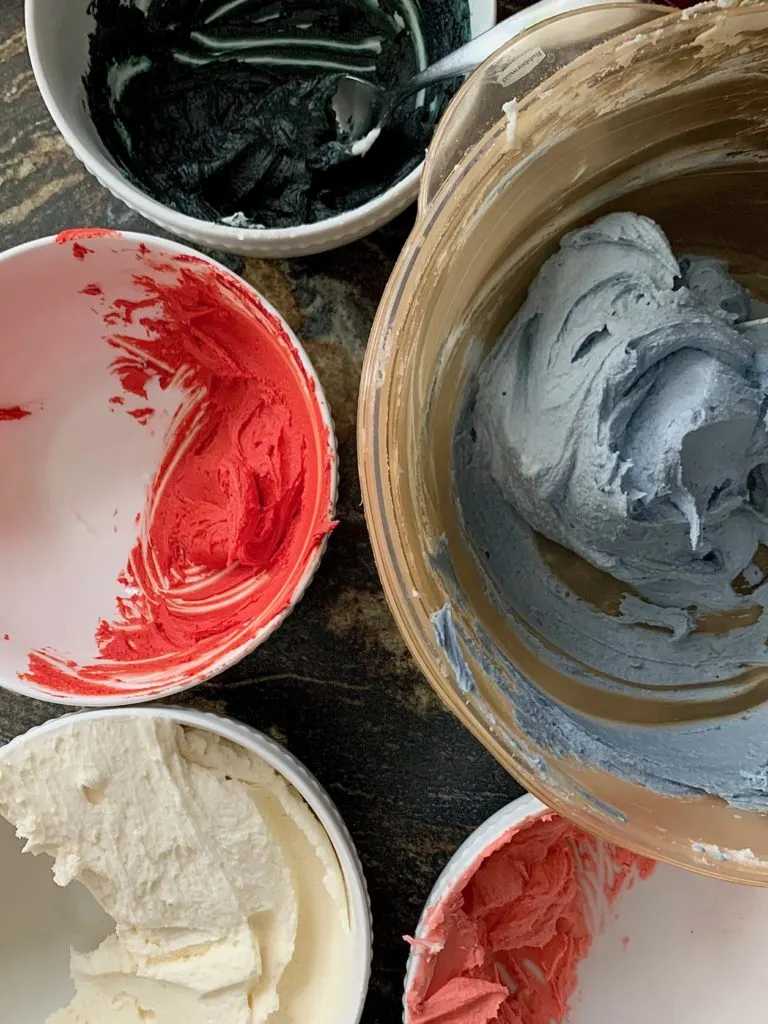 must have ingredients + supplies
This list might seem overwhelming at first; however, this cake is relatively easy to bake and ice. A key suggestion is to grab all your supplies well ahead of the big celebration. And if you've baked a cake before, you'll likely already have some supplies on hand.
Wilton Wonder Doll Cake Pan Set. This pan set can be used for a number of birthday cake ideas including this shark, a doll dress cake or volcano. In the past I've baked and decorated a gluten and dairy free doll dress cake for my daughter's golden birthday. She still talks about that cake. Needless to say I've gotten my money's worth with this pan set.
next you will need 2 of your favorite gluten and dairy free boxed cake mixes (enough for 5 ½ to 6 cups of batter). Our favorite brand of box mix is King Arthur. This brand is certified gluten free. To purchase a chocolate mix, click here, or for a vanilla mix, click here.
also the ingredients to make both cake boxed mixes (water, oil, eggs)
gluten and dairy free butter cream icing (ingredients: palm shortening, dairy free butter, clear vanilla extract, confectioners' sugar, and dairy free milk such as unsweetened almond milk). You will need 5 different icing colors ( black, delphinium blue, red, pink (I used red), and white.
a #1A round pipe decorating tip
disposable decorating bags. Considering there are 5 different icing colors, I suggest disposable bags are the way to go.
lastly cornstarch or arrowroot powder for the nostrils
optional: gift shark teeth as party gifts... these were a HUGE hit for my son and his buddies. We found some at a coastal town during a vacation a few months ago. There are a variety of shark teeth available to purchase off of Amazon.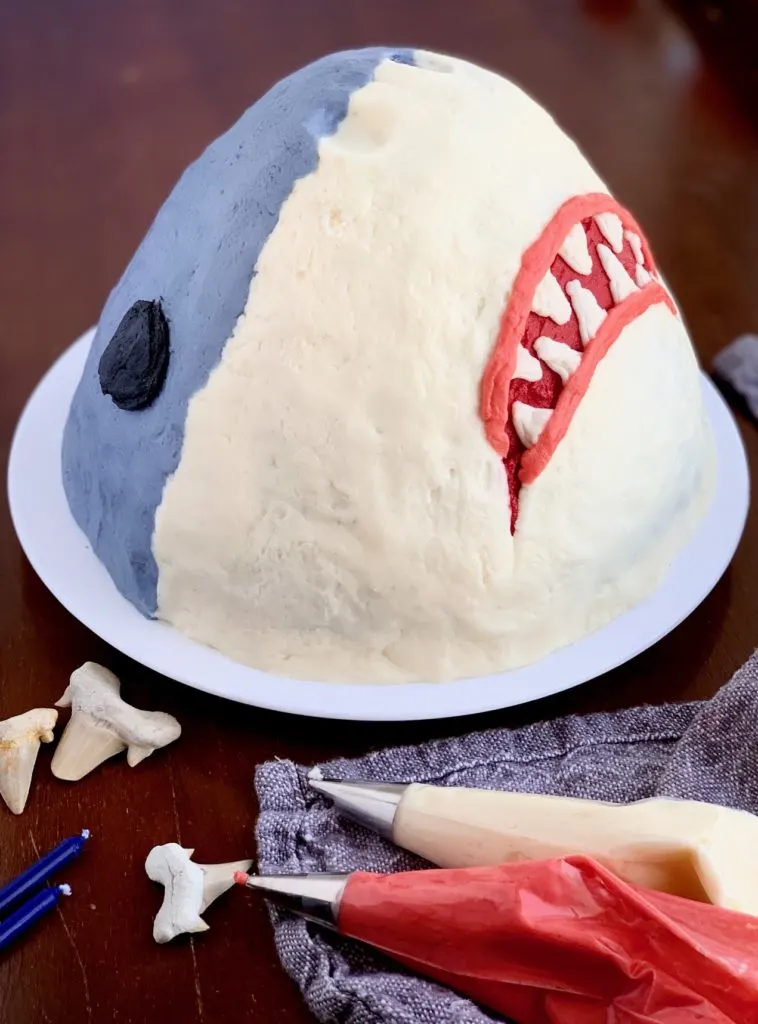 more gluten + dairy free birthday cake and party ideas
As discussed above this gluten and dairy free cake is well received. It is the perfect cake for your next themed birthday celebration. After all it's not only festive but also delicious.
Let's connect. Comment below your loved one's reaction to this fun and delicious cake. And if you're using one of my recipes, post about it on Instagram with the hashtag #eatingglutenanddairyfree.
Eat well and feel well,
Jill
Print Recipe
Shark Birthday Cake
Ingredients
Cake Mix
2

gluten and dairy free cake box mixes, and needed ingredients
Dairy Free Buttercream Frosting
1

c

palm shortening

1

c

dairy free butter

2

teaspoon

clear vanilla extract

8

c

confectioners' sugar

4

tablespoon

dairy free milk
Instructions
Shark Cake Mix
Set up pan set according to box instructions. Coat the inside of the pan and heating rod with shortening and a light dusting of gluten free flour.

Bake 5½ to 6 cups of cake mix in the pan. Allow to cool completely before removing cake from the pan to a cake plate.

Cake may be tightly wrapped in saran wrap and placed in the refrigerator for a day prior to icing and serving.
Dairy Free Buttercream Icing
Cream dairy free butter and shortening with a hand mixer. Add vanilla.

Gradually add in confectioners' sugar 1 cup at a time, scrapping down the bowl as needed.

Add in dairy free milk and beat until light and fluffy. If you will be immediately icing your cake, I'd suggest refrigerating the icing for 30 minutes to slightly harden.

Buttercream icing may be refrigerated up to 2 weeks.
Steps to Ice your Shark Cake
To tint icing divide buttercream into 5 different bowls

¼ c black color

¼ c red color

¼ c light red color

2 c delphinium blue and black color combined

Reserve remaining icing for white
Pipe the Mouth
Place red icing in decorating bag with #3 tip. Pipe an upside down crescent shape, forming the inside of the shark mouth. Smooth as needed.
Ice Remainder of the Cake
Place white frosting in decorating bag with the #1A tip. Pipe around the outside of the mouth, then half of the cake. Set aside ¼ c white icing for the teeth.

Next place dark grey icing in decorating bag with #1A tip and ice remainder of cake. Be careful with blending the grey and white line. Use a tapered spatula to smooth icing if needed.
Pipe Teeth and Gums
Place a #3 tip into decorative bag with white icing. Pipe teeth and smooth with your finger or spatula.

Now place a #3 tip and light red icing into decorative bag. Pipe a line around the top and bottom of mouth for the shark's gums.
Pipe Eyes
Using a #1A tip and black icing in the decorative bag, pipe the eyes. If needed pat down icing with your finger using cornstarch or arrowroot powder.
Make Nostrils
Dipping your finger in cornstarch or arrowroot powder, mark nostril holes.

You can serve this cake immediately or keep refrigerated up to a day before serving. However it will taste best the day it was iced.