If you love the peanut butter and chocolate combo, you are going to LOVE love love this chocolate kiss cookie recipe.
These soft, chewy peanut butter cookies topped with chocolate kisses melt in your mouth.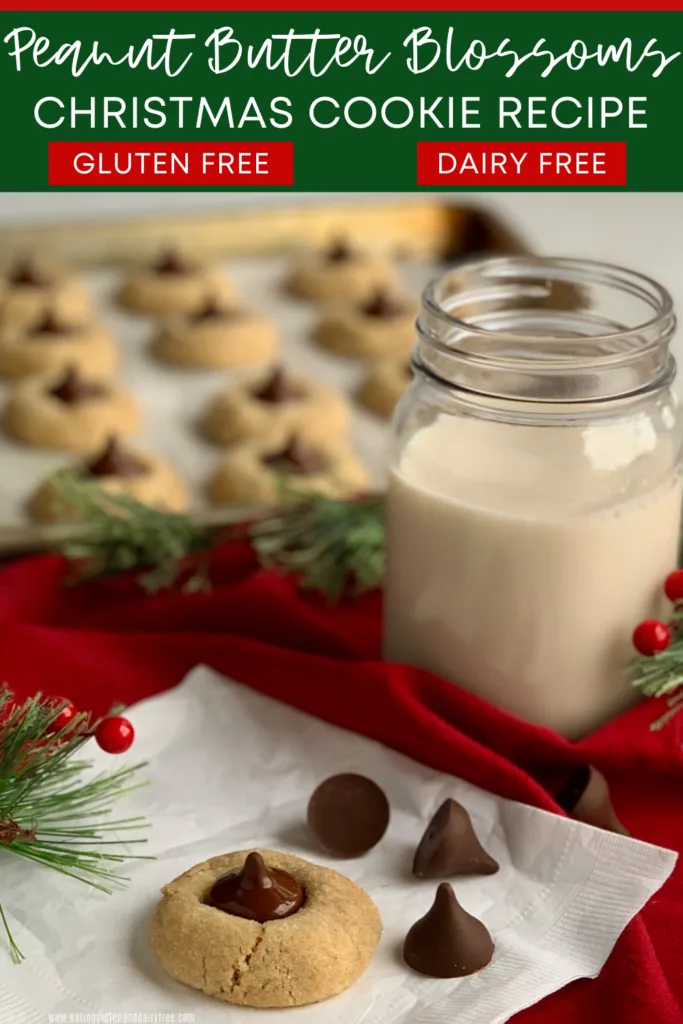 Chocolate Kiss Cookies (aka Peanut Butter Blossoms) were one of my favorite cookies growing up. It seemed these were at every family gathering, church potluck, and on the dessert table of any other party. Having always enjoyed the peanut butter and chocolate combo, I found these cookies hard to resist.
Obviously, these were one of my favorites I had to say goodbye to when I started eating gluten and dairy free.
However, once I discovered the chocolate kiss mold my life became an even happier place. And now that I can make my own dairy free kisses, I can make these iconic favorite cookies again.
Now we can all enjoy these addictive chocolate kiss cookies.
This recipe comes together rather effortlessly. But it does require planning ahead, however these really are a fuss-free cookie.
First, you'll need to have dairy free chocolate kisses on hand. I typically prepare a batch the night before I plan to bake these chocolate kiss cookies. That way I'm not waiting around for the chocolate to set. For my easy, one ingredient chocolate kiss recipe click here.
Next you'll notice in the recipe I suggest placing the peanut butter dough in the refrigerator for 15-20 minutes. This allows the dough to slightly harden and not be sticky when rolling it in your hands.
Lastly, there are endless uses for these easy and absolutely delicious cookies. I guarantee these will be the first cookie to go on the dessert table. And they'll be the cookies your kids will always be begging for. These are also worth considering for any trip by plane or car. Honestly they are a no-fuss gluten and dairy free treat!
recipe notes
for the dairy free chocolate kiss recipe tap here
typically I use Mama's Almond Flour in my recipes. However, this flour can give baked goods a darker color. And I wanted these cookies to have the iconic chocolate kiss color, so I opted to use a lighter gluten free flour. Bob's Red Mill Gluten Free 1 to 1 Baking Flour works perfectly in this recipe and many others. It's also processed in a dedicated gluten free facility. You can purchase it in bulk and save money here.
I have terrific success using Earth's Balance Butter sticks and unsweetened almond milk in this recipe too.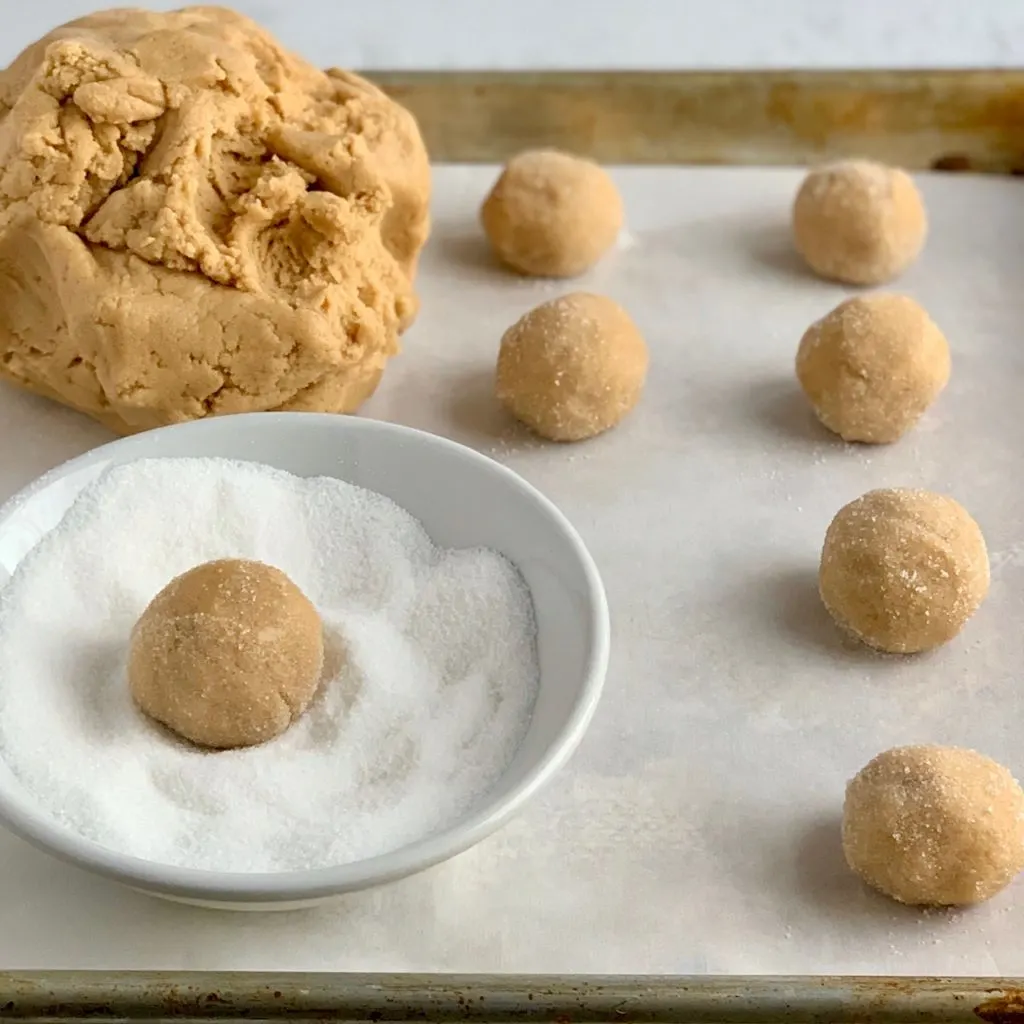 more cookie recipes to bake
the softest sugar cookie is perfect for any occasion. Grab your cookie cutters and start baking.
these s'more cookie bars let you enjoy s'mores year round! You'll be amazed how these taste like they're straight from the campfire.
double chocolate chip cookies with crispy edges and a soft middle. Dress these up with chocolate and sprinkles or crushed candy canes for the holidays.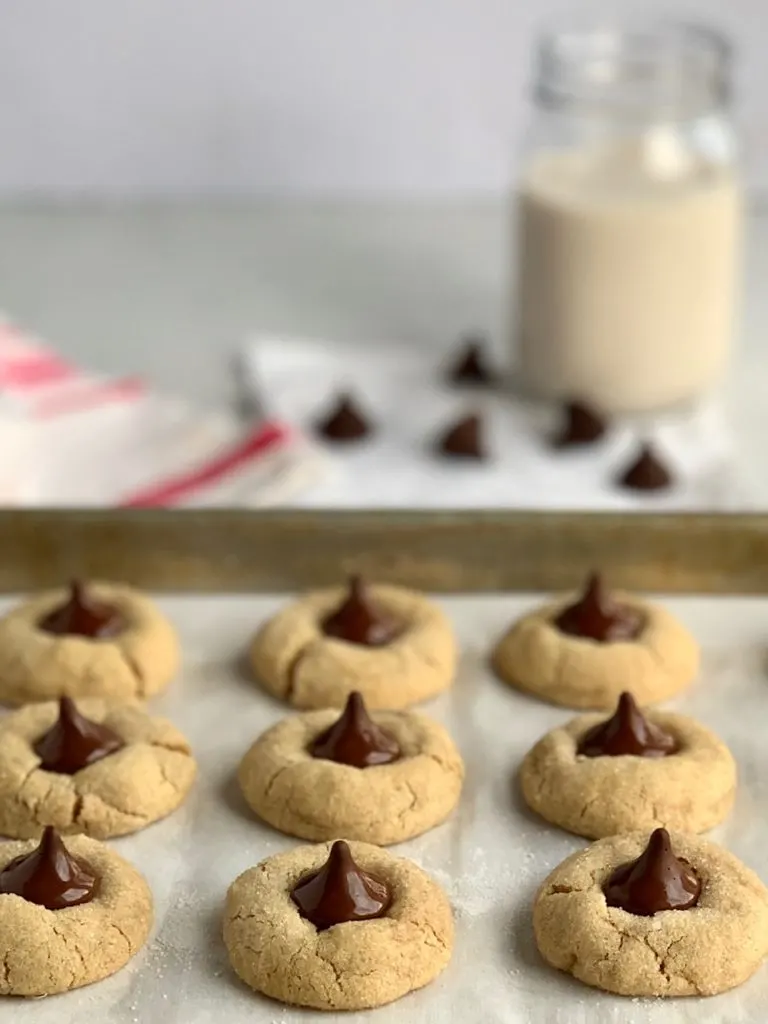 Honestly, how can you resist these delicious chocolate kiss cookies? These soft, chewy peanut butter cookies combine with the chocolate kisses to melt in your mouth. They are easy to bake and stay fresh for days in an airtight container. Can you tell these are one of my all-time favorites?
Let's connect on social media! You can catch all my latest recipe ideas, new product reviews, and meal ideas on Instagram @ Eatinggutenanddairyfree or on Facebook at Eating Gluten and Dairy Free.
Chocolate kiss cookies forever, y'all.
Eat well and feel well,
Jill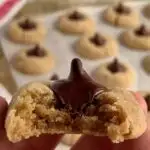 Print Recipe
Chocolate Kiss Cookies
Ingredients
½

c

dairy free butter, softened not melted

½

c

granulated sugar, more for rolling

½

c

brown sugar

¾

c

creamy peanut butter

1

egg, room temperature

2

tablespoon

dairy free milk, unsweetened almond milk works great

1½

teaspoon

vanilla

1¾

c

gluten free all purpose flour, Bob's Red Mill GF 1 to 1 Baking Flour is fab in this recipe

if your all purpose gluten free flour does not have xanthan gum in its mix add ½ tsp

1

teaspoon

baking soda

¼

tsp

salt

40

dairy free chocolate kisses, see the recipe link in the post
Instructions
Line two baking sheets with parchment paper and set aside.

With a handheld mixer cream butter and sugars in a medium bowl.

Add peanut butter and blend until smooth.

Next add in egg, milk, vanilla and cream.

Now add in flour, baking soda, and salt. Add in xanthan gum if needed too. Mix until just combined.

Refrigerate dough 15-20 minutes so it's easier to handle.

Place ¼ c sugar in a shallow bowl.

Roll dough into 1" balls, then roll in sugar and place onto parchment paper.

Bake 8-9 minutes or until lightly browned on the edges.

Remove from the oven and allow to cool for 1-2 minutes. Then while the cookies are still warm press a dairy free chocolate kiss into each one.

Store in an airtight container up to a few days. The chocolate will start to discolor otherwise.
Notes
The cookie dough can also be kept refrigerated up to 3 days.
And for Christmas or Valentine's Day used colored sugar to roll your cookies in.