This post may contain affiliate links. Read the full disclosure here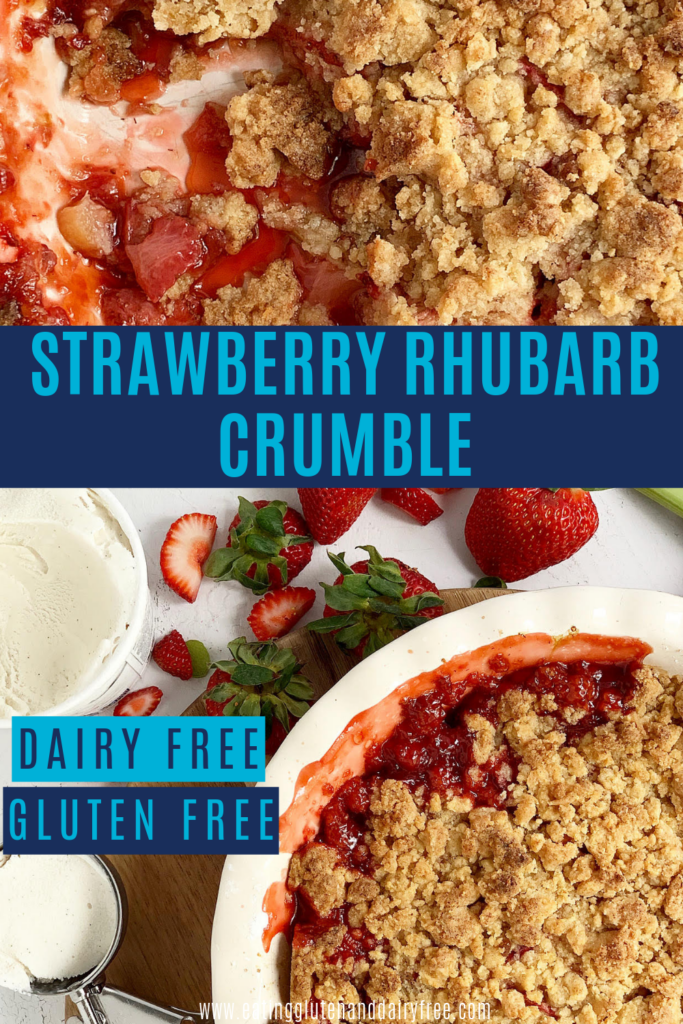 Wouldn't you know it was my hubs who got me hooked on rhubarb desserts after we were married. And more shockingly can you believe it took that long before I enjoyed my first experience with rhubarb?
Seriously, y'all, I was leading a deprived life.
So naturally I urgently needed a strawberry rhubarb crumble recipe. Above all it needed to be gluten and dairy free. Moreover, I decided we needed to grow our own fresh rhubarb in the garden.
And as I type we're enjoying warm strawberry rhubarb crumble topped with dairy free ice cream. And yes, I used fresh rhubarb from the garden.♥
Maybe you've got an abundance of rhubarb in your own garden this year. Or maybe you're like the hubs and every spring you need a fresh rhubarb recipe in your life.
I've been in a frenzy to take pictures and share this recipe with you.
This recipe is for you.
And in hopes of baking the best strawberry rhubarb crumble, follow these easy tips:
First, for a majority of my recipes I try to stay consistent and use Mama's Almond Flour blend. My family and guests seem to like the texture and taste of it. I've also found it's available throughout the US and able to be delivered from Amazon. The link for it on Amazon is here. This flour blend does not have xantham gum in it. However, if you're using a flour blend with xantham gum then omit adding extra in this recipe.
Secondly, place a dollop (or two) of your favorite dessert topping to make this a grand slam. There are two gluten and dairy free choices that come to mind. The first is a non-dairy ice cream such as So Delicious. They have a wide range of non-dairy ice cream alternatives. Next, So Delicious CocoWhip is delicious and creamy on this crumble.
Next, place any leftovers in the refrigerator and look forward to breakfast! Yaaasss… our family might be known to finish off the last few crumble bites at breakfast time. Tell me we're not the only ones.
Lastly, double your measurements to bake in a 9 x 13′ pan.
Print Recipe
Strawberry Rhubarb Crumble
Ingredients
Crumble Topping
8

tbsp

non dairy butter (an Earth Balance stick works great)

1/2

tsp

baking powder

1/2

c

sugar

1/2

c

brown sugar

1 1/4

c

all-purpose gluten free flour (Mama's Almond Flour mixes well)

1/2

tsp

xanthan gum (omit if your flour blend has it)

1

tsp

lemon zest, half a lemon

pinch of salt
Strawberry Rhubarb Filling
1

quart

strawberries, hulled and chopped

1 1/2

c

chopped rhubarb

1/2

tbsp

lemon juice

1/4

c

cornstarch

1/2- 3/4

c

sugar

pinch of salt

dairy free ice cream (So Delicious Vanilla Bean goes well)
Instructions
Preheat oven to 375 F.


Wash and dry strawberries and rhubarb. Hull and chop strawberries and chop rhubarb for recipe.


In a pie plate or 9 x 9 pan mix all crumble ingredients. Let mixture stand for 10 minutes while you prepare the crumble.


In a medium bowl, melt butter. Add rest of crumble ingredients and mix well. It will form clumps. Spread evenly over filling with fingers.


Place pie plate on large baking sheet in case filling bubbles over pie plate.


Bake for 35-40 minutes until filling is bubbling and the topping is golden brown in places.


Remove from oven and allow the crumble to sit for 15 minutes before serving with ice cream. The crumble filling will thicken as it rests.

Furthermore, I hope your family enjoys this gluten and dairy free strawberry rhubarb crumble like we do.
Without a doubt, this is a springtime favorite dessert we look forward to when when the winters in Montana seem to rage on.
Lastly, I want to leave you with an easy enchilada recipe. The Mexican flavors in this dinner dish are spot-on. Each bite is mouthwatering. Enjoy shredded chicken, black beans, and your favorite Mexican spices and fillings. Pour Hatch Organic Red Enchilada Sauce over the enchiladas. Then top with your favorite toppings like dairy free cream cheese, salsa, or diced tomatoes. The recipe link is here.
Thanks for checking out my strawberry rhubarb crumble recipe. Eating gluten and dairy free is hard. But, food can still taste delicious and be filling. ♥
Eat well and feel well,
Jill