Transform an ordinary cake into a surprising homemade ice cream cake with this simple, easy-to-follow guide.
And as your family and friends ooh and aah over this yummy dessert, they'll never guess just how effortless it was to make.
There are so many dreamy and mouthwatering flavors in each bite... soft, moist vanilla cake with cold, smooth ice cream, and the uber creamy whipped topping.
Plus the sprinkles add a nice little crunch. This tastes wonderful.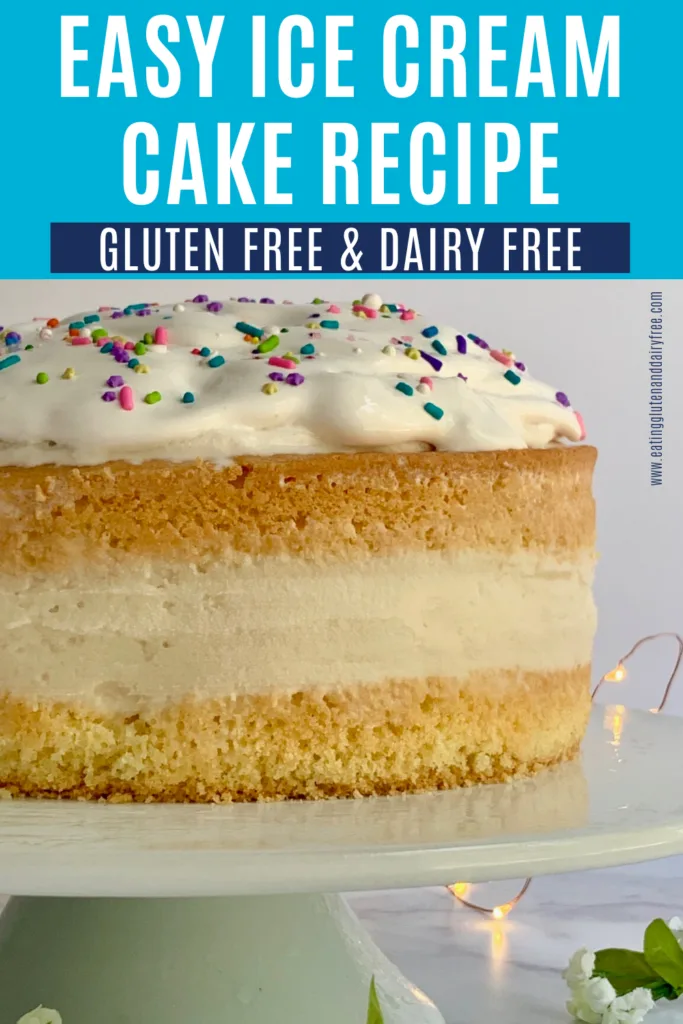 Not only is this cake perfect for summer birthdays but also any summer gathering. My family begs for this cake even in the winter.
To be honest-- my kids say this cake is the best of both worlds... a real cake and ice cream splurge. And my son who has a summer birthday loves, loves, loves this cake for his birthday.
And just think of all the different ice cream flavors you can enjoy with this recipe. I've got to tell you strawberry ice cream is also so good, and you can top the whipped topping with fresh strawberries. It is heavenly!
Or another idea is to complete this ice cream cake with sprinkles, maraschino cherries, and birthday candles.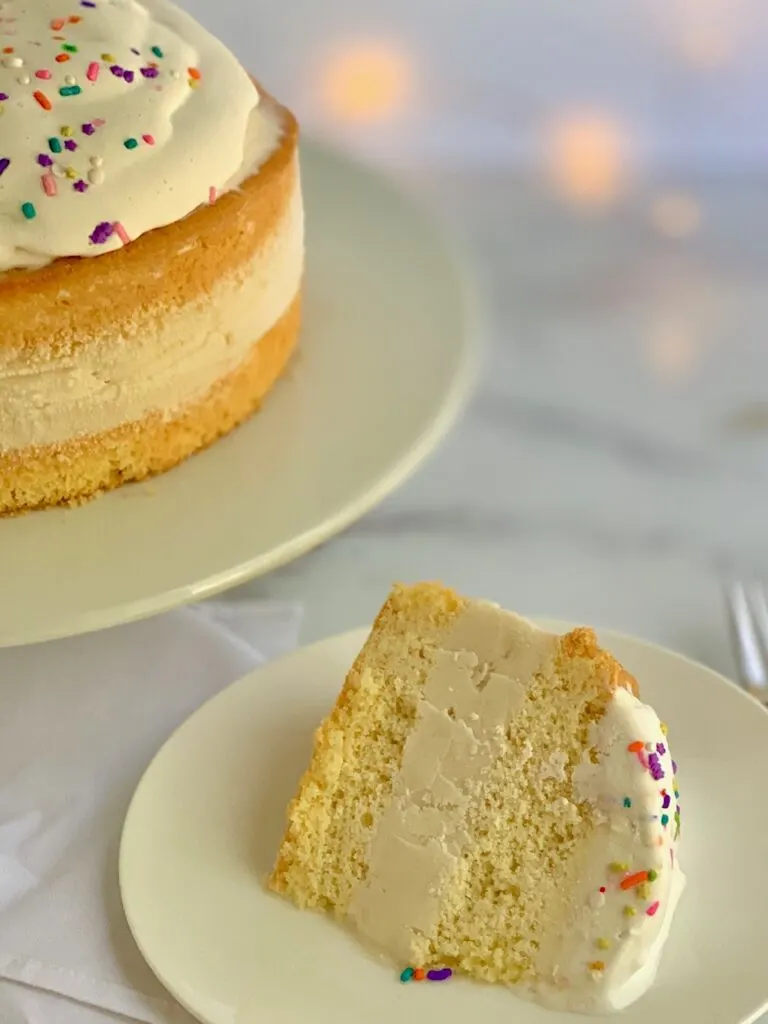 ice cream cake recipe notes
cake mix-- my favorite gluten and dairy free brand is King Arthur GF Yellow Cake Mix.
ice cream-- use your go-to GF DF ice cream. So Delicious is our favorite. This cake tastes wonderful with their chocolate, strawberry, or vanilla flavors.
whipped topping-- again So Delicious Coco Whip is my must-have whipped topping to have on hand. You can also use Truwhip or a homemade whipped topping.
sprinkles-- Sweets Indeed is a brand I use often
8 inch cake pan-- I use these in my kitchen
angled icing spatula-- these are a kitchen must! I have several because I use them so often. If you don't have any check this set out.
this is a recipe that works best when the cake is baked a day ahead of time, and the ice cream is frozen overnight in the baking pan. Then this recipe comes together in minutes just before serving.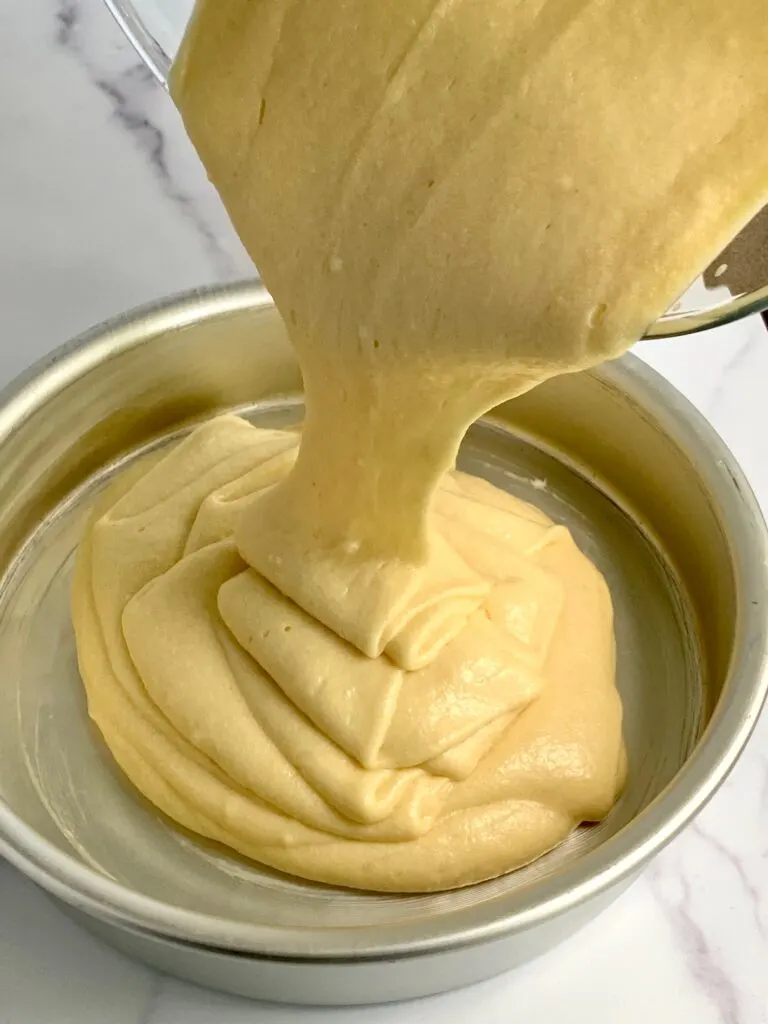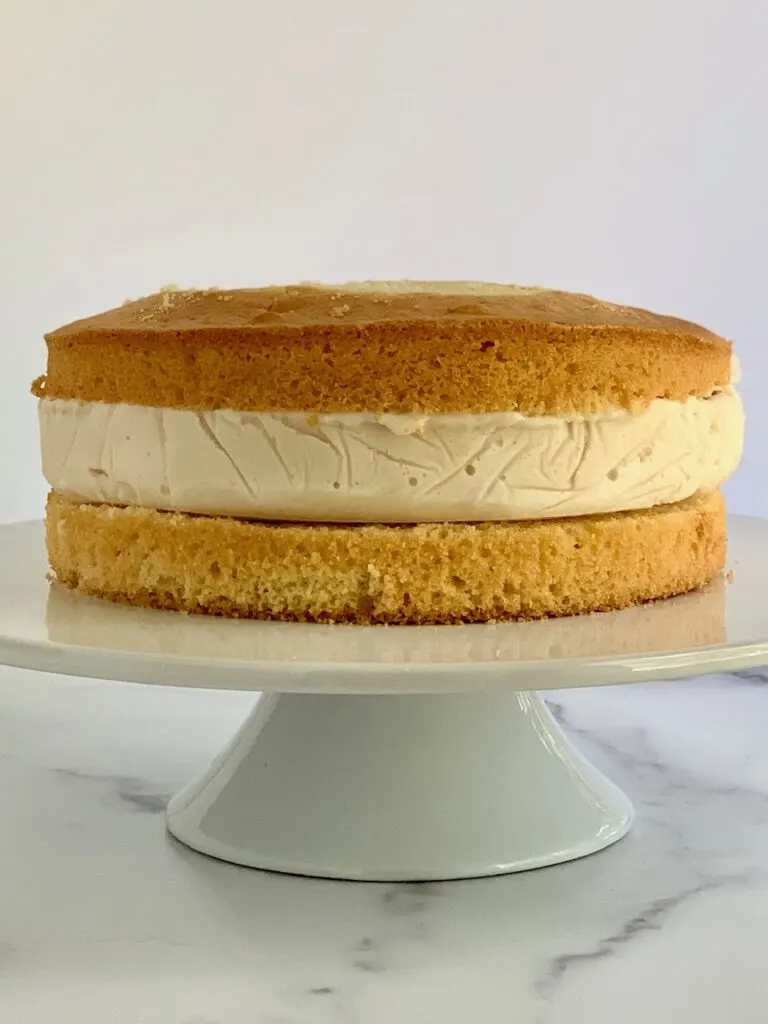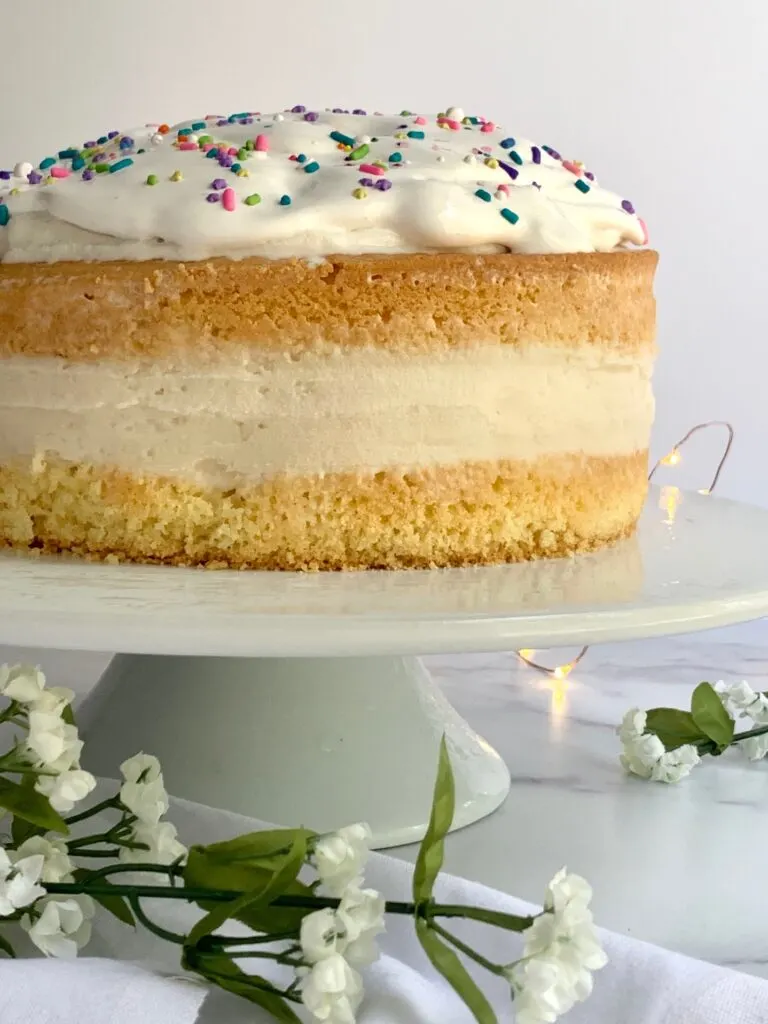 more dessert recipes
s'more cookie bars-- these bars are even yummier than s'mores over the campfire. You will enjoy every bite of this wonderful cookie and s'more combo.
4th of July desserts-- you will find 10 desserts perfect for the 4th of July or any summer BBQ plans that are all gluten and dairy free
homemade oreo milkshake-- this is a must- make treat. This thick and creamy milkshake is completed with bits of crushed oreo-like sandwich cookies. It's the perfect treat in anytime of year.
lastly
You can't go wrong with this dessert idea. You're bringing together everyone's favorite classic dessert-- cake and ice cream.
Be sure to let me know how your family liked this cake in the comments below. And if you enjoy sharing food pics on Instagram from any of my recipes, please tag me and also use the hash tag #eatingglutenanddairyfree. That way I don't miss them.
And be sure to follow me on Facebook and Instagram.
Eat well and feel well,
Jill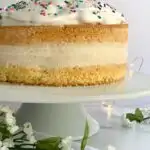 Print Recipe
Ice Cream Cake
Ingredients
1

quart

GF DF ice cream flavor of choice

or 4 cups

1

GF DF yellow cake mix

see suggestions in post

all ingredients needed to bake your cake

1

So Delicious Coco Whip Topping Container

Homemade whipped topping works great too

GF DF sprinkles

optional- maraschino cherries, fresh strawberries
Instructions
Preheat oven to 350°F and grease the bottom of an 8 inch cake pan.

Follow the directions to bake your favorite box cake mix.

After the cake has cooled, remove it from the cake pan.

Remove ice cream from the freezer and allow it to soften.

Line an 8 inch cake pan with plastic food wrap. Place softened ice cream into the cake pan. With an angled icing spatula evenly spread the ice cream throughout the pan.

Place the ice cream back into the freezer for at least 2 hours or even better is overnight.

One hour before serving place So Delicious Coco Whip in the refrigerator to slightly thaw.

Just before serving cut the 8 inch cake evenly into a top and bottom.

Place the bottom on a cake plate.

Then remove ice cream from the pan by pulling on the plastic food wrap. Place ice cream on the cake and remove wrap. Top ice cream layer with the top of the cake.

Allow ice cream to soften for a few minutes then smooth ice cream cake with an angled icing spatula.

Top with So Delicious Coco Whip and sprinkles.

For leftovers- place food wrap over cake and transfer to the freezer up to 1-2 days.