Motocross Birthday Cake-
My oldest son is all boy. You know the kind…life's best when you're outside feeling the wind blowin' in your hair. Feeling anything and everything to the extreme. He loves to ride his bike anywhere and everywhere. Riding his bike in the rain, in the mud, and ramping over sidewalks (the bigger the better). He's convinced he's a motocross rider.
One of his favorite things is to race his bike against the mailman in his car down our street. Actually, I've seen the mailman when he's racing my son and I'm not sure who's having more fun!

So it was an obvious choice when I was thinking of a theme for his 7th birthday cake…a boy and his bike means a motocross bike and trail.
Honestly, this was a really fun cake to make. There was no pressure for it to look perfect– you know what I'm talking about. This cake shouldn't be perfectly iced on all sides. You want lumpy and messy which works well for those who haven't spend years decorating cakes.
Why should you make a motocross birthday theme cake for someone you love?
To create this motocross birthday cake: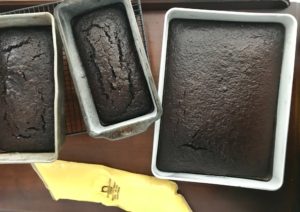 First bake two 9 x 13 in chocolate cakes and two loaf pan cakes. I used three King Arthur cake mixes. My son chose chocolate cake, but any flavor cake mix would taste great. While the cakes are cooling prepare your frosting. Use your favorite dairy free chocolate frosting recipe or this one. Set the frosting aside.
After the cakes have cooled, remove them from the pans. Add frosting to a piping bag and pipe and around the outside of one 9 x 13 inch cake. Then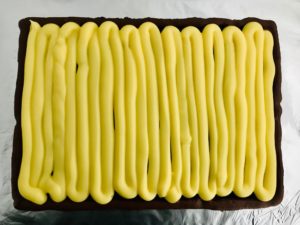 snip a corner of the Bavarian cream pastry bag and pipe the inside of the cake.
Are you familiar with Bavarian cream filling? This filling makes for such a rich and flavorful cake.Â
After filling in the bottom cake layer you'll have about 1 cup left over. You can refrigerated leftovers for a future baking event.
Next place the second 9 x 13 inch cake directly on top of the bottom cake.
Then construct two ramps out of the two loaf pans. Constructing the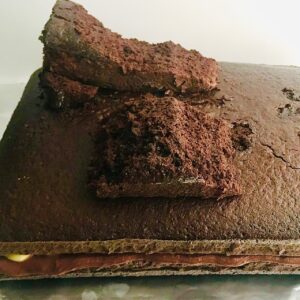 ramps was trial and error. I used a knife to shave off the ramps. My ramp cuts were messy and that's fine. As you ice over the ramps and fill them with crushed oreos it will look perfect.
Keep in mind I didn't use all of the loaf cakes so you could construct a third ramp if you wanted.
Now ice the cake on the top and all sides with an offset spatula like this one. After the cake is iced you are ready to create the race track. Keep in mind all the edible decorations are gluten and dairy free.
Motocross Birthday Cake Decorations

To decorate the cake first, crush the KinniToos Chocolate Sandwich Cookies in a Ziploc bag. You want the crumbs to be very fine without any big chunks. Then place layers of crumbs where the motocross trail will go. Next place the trees and bushes along side the trail. Lastly use the candy rocks for borders and place the race flags.
Place the motocross figuring last. As in…right before singing "Happy Birthday." Quinn said this was his favorite birthday cake.
Have fun creating your own one-of-a-kind motocross birthday cake! The lumpier the better. Surprisingly the more imperfect the cake, the more your special someone will love it!
If you're looking for more gluten and dairy free birthday cake ideas be sure to snoop around my website. You'll find recipes and more detailed tutorials such as:
Lastly let's connect on Facebook, Instagram, and Pinterest. If you haven't started following me on Pinterest do now. Y'all- new gluten and dairy free pins are being added to my boards weekly. I don't want you to miss out on one delicious recipe or food travel guide.
And enjoy every last bite of this motocross birthday cake!
Feel well and eat your cake well too!
Jill