Do you have a child who loves to race motocross??? Well, after checking out this post you can feel confident making a dirt bike cake for your birthday boy or girl. This cake doesn't have to be perfect, after all, it's a motocross birthday cake! Dirt is allowed to be misplaced everywhere.
So let's get down to business and learn how to make this fun birthday cake!
Your guests won't even know that this is a gluten and dairy free birthday cake recipe!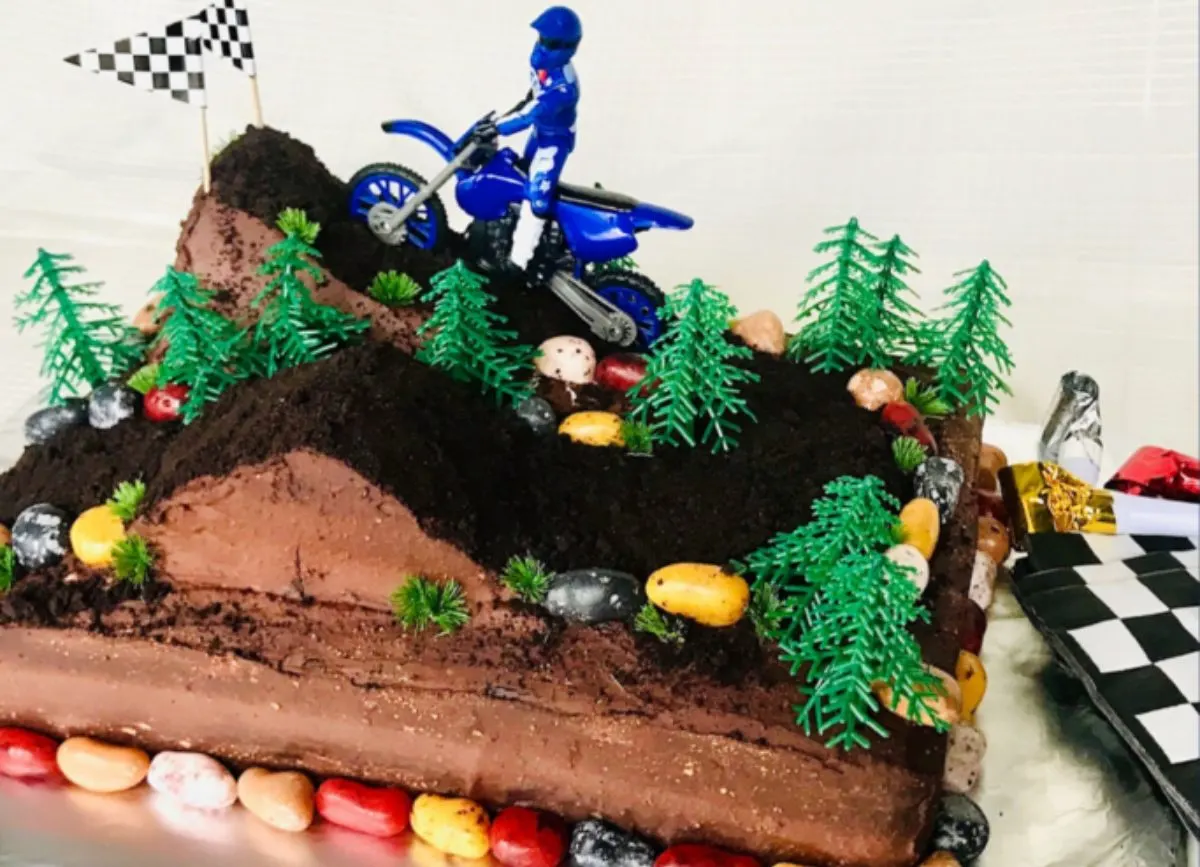 Why Make A Motocross Cake
Your dirt bike obsessed kids will remember this gluten and dairy free cake for years to come
Your guests will love it also
It looks like a work of art but actually isn't that hard to make
It's a great way to bring a birthday party theme together
It's not a boring flat sheet cake with one of those icing images or photo paper that you can eat
The bavarian cream cake filling makes for a rich and flavorful cake
Ingredients Needed
Motocross Birthday Cake Decorations
Helpful Birthday Supplies
We like to grab a bunch of these things online, I can rarely find a store that has a huge selection of birthday party supplies close to us, so ordering online has been a huge personal time saver!
9 x 13-inch baking pans
loaf pans
piping bags
mixing bowls
measuring cups and spoons
stand mixer
offset spatula
How to Create A Motocross Birthday Cake:
Bake two 9 x 13-inch chocolate cakes and two loaf pan cakes. I used three King Arthur cake mixes. We chose chocolate cake, but any flavor cake mix would taste great.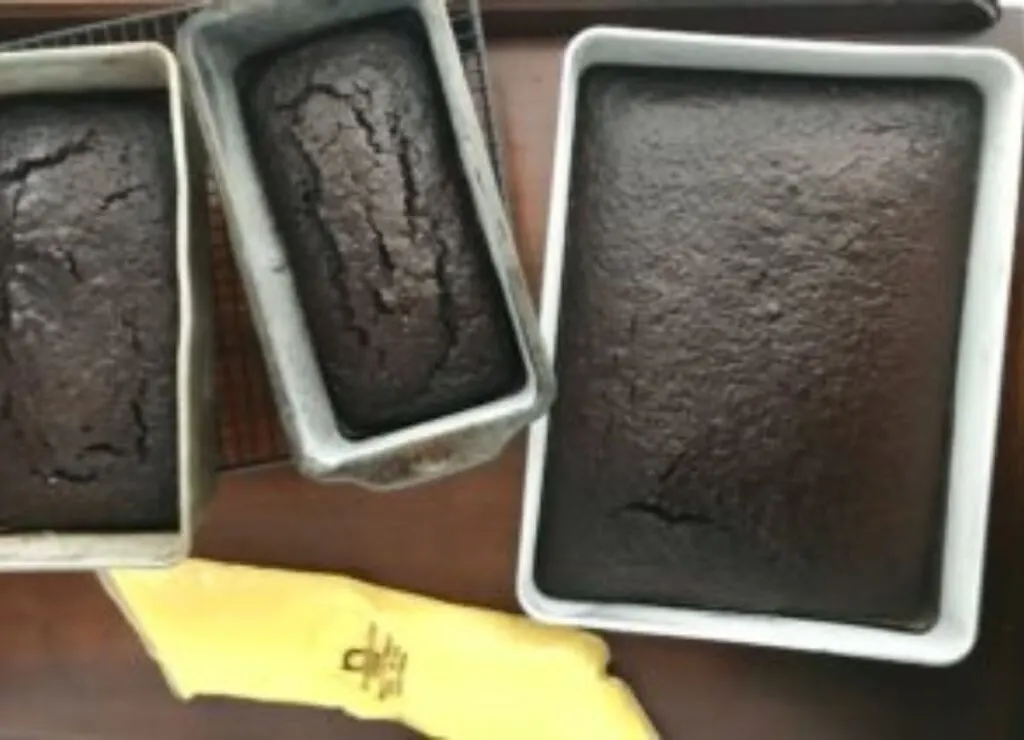 While the cakes are cooling prepare your frosting. Use your favorite dairy free chocolate frosting recipe. Set the frosting aside.
After the cakes have cooled, remove them from the pans. Add frosting to a piping bag and pipe around the outside of one 9 x 13 inch cake. Then snip a corner of the Bavarian cream pastry bag and pipe the inside of the cake.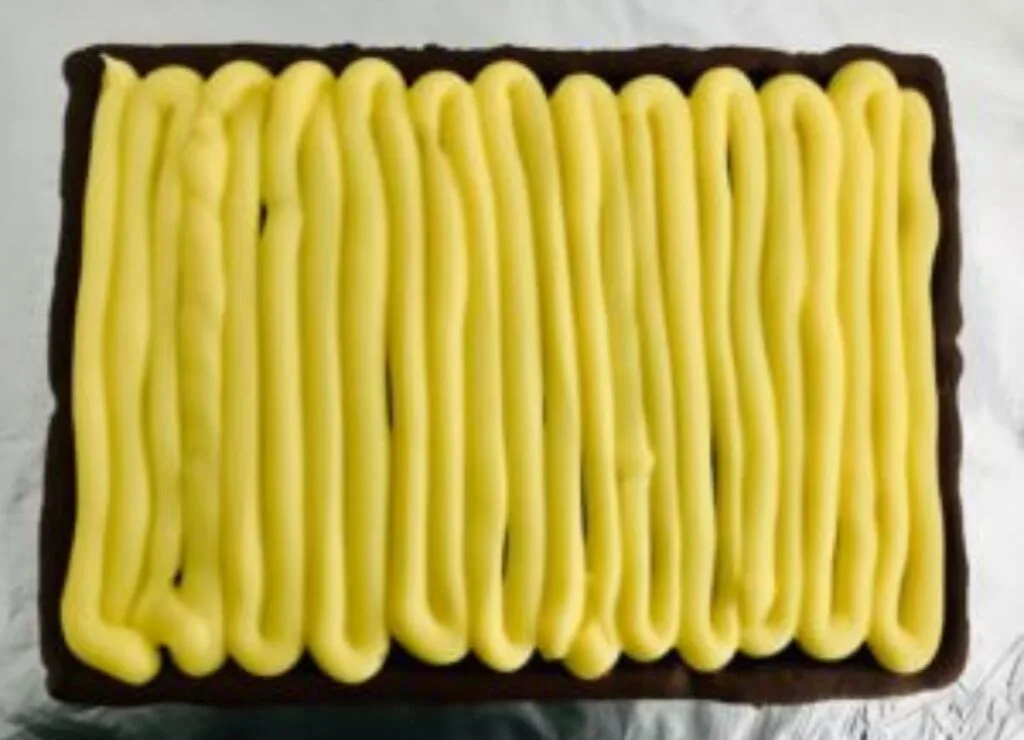 Snipping the corner makes it a large hole so the Bavarian cream can come out faster
Important note: After filling in the bottom cake layer you'll have about 1 cup left over. You can refrigerate leftovers for a future baking adventure.
Next, place the second 9 x 13-inch cake directly on top of the bottom cake.
Then construct two ramps out of the two loaf pans.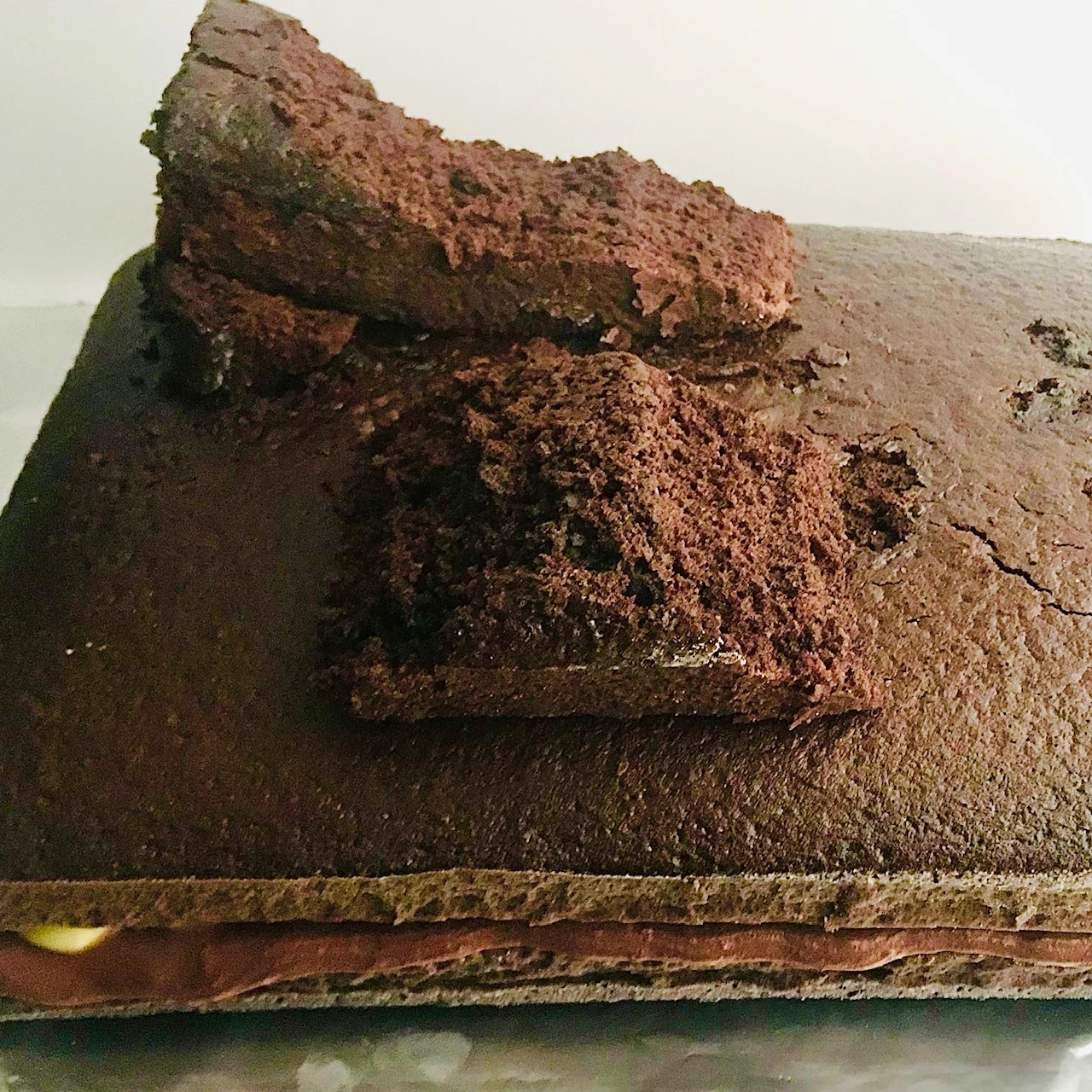 Constructing the ramps was trial and error. We used a knife to shave off the ramps. Our ramp cuts were messy and that's fine. As you ice over the ramps and fill them with crushed gluten free Oreos it will look perfect.
Keep in mind we didn't use all of the loaf cakes so you could construct a third ramp if you wanted.
Now ice the cake on the top and all sides with an offset spatula like this one. After the cake is iced you are ready to create the race track. Keep in mind all the edible decorations are gluten and dairy free.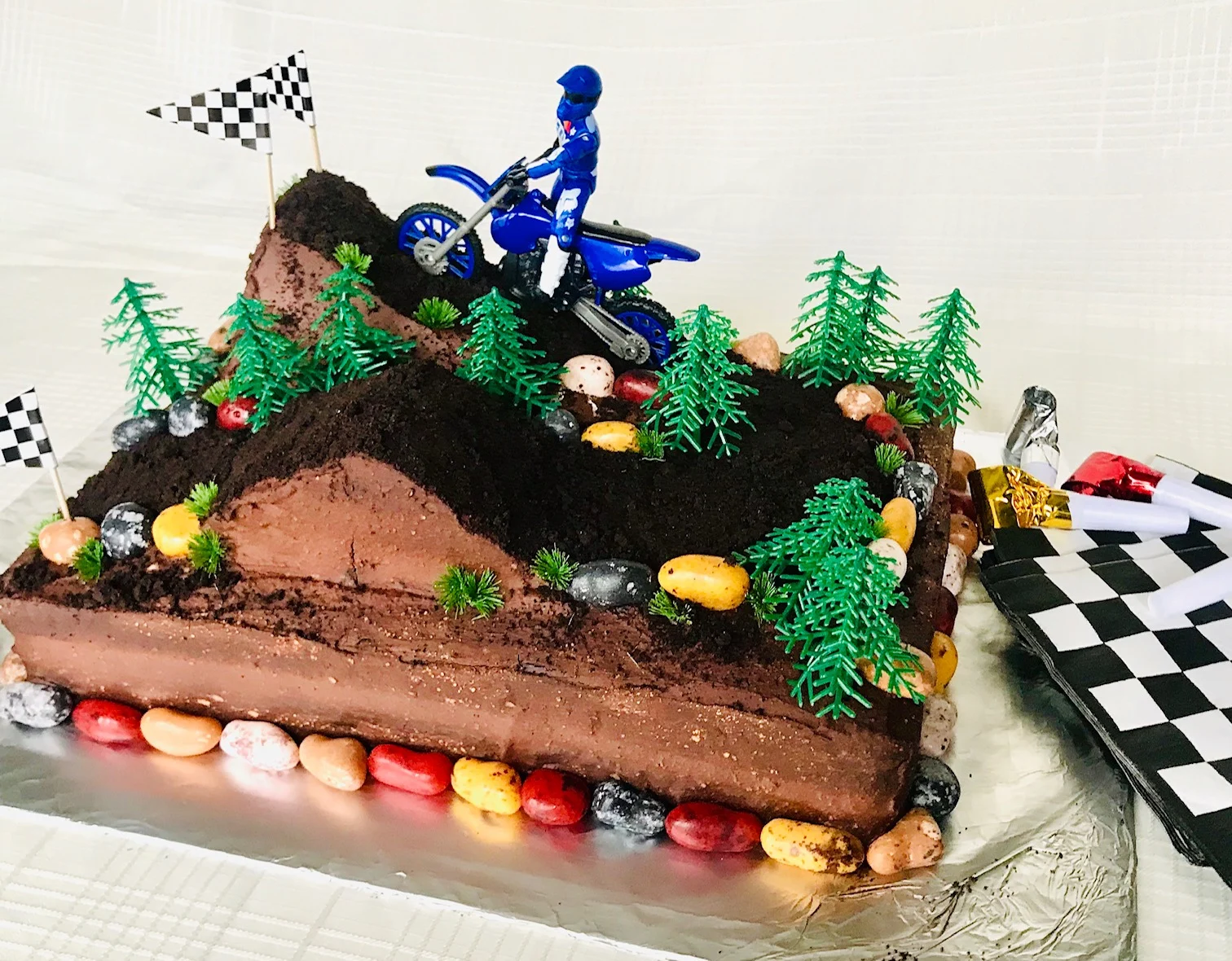 To decorate the cake first, crush the Gluten Free Oreo Cookies in a Ziploc bag. You want the crumbs to be very fine without any big chunks. Then place layers of crumbs where the motocross trail will go.
Next place the trees and bushes alongside the trail.
Lastly use the candy rocks for borders and place the race flags.
Place the motocross figurine last. As in…right before singing Happy Birthday.
Have fun creating your own one-of-a-kind motocross birthday cake!
The lumpier the better. Surprisingly the more imperfect the cake, the more your special someone will love it!
Storage
This Motocross cake is best enjoyed the day that you assemble and make it. If you have leftover cake, you can remove the decorations and store in airtight container in teh fridge for up to 2 days. Between the frosting and the bavarian cream filling, you really need to refrigerate the cake.

Tips and Variations
Don't stress yourself trying to get it perfect.
You can use different types of cakes if you want.
If you don't want to use chocolate frosting, you can use white icing and dye it. We like to use this dyeless food dye
You can make any layout changes that you want- it's your cake.
Nobody wants a cake with an edible image or a boring frosting sheets with a picture of a bike on it when you can enjoy this fun 3d dirt bike cake!
If you're looking for more gluten and dairy free birthday cake ideas be sure to snoop around the website. You'll find recipes and more detailed tutorials such as: