This thick, creamy, and rich homemade Chocolate Buttercream Frosting is the best. It spreads beautifully on everything and holds up well on summer days. You'll find yourself eating it out of the bowl with a spoon.
The thickness and smooth texture are perfect for piping in between layer cakes, topping on cupcakes, brownies, and even cookies.
We also use this Chocolate Buttercream Frosting recipe for icing sheet cakes and the outside and top of layer cakes.
And bonus-- there aren't any fancy ingredients you need to buy ahead of time. You'll most likely have everything already on hand to whip up a batch of this frosting today.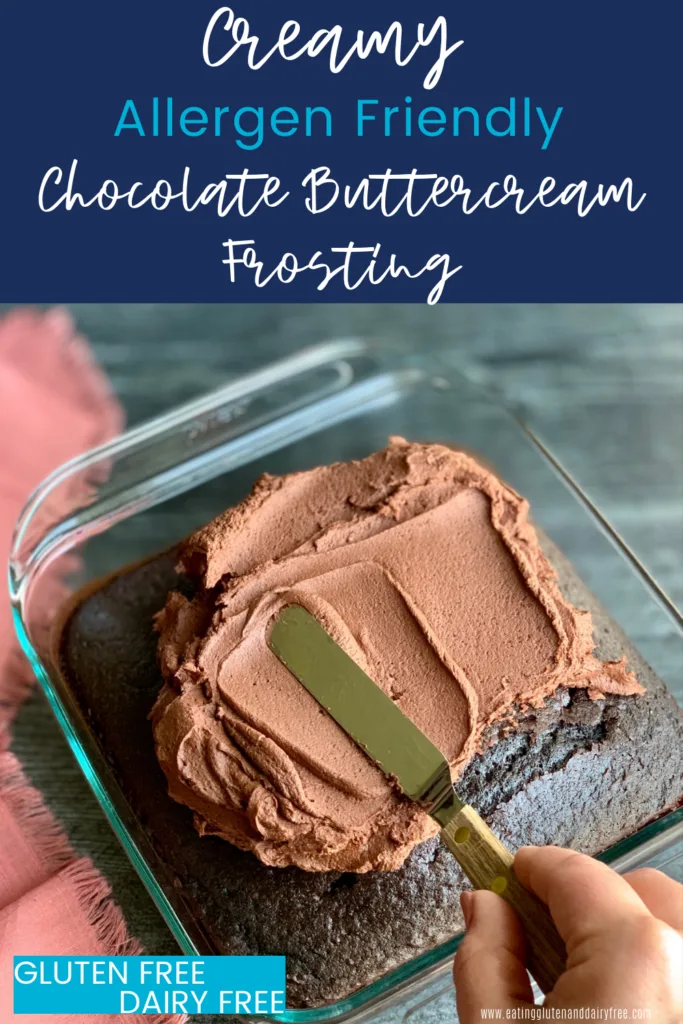 We are so in love with the intense chocolate flavor of this recipe. It satisfies all our chocolate cravings and then some.
And anytime there are leftovers we love dipping our gluten and dairy free Vanilla Wafers or graham crackers into it. What a fun treat to surprise the kids with after school-- and the adults in your life too.
With only 6 ingredients you're just minutes away from having this decadent frosting ready to use on your next homemade cake.
So pin this frosting recipe now so it's always available at your fingertips with no wasted time searching for it.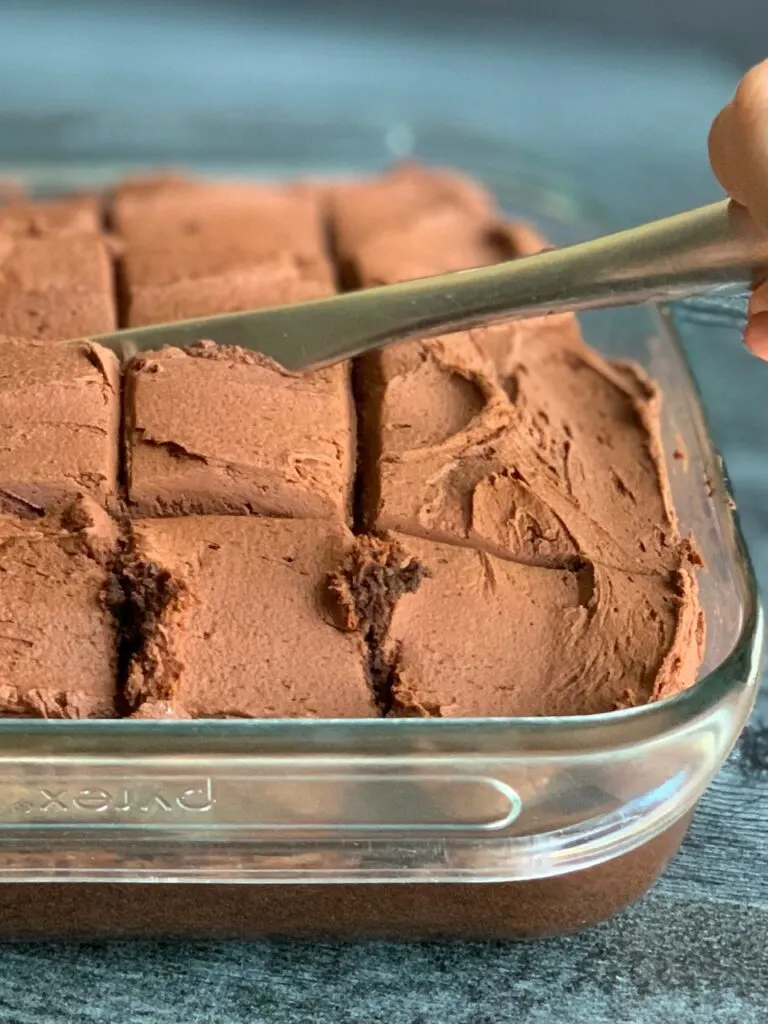 chocolate buttercream frosting ingredients
dairy free butter-- we use Earth Balance Buttery Sticks in the red box; it is vegan and soy free too
palm oil shortening-- this is our go-to. We store it in a cool place and it lasts forever. Vegetable shortening works in this recipe too.
vanilla extract
unsweetened cocoa powder-- traditional unsweetened cocoa or Dutch-processed cocoa powder if you're looking for a darker chocolate color and even more intense chocolate flavor. The Dutch-processes cocoa powder is our favorite to use in recipes. You can read the company's allergy manufacturing statement in another post here.
sifted confectioners' sugar-- also known as powdered sugar
dairy free milk-- our favorite is unsweetened almond milk
sprinkles-- our go-to safe brand of sprinkles is Sweets Indeed. They offer seasonal sprinkles too that we love to top on our homemade donuts. They can be purchased from their website or on Amazon.
angled spatula-- this is a kitchen gadget must. We use ours almost every day for evenly spreading dinner recipes or desserts like this frosting. The angled spatula is ideal for getting in the corners of the cake pan.
9x13-inch baking pan-- here's the pan and lid we use every week. If you're new to baking-- this is a must-have pan in the kitchen.
8x8-inch baking pan-- we love this glass Pyrex pan
disposable piping bags-- it is a wonderful convenience to use disposable bags when frosting a cake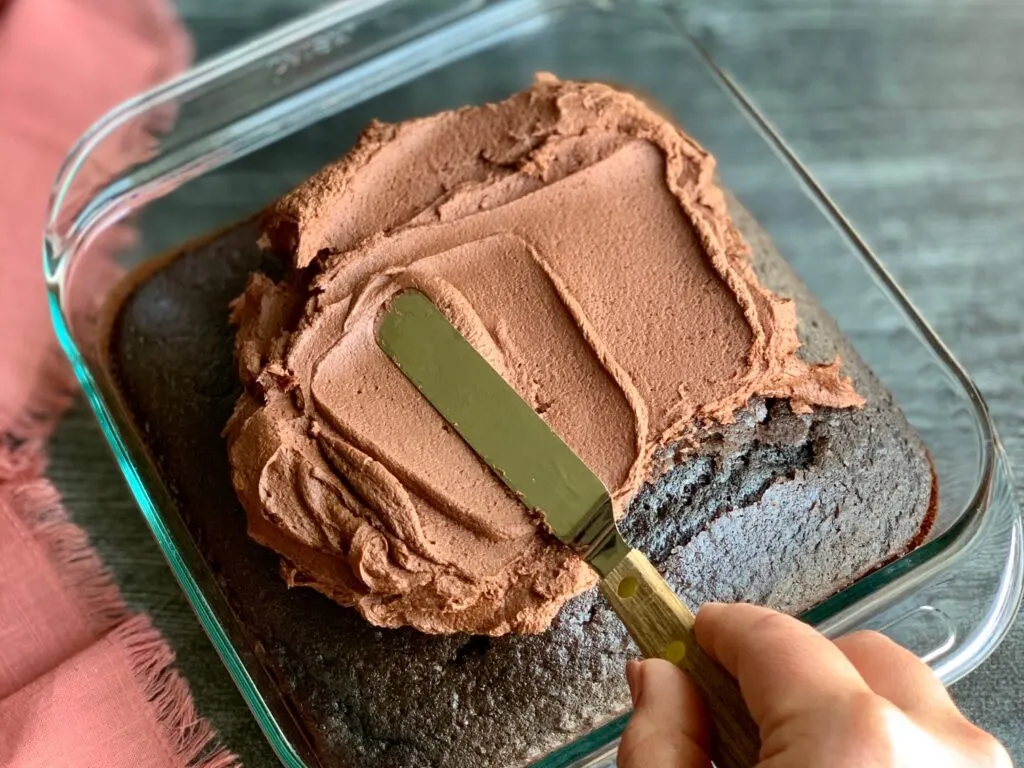 does chocolate buttercream frosting need to be refrigerated
Yes and no. You can prepare this frosting up to 3 days in advance and store in an airtight container in the refrigerator.
After your baked cake has been frosted, it can stay at room temperature.
And keep leftover frosting refrigerated in an airtight container for up to a week.
how much frosting does this make
This recipe yields 3 cups of chocolate buttercream frosting.
For frosting an 8 x 8-inch square cake, we cut the frosting recipe card measurements in half.
And to top 24 cupcakes or frost the top of a 9 x 13-inch sheet cake in the pan, prepare this recipe card exactly as is.
Then to pipe and frost 3-layer 6-inch cakes, we double this recipe for 6 cups of frosting.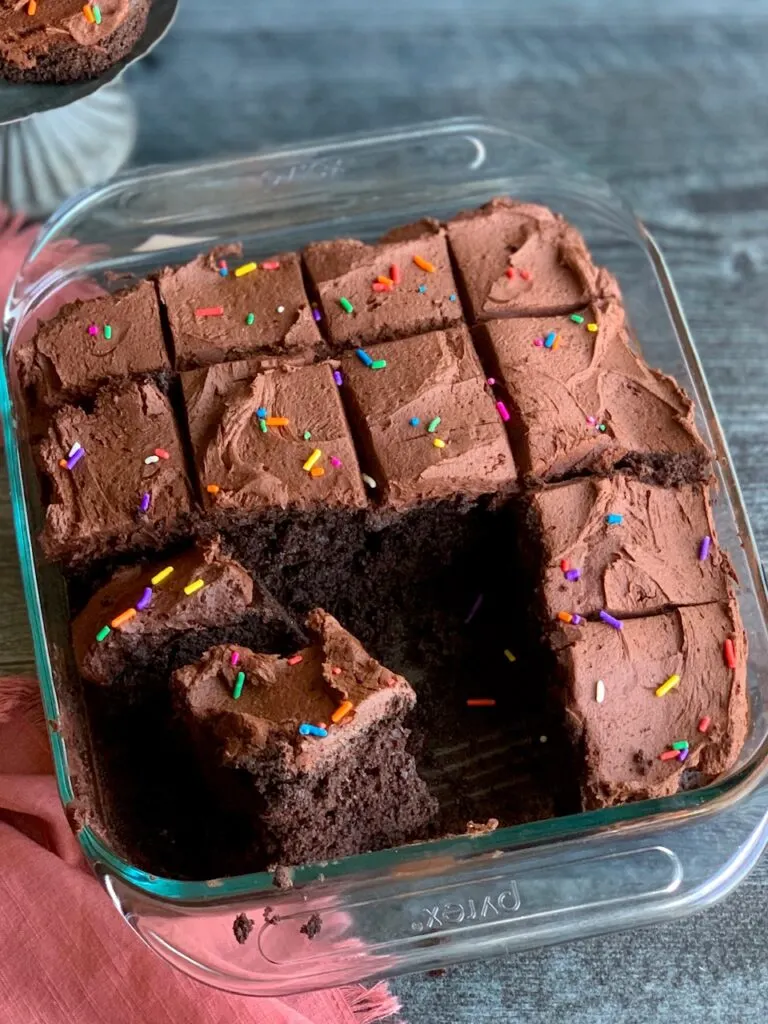 more gluten + dairy free cake recipes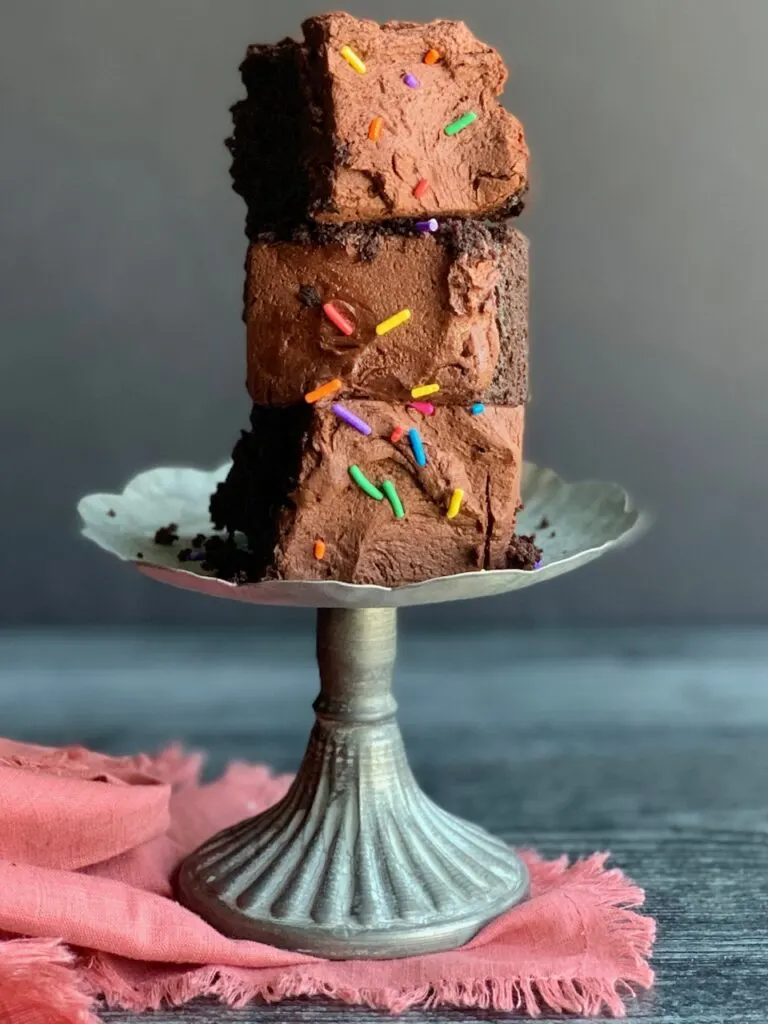 bonus dessert recipes for the best party ever
lastly
Years ago we used a chocolate frosting recipe that called for coconut oil.
While we enjoyed the frosting, there was always so much stress worrying if the frosting was going to melt off the cake. And we had to keep the frosted cake in the refrigerator right up until we served it.
Not with this recipe. While we'd never suggest placing a cake in direct summer sunlight, this cake can withstand warmer temperatures in a shady spot.
So next time you need a good, thick frosting recipe, try this one.
And for good reason-- you can't even guess it's dairy free. Yes, it's that good!
Be sure to follow along on our Facebook, Pinterest, and Instagram.
Like and comment often so we stay in your feed. That way you won't miss the best of eating gluten and dairy free.
We post new recipes, product alerts, and tips to make "free from" eating better, easier, and less stressful.
Eat well and feel well,
Jill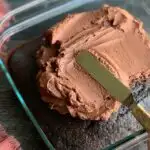 Print Recipe
Chocolate Buttercream Frosting
Ingredients
½

c

dairy free butter

1 stick softened, suggestion in post

½

c

palm oil shortening

vegetable shortening works too

1

teaspoon

vanilla extract

¾

c

unsweetened cocoa powder

4

c

sifted confectioners' sugar

powdered sugar works too

5

tablespoon

dairy free milk

suggestion in post
Instructions
In a stand-up mixer or using a handheld mixer, in a large bowl cream together the dairy free butter and palm oil shortening.

Next add in the vanilla extract and cocoa powder.

Gradually add in the powdered sugar one cup at a time. Be sure to scrape down the sides and bottom of the bowl often.

Then add in 3 tbsp. of dairy free milk. Add in the remaining milk as needed for the thickness you desire. Adding in more milk will make the frosting thinner.

For frosting a cake we prefer using 5 tbsp. of milk in this recipe. For piping details on a cake, we prefer the icing to be a bit runny so we add in 6-7 tbsp. of dairy free milk.

Store leftovers in an airtight container in the refrigerator up to a week.

This can be made 4 days in advance and stored refrigerated in an airtight container. Allow to sit on the counter for 20 minutes and then re-whip before using.
Notes
For a darker chocolate buttercream frosting use Dutch-processed cocoa.